South Korean Architecture, Seoul Building News, Architect, Property Images
South Korean Architecture : Buildings
Key Contemporary Architectural Developments, Northeast Asia Property Designs
post updated 12 September 2021
Architecture in South Korea
We've selected what we feel are the key examples of South Korean Architecture. We aim to include buildings that are either of top quality or interesting, or ideally both.
We cover completed buildings, new building designs, architectural exhibitions and competitions across South Korea. The focus is on contemporary South Korea buildings but information on traditional buildings is also welcome.
We have 4 pages of South Korean Architecture selections with links to hundreds of individual project pages.
Korean Architecture : news + key projects (this page)
Korean Building Developments : A-E
Korean Building Designs : F-O
Korean Buildings : P-Z
South Korea Building – Latest Designs
Korean Architecture News – latest additions to this page, arranged chronologically:
9 August 2021
Pyeongchang Knowledge Hub
Design: AIDIASTUDIO & Archiworkshop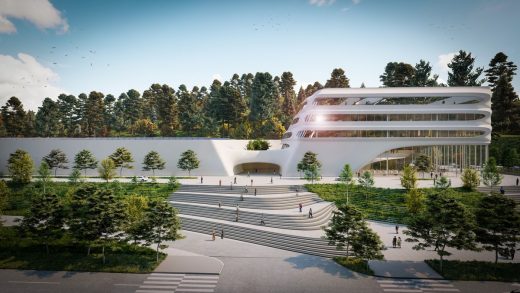 image courtesy of architecture firm
Pyeongchang Data Preservation Center
The building has been re-shaped, and its appearance softened, our aim has been to reinterpret the beauty of the surrounding scenery, the striking sinuous mountain ranges, the winding turns of the ski slopes and the snow formations, into a visually stunning building with abundant green areas and recreation zones for the staff and visitors.
27 Sep 2013
National Library of Sejong City
Design: Samoo Architects & Engineers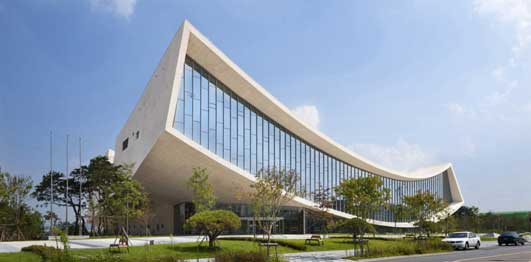 photo : Giovanni Zanghi
National Library of Sejong City
The National Library of Sejong City is the first branch facility of the National Library of Korea and is planned to be built in the Multifunctional Administrative City of Korea, also known as Sejong City. Designed by Samoo Architects & Engineers with the motif of a book page being turned over, a simple geometry of a gently curved paper forms the basis of the design and creates a unique outline that is easily recognizable as one of the landmark buildings of the city.
16 Sep 2013
HyunDai Pavilion Yeosu Expo
Design: UnSangDong Architects


image from architect firm
HyunDai Pavilion Yeosu Expo
A really unusual building form – neither rectilinear nor organic, but hovering somewhere in between. The architects state, "The power of actualizing the eternal possibility and the imagination about the nature and the city is appeared in order to express their philosophy and high technology of HyunDai."
12 Sep 2013
Tower Infinity, Seoul
Design: GDS Architects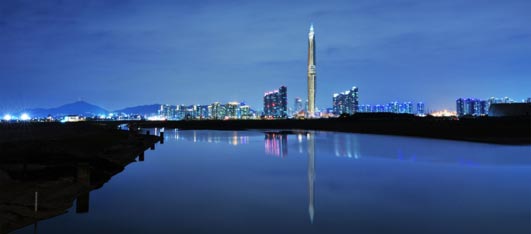 image from architect office
Tower Infinity
GDS Architects is pleased to announce that it's 450 meter tall Tower Infinity observation tower designed by Charles Wee, has received Permit approval for construction near Incheon International Airport just outside of Seoul, Korea.
2 Sep 2013
Jaehoon's Jip-Soori (Korean term for revitalization of house), Seoul
Design: Kim Jae-Kwan, Moohoi Architecture Studio



photo : Young Chae Park
Jaehoon's Jip-Soori
From the old Korean residential zone, it is difficult to find one-story house. But even 42 years ago since this building has been built, there were a lot of one-story house. However, four-story apartment houses, which are also called as 'multiplex housing' or 'multiple dwelling' occupy most of residential zone.
29 Aug 2013
Ecorium of the National Ecological Institute, Seocheon, Chungcheongnam-do
Design: Samoo Architects & Engineers, Grimshaw Architect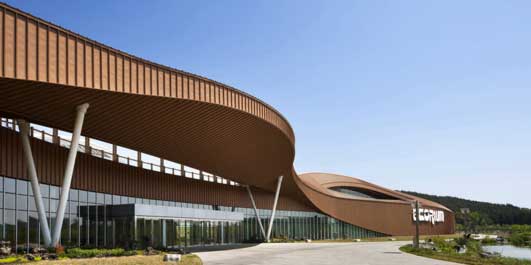 photo : Young Chae Park
Ecorium of the National Ecological Institute
Within the Ecoplex lies the Ecorium, a landmark facility and a purpose-built exhibition facility. Designed by Samoo Architects & Engineers in collaboration with Grimshaw Architects, the Ecorium is composed of various greenhouses and controlled environments in order to reproduce the global ecosystem of five different climatic zones ranging from the tropical to the polar regions.
25 Jul 2013
Buk Seoul Museum of Art, Seoul
Design: SAMOO Architects & Engineers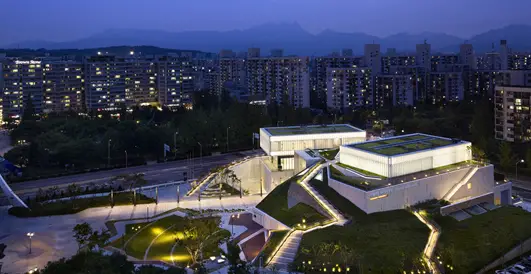 photo : Young Chae Park
Buk Seoul Museum of Art
Like a serene white mass integrated into the hill this new building revitalizes the region which is mostly composed of monotonous high-rises apartments and provides a nature-friendly cultural space in which the green flow of the park integrates with the art museum to become a single entity.
25 Jun 2013
HH Resort Hotel and Spa, Gangneung, South Korea
Design: Richard Meier & Partners Architects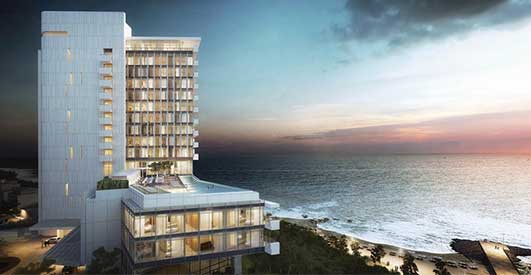 image from architect
HH Resort Hotel and Spa
Construction has started on the 150-room HH Resort Hotel and Spa designed by Richard Meier & Partners Architects. The new resort complex at Gangneung, South Korea, will be a one-of-a-kind boutique hotel composed of elegant guestrooms, a world class restaurant and a wellness spa that reflect the local culture, a Banquet Hall, Amphitheater, Exhibition Hall, Beach House and various amenities.
20 Jun 2013
Confucianism and Culture Complex, Andong, South Korea
Design: SAMOO Architects & Engineers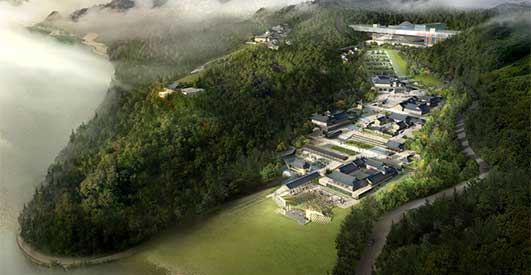 image from architect
Confucianism and Culture Complex South Korea
The World Confucianism•Sunbi Culture Park & Korean Cultural Theme Park is a complex designed to become a hub for Confucianism and traditional culture in Korea. Located in Andong of Korea, a place well known for its preservation of traditional core values, the project aims to create a new center that will provide a unique experience for its global visitors.
18 Jun 2013
Heaven For Real Church, Daegu
Design: TheeAe Ltd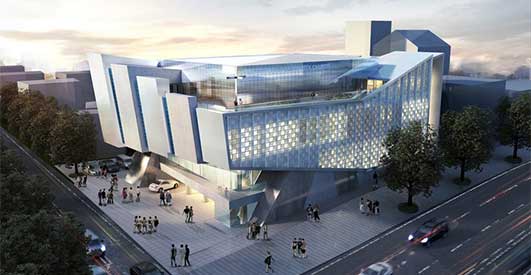 image from architect
Heaven For Real Church
The site is located urban area close to the down-town of Daegu, one of the biggest Cities in South Korea. In contrast to its locality, this town is isolated from the major city development. The community gets older, and young couples have been moving out to other towns to provide better education for their children.
12 Jun 2013
Gangnam Style – Chungha Building, Seoul
Design: MVRDV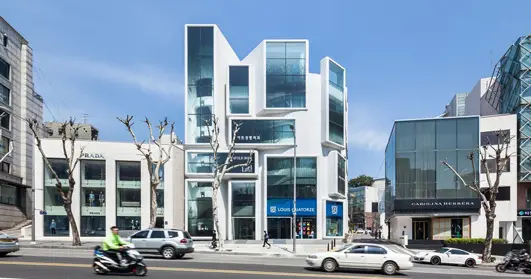 photo : ShinkyoungSub
Gangnam Style Seoul
Just before a Korean pop-song became a global success on YouTube for the first time in history, and Gangnam became world famous as the nouveau riche hangout of the South-Korean capital Seoul, MVRDV was commissioned to redefine a building on Gangnam's chic Apgujung Road. Even though the Chungha building was completed in the 1980s it was already outdated in a street dominated by flagship stores.
More South Korean Architecture designs online soon
South Korea Building – Recent Designs
30 May 2013
Seoul Recycle Plaza
Architect: Samoo Architects & Engineers


picture from architects
Seoul Recycle Plaza
Samoo Architects & Engineers has won the design competition for Seoul Recycle Plaza with the design concept of 'Story Box', which aims to promote recycling of goods and the creation of a hub for gathering, processing, and re-marketing of recycled goods.
27 Mar 2013
Kangneung Speed Skating Arena & Sports Complex, Gangwon-do, east coast of South Korea
Architect: Samoo Architects & Engineers



picture from Samoo Architects & Engineers
Kangneung Speed Skating Arena
Located on a 440,000㎡ site that was once used for garbage disposal, the site is now covered with abundance of pine trees. The main concept of the masterplan was to utilize nature, arena, and the plaza as 'three layers' to produce a layout that would communicate and harmonize with the surrounding environment.
31 Jan 2013
The Presidential Archives Korea in multi-functional Administrative City, South Korea
Architect: Samoo Architects & Engineers, Seoul, Korea South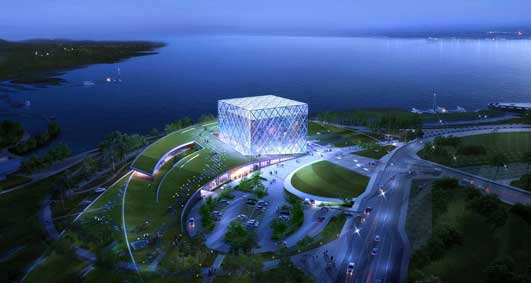 picture from Samoo Architects & Engineers
Presidential Archives Korea
The Presidential Archive conveys a sense of rigidity and authority due to the seriousness of its purpose. Therefore, the project aimed to be an archive where people could visit comfortably without feeling intimidated. People can enjoy viewing the historical records from nearly a century ago, and experience the history of former Korean presidents by walking along the hills and the waterside park.
9 Jan 2013
H House, Seongbuk-dong, Seongbuk-gu, Seoul
BANG by MIN emerging design group



photo : Joonhwan Yoon
New Korean House
Located at the alley of Seongbuk-dong where community of village has formed for a long time, 'H-House' is a house to keep the meaning to show the virtue secretly. This house reveals itself without clumsy and stimulative feeling in the scenery of old alley, suitably for its name.
More South Korean Architecture developments online soon
Korea Buildings
Major South Korean Buildings, alphabetical:
5 Jul 2012
French Restaurant, Sinsa-dong, Gangnam-gu, Seoul
BANG by MIN emerging design group



image : Choi, Jungwoo
French Restaurant in Seoul
'La Ville de Pins' is a French Restaurant Remodeling project in Sinsa-dong, Gangnam-gu, which is the hottest district at metropolitan area in the city of Seoul, Korea. I thought that the conciseness might tell the message more strongly in the age when the extraordinary designs are rampant formatively and visually.
13 Jun 2012
Velo Towers Seoul
Design: Asymptote Architecture



image © Asymptote Architecture
Velo Towers Seoul
Asymptote Architecture principals Hani Rashid and Lise Anne Couture are pleased to announce the launch of the Velo Towers, within the Dreamhub development in the Yongsan District. Asymptote's building is designed as an integral part of the master plan accommodating several new projects that are situated along the newly planned Yongsan Park.
Expo 2012 Yeosu Korea : International Design Competition
More South Korean Architecture projects online soon
Location: South Korea, eastern Asia
Korea Architectural Designs
Incheon Urban Design Competition : Incheon Metropolitan City, 2009



picture from organiser
Garak Market Development, Seoul
East Asian Architecture
South Korea Architecture Competition
Buildings / photos for the South Korean Architecture page welcome