Kettle Collective Scotland, UK Architects Office, Photos, Projects, Studio News
Kettle Collective Architects Office News
Contemporary Architecture Practice led by Colin Bone, Tony Kettle, David Tripney – key Buildings around the World
post updated 26 May 2021
Kettle Collective News
Kettle Collective Architects News
25 May 2021
Lakhta Centre II, St Petersburg, Russia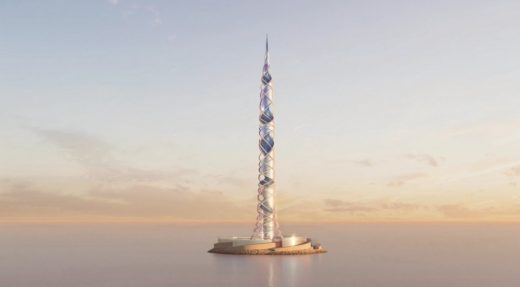 image courtesy of architects practice
Lakhta Centre II
Plans to build one of the world's tallest buildings have been announced by Scottish based architect, Kettle Collective. The tower will be built in St Petersburg and at 703 metres will be the second highest skyscraper in the world, just under Dubai's famous Burj Khalifa (828m).
26 + 24 Jul 2018
Kettle Collective Opens Oman Studio
Kettle Collective, a UK based, multi-award-winning international Architect has launched a new studio in Muscat, Oman.
Kettle Collective was founded 6 years ago in Edinburgh by Tony Kettle and Colin Bone and already has studios in Edinburgh and Dubai with a headcount of around 40. The company has local partners in Moscow, St Petersburg, Saudi Arabia and Beirut.
Oman building design by Kettle Collective: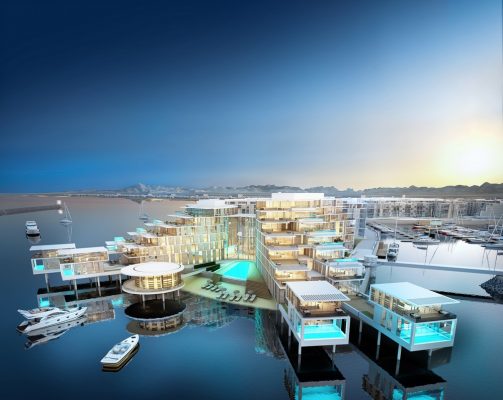 Kettle and his team have been working on a number of high-profile projects in Oman, including a number of projects within the Al Mouj, Muscat development. Kettle Collective designed the new beachfront from Al Mouj to Port Qaboos, named String of Pearls, re-activating the beach front with a number of different zones from kids to sport zones. Further projects include a residential development at Muscat Hills and large masterplan near to Muscat.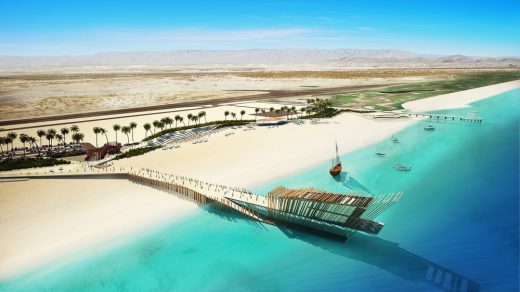 Managing Director, Colin Bone said: "This is a fantastic opportunity for Kettle Collective to continue to grow roots in Oman and establish ourselves as a leading local studio. We have worked on a number of prestigious projects with Muamir previously, and we look forward to developing our portfolio further in Oman."
Muamir Al Hasny, Country Director, Oman said:
"I am really looking forward to further developing Kettle Collective's world class international design in Oman. Our teams are looking forward to coming together and collaborating on many more projects."
Capital Gate, Abu Dhabi: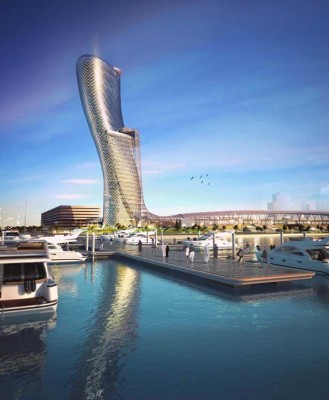 photo courtesy of architects office
14 Oct 2012
New International Design House, Kettle Collective Launches
Internationally renowned architect, Tony Kettle, has teamed up with Colin Bone and David Tripney to create a dynamic, new design house called Kettle Collective.
Colin Bone, Tony Kettle, David Tripney (left to right):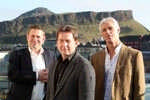 picture from architects
Focusing on architecture, but also bringing bespoke solutions to clients across other areas such as urban, interior and product design, Kettle Collective has set up its head office in Edinburgh, but is also in the process of establishing a studio in Dubai which will act as a hub, providing links to key markets in the Middle East and Russia.
Colin Bone, Tony Kettle, David Tripney (left to right):


picture from architects
The trio previously worked together at RMJM and have joined forces to provide a client focused design studio offering a unique and tailored approach for every client.
During his time at RMJM, Tony Kettle – who is an award-winning architect with over 25 years' experience in design leadership across the globe – was instrumental in leading the design of the iconic Falkirk Wheel in Scotland and Lakhta Tower, the new 456 metre headquarters for the Russian oil giant Gazprom in St Petersburg, which will soon be the tallest building in Europe.
David Tripney spent 20 years in Dubai, latterly overseeing the sale of his former company Holford Associates to Hyder Consulting, and was responsible for the delivery of some of the biggest construction projects in the region, including Mall of the Emirates, one of the world's most successful integrated retail and leisure destinations.
While Colin Bone spent five years at RMJM, most recently heading up the European Studio as managing principal, with a focus on opening up new markets such as Bahrain, Qatar, Russia, and Eastern Europe.
Tony Kettle:



picture from architects
Commenting on the new enterprise, Tony Kettle, design principal of Kettle Collective, said: "This is a really exciting opportunity to establish a new design house in Scotland with an international focus, building on our team's previous experiences. Our UK and Middle East teams will work closely together to deliver high quality projects of all scales, which will continue to challenge the norm." David Tripney, director of Kettle Collective, added: "In addition to our design offering, we are able to structure a full delivery service for clients, integrating strategic partners with a dedicated team on the ground.
"We provide a bespoke service tailored to individual client requirements, and there are a number of potential opportunities in the market which will allow the company to grow over the next two to three years."
26 Apr 2012
RMJM – Tony Kettle News
Tony Kettle Resigns
Tony Kettle resigns from troubled RMJM, reports BD. He took over after Brian Stewart (shortly after the Scottish Parliament was completed) and lead the company as a designer. With so many directors gone and now the top man, who will run this once buoyant practice?
Tony Kettle joined RMJM in 1989 and is a Design Principal for the European Studio. He was in charge of major projects such as the controversial Gazprom Tower in Russia.
More details online soon.
19 Jan 2012
RMJM – Latest News
Paul Stallan Resigns
Paul Stallan, Design Principal for RMJM in Scotland, has resigned just days after fellow Glasgow-based principal Alastair Brand was sacked, report the Architects' Journal.
A RMJM spokesman confirmed that Paul Stallan, who had been with the practice since 1995 and had effectively built the Glasgow office, had 'tendered his resignation' and that it 'had been accepted'.
The move follows reports that staff in both the UK and US had repeatedly not been paid on time.
Architect Paul Rodgers, 43, is believed to have taken over as Scottish managing prinicpal.
Only six months ago Paul Stallan, who was described last year as 'fiercely loyal' to RMJM owner Fraser Morrison, had been handed the reigns of a new 'design powerhouse' under the Paul Stallan Studio banner, combining RMJM's Edinburgh and Glasgow's offices.
Paul has been heavily involved in designing the 2014 Commonwealth Games Village in Glasgow.
The practice also won the refurbishment of Gillespie Kidd and Coia's Brutalist St Bride's Church in East Kilbride having beaten off Page/ Park and James Stephens Architects.
Stallan's departure follows in the wake of the dismissal of Alastair Brand and allegations in a Scottish newspaper about the company, which have since been removed from the Herald Scotland website.
Brand, who worked for RMJM for 17 years, was escorted from his Glasgow office by security guards on Monday morning and had his mobile phone confiscated.
Paul previously won the title of Architect of the Year (Scotland) and won the Royal Scottish Academy Gold Medal for Architecture.
In a separate development UK Prime Minister David Cameron has backed a new bid to strip Sir Fred Goodwin of his knighthood. Disgraced banker Sir Fred Goodwin worked as a consultant with RMJM after he had departed from the troubled RBS.
Address: 90A George St, Edinburgh EH2 3DF, Scotland
Phone: 0131 225 6269
Design Practice Information
Kettle Collective are based in the Edinburgh, Scotland, UK – further information online soon, for now here is some background on Tony Kettle at RMJM:
RMJM is an international firm of architects with offices throughout the UK, Asia, and the Middle East. Founded in 1956 by renowned British architects Robert Matthew and Stirrat Johnson-Marshall, RMJM is one of the world's largest architectural practices and employs almost 700 people in 11 international offices: Bangkok, Beijing, Cambridge, Dubai, Edinburgh, Glasgow, Hong Kong, London, Moscow, Shanghai, and Singapore. RMJM Architects recently secured commissions in four of the world's rapidly developing markets—China, India, Russia, and Qatar—providing the impetus for forthcoming offices in Abu Dhabi, Delhi, and Doha.
Principals
David Pringle, Managing Director (Asia)
Hazel Wong, Managing Director (Middle East)
Tony Kettle, Managing Director (UK)
Scott Findley, Design Director (Asia)
Paul Stallan, Design Director (UK)
Robert Meikle, Technical Director (Middle East)
Hugh Mullan, Group Finance Director (UK)
RMJM – Selected Designs
Newcastle Sixth Form College, England



image from architect
Capital Gate Abu Dhabi, UAE – most leaning tower in the world



image from RMJM architects
Okhta Tower, Russia
Dubai Palm Island, UAE
Comments / photos for the Kettle Collective Architects page welcome
Website: Kettle Collective Architects