3XN Architects Denmark, Danish Design Studio, Architectural Office
3XN Architects : Danish Architecture Office
Danish Architecture Practice: Denmark Design Firm Information & News
post updated 26 Feb 2020
3XN Architects News
6 Mar 2019
Waterfront Architecture: Placemaking and Context Exhibition in Toronto
Crown Prince Frederik of Denmark, opened the first solo architecture exhibition by renowned Danish architecture firm 3XN in North America.
The exhibition feature several of 3XN's completed and in-progress waterfront projects:
Waterfront Architecture: Placemaking and Context Exhibition in Toronto
9 Dec 2013
3XN Monograph
New monograph captures 27 years of architecture beyond building
This massive, beautifully rendered monograph on 3XN, known for creating architecture in the nexus between science and art, between iconic design and human values, documents 32 projects through photos, critical essays, case studies and interviews.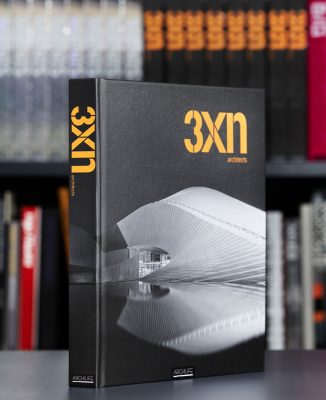 photograph : Adam Mørk courtesy of 3XN
Projects include high-profile buildings such as the Danish Embassy in Berlin, Ørestad College, The Museum of Liverpool, Stadshuis Nieuwegein, The Blue Planet and The UN City. Smaller projects like the Louisiana Pavilion and NOMA Lab give an insight into the work of GXN – the practice's innovation unit, which constantly seeks to apply the latest knowledge on behavioral design, new materials and green technology into the work of the office.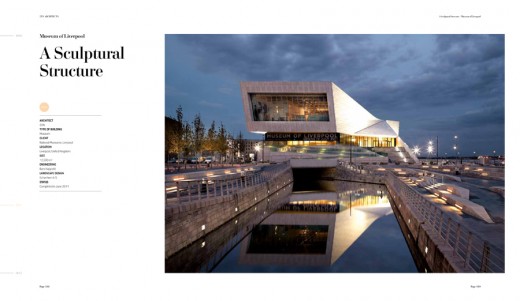 photo : Adam Mørk courtesy of 3XN
Over the past 20 years, 3XN's architecture has continued to develop in a direction where the design driver is how architecture shapes behavior. Projects such as The Museum of Liverpool and Molde Cultural Center have become a catalyst and nexus for the area they are placed in. Likewise, Ørestad College and Nieuwegein City Hall are examples of projects where the inner space and staircase generate synergy, interaction and communication between people circulating throughout the building.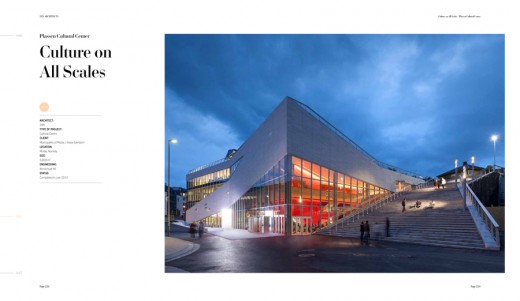 photo : Adam Mørk courtesy of architecture practice
Author of the monograph's preface, architect and writer, Terri Peters, observes:
"At 3XN, architecture is everywhere, it is always the starting point and the answer to complex client briefs. The studio is concerned with all of the things around a building, how people use spaces, movement through the building and views inwards and outwards. It becomes clear in visiting a 3XN project that the office takes care to design buildings for people, for users, for passersby, for visitors, for locals and for future generations."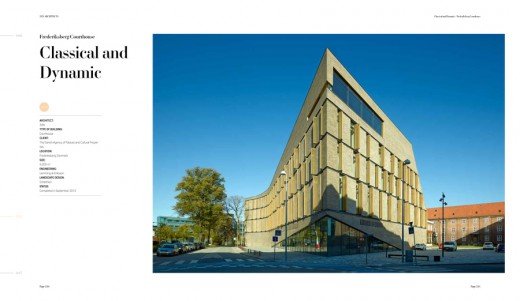 photo : Adam Mørk courtesy of architecture office
The monograph is published by Archilife and includes an introduction by philosopher and architecture critic, Christian Bundegaard, interviews with 3XN's founder and creative director Kim Herforth Nielsen and head of competition Jan Ammundsen while architectural photographer Adam Mørk's beautiful photos tell the visual story of one of Denmark's most innovative and international architecture firms.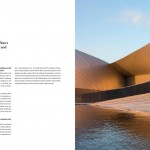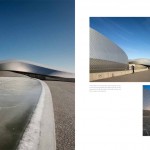 photos : Adam Mørk courtesy of architecture practice
Title: 3XN Architects
Publisher: Archilife
Year of publication: 2013
ISBN: 978-89-964508-4-9
Price: 83.40 EUR
336 p, ills colour & bw, 25 x 29 cm, hb, English
Visit Idea Books' website to see where the monograph can be purchased in your country: http://www.ideabooks.nl/9788996450849-3xn-architects
11 Oct 2011
3XN 25th Anniversary
Architect behind the Museum of Liverpool celebrates 25th Anniversary of studio, 3XN


photo © Philip Handforth
Throughout the years, The Danish Architecture Studio 3XN has built a profile focusing on the humanity and environment at the center of its architecture.
Architecture Shapes Behaviour:
The architecture practice believe that Architecture shapes behaviour. The architect's role is 'not just to create beautiful monuments, but equally important, it is to create the framework which works towards a better environment and a greater enjoyment for those who will be using the building,' says Kim Herforth Nielsen, who shares the partnership with CEO Bo Boje Larsen and Head of Competition Department Jan Ammundsen.
The social approach to architecture is appreciated also by Paul Finch, Editor Emeritus of the well known Architect's Journal and Architectural Review. '3XN has shown that it is possible to create buildings with focus on the user, without compromising aesthetic quality.'
Museum of Liverpool:
With approximately 400.000 visitors in two months, there is no doubt that the Museum has endeared itself to many from Liverpool, the UK and around the world. The Museum is formed as a piece of land art, which has transformed Liverpool's waterfront promenade from a sad and industrial-like area to a now very inviting landscape, where the Museum provides shelter and views while giving Museum goers a new way of discovering Liverpool.
Research in Green Buildings
During the past years, this Danish architecture studio has been ground breaking in the development of a more green and sustainable building industry. The Research and Development department, GXN is composed of a team of architects, designers and engineers and develops new innovations, among others bio-composites (building materials made of natural products such as flax fibres and cork, which in the future can can replace energy demanding traditional building materials.
On the occasion of the anniversary 3XN has created a short film : 3XN architects videos on facebook
3XN Building News 2010
Vällingby Parkstad, Sweden



image by architecture practice
Middelfart Savings Bank, Denmark



image : Adam Mørk – 3XN
3XN Book : 'MIND YOUR BEHAVIOUR' Launch + DAC Exhibition



image by architecture practice
'Learning from Nature', Louisiana Museum of Modern Art, Denmark
2009



photo : 3XN / Adam Mørk
Learning from Nature pavilion : International Innovation Award
Building News 2009
Frederiksberg Courthouse, Copenhagen, Denmark
2009-



picture from the architects
Frederiksberg Courthouse
LSE New Students Centre Design Competition, London, UK
[2009]



picture from the architects
LSE New Students Centre : Shortlist
Saxo Bank Building, Hellerup, Copenhagen
2009



photograph : Adam Mørk © 3XN
Saxo Bank Building
Denmark's Highest Architectural Honour awarded to Kim Herforth Nielsen, Principal and Founder of 3XN architects
Stadshuis Nieuwegein, The Netherlands
2006-10



picture from architects
City Hall Nieuwegein : Invited Architecture competition – 1st prize
Tangen Polytechnic College, Kristiansand, Norway
2004-09



image : 3XN
Tangen Polytechnic College
Utrecht Culture Centre – entry, The Netherlands
2009-



image : 3XN
Culture Centre Utrecht : Invited Architecture competition
'Der Cube' building, Washington Platz, Berlin, Germany
2009-



image : 3XN
Kubus Berlin : Architecture competition winner
Randers Museum of Art, Jutland, Denmark
2009-



photo from 3XN
Randers Museum of Art
Daimler Headquarters Competition Entry, Stuttgart, Germany
[2009]



image : 3XN
Daimler Headquarters Competition
Ørestad Gymnasium, Copenhagen, Denmark
2006



photo : Adam Mørk
Orestad College : 3XN nominated for Mies van der Rohe Award 2009
Major Projects by 3XN
Århus Harbour Tower, Århus, Jutland, Denmark
2006-22
Design: UNStudio & 3XN Architects



image : Aarhus Harbour, 2022, UN Studio
Aarhus Harbour buildings
Aarhus Town Hall Annex, Jutland, Denmark
2000
Architecture competition 1998, ref. Arne Jacobsen's Århus Radhuset 1941
Alsion – Danish University South & Concert Hall, Science Park South, Sonderborg
2007
RIBA European Award 2007
Bryggen, Vejle, Denmark
2008
with Schmidt Hammer Lassen
CPH Arch, Copenhagen harbour, Denmark
2008-



image : 3XN
CPH Arch
Deloitte Headquarters, Copenhagen, Denmark
2005



image courtesy of architectural studio
Deloitte Headquarters Copenhagen with artist Steven Scott
Marmormolen Masterplan – proposal, Copenhagen harbour, Denmark
2008-
New United Nations headquarters + offices, hotels, apartments, retail
142m high tower + bridge [see CPH Arch further up page]
Middlefart Savings Bank, Middlefart, Fyn, Denmark
2007-
Molde Jazzhouse & Theatre, Norway
2007-



image : 3XN
Molde Jazzhouse & Theatre shortlist including Keith Williams Architects; JKMM Architects; 3XN; Studio Andrew Todd / 3RW Arkitekter; HLM arkitektur & plan
Museum of Liverpool, Mann Island, Liverpool, England
2004-10; 3XN removed from this project Nov 2007



image courtesy of architectural office
Museum of Liverpool
The Music Building – Muziekgebouw, Amsterdam, The Netherlands
2005



photo © Adrian Welch
Muziekgebouw Amsterdam : Best Building in the Netherlands Award 2006
Sampension Headquarters, Hellerup, Denmark
–
RIBA Awards 2005
Tivoli Concert Hall, Copenhagen, Denmark
2005



photograph from 3XN
Tivoli Concert Hall
More 3XN Architecture online soon
Location: København, Denmark
Practice Information
3XN A/S based in København, Danmark
3XN – Practice Information (Oct 2008):
Architecture is creative futurology. That is why we always try to understand the context in which we build – the physical surroundings as well as the social, cultural and historical context in general. It is a process that is ultimately about the people who will live in the buildings for many years to come. This dialogue often continues long after construction is complete.


photo from 3XN
Architecture is story-telling. We listen to the story the site is telling us, and that story becomes part of the concept we develop. We investigate the site and we ask people questions in order to find the story the building should tell. This is the process we have summoned with the words 'investigate, ask, tell, draw, build'.
Architecture shapes the world. We constantly seek to develop designs that encompass in a single expression the spatial needs, the spirit of the location, the constructive solution and the main theme of the project. This is a process equally divided between craftsmanship and deliberations. And it is driven by a love of good design.
Architecture creates behaviour. That is why we try to create places where people can interact and communicate and where synergy can grow. We believe that buildings, like people, are more than just the sum of their many parts. We believe that it is possible to achieve a synthesis of design, function and context. That is why a holistic approach is our guiding principle, and why we are forever exploring the possibilities of building better, cleverer, more beautifully.
Right from the start, with just a few works completed, 3XN positioned itself as a professionally conscious and artistically ambitious practice. A first breakthrough came with the court house in Holstebro (1992), which was followed by a number of first prizes in architectural competitions, such as the Architects' House in Copenhagen (1994) The Glass Museum in Ebeltoft (1995) the Oceanarium in Hirtshals (1996), the Danish Embassy in Berlin (1998).


image from 3XN
A concert hall, the Muziekgebouw in Amsterdam, completed 2005, together with Museum of Liverpool (2004-) and the Cube in Berlin (first prize 2007), marks the focus on culture buildings and prestigious international competitions, without, however, compromising on the continued development of original solutions in plans, facades and organisation of the interiors. This two-fold ambition shows in the Danish upper secondary school Ørestad Gymnasium (2004-2007), which has revolutionised school architecture and attracts interest from all over the world.
Together with a number of original corporate headquarters designs such as FIH, Deloitte, Saxo Bank, Horten and KPMG, this became e new platform for the practice. Daring concepts and design also characterize master plans and housing projects like the Lighthouse in Aarhus and the new Denmark's Aquarium, The Blue Planet, in Copenhagen. The latter being a spectacular design inspired by a whirlpool, which one critic in the Danish daily Politiken found so original as to warrant a comparison to Jørn Utzon's opera house in Sidney.
The firm comprises of two offices each with a staff of 60 – one in Kystvejen in Aarhus, and one in Strandgade in Copenhagen. We work, however, as one practice continuously interchanging ideas and staff between the two offices. We operate in a project-oriented network structure, and at every stage we team up in workshops with partners, experts, users etc. At the workshop we discuss the results of our research, develop the concept and a framework for the design work. We work with cardboard models a lot, as they help us to share, discuss and evaluate different spatial solutions.
Our staff is a mix of experienced project architects and talented, young design architects. Each project team is headed by two partners, a contact partner and a backup partner, a head of project, a project manager, who might be a project architect, or a planning manager, as well as a design manager.
The managerial functions are the responsibility of the experienced senior architects in the team. The project teams are composed of staff with a variety of expert competencies to ensure that every assignment is carried out optimally. At the end of each planning stage, we evaluate the process with regard to the dialogue with the client and partners, finances and time-frame.
This Danish architecture office has six partners: The founder of 3XN, Kim Herforth Nielsen, MAA/RIBA, is the principal architect with overall creative responsibility. Kim Christiansen, MAA, is CEO and responsible for administration, finance, contracts and for 3XN Aarhus. Bo Boje Larsen, MAA, is Managing Director with main responsibility for strategy and organisation and for 3XN Copenhagen Jan Ammundsen, MAA, is head of the Competition Department at 3XN Copenhagen. Michael Kruse, MAA, and Tommy Bruun, MAA, head up the Competition Department at 3XN Aarhus.
The 3XN Board consists of the lawyer Torben Winnerskjold (chair), Managing Director Caroline Søeborg Ahlefeldt-Laurvig-Bille, Managing Director Lars Frederiksen, MLL, Kim Herforth Nielsen, Bo Boje Larsen and Jan Ammundsen.
3XN Architects Project
Peacock Visual Arts, Aberdeen, Scotland – Architecture Competition:
Shortlist: 3XN, Reiach and Hall Architects, Richard Murphy Architects, Nicol Russell Studios – cancelled early 2006
Comments / photos for the 3XN Architects Denmark page welcome
Website: www.3xn.dk