Three New Qatar Museum Buildings News, Middle East Commercial Building, Architecture Images
Three New Qatar Museum Building Developments
29 Mar 2022
Designs: Herzog & de Meuron + OMA + ELEMENTAL
Location: Qatar, Middle East
Three New Qatar Museum Building Designs
Qatar Announces Major New Investment In Museum Development To Power Growth Of Its Creative Economy
Speaking today at the 2022 Doha Forum in Qatar, Her Excellency Sheikha Al Mayassa bint Hamad bin Khalifa Al Thani, Chairperson of Qatar Museums, announced the development of three major new museums:
Art Mill: architect Alejandro Aravena / ELEMENTAL
Lusail Museum: architect Jacques Herzog / Herzog & de Meuron
Qatar Auto Museum: architect Rem Koolhaas / OMA
The announcement was made as part of a wide-ranging address by Her Excellency to the Doha Forum on the strategy for investing in the creative economy to drive the next phase of development of Qatar.
Her Excellency was joined on the platform by architects Jacques Herzog of the Pritzker Prize-winning Herzog & de Meuron and Alejandro Aravena of the Pritzker Prize-winning ELEMENTAL.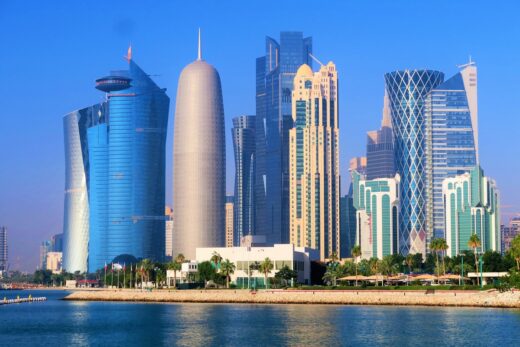 Also joining in the panel discussion, which Sheikha Al Mayassa moderated, were Abdulrahman Hesham Al Sowaidi, Acting CEO of Qatar Development Bank, Najla Zein, a designer for the Flag Plaza that will be a focal point of the FIFA World Cup Qatar 2022, and David Beckham, renowned footballer, businessman, and UNICEF UK ambassador.
Introducing the Doha Forum panel discussion, Sheikha Al Mayassa said, "I am here today not only as a contributor to developing Qatar's cultural institutions but as someone who is dedicated to helping my country realize its ambitious National Vision, so we can build the Qatar we want for our children and our citizens. Over the past 15 years, Qatar has made significant public investment in the infrastructure of vibrant cultural and creative networks, as an important strategic factor for economic development."
The Doha Forum is a global platform for dialogue where policy leaders discuss the critical challenges facing the world and build innovative and action-driven networks to address them. The creative economy panel centred on the new institutions that will join Qatar's cultural ecosystem in the coming years.
The Art Mill, built at the site of the historic Flour Mill in Doha, is being designed by ELEMENTAL, with landscapes by Swiss designer Gunther Vogt. The Art Mill campus will bring together exhibition and performance galleries for modern and contemporary art, dedicated spaces for learning and artist residency programs, production facilities, a village for Qatari creative industries, the Dhow Centre, and gardens.
Alejandro Aravena said, "We have never done a museum before, and so we ourselves are examples of the creative economy as something that requires trust. One of its opportunities is that you can bet on people. With the Art Mill, we are trying to trigger some consequences for local industry even before construction starts. The Art Mill will not just be a perfectly finished object but an opportunity for young designers, artisans, craftspeople in Qatar to come together to deliver the knowledge they have accumulated and contribute to the building, so that it not only houses a great collection but expands to more popular audiences."
Designed by Herzog & de Meuron, Lusail will become home to the world's most extensive collection of Orientalist paintings, drawings, photography, sculptures, rare texts, and applied arts. Celebrating four millennia of cultural exchange between East and West, Lusail explores the influence of the Middle East and wider Islamic world in the arts and will include more than 52,000 square metres of galleries, an auditorium, library, dedicated learning spaces, and more among its four floors.
Jacques Herzog said, "As this project has gone forward, it has become more like what Qatar itself tries to be, which is a platform for exchange and debate—putting things on the table, and not just saying polite things. This debate aspect is important to a museum where the collection is about how the East and West has been in exchange about political, social, and cultural issues from long ago. That becomes the main topic. The building is a kind of vessel that inside has a complex topography, a clash of fragments of different places and functions. What we have learned during this process, to make space for that aspect of dialogue, is what will make the project important for Qatar and for us."
Qatar Auto Museum, designed by OMA (Office for Metropolitan Architecture), will be built along the Lusail Express Way between the 5/6 Park and Katara Cultural Village. The museum will offer 40,000 square metres of permanent galleries tracking the evolution of the automobile from its invention through today and how it has influenced culture in Qatar. In addition to providing temporary exhibition spaces for the display of high-profile vehicles, the museum will include a classic car restoration centre and areas dedicated to children's activities, such as driving simulators, mini car mechanics, and more.
The new museums will add to the renowned institutions that Qatar has opened since 2008—the Museum of Islamic Art, Mathaf: Arab Museum of Modern Art, and the National Museum of Qatar—as well as the new 3-2-1 Qatar Olympic and Sports Museum that will be inaugurated this week. Currently in development is Dadu, Children's Museum of Qatar: the only institution of its kind in the region, where children can learn and grow through play, exploration, and experimentation in both indoor and outdoor spaces.
Speaking about his preview visit to the 3-2-1 Qatar Olympic and Sports Museum, David Beckham said, "Everything is about the future of the country, the vision that inspires so many people. I've been coming to Qatar since 2008, and it's constantly changing. Actually, I was here a couple of months ago and it's changed since then. I've learned so much from being here. It's all strategic and done in the right manner, looking at new ways to learn from different cultures and industries."
Since 2008, Qatar has also developed M7, a physical hub and centrepiece of Msheireb Downtown Doha dedicated to innovation and entrepreneurship for the creative industries. At M7, emerging creatives can participate in mentorship and skills development programs to hone their crafts and build their businesses. As part of this week's international #QatarCreates gathering, Qatar will open the Liwan Design Studios and Labs, a centre that provides a multifunctional coworking and learning environment for creatives to experiment, collaborate, network, and test the boundaries of design. The recently announced Qatar Preparatory School, built by transforming an historic educational facility, will provide a full range of resources and services to train the workforce for the creative industries.
Additional developments in Qatar that encourage and support the nation's burgeoning cultural sector include the Fire Station, which provides studio and exhibition space through its artist in residency program, and initiatives and special events such as the Tasweer Photo Festival and the recurring Years of Culture program of bilateral cultural exchanges. The new museums announced today will be integrated with all these institutions and initiatives and more, helping to complete the cultural ecosystem of Qatar and advance the nation's creative economy.
Abdulrahman Hesham Al Sowaidi said, "Culture and creative industries contribute 6 percent to global GDP each year, or $2.2 trillion, and 30 million jobs worldwide, which demonstrates the importance to our country of being a catalyst to entrepreneurs within the creative economy. This complementation should be not only in providing access to information and funding but also exploration of the market, which is exactly what we are doing in collaboration with stakeholders throughout the country. Our practice is to map sectors such as media, hospitality, and tourism and match-make the business opportunities."
Speaking about her project for Qatar's Flag Plaza and its impact within Lebanon, where she lives and works, Najla Zein said, "This project was started before the economic crisis and has been ongoing, six days a week, nine to twelve hours a day, so you can imagine what it brings to a factory that was not designed to create such pieces. It has given hope to all the people involved and to their families. But it's not only about finances. Lebanon has always been known for its highly skilled craftspeople. This project has brought them a shift from traditional practices and taken them to a new level. For me as an artist, it's special to create something meaningful for the public and for the team that is making this work."
Additional information about the new museums will be revealed in the coming months.
Rem Koolhaas of OMA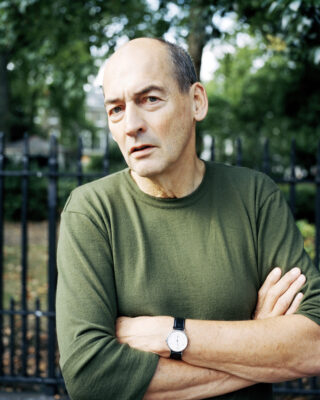 photo courtesy of architects office
Herzog & de Meuron – Swiss architects Jacques Herzog + Pierre de Meuron: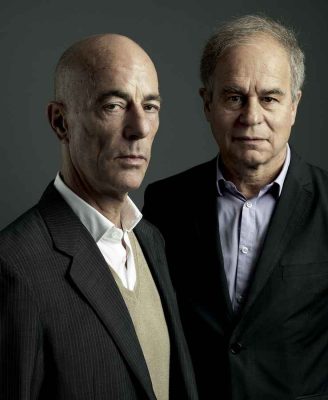 photo © 2011, Marco Grob
Alejandro Aravena of ELEMENTAL – selected building design – Quinta Monroy Housing, Iquique, Chile: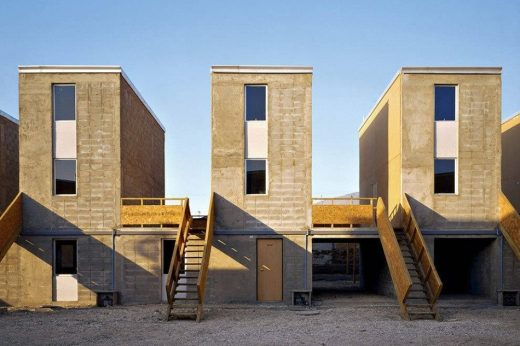 photography : Tadeuz Jalocha
Doha Forum Panelists
About The Panelists
Mr. Abdulrahman Hesham AL-Sowaidi is the Acting CEO of Qatar Development Bank (QDB) as well as the Chairman of the Board of Directors at Elan, and the Chairman of Qatar Business Incubation Center and the Center for Entrepreneurship and Career Development. Prior to his appointment as Acting CEO, he held the position of Executive Director of Strategy and Business Development, where he worked to enhance Qatar's private sector growth and boost its contribution to GDP.
Najla El Zein is the designer of a public seating commission for the new Flag Plaza, her most ambitious work to date. Her work has been exhibited at numerous public institutions, most recently at the Dallas Museum of Art's exhibition Women + Design, and have been acquired by museums such as the Victoria and Albert Museum in London and the Dallas Museum of Art for their permanent collections. She currently lives and works in Beirut.
Jacques Herzog, co-founder of Herzog & de Meuron, is known for large scale projects that include Tate Modern, the Beijing National Stadium, and the Dominus Winery in Napa Valley.
Alejandro Aravena, founder of ELEMENTAL, is best known for designing the Innovation Center at the University of Chile, the Vitra Children Workshop in Switzerland, and ING Bank headquarters in Turkey.
About Qatar Museums
Qatar Museums (QM), the nation's preeminent institution for art and culture, provides authentic and inspiring cultural experiences through a growing network of museums, heritage sites, festivals, public art installations, and programmes. QM preserves, restores, and expands the nation's cultural offerings and historical sites, sharing art and culture from Qatar, the Middle East, North Africa, and South Asia (MENASA) region with the world and enriching the lives of citizens, residents, and visitors.
Under the patronage of His Highness the Amir, Sheikh Tamim bin Hamad Al Thani, and led by its Chairperson, Her Excellency Sheikha Al Mayassa bint Hamad bin Khalifa Al Thani, QM has made Qatar a vibrant centre for the arts, culture, and education in the Middle East and beyond. QM is integral to the goal of developing an innovative, diverse, and progressive nation, bringing people together to ignite new thinking, spark critical cultural conversations, educate and encourage environmental stewardship and sustainable practices, and amplify the voices of Qatar's people.
Since its founding in 2005, QM has overseen the Museum of Islamic Art and MIA Park, Mathaf: Arab Museum of Modern Art, the National Museum of Qatar, QM Gallery Al Riwaq, QM Gallery Katara, and the Tasweer Qatar Photo Festival. Future projects include the soon to open 3-2-1 Qatar Olympic and Sports Museum, and Dadu, Children's Museum of Qatar.
Through its newly created Creative Hub, QM also initiates and supports projects—such as the Fire Station Artist in Residence, the Tasweer Qatar Photo Festival and the creative hub for innovation, fashion and design M7—that nurture artistic talent and create opportunities to build a strong and sustainable cultural infrastructure.
Animating everything that Qatar Museums does is an authentic connection to Qatar and its heritage, a steadfast commitment to inclusivity and accessibility, and a belief in creating value through invention.
Three New Qatar Museum Buildings images / information received 290322
29 Mar 2022
Qatar Auto Museum, Lusail Express Way
Designs: OMA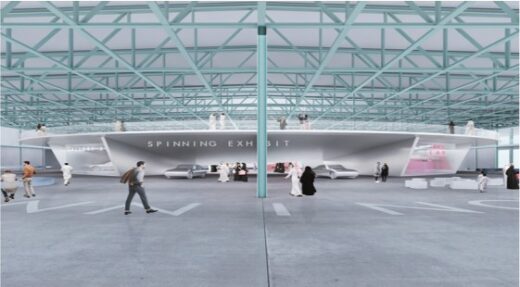 image courtesy of architects practice
Qatar Auto Museum by OMA
Location: Doha, Qatar
Qatar World Cup Stadium Buildings
World Cup Stadiums Qatar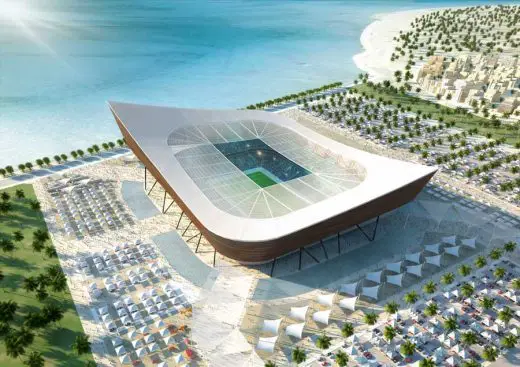 image © hhvision, Cologne
FIFA World Cup 2022 Stadiums in Qatar
Key Qatar building designs on e-architect:
Al Janoub Stadium, Al Wakrah
Design: AECOM / Zaha Hadid Architects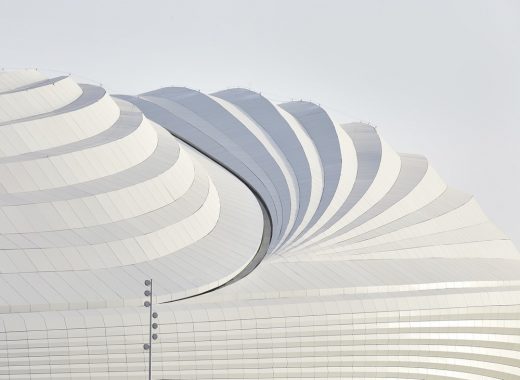 photo © Hufton+Crow
Al Janoub Stadium In Al Wakrah, Qatar
Qatar World Cup Stadium
Design: Arup Associates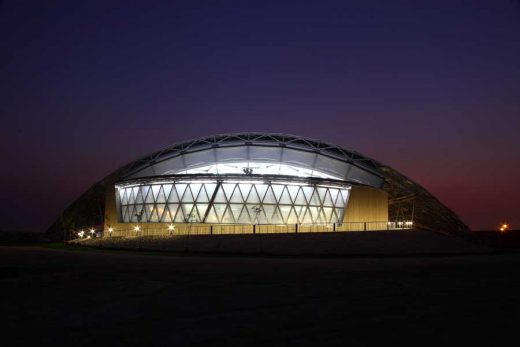 photograph : Gem Advertising & Publications
Qatar 2022 Showcase Stadium – 2022 FIFA World Cup
Al Rayyan Stadium – FIFA World Cup Qatar
Design: Pattern Architects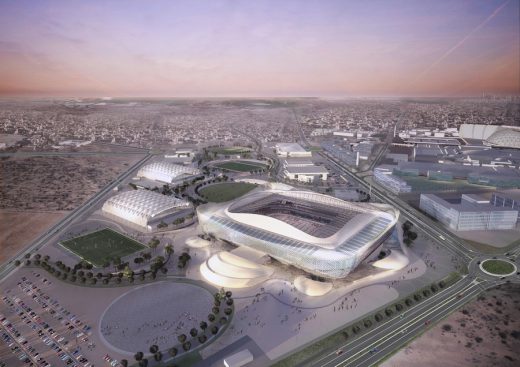 image courtesy of architects
Al Rayyan Stadium Qatar
Lusail Iconic Stadium
Design: Foster + Partners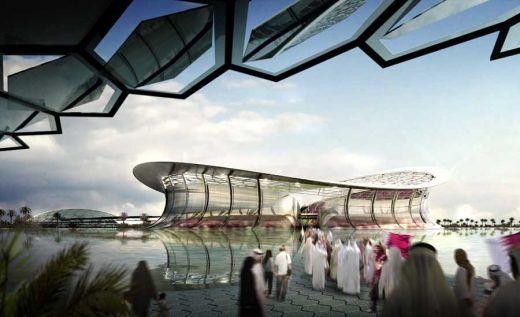 image from architect
Lusail Iconic Stadium Qatar
Al Wakrah Stadium, Al Wakrah – 'Al Janoub Stadium' post above
Design: AECOM / Zaha Hadid Architects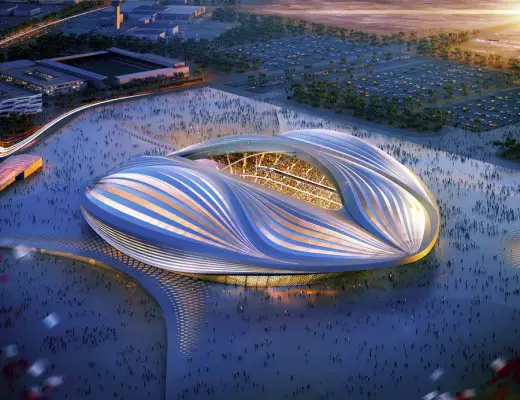 image from AECOM / Zaha Hadid Architects
Al Wakrah Stadium
Qatar Architecture
Contemporary Architecture in Qatar
Qatar Architecture Designs – chronological list
Oxygen Park at Education City, Doha
Architects: AECOM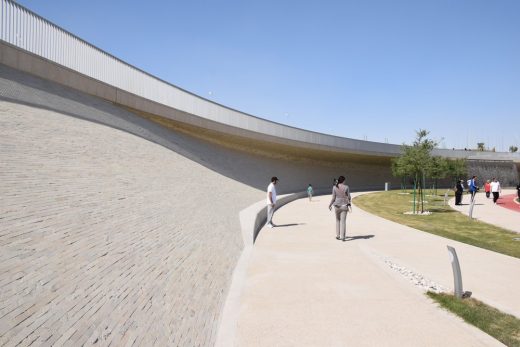 photo : Markus Elblaus
Oxygen Park, Education City, Doha
Museum of Islamic Art Doha
Design: I M Pei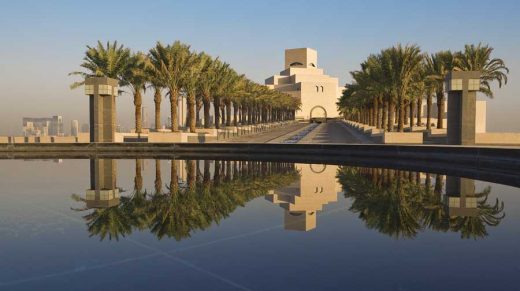 image from architect
Museum of Islamic Art Doha
Herzog & de Meuron Architects + OMA Architects
Comments / photos for the Three New Qatar Museum Buildings Architecture page welcome