Qatar National Library, Doha Institutional Building Development, Qatar Educational Architecture Images
Qatar National Library in Doha
Public Institutional Building Development in Al Rayyan, Qatar design by OMA
30 Jun 2018
Qatar National Library Shortlisted at World Architecture Festival 2018 Awards
Qatar National Library in Doha is one of 536 shortlisted entries across 81 countries:
World Architecture Festival Awards 2018 Shortlist
17 Apr 2018
Qatar National Library in Doha Building
Architects: OMA
Location: Al Rayyan, Doha, Qatar
Qatar National Library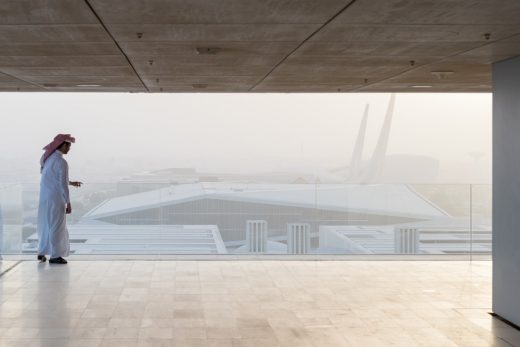 photo © Iwan Baan
The physical impact of books has been important in terms of my entire formation. The first books that fascinated me were the fairy tales of Grim illustrated by Gustave Doré. I still remember the physical nature of those books as one of the strongest memories of my entire life. In the 1950s I would spend time in the library of the Stedelijk Museum – almost like in a living room.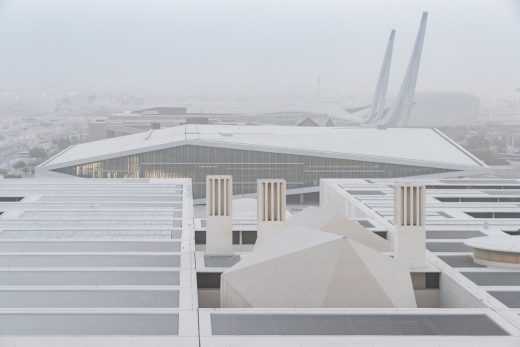 photo © Iwan Baan
My first intersection of writing and architecture was Delirious New York, which I wrote in the New York Public Library, going through microfilms, old newspapers, and books. I made one particular seat my own, almost day and night.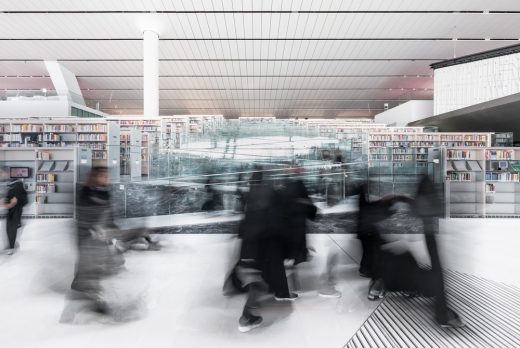 By Delfino Sisto Legnani and Marco Cappelletti © OMA
One similarity between architecture and bookmaking is that both have unbelievably long traditions but are also forced to be of the moment, constantly updating in order to survive. We have designed many libraries and built a few. Libraries, as a typology, are so exceptionally suitable to produce radical architecture. Apparently, there is a paradox that such a traditional form produces inventive solutions, and that is the case for the Qatar National Library.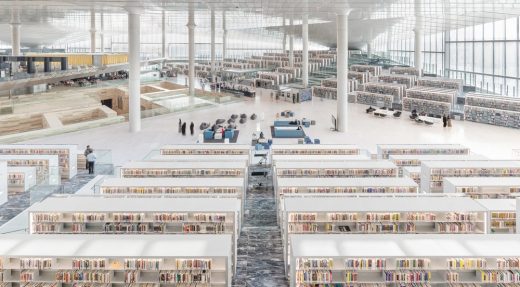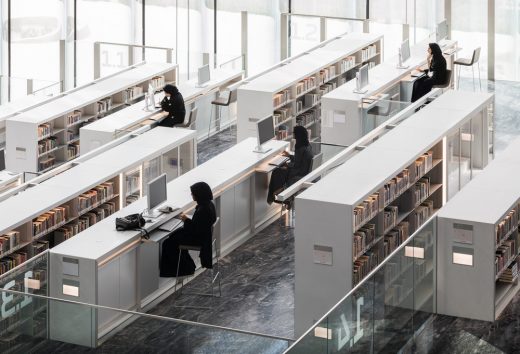 By Delfino Sisto Legnani and Marco Cappelletti © OMA
The building is 138 meters long, equivalent to the length of two 747s. This is not to boast about scale but because from the beginning the idea was to make reading as accessible and as stimulating as possible to the population of Qatar as a whole. We thought we could achieve that by creating a building that was almost a single room, not divided in different sections, certainly not into separate floors.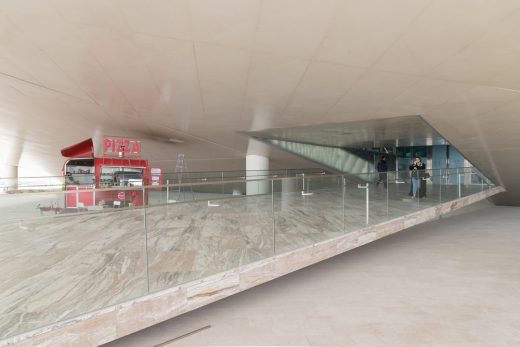 photo © Iwan Baan
We took a plate and folded its corners up to create terraces for the books, but also to enable access in the center of the room. You emerge immediately surrounded by literally every book – all physically present, visible, and accessible, without any particular effort. The library is a space that could contain an entire population, and also an entire population of books…
Rem Koolhaas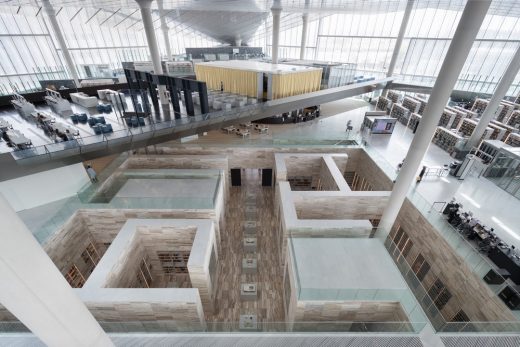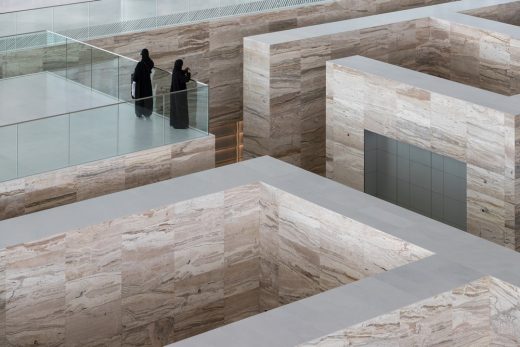 photos © Iwan Baan
Qatar National Library contains Doha's National Library, Public Library and University Library, and preserves the Heritage Collection, which consists of valuable texts and manuscripts related to the Arab-Islamic civilization. The public library will house over a million books and space for thousands of readers over an area of 42,000 m2. The library is part of the Education City, a new academic campus which hosts satellite campuses from leading universities and institutions from around the world.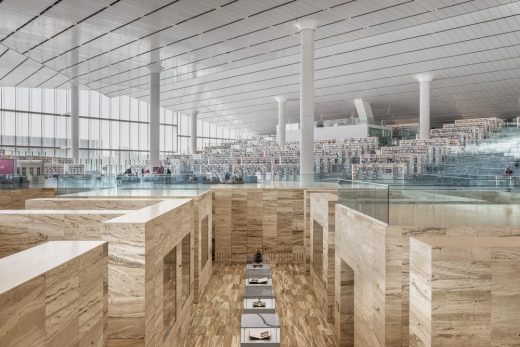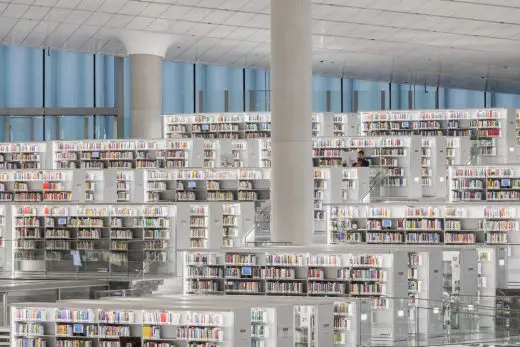 By Delfino Sisto Legnani and Marco Cappelletti © OMA
Qatar National library is the latest expression of OMA's long-term interest in the library, which goes back to the competition for the National Library of France in 1989. At that moment, the "electronics revolution" seemed "to eliminate all necessity for concentration and physical embodiment" of knowledge (S,M,L,XL).
The whole raison d'être of the library was being questioned: Would we still need libraries? Could libraries survive the digital culture? With Qatar National Library, we wanted to express the vitality of the book by creating a design that brings study, research, collaboration and interaction within the collection itself – a collection that consists of over one million volumes, among which are some of the most important and rare manuscripts in the Middle East.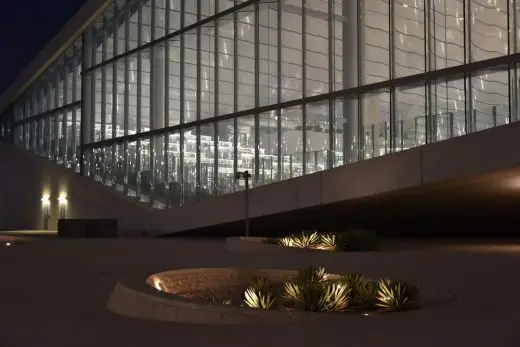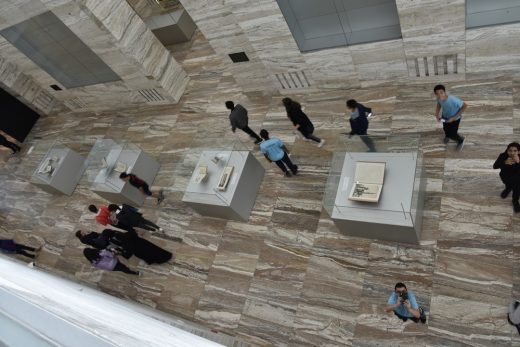 photos © Hans Werlemann
The library is conceived as a single room which houses both people and books. The edges of the building are lifted from the ground creating three aisles which accommodate the book collection and, at the same time, enclose a central triangular space. This configuration also allows the visitor to access the building at its center, rather than laboriously entering from the perimeter. The aisles are designed as a topography of shelving, interspersed with spaces for reading, socializing and browsing. The bookshelves are meant to be part of the building both in terms of materiality – they are made of the same white marble as the floors – and of infrastructure – they incorporate artificial lighting, ventilation, and the book return system.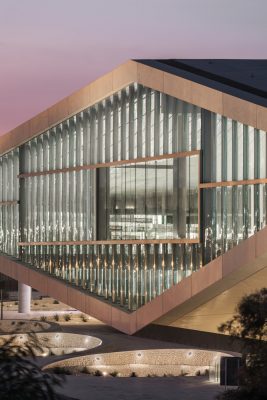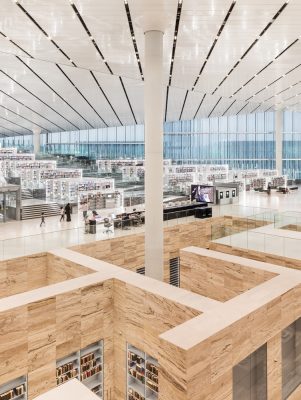 By Delfino Sisto Legnani and Marco Cappelletti © OMA
A column-free bridge connects the library's main aisles, allowing for a variety of routes throughout the building. The bridge is also a meeting space: it hosts media and study rooms, reading tables, exhibition displays, a circular conference table, and a large multipurpose auditorium, enclosed by a retractable curtain designed by Amsterdam studio InsideOutside, who were also responsible for the landscaping.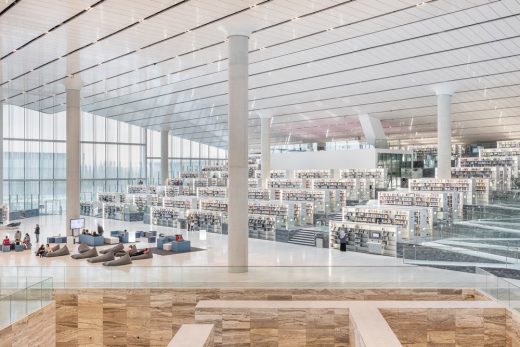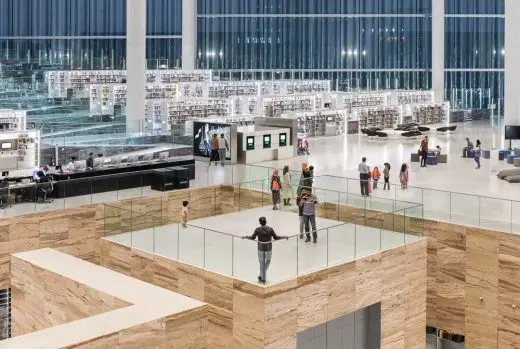 By Delfino Sisto Legnani and Marco Cappelletti © OMA
The heritage collection is placed at the center of the library in a six-meter-deep excavated-like space, clad in beige travertine. The collection can also operate autonomously, directly accessible from the outside.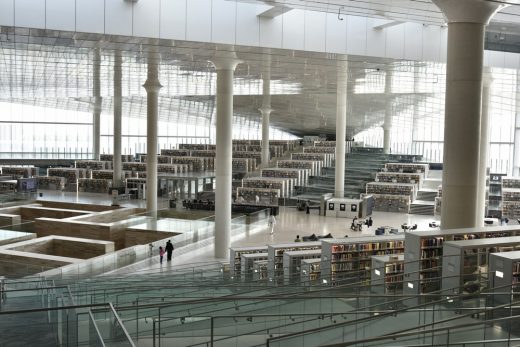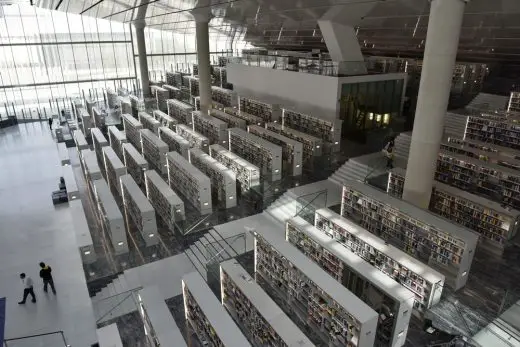 photos © Hans Werlemann
The corrugated-glass façade filters the otherwise bright natural light, creating a tranquil atmosphere for reading. The diffuse light is directed further into the core of the building by a reflecting aluminium ceiling. Outside, a sunken patio provides light to the staff office space in the basement, and at the same time acts as transition space before entering the world of books.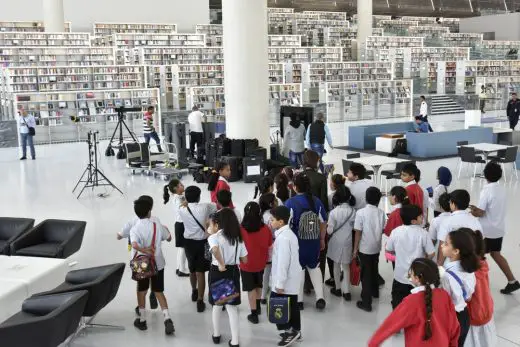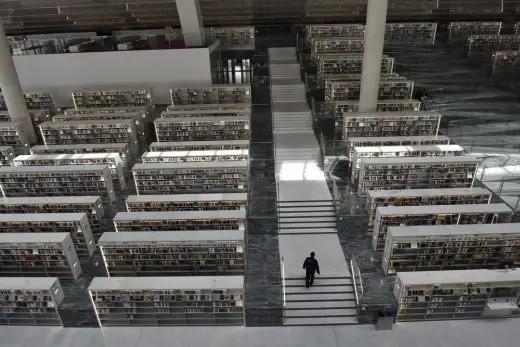 photos © Hans Werlemann
Qatar National Library plays a central role in the Education City, a project initiated by Her Highness Shiekha Mozah and the Qatar Foundation as part of Qatar's transition to a knowledge-based economy. The master plan, designed by Arata Isozaki in 1995 and inaugurated in 2003, consists of education and research facilities, including branches of internationally acclaimed universities and the headquarters of the Qatar Foundation, also designed by OMA and completed in 2016.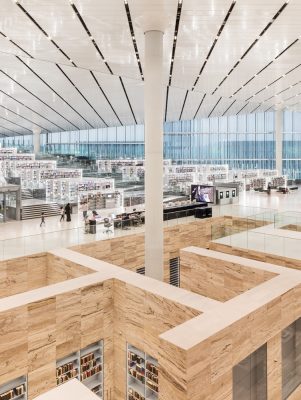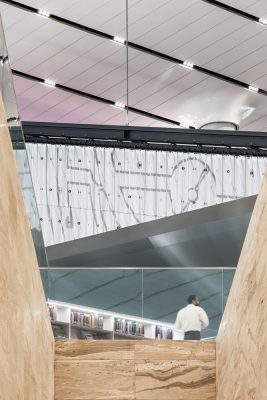 By Delfino Sisto Legnani and Marco Cappelletti © OMA
Qatar National Library, Doha – Building Information
Status: Completed
Location: Doha, Qatar
Site: Qatar Education City
Client: Qatar Foundation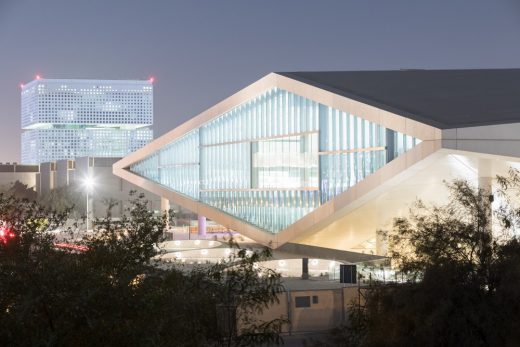 photo © Iwan Baan
Dates
Design development: 2008 – 2010
Start of construction: September 2012
Completion: September 2017
Occupancy: October 2017
Program
Collections: 21.000 sqm
Reading space: 3500 sqm
Exhibition space: 1500 sqm
Administration and offices: 3.000 sqm
Children's Library: 800 sqm
Restaurant: 600 sqm
Special Event Area: 600 sqm
Dimensions Gross floor area: 45.000 sqm
Net floor area: 32.000 sqm
Gross volume: 304.704 m3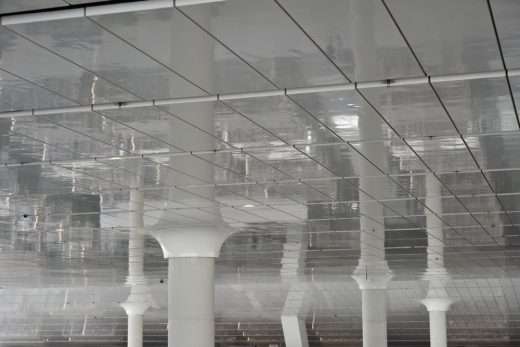 photos © Hans Werlemann
Capacity
Capacity of displaying more than one million books
The Library currently hosts a little more than 800,000 volumes
Collections
There are many subject areas in humanities, social sciences and sciences included in the main collection, distributed among three tiers. The Library collection mainly comprises Arabic and English language texts, but also provides a wide selection of books in other languages. These include French, German, Italian, Portuguese, Spanish, Tamil, Urdu, Tagalog, Sinhala, Mulayam, Bengali, Nepali, as well as Russian, Korean, and Chinese.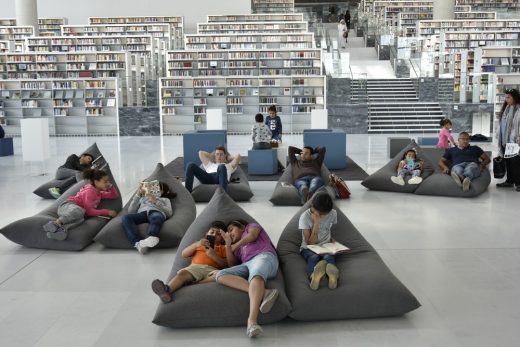 photos © Hans Werlemann
Technologies
• a custom-designed book circulation system, including an automatic book sorter and self-check-in/out machines
• 20 self-check-out stations and 8 check-in (return) stations with 7 onsite, and one drive-through outside the building
• the People Mover System – making the collection on the terraces accessible to everyone
• wide range of computer systems, tablets, interactive screens and audio/visual equipment
• assistive technology area including 16 computer stations with adjustable leveling, equipped with cutting-edge hardware and software technologies.
• fully equipped preservation library
• auditorium with raised podium and translation booths
• multipurpose event space, fully equipped, with scenography technology for seminars, exhibitions, music concerts and performances
Children's and Teens Library Facts
• Children's Library: designed for children age 0-12
• 100,000 print books in its collection: majority of the collection is English and Arabic language
• access to many electronic resources, including e-books, e-magazines, and databases specifically designed for children
• Teens section: serves teenagers age 13-17
• more than 30,000 books, as well as magazines, computer labs, graphic novels, interactive learning tools and events
• school curriculum and college preparation textbooks, for subjects like ACT and SAT preparations
• six gaming kiosks with consoles such as PS4, Nintendo Switch and Xbox
Heritage Library Facts • more than 4,000 manuscripts
• space to display approximately 300 items, giving visitors the opportunity to learn about the history and culture of Islamic world and Qatar
• medical, pharmacological, and astronomical texts, along with famous works produced by Ibn Sinā and alRāzī
• one of the oldest manuscripts in the collection is a set of four parts of al-Bukhari's Al-Sahih, on parchment, which dates back to the 6th Century H. /12th Century A.D., written in Spain
• more than 26,000 printed books, 4,000 manuscripts, 70,000 photographs, and 1,200 maps, as well as numerous atlases, globes, traveler's instruments and extensive archival materials
• contains the Ptolemy map entitled "Sexta Asiae Tabula", printed in Rome in 1478. This is the first map to mention Qatar, printed in Latin as Catara
Library updates and Statistics: November 7, 2017 – February 26, 2018
• More than 45,000 new members have registered
• The library has seen more than 134, 000 visitors
• More than 252000 books have been checked out, which includes 158125 children books and 94829 books from the main collection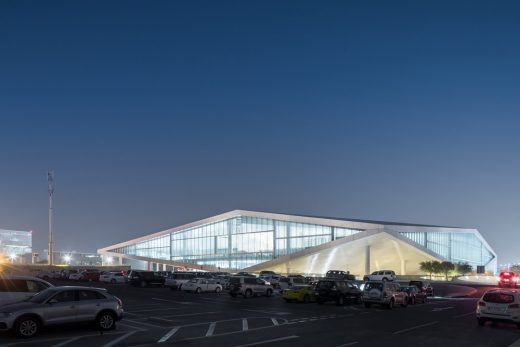 photo © Iwan Baan
Photography © Iwan Baan, Delfino Sisto Legnani and Marco Cappelletti © OMA and © Hans Werlemann
Qatar National Library in Doha images / information received 170418
OMA led by architect Rem Koolhaas
Address: Qatar National Library, Al Rayyan
Phone: 4454 0100
Location: Qatar National Library, Al Rayyan, Doha, Qatar
New Architecture in Qatar
Contemporary Qatar Architecture
Qatar Architecture Designs – chronological list
Museum Islamic Art Park, Doha
Architect: I M Pei
Museum Islamic Art Park
Lusail Marina Mall
Architects; HOK
Lusail Marina Mall
Barwa Financial District, Doha
Design: KEO International Consultants
Doha Financial District Buildings
Lusail Iconic Stadium Building
Architects: Foster + Partners
Qatar Stadium
Comment / photos for the Qatar National Library in Doha page welcome