LOT-EK Architects, New York Design Studio, Buildings, Designs, Pictures, NY Office
LOT-EK : New York Architecture Studio
Contemporary Manhattan Architect Practice, NYC, USA
post updated February 15, 2022
LOT-EK Architects News
LOT-EK Architecture News
Dec 3, 2021
c-Home Hudson, Claverack, New York State, USA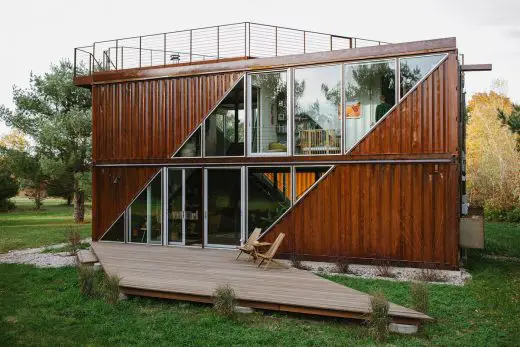 photo : Aundre Larrow
c-Home Hudson, Claverack, NY
c-Home Hudson upcycles 40-foot shipping containers as a single-family home. Six shipping containers provide 1,920 square feet of living space on two levels.
post updated August 7, 2021 ; Sep 28, 2016
LOT-EK – 2 new exhibitions in downtown NYC
LOT-EK designed:
TOTAL PROOF: the first comprehensive New York presentation of the GALA Committee's In The Name Of The Place, a covert conceptual artwork deployed on the primetime television show Melrose Place from 1995-97.
September 30 – November 27, 2016
Red Bull Studios / 220 W 18th Street, NYC
www.redbullstudiosnewyork.com/exhibition/total-proof-the-gala-committee/
LOT-EK have work in:
WORK IN PROGRESS: a space of reflection and critique of current development practices and the architectures that build them.
September 27 – October 22, 2016
Storefront for Art and Architecture / 97 Kenmare Street, NYC
storefrontnews.org/programming/work-in-progress/
Sep 4, 2016
LOT-EK, new works
September 9 – October 16
opening Friday September 9, 6-8
Alden Projects, 34 Orchard Street, New York, NY 10002
THIS SIDE UP is an installation of new works on paper by the duo of New York-based artists and architects, LOT-EK at Alden Projects September 09 – October 16; opening Friday, September 09 (6-8 pm). This is LOT-EK's first exhibition in association with Alden Projects.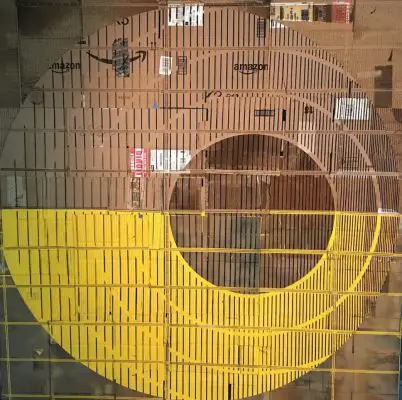 LOT-EK, #1 Flattened, Laser-cut cardboard boxes, sprayed acrylic, and acid-free glue mounted on wood and metal frame, 73 x73x1 in.
The title—THIS SIDE UP—is a shifting directional marker, indexing a manner to orient a shipped box or container. It also points like an index finger towards LOT-EK's technique of détournement—of transposing and re-routing already given, commercial vessels for re-devised purposes. In this exhibition, ordinary cardboard shipping boxes (many retaining their original Amazon and other commercial shipping labels) are re-assembled, and transitioned into wall bound assemblages with actionable titles such as #1 Stacked and #1 Flattened (both 2016).
The series, Foldables (2016) comprises ten folding drawings fashioned out of flattened, assembled, spray-painted and laser cut cardboard boxes housed in a similar, laser-cut box: containers en abyme suggesting that for LOT-EK, the end has no end in these unfixed, shifting and collapsing volumes of the uncontainable. This syntax of shifters is an industrial alphabet, dreaming towards infinity.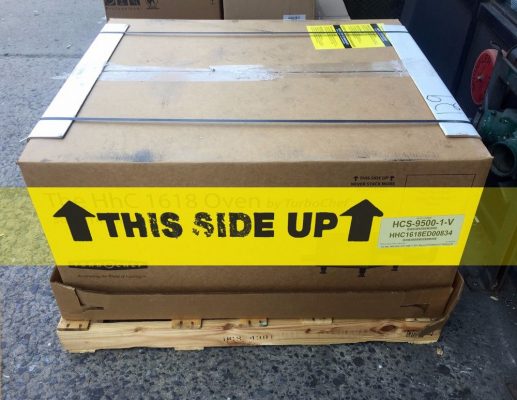 'THIS SIDE UP' – LOT-EK exhibition Alden Projects New York City
Defying the conventions of two dimensional drawing but also of three dimensional sculpture (and architecture), LOT-EK realizes these works through assembling, unfolding, cutting and removal procedures, chiefly through the meticulous laser-cutting from surfaces of cardboard boxes. The material logic of Gordon Matta-Clark and Carl Andre comes readily to mind, but so too does Robert Rauschenberg's under appreciated series of cardboard-based works from the early 1970s. Similarly, LOT-EK's materially modest series swerves from the straight path of architectural drawings. These cuts, these markings, these unfoldings sometimes evoke actual objects and systems of industrialization, including identifiable, architectural projects that LOT-EK has realized in actual space or has dreamed of realizing. But more often than not, these drawings conjure up the world of material possibility: the shapes of imaginary objects in space, the shapes of potential volumes fleetingly captured in the shape shifting lines and unfoldings of meticulously hewn fibers.
Also on view is Urbanscan Atlas (2016), a nearly one-foot thick, photographic codex containing LOT-EK's complete image bank of photographic mappings of urban typologies (e.g. containers, manholes, tanks, etc.) printed on vellum. (The duo has been assembling this Urbanscan series for more than two decades). It catalogs urban inspirations and teases out tensions between repetition and difference. It is a kind of autobiography of LOT-EK's way of seeing that is in some ways comparable to Sol Lewitt's photographic compilation, Autobiography; this atlas, however, is unique. Containing a selection of the component elements of Urbanscan Atlas is Urbanscan Blocks, a series of 56 wall bound, pre-printed yellow notebooks that have been imprinted by LOT-EK with a large survey of images from the Urbanscan series, but with each notebook stacked according to typology, and with each limited to the already-given number of pages in a pre-printed notebook: 50 images each, with only one of each typology visible on the wall.
LOT-EK is recognized internationally for initiating the concept of creating art and architecture at all scales with infrastructural and industrial objects—most notably, the standard 40-foot shipping container. Whitney Studio, to name one, was commissioned by the Whitney Museum as an "education studio structure" and realized in the courtyard of their landmark Marcel Breuer building 2012. "Through such literal operations as cutting, opening, unfolding, and shifting," LOT-EK notes, "and through additional strategies of multiplication and repetition, we develop the latent potential of these objects."
LOT-EK's prior solo exhibitions include the Whitney Museum, New York; Walker Art Center, Minneapolis; Art Museum, University of Santa Barbara; California College of Arts and Crafts; Deitch Projects, New York. LOT-EK's work is included in the collections of The Museum of Modern Art, New York; The Guggenheim Museum, New York; San Francisco Museum of Modern Art; Weatherspoon Art Museum, Greensboro, NC; The Brooklyn Museum, New York. Installed in 2015, LOT-EK created Alden Projects' gallery sign on Orchard Street.
Aug 11, 2016
Irving Place Carriage House, Brooklyn, New York, USA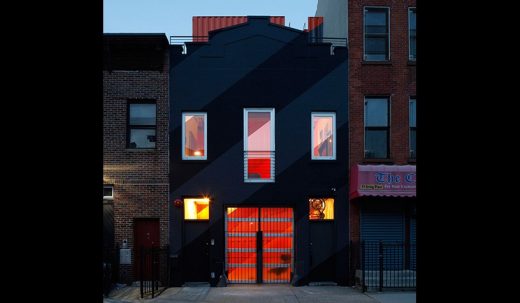 image from architects
Irving Place Carriage House
The Irving Place Carriage House is a single family residence for artist Markus Linnenbrink and art dealer Cindy Rucker.
18 Feb 2013
LOT-EK Architects – Architecture Awards
Two projects – Whitney Studio and APAP OpenSchool – have been selected as finalists for the first ever Architizer A+ Awards
• APAP OpenSchool is a finalist in TWO categories: Architecture & Fabrication and Architecture & Learning
• Whitney Studio is a finalist in the Cultural/Art Galleries category
8 Jun 2012
LOT-EK – Latest Design
c-Home


image from architect
LOT-EK is proud to announce the launch of c-Home – a new series of pre-fabricated homes – developed in collaboration with FreshPods, experienced builders of modern homes.
This New York design studio is an architecture firm that specializes in ecologically intelligent design with existing industrial objects and systems. As we are constantly exploring the idea of building with shipping containers, we are very excited to announce the launch of c-Home, a new residential concept.
c-Home represents our latest effort to promote and enable affordable, sustainable home-ownership through the upcycling of shipping containers – all in the distinctive style for which we are known. These new designs (a series of models) will be offered as fully prefabricated modules delivered anywhere in North America, to be installed and completed onsite. The homes are being developed in partnership with FreshPods, experienced builders and construction managers of modern, luxury homes.
Information on each model, including renderings, floor plans and descriptions can be found at www.c-HomeUSA.com. For right now, only the 4×40 is currently available for ordering. We are exploring options to make c-Home available globally, and hope to make further announcements soon.
May 2012
LOT-EK – Recent Design
The Whitney Studio, Madison Avenue, Manhattan, NY, USA


image from architect
This NYC architecture practice was commissioned to design an art studio space for the Whitney Museum of American Art.
The Whitney Studio is located in the moat of the Whitney Museum's Marcel Breuer building on Madison Avenue. The Studio houses activities for the Whitney Museum's education program, including art-making classes for adults, teens and families, informal lectures and special exhibits.
The building employs 6 steel shipping containers stacked on two levels to form a monolithic cube, and was designed specifically to fit within the moat, directly south of the entry bridge. A diagonal and continuous band of fenestration runs along two sides and the roof to provide natural light, and offers a glimpse of activities to museum visitors. Inside, the studio offers a white, double-height space with a triangular mezzanine for the production and display of art work.


image from architect studio
Structural Engineer: RSA, Nat Oppenheimer
Fabrication: Craft Workshop LLC
Container Fabrication: TRS Containers
Windows: The Orchard Group
More buildings by LOT-EK online very soon
Location: 55 Little West 12th Street, New York City, NY 10011, USA
New York City Architects Practice Information
LOT-EK (USA) in New York, USA ; LOT-EK (EUROPE) in Napoli, Italy
About LOT-EK
Based in NYC, USA
Website: https://lot-ek.com/
NYC Architecture
NY Architecture Designs – chronological list
277 Fifth Avenue, NoMad, NYC
Architects: Rafael Viñoly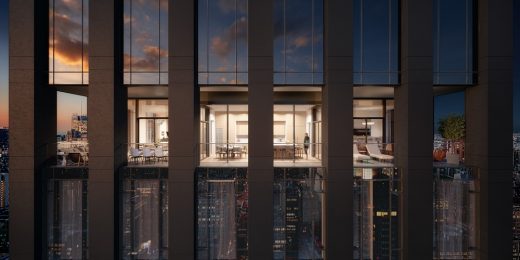 rendering : THREE MARKS
277 Fifth Avenue Building
550 Madison
Architects: Snøhetta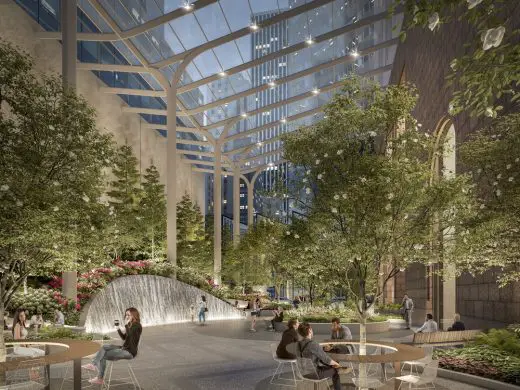 photo © Snøhetta and MOARE
550 Madison in New York City
Comments / photos for the LOT-EK Architects page welcome