Kohn Pedersen Fox Associates, KPF Architects and Planning Consultants, Buildings Studio
KPF Architects Practice Information – News
Kohn Pedersen Fox Associates – Buildings News and Architecture Practice Updates
post updated March 19, 2023
Kohn Pedersen Fox Associates News
Kohn Pedersen Fox Associates – Studio News
3 Feb 2012
KPF London Gallery, England, United Kingdom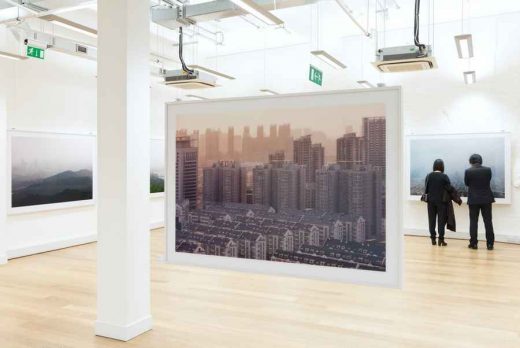 photograph : Kohn Pedersen Fox
KPF London Gallery
Location: 7a Langley Street, London, WC2H 9JA
International architecture firm Kohn Pedersen Fox Associates (KPF) is pleased to announce the inaugural exhibition at its new gallery space in central London, a celebration of the work of German artist and architectural photographer HG Esch.
Shown in the UK for the first time, the exhibition presents a selection of photographs taken from Esch's 'Cities Unknown' series.
18 Aug 2011
Kohn Pedersen Fox Associates – Exhibition
A. Eugene Kohn Watercolour Exhibition – Autumn Showcase of KPF Chairman's Artwork in Hongkong Land Rotunda
London – August, 2011 – International architecture firm, Kohn Pedersen Fox Associates (KPF) is pleased to announce that the firm will be presenting a selection of Chairman and Founder A. Eugene Kohn's watercolours in Hong Kong this autumn. The artists' proceeds from the works sold will be donated to Memorial Sloan-Kettering Cancer Center and Cancer Research at the University of Michigan. The proceeds from a silent auction of several noteworthy pieces during the opening reception on October 3rd will also be donated to the Hong Kong Cancer Fund (HKCF).
Mr. Kohn's fascination with painting began when he was a young boy sitting by his mother's side while she painted. Hannah Kohn was an accomplished painter in her own right and had a show at the Guggenheim Museum on the occasion of her 100th birthday. Mr. Kohn works primarily in watercolour with a range of subjects – cityscapes, landscapes, still life and abstract. Much of his work is done when he travels in foreign countries, and he normally gives work as gifts or donates them to charity auctions. His work has previously been displayed at the Guggenheim Museum in a show for the works of well-known architects, as well other similar shows, and is exhibited at Belgravia Gallery in London.
According to Mr. Kohn, "It's not about being an artist – painting is something that I enjoy and do purely for the joy of it. I paint to relax and to express strong feelings about certain subjects. A building can take five to ten years to complete, while a watercolour only takes a few hours."
Belgravia Gallery's Anna Hunter adds, "Although small in scale, some convey vast buildings and cityscapes, others suggest a bird's eye view of fast moving city life, yet others covey the artists love of fresh landscape and countryside. We can return to his work again and again, and always find more by which to be surprised and enchanted."
Hong Kong was chosen as the venue for this show, as the city and region is very important to the firm. KPF was one of the first US architecture firms to start working in China, and has had such a strong presence there for over 20 years. With offices in Shanghai and Hong Kong, the firm offers arguably more experience and a deeper perspective than any other global practice. Today, KPF boasts a number of notable projects in China, including the Shanghai World Financial Center and Plaza 66, as well as The Landmark Mandarin Oriental and the International Commerce Centre (housing the world's tallest hotel, The Ritz-Carlton), both in Hong Kong.
Kohn Pedersen Fox Associates : main page with images
Buildings by Kohn Pedersen Fox Associates (KPF)
Designs by Kohn Pedersen Fox Associates, no images, alphabetical:
Alvah H. Chapman Graduate School of Business, Florida International University, Miami, FL, USA
Date built: 2008
Chicago Athenaeum: Museum of Architecture and Design American Architecture Award (2008)
Baruch College "Vertical Campus" Mixed-use Academic Complex, New York, New York, USA
Date built: 2001
AIA National Chapter Honor Award for Architecture (2003)
Chifley Tower, Sydney, Australia
Date built: 1992
239m high
Daniel P. Moynihan U.S. Courthouse at Foley Square, New York, New York, USA
Date built: 1994
921,000 sqft, 27-storey courthouse with offices.
GSA Design Excellence Awards (1996)
Goldman Sachs European Headquarters, London, England
Date built: 1991
Kohn Pedersen Fox Associates (KPF) with EPR Architects
Glasgow Harbour Master Plan, Scotland, UK
Masterplan architects: Kohn Pedersen Fox Associates
Huamao Center/China Central Place, Beijing, China
Date built: 2007
7.7 m sqft mixed-use development: office, hotel, residential, retail and public open spaces. Tenants include Deutsche Bank, Ritz-Carlton and JW Marriot, as well as major retail flagship tenants such as Armani and Bulgari.
Mori Tower at Roppongi Hills, Tokyo, Japan
–
3.5 m sqft, 58-storey mixed-use development: office, 380-room Grand Hyatt Hotel, 840 residential condominiums, 1,000-seat performing arts theatre, art museum, TV broadcast, retail and transit connection.
Nihonbashi 1-chome, Tokyo, Japan
Date built: 2004
983,000 sqft, 20-storey mixed-use development: office and retail.
Rothermere American Institute, Oxford University, Oxford, England
Date built: 2000
Kohn Pedersen Fox Associates
Ruth Deech Building at St. Anne's College, Oxford University, Oxford, England
Date built: 2005
Mixed-use academic facility: halls of residence with 110 student bedrooms, classrooms, lecture hall and caretaker's lodge.
Unilever House, London, England
Date built: 2007
Transformation of 1930s Grade-II listed historic property on the River Thames embankment.
Awards:
i. AIA National Chapter Honor Award for Architecture (2008)
ii. AIA New York Chapter Building Type Award Sustainable Design Award Winner (2008)
iii. MIPIM Awards, Refurbished Office Buildings (2008)
iv. Urban Land Institute Award for Excellence: Europe (2008)
v. City Heritage Award Outstanding Excellence in the Renewal of Buildings and Conservation (2008)
vi. Corus + The British Constructional Steelwork Association Structural Steel Design Excellence Award (2008)
More architectural projects by Kohn Pedersen Fox Associates – KPF online soon
Location: New York City, NY, USA
KPF Architects Practice Information
Kohn Pedersen Fox Associates – KPF architects studios based across the globe
American Architects offices – information about current US architectural studios
Architectural Design
New York Architecture News – current building updates
New York Architects Offices – arranged by building
Website: Architectural Walking Tours
Buildings / photos for the Kohn Pedersen Fox Associates – KPF Architects page welcome
Website: www.kpf.com