Henning Larsen Architects Denmark, Danish Design Office, Architectural Studio
Henning Larsen Architects Practice Information
Danish Architecture Office – based in Copenhagen
15 Aug 2019
Henning Larsen Architect News
Henning Larsen – Laureate of The European Prize for Architecture
The Danish architecture office, Henning Larsen Architects is presented this year with what is known internationally as Europe's Highest Award for Architecture by The European Centre for Architecture Art Design and Urban Studies and The Chicago Athenaeum: Museum of Architecture and Design at a Gala Dinner Award Ceremony at the foot of the Acropolis in Athens, Greece on September 13.
Henning Larsen wins European Prize for Architecture 2019
22 Aug 2017
Henning Larsen Foundation Architecture & Music Competition News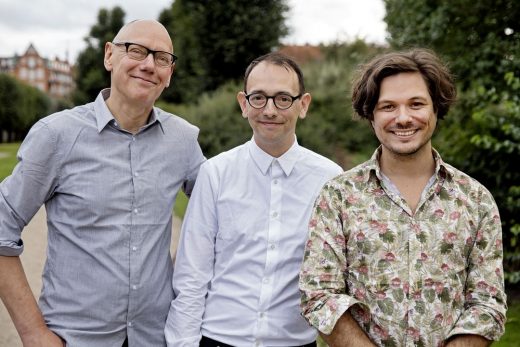 photo : Agnete Schlichtkrull
Henning Larsen Foundation Architecture & Music Competition winners
New partners in Henning Larsen Architects
8 Feb 2014 – Henning Larsen Architects expands its partner group with a new member and five associate partners are appointed full partners. The expansion strengthens the local presence in the markets where Henning Larsen Architects is engaged in projects and has local offices.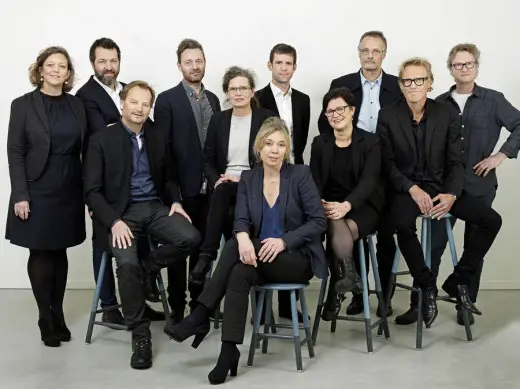 "The partner group will provide the foundation for continued development and growth globally. We are doing well in the markets where we have established offices", says CEO Mette Kynne Frandsen. "The expansion of the partner group is a natural step in the gradual generational change that founder Henning Larsen initiated more than 10 years ago. It was important for him that the company would retain its strong position in the future."
The main focus of the partner group will be to ensure the continued growth of the company in its current markets, secure and strengthen the architectural quality across offices and further develop the knowledge-based approach to design.
Werner Frosch, who has managed the company's successful office in Munich since its establishment in 2011, will become new partner. He has been employed with Henning Larsen Architects since 2ooo. Anne Marie Galmstrup will continue as manager of the Istanbul office. She has been associate partner since 2007 and is now full partner.
Partner Jacob Kurek will also in future be responsible for client relations, business and project development in the Middle East. His responsibility includes the Riyadh subsidiary, Henning Larsen Middle East. He will also be part of business development in other international markets.
The executive management of Henning Larsen Architects will continue to be led by CEO Mette Kynne Frandsen and Design Director Louis Becker who will also continue as responsible partner for the company's activities on the global market. Partner Peer Teglgaard Jeppesen will become member of the Board of Directors.
In the Faroe Islands, Henning Larsen Architects in 2013 established a jointly own office with Ósbjørn Jacobsen as local partner. He was previously associate partner.
The full group of partners consists of Louis Becker, Werner Frosch, Anne Marie Galmstrup, Signe Kongebro, Jacob Kurek, Mette Kynne Frandsen, Ingela Larsson, Lars Steffensen, Anders Sælan, Peer Teglgaard Jeppesen and Søren Øllgaard.
12 Sep 2012
Henning Larsen wins Praemium Imperiale
Praemium Imperiale
The Japan Art Association announce Praemium Imperiale Laureates



image from architects
The Praemium Imperiale is a global arts prize awarded annually by the Japan Art Association. Now in its 24th year, since its inauguration in 1989 it has become a mark of the highest international distinction for achievement in the arts. The awards honour individuals from all over the world who have made an outstanding contribution to the development of the arts and are made in five categories – Painting, Sculpture, Architecture, Music and Theatre/film.
Architect Henning Larsen is awarded one of the world's most prestigious global arts awards, the Praemium Imperiale 2012. Often referred to as the equivalent of the Nobel Prize in the arts, the Praemium Imperiale has been awarded to a number of the most distinguished and influential artists of the late 20th and early 21st century.
The prize was founded by Japan's oldest cultural organisation, the Japan Art Association, and is presented by the Japanese Imperial Family at a gala ceremony in late October.
The names of the Laureates were announced on 13 September in connection with an international press conference at the Japanese Embassy in Berlin.
Henning Larsen is the first Danish artist to receive the Praemium Imperiale, which was first awarded in 1989. Today, the prize remains one of the most prestigious global recognitions in the arts. The prize recognises outstanding achievements in five categories representing the major arts – Painting, Sculpture, Architecture, Music and Theatre/Film.
Extract from the Prize Committee's citation in awarding the 2012 award in architecture to Henning Larsen: "Light seems to fall from the ceiling and windows, reflecting off the floors and walls, filling the space sublimely; these minutely calculated lighting effects are one of the greatest characteristics of Henning Larsen's architecture."
28 Aug 2012
When the entire world comes to Greenland, Denmark
The entire world is champing at the bit to go to Greenland. Tourists want to experience Greenlandic culture and the unique scenery in the island. Chinese businesses are poised to find minerals, and the large oil companies are drilling away for oil. At the same time, many young Greenlanders are leaving the country to pursue their studies abroad. The future holds many possibilities and large challenges. This is the theme of the exhibition 'Possible Greenland' in the Danish pavilion at the 13thInternational Architecture Exhibition in Venice, which will open to the audience on 29 August.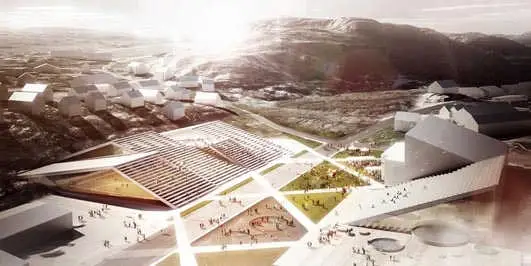 image from architects
Henning Larsen Architects has developed the project 'Greenland Migrating' in collaboration with David Garcia Studio and KITAA Architects for the Danish pavilion. The project has aimed to develop a strategy for the Greenland town of Ilulissat. Migration is a natural part of Greenland's history but increased tourism and potential mineral exploration can cause a migration flow that might turn the Greenlandic population into a minority in their own country.
Today, Ilulissat has a population of 4,700 people, and the large cruise ships coming to the island in summer have more than 4,000 passengers. The total population of Greenland amounts to 57,000 people, and it is expected that 10-15,000 foreign workers will stay in the island in a few years.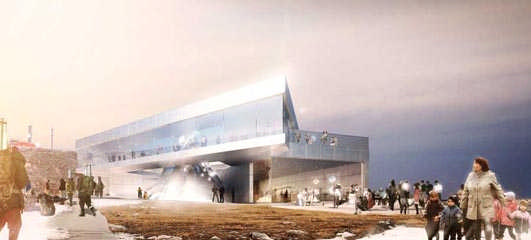 image from architects
"Greenland is faced with an adventure that will change the island forever. When the large oil and mining companies start their work, immigration will explode and put the Greenlandic society under huge pressure", says architect David Garcia, David Garcia Studio. "A fundamental social change is waiting ahead. It can be addressed by investing in urban development and look for architectural responses that disclose the inherent strengths and possibilities of the development."
'Greenland Migrating' suggests four interventions in Ilulissat where architecture can be the catalyst for the 'meeting' between people as a resource for growth. To create value for everyone – cruise ship tourists, immigrants and Greenlanders – the project proposes to establish a multi-purpose Culture Centre in the town centre, temporary housing on the harbour, a market, a sports plaza allowing for activities to take place all year round and a new glacial meeting hub – comprising a new UNESCO office, a tourist information centre and facilities for the new Faculty of Glacial Studies.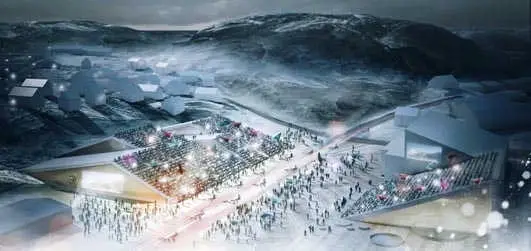 image from architects
"Our project wishes to embrace the potential of migration. Greenland can benefit from the global contact. Hospitality forms part of Greenlandic culture, and openness is Greenland's trump card", says CEO Mette Kynne Frandsen, Henning Larsen Architects. "With a vision that includes both short-staying visitors and immigrants, Greenland will be in a strong position."
Danish-Greenlandic Professor in geology, Minik Rosing, and NORD Architects have been curators of the exhibition, which can be seen in Venice until 25 November.
Henning Larsen : main page with news + key projects
Five winners in writing competition on architecture
20 Aug 2012 – In February, the Henning Larsen Foundation launched an international competition for writing about architecture, "TIME & SPACE". On Henning Larsen's birthday, 20 August, the names of the winners are announced.
First prize goes to Nathan Romero Muelas for "The Wash House". The winning text is a classic essay. The jury writes: "A personal, experienced voice takes us back to a place that no longer exists but as a recollection still gives meaning. A place 'from the time before the washing machine' which in the writer's description becomes the space of architecture par excellence, the place where people meet around an everyday function that would not exist without the physical framework provided by architecture. A simple space and a simple but captivating story about how time lets the space continue beyond its concrete existence by virtue of our memory. A place you passed but which stayed in your mind because the architecture and the everyday use were strong and full of meaning. As this essay itself: a small gem that unites everything important with simple means."
Daniel Persson receives second prize. Sanne Flyvbjerg, Mette Marie Kallehauge and Tinne Delfs each receive a third prize.
The first prize winner receives an award of €10,000, the second prize winner of €5,000 and the three third prize winners of each €2,000.
Exhibition on Henning Larsen Architects in Munich, Germany



picture from architects
Architekturgalerie München, which is one of Germany's most distinguished architecture galleries, has opened an exhibition on work method and recent projects of Henning Larsen Architects.
The exhibition was officially opened by Her Royal Highness Princess Benedikte of Denmark and is part of the Danish culture week in Munich, which puts focus on Danish visual arts and literature, in addition to architecture.
The exhibition is open to the audience from 15 Jun – 20 Jul in Architekturgalerie München, Buchhandlung L.Werner, Türkenstrasse 30 in central Munich. From Monday to Wednesday, the exhibition is open from 9.30 am to 7 pm, Thursday and Friday from 9.30 am to 7.30 pm and Saturday from 9.30 am to 6 pm. Sunday closed.
7 Feb 2012
Henning Larsen Foundation Architecture Competition
Writing about Architecture Competition
The Henning Larsen Foundation is launching an international competition on writing about architecture – the third in a row of architecture competitions. The first was about "photographing architecture", the second about "drawing architecture" and the third – "Time and Space" – focuses on "writing about architecture".
Photos, drawings and texts challenge architecture. They can be a branch of art or a piece of architecture in themselves, or they can communicate an idea or a dream. The dream is the focus of attention in this competition.
An old, blurred photo, a sketch or a piece of writing can sometimes evoke thoughts and images stronger and more fascinating than those found in today's architecture projects.
Moesgård Museum Extension Building, Århus, Denmark by Henning Larsen Architects:



image from architects
Texts have the ability to evoke images inside us. The hope of the competition is that an essay, a poem, a fairytale or another kind of text will provide inspiration for architecture that creates dreams about time and space that could be.
Competition entries can be submitted in either Danish or English. The entries will be evaluated on the basis on their description of space and spatiality and whether they offer something new to the genre – writing about architecture. Previously published texts and texts about architecture created by Henning Larsen Architects are not accepted for evaluation.
The Henning Larsen Foundation was established in 2001 with Henning Larsen's private funds and has since then awarded grants each year on the founder's birthday, 20 August. The two previous competitions were held in 2007 and 2008, respectively.
Competition entries should be submitted in a closed enveloped marked "Time & Space" to Henning Larsen Architects, Vesterbrogade 76, 1620 København V. Deadline for submission is 12 March 2012. The winners will be announced on 20 August 2012 – with a first prize of €10.000, a second prize of €5.000 and two third prizes of each €2.000.
The judging committee consists of Professor, architect Henning Larsen; CEO, architect Kent Martinussen; Chief Editor, architect Martin Keiding; architecture writer, historian of ideas Christian Bundegaard and architect Troels Troelsen.
Please find guidelines and more information at: http://www.henninglarsen.com/ – external link
More information re Henninh Larsen Architects online soon
Location: Henning Larsen Arkitekten, Vesterbrogade 76, 1620 Copenhagen, Denmark, northern Europe
Practice Information
Henning Larsen Foundation Awards
Buildings / photos for the Henning Larsen Architects Denmark page welcome
Website: www.hlt.dk