COBE Architects, Danish Buildings, Design Studio Denmark, Office, Architecture Practice News
COBE Architects Office
København Arkitekter – Berlin, Germany + Copenhagen, Denmark: Architecture Office Info
post updated 5 Apr 2021
COBE News
COBE Architects News
17 June 2020
Nordhavn + Orientkaj Stations, Copenhagen, Denmark
Design: Arup and Cobe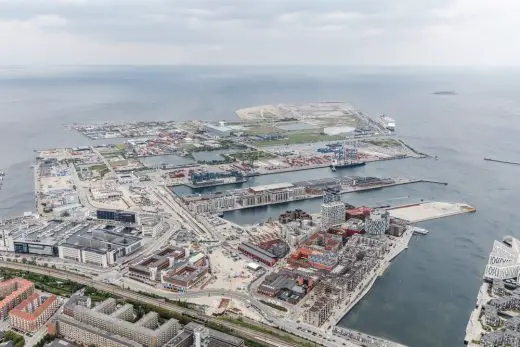 photo : Rasmus Hjortshøj – COAST
Nordhavn Station + Orientkaj Station
Part of the Nordhavn metro line extension connecting the docklands to Copenhagen's city center, Arup and Cobe have worked together to design two new metro stations, Orientkaj and Nordhavn, under the Nordhavn metro line extension.
23 Oct 2019
Karen Blixens Plads, Copenhagen, Denmark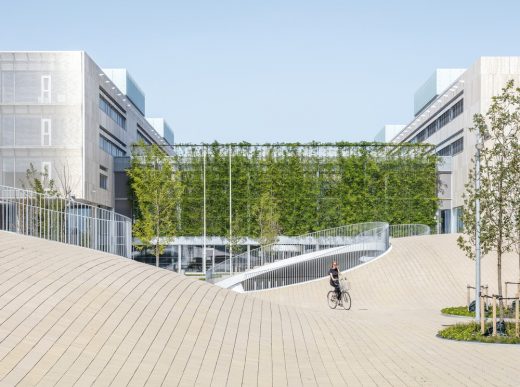 photograph : Rasmus Hjortshøj
Karen Blixens Plads
A new, major square in Copenhagen: Karen Blixens Plads. The square has a unique undulating landscape with hollow hills and low bicyclebeds creating a new and innovative way to park bicycles. It is one of the largest public spaces in Copenhagen and has room for more than 2,000 parked bicycles.
5 July 2019
Science Center Lund – CO2-neutral Museum, Sweden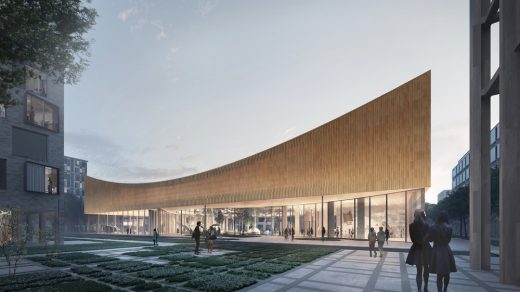 image : COBE
Science Center Lund
29 May 2019
Ultra Fast Charging Stations, Fredericia, Jutland, western Denmark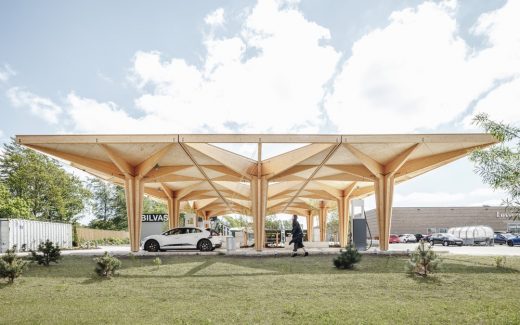 image : COBE
Electric Vehicle Charging Stations in Denmark
In cooperation with Powered by E.ON Drive & Clever, COBE has designed a new type of charging stations for electric vehicles (EVs) in Scandinavia. The stations not only promise to recharge a vehicle in just 15 minutes but also offer drivers and passengers a welcome break and the chance to recharge their own mental batteries while the car is being powered up.
15 Feb 2019
Europahafenkopf, Bremen, north Germany
Architects: COBE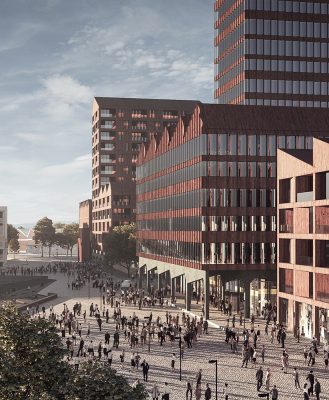 image : COBE
Europahafenkopf Bremen
The groundbreaking for a 77,000 m2 project on the harbour front in the German city of Bremen designed by the Danish architectural firm COBE under the leadership of architect Dan Stubbergaard has taken place.
COBE won a mastership of ideas in 2018 – a new process designed as a supplement to the classic architectural competition by JES – Julia Erdmann Socialtecture.
19 Dec 2018
Red Cross Volunteer House, 27 Blegdamsvej, Copenhagen Ø, Denmark
Red Cross Volunteer House
The Red Cross Volunteer House gives 34,000 volunteers a setting for the continuous development of their work in Denmark.
31 Oct 2018
Tingbjerg Library and Culture House, Brønshøj, Denmark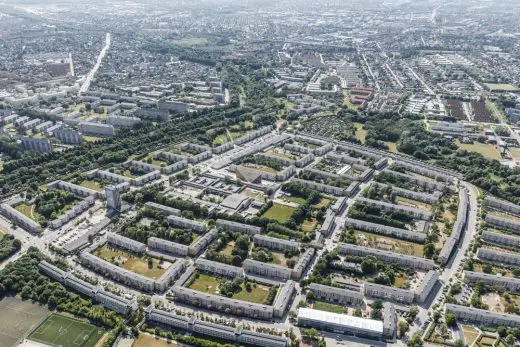 photo : Rasmus Hjortshøj – COAST
Tingbjerg Library and Culture House
The Danish architects COBE have reinterpreted Danish modernism in its newly completed Tingbjerg Library and Culture House. COBE has created a new social and cultural destination in the Copenhagen neighbourhood Tingbjerg that invites community interaction, engagement and signals a new urban transformation.
19 Jan 2018
New charging stations for electric vehicles in Denmark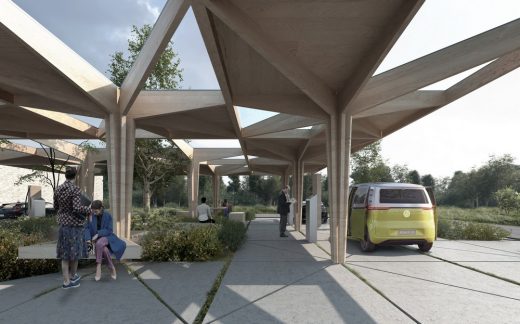 image : COBE
Electric Vehicle Charging Station Buildings in Denmark
The charging stations take the form of a series of structural 'trees', with 'crowns' that filter light and shade to create a green environment with a calming atmosphere. The modular approach means that the design is scalable, and that one 'tree' can easily be multiplied to become a 'forest' depending on the required capacity. The 'trees' are made from wood and concrete with solar cells on top, with real trees, grass and low shrubs planted within and around the charging station.
19 Dec 2017
Lervig visitor center and brewery, Stavanger, south western Norway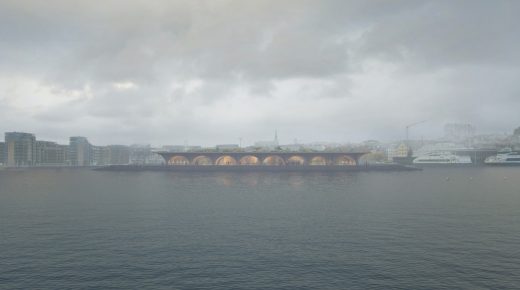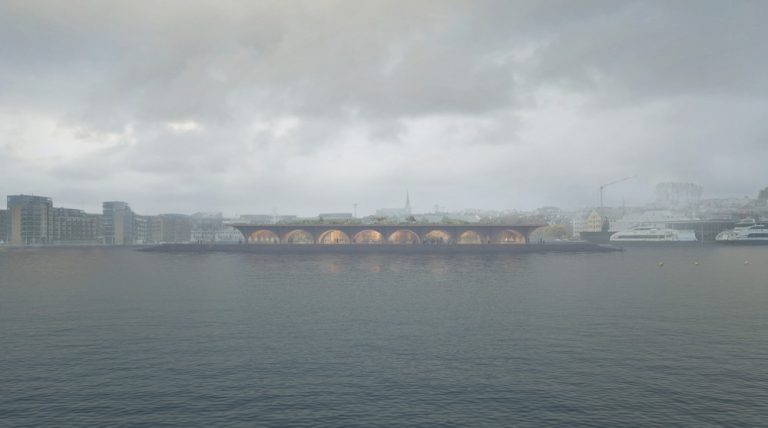 image : COBE
Lervig visitor center and brewery Building
Located on a former industrial pier in central Stavanger, COBE and LERVIG envision a unique attraction for locals and visitors to Stavanger. A brewery will be the heart of the building, surrounded by a visitor center, harbour bath, roof garden and the first 'street-food' market on the west coast of Norway, all publicly accessible and tailored to celebrate city life.
8 Dec 2017
Place Schuman Building, European Quarter, Brussels, Belgium
Design: COBE (DK) & BRUT (BE)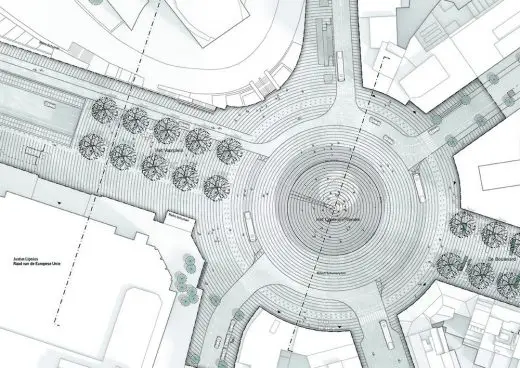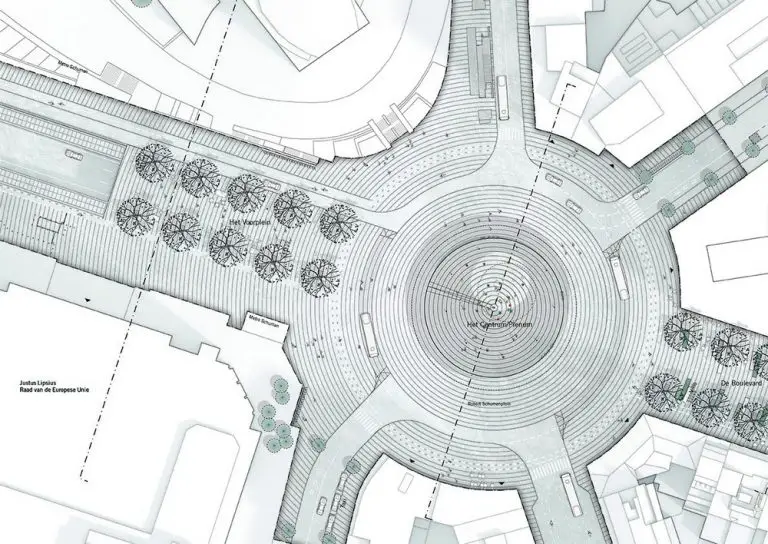 image : COBE / BRUT
Place Schuman Building
Danish architects COBE and Belgian architects BRUT reveal the winning design for Place Schuman in Brussels, Belgium. Located in the heart of the European Quarter, in between the main institutions of the European Union, Place Schuman constitutes the entrance to the EU.
2 Nov 2017
New Maritime Museum and Exploratorium in Porsgrunn – Søfartsmuseet
Design: COBE + TRANSFORM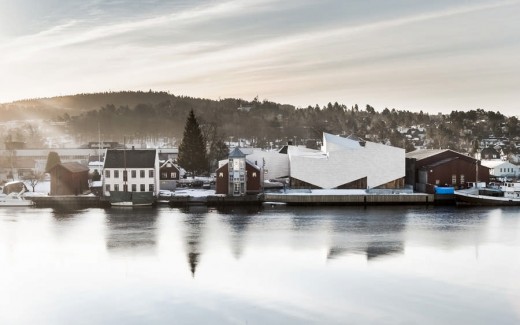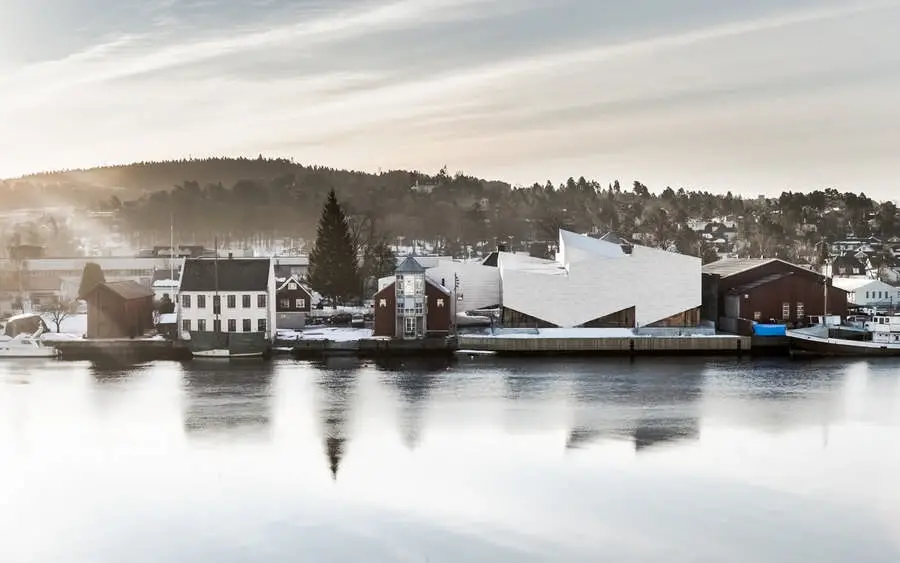 photograph : Rasmus Hjortshoj
New Maritime Museum and Exploratorium in Porsgrunn Building
Today is the grand opening of a new spectacular Maritime Museum and Exploratorium in the Norwegian town Porsgrunn. The building is designed by the Danish architects COBE and TRANSFORM, and has already, before the opening, become an architectural landmark of the town.
28 Jun 2017
The Silo Apartments, Fortkaj, Nordhavnen, Copenhagen, Denmark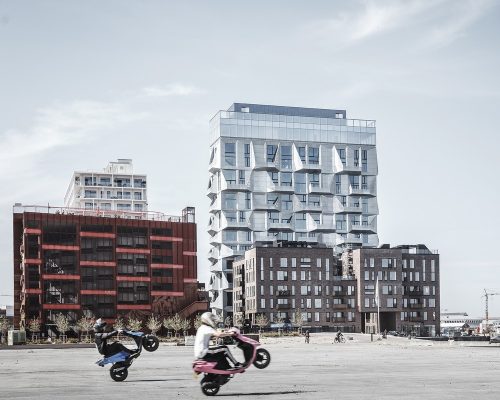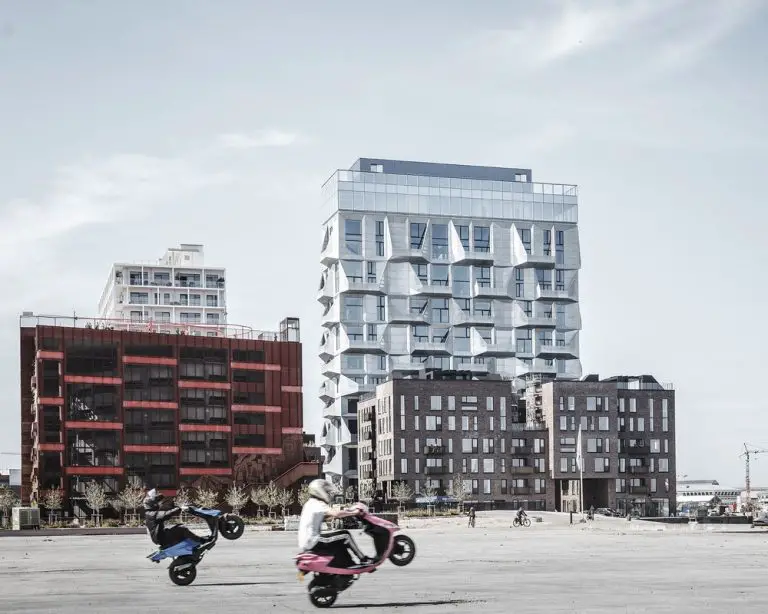 photograph : Rasmus Hjortshøj – COAST
The Silo Apartments in Nordhavnen
Centrepiece of Copenhagen's redeveloped Nordhavn – the complete transformation of The Silo. This former industrial silo building was originally used as a storage container for grain. Fifty years later, it has been converted for new use as a residential apartment building with 38 unique units, ranging from 106 m2 to 401 sqm in size, and with public functions such as event and dining facilities on the upper and lower levels.
13 Jan 2017
Krøyers Plads Housing, Copenhagen, Denmark
Design: Vilhelm Lauritzen Arkitekter and COBE, architects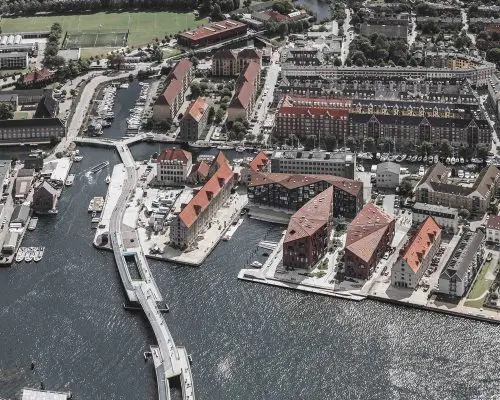 photographe : Rasmus Hjortshøj – COAST
Krøyers Plads Housing
The project is based on a hyper-democratic and contextual approach where folded roofs and architectural heaviness create a dialogue between old and new, and a modern, empathetic interpretation of the architectural uniqueness of the old Copenhagen warehouses.
17 Oct 2016
COBE Exhibition
Our Urban Living Room Exhibition
On Friday 14 October 2016, the Danish architects of COBE opened the doors to the exhibition Our Urban Living Room at the Danish Architecture Centre in Copenhagen.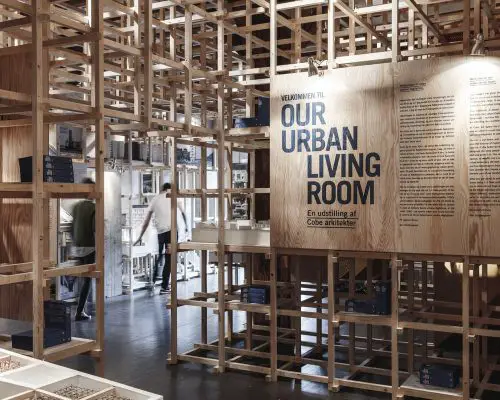 Photos: Rasmus Hjortshøj – COAST
Simultaneously, Cobe published a 500 page book by the same name. Both the book and the exhibition focus on the architectural development
of Copenhagen seen through the eyes of Cobe, who has had a widely popular breakthrough in Copenhagen, particularly, with projects such as Nørreport Station and the development of Nordhavn – currently the biggest urban development project in Scandinavia. In the exhibition and book Cobe urges people to experience the city from a new perspective; as an extended living room, where the boundaries between private and public space become fluid.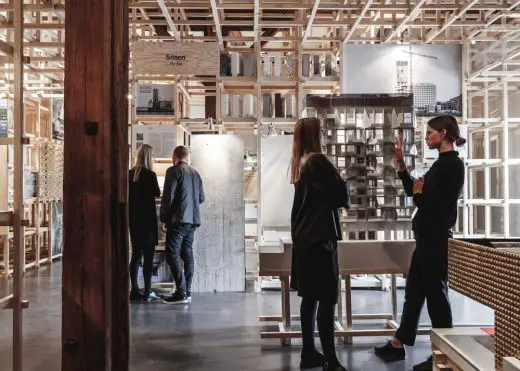 Copenhagen has gone through radical changes in the last 30 years and is today known as one of the world's most liveable cities. It used to be an industrial city – today it is our urban living room. The exhibition and the book are based on specific Cobe projects that tell stories about Copenhagen's architectural development – and how this development is affecting the conditions of people's lives.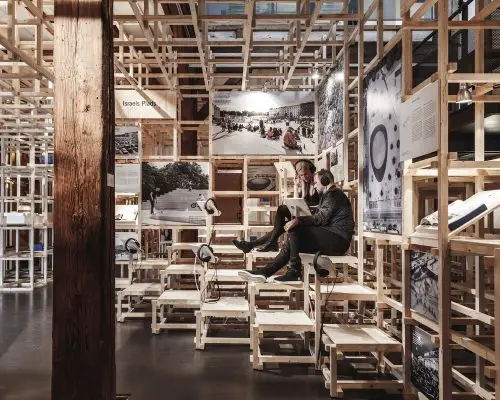 The city is your extended living room Cobe regards the city as an extended home and they strive to create buildings and spaces that invite Copenhageners to use and define them. From the beginning it has been clear that the architectural development of Copenhagen should be the theme for both the book and the exhibition.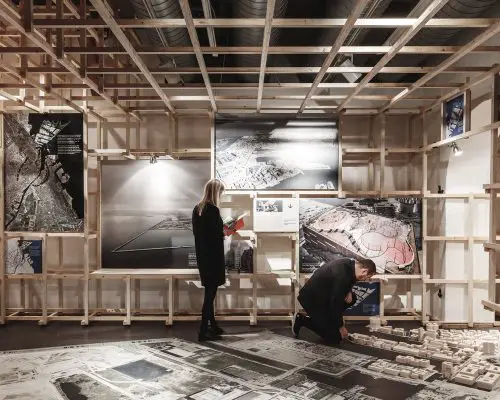 "Our city is our home, and that quality is what underpins the success of Copenhagen today. The more we care for it, the better we will treat it. The better it is designed, the more people will want to live in our city and take pride in it. This is not a matter of beauty, elegance, or wealth, but a story of social liveability and urban democracy," says Dan Stubbergaard, owner and creative director of Cobe.
Step into a giant wooden bookshelf 'Our Urban Living Room' is not just an exhibition, but a 1:1 Cobe project. The exhibition is housed within the beautiful timber structure of the Danish Architecture Center. The design of the exhibition is an extension of this 130 year old building by creating a new spatial wooden frame that compliments the existing architecture of the old warehouse and invites visitor interaction.
"As a special feature for the exhibition we have installed several 1:1 mock-ups from real life architectural projects. For example, a 1:1 mock-up of one of the balconies (7,5 x 8 x 2 meters) from one of Cobe's housing projects, The Silo, which has been mounted on the façade of the Danish Architecture Center. Visitors to the exhibition are invited to step outside onto the balcony and enjoy the spectacular view of the Copenhagen Harbour," says Dan Stubbergaard.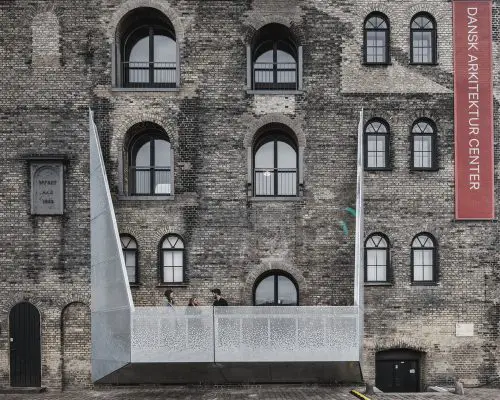 The wooden frame becomes a giant wooden bookshelf with models, pictures, texts, drawings and much more. Copies of the Urban Living Room book are placed throughout this large scale bookshelf providing visitors with additional information for each installation.
"The giant bookshelf surrounds seven spaces that represent seven urban challenges in the transformation of Copenhagen. These include among others: architecture for children, the transformation of old buildings, and a vision for the Copenhagen of tomorrow. By creating an exhibition and a book that urges to interaction and play, visitors will help us define the urban living room at the Danish Architecture Centre – the same way we all help create the urban living rooms of Copenhagen," says Dan Stubbergaard.
Discover architecture at close quarters
Unlike art exhibitions, architecture exhibitions show representations of something you can experience
in 1:1 somewhere far away from the exhibition spaces. Therefore, Cobe expands the exhibition
space and encourages visitors to go out into the city of Copenhagen and explore the architecture
and real life urban living rooms. During the exhibition at the Danish Architecture Centre,
visitors have the opportunity to experience some of Cobe's projects that are all a 10-minute walk
from the exhibition.
You can experience the housing project Krøyers Plads at the harbour front or
you can find your way towards Christiania and see the first phase of Scandinavia's largest preschool
– Kids' City Christianshavn. You can end the tour at Paper Island – a transformed industrial
island turned into a creative hub for food, art, and design. Paper Island itself is the essence of
an urban living room. Here, Cobe's office is located, and they invite visitors in, to show their work
with the future of Paper Island in their gallery at the ground floor of their office.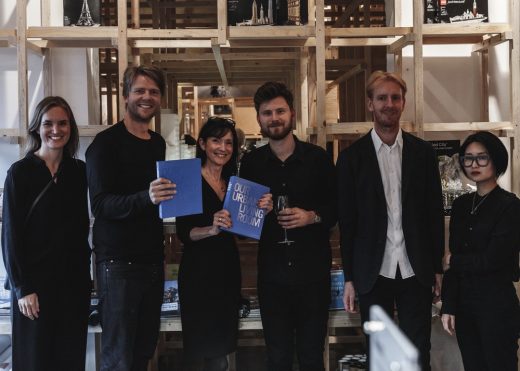 During the exhibiton, there will be a number of events arranged by the Danish Architecture
Centre and Cobe. Each Sunday, visitors can for instance participate in a guided tour. You will visit
Krøyers Plads, Kids' City Christianshavn, and stop by Cobe's office on the Paper Island besides
visiting the exhibition itself.
As part of the exhibition, Cobe urges visitors to contribute to a digital map where you can
instagram your favourite spot in Copenhagen – the places where the city becomes an extended
living room. The map gathers the information and visitors are able to inspire others to go out and
explore the city.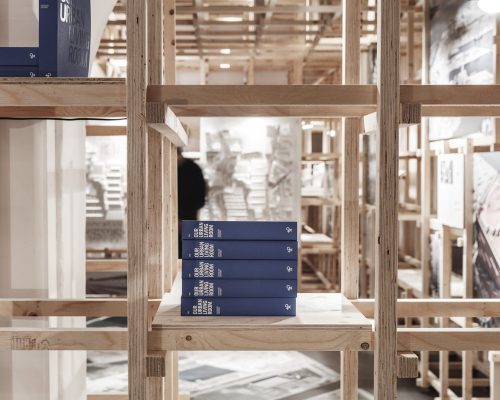 The exhibition 'Our Urban Living Room' is curated and developed by Cobe and the Danish
Architecture Centre. Realdania and Knud Højgaards Fond sponsor the exhibition. Metsä Wood,
MARKANT, Skandinaviska Glassystem, CSK Stålindustri and CN3 sponsor the primary constituents
of the exhibition. In connection to the exhibition opening Cobe released their first book with
the same title as the exhibition, published by Arvinius + Orfeus Publishing.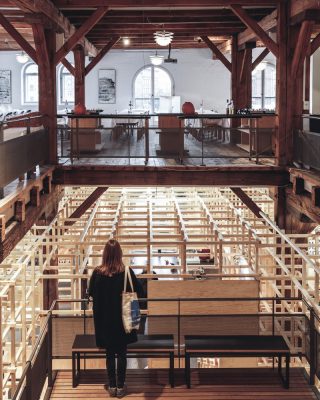 About the exhibition:
'Our Urban Living Room' was inaugurated on Copenhagen's Culture Night on October 14 2016
and is open until January 8 2017. The exhibition is exhibited at the Danish Architecture Centre,
Strandgade 27B, 1401 Copenhagen K.
Opening hours: every day at 10 am – 5 pm, Wednesday at 10 am – 9 pm. Entrance: 60 DKK, kids
and under-18s: free, students: 40 DKK. Free entrance every Wednesday at 5 pm – 9 pm.
A part of the exhibition is also exhibited at Cobe's office, Trangravsvej 6, 1436 Copenhagen K.
Opening hours: on weekdays at 9 am – 11 am and 1 pm – 4 pm, and Sundays at 1 pm – 4 pm.
Free entrance.
8 Oct 2016
COBE Book & Exhibition
Our Urban Living Room Book Release and Exhibition
COBE: OUR URBAN LIVING ROOM
Learning from Copenhagen
Arvinius + Orfeus Publishing is proud to present COBE: OUR URBAN LIVING ROOM, the first publication documenting the works of Cobe architects.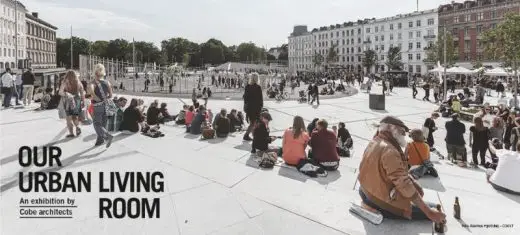 In the book and exhibition Our Urban living Room, Cobe speak about their vision and show the ideas behind their projects from the past ten years of work in Copenhagen.
The architects invite you to the book presentation and exhibition at Danish Architecture Centre (DAC) on Friday, 14 October 2016.
The event includes opening speeches from Ken Martinussen (director of DAC), Dan Stubbergaard (architect and co-founder of Cobe), Jesper Nygaard (Realdania), and Bertel Haarder (Danish Minister of Culture).
Detailed information about the exhibition on official DAC website:
Our Urban Living Room
Our Urban living Room is a careful examination of Copehangen and the lives it contains. It is a look into Cobe's projects and processes and it tells a story about the city\s architectural development – and how it affects the conditions of people's lives.
In connection with the book release, Cobe opens their doors to an exhibition at DAC, which continues to their own office on the Paper Island.
"Today we use our city in a completely different way from how we did just twenty years ago. The harbour has become the city's largest park, and bicycle culture is flourishing. The city's libraries have changed from simply being places where you borrow books to places where students do a whole day's work, families spend a Sunday morning and homeless people can read the daily papers. The city has become our living room."
– Dan Stubbergaard, architect and co-founder of Cobe
Language: English
Interviews: Marc-Christoph Wagner
Text: Hans Ibelings, Erling Fossen, Aaron Betsky
Editor: Julie Cirelli
Graphic design: Rama Studio
No. of pages: 488
Format: 210 x 260 mm
Binding: Hardcover
Publication date: 14 October 2016
ISBN 978-91-87543-39-5
Retail price: 48 EUR
page updated 30 Sep 2016 with new photos
Forfatterhuset Kindergarden, Edith Rodes Vej, Nørrebro, Copenhagen, Denmark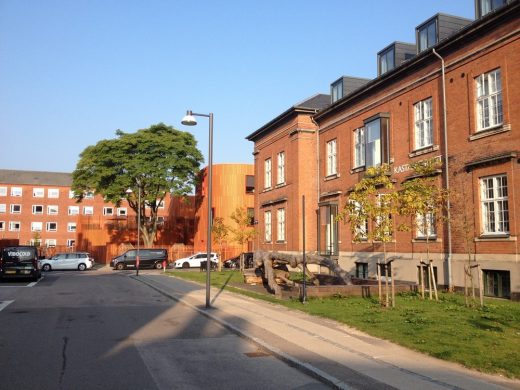 photo © Adrian Welch
Forfatterhuset Kindergarden Building by COBE
12 Feb 2016
Masterplan for Christiansholm Island, Copenhagen, Denmark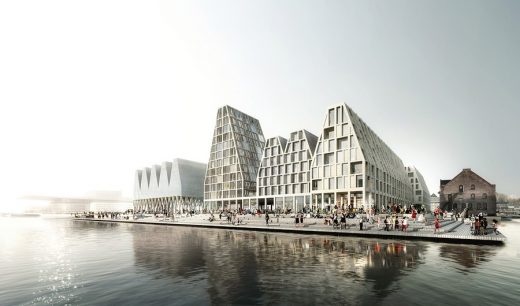 image from architect
Masterplan for Christiansholm Island by COBE
The winner of the international competition regarding a masterplan for Christiansholm Island in Copenhagen's inner harbour was announced to be COBE together with Inside Outside, Via Trafik and Transsolar. The winning proposal builds on the provisional urban life that already exists today on the island by replacing the existing warehouses with new Copenhagen Halls containing informal, public functions, and housing on top.
8 + 7 Jan 2016
Urbane Mitte am Gleisdreieck, Berlin, Germany
Design: COBE Berlin, Man Made Land, Knippers Helbig, Mafeu Architektur Consulting
Urbane Mitte am Gleisdreieck by COBE
COBE Berlin has received first prize in an international architecture competition to design Berlin's Urbane Mitte am Gleisdreieck, a master plan located at the gateway to GleisdreieckPark in Berlin.
Nørreport Station, Copenhagen, Denmark



image : COBE + Public Architects
Nørreport Station
19 Sep 2015
The Danish Rock Museum in Roskilde
Design: MVRDV and COBE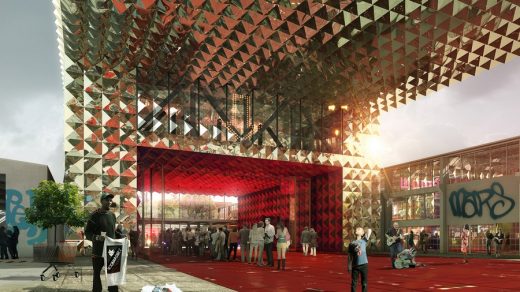 picture from architects
Nørreport Station
The building which offers visitors an adventurous rock music experience, will open its doors in 2015. It is the first building of ROCKmagneten, a larger rock music district consisting of three new buildings and a refurbished factory. Roskilde is the location of the annual Roskilde Festival, the largest North European culture and music festival.
3 Mar 2013
European Spallation Source Building, Lund, southern Sweden – winners
Design: Henning Larsen Architects, COBE and SLA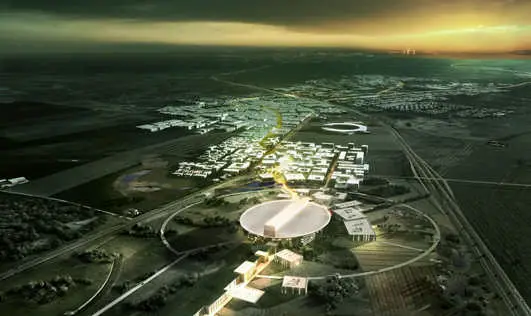 picture from architects
European Spallation Source Building
International design competition for the ESS, which will become the world's largest and most advanced facility for neutron-based research. The team also includes the engineering companies Buro Happold, NNE Pharmaplan and Transsolar.
18 May 2012
COBE – Nykredit Architecture Prize Winners
COBE Wins 2012 Nykredit Architecture Prize, Denmark


image : COBE + Public Architects
Copenhagen-based firm COBE, represented by architect Dan Stubbergaard, is the 2012 winner of Scandinavia's prestigious architecture prize, the Nykredit Architecture Prize of DKK 500,000 (USD 86,000), report Bustler.
Dan Stubbergaard won Nykredit's Motivation Prize in 2007. At that time, the architectural practice had not completed any projects but has since then seen an impressive professional development, leading to a number of prize-winning national and international projects.
In its choice the jury emphasized the fact that COBE spans the full professional spectrum from minor construction and urban space design to strategic planning and research. Currently, COBE is most renowned for the design and realization of the new Nørreport Train Station and is currently detailing the development of the Nordhavn harbor area – one of Scandinavia's largest and most ambitious metropolitan development projects, says the chairman of the prize jury, Mette Kynne Frandsen, Architect and CEO.
The second part of this year's Architecture Prize, Nykredit's Motivation Prize of DKK 100,000 (USD 17,000), goes to Powerhouse Company – a global-Danish practice established in 2005 by Nanne de Ru and Charles Bessard in Rotterdam and Copenhagen, respectively.
The two partners are an example of one of the new global-Danish architectural practices starting to mark its presence on the Danish architectural scene. Powerhouse Company has published and exhibited work internationally, boasting an impressive research portfolio. Powerhouse Company distinguishes itself by paying great attention to every detail, viewing it from all possible aspects of the construction project. Among the most innovative players, these architects are absolutely among the most talented, explains Mette Kynne Frandsen.
In connection with this year's prizes, the Nykredit Foundation has decided to give a special merit award of DKK 50,000 (USD 8,500) to Kent Martinussen, Architect – a Danish architect who has succeeded in putting architecture on the political agenda and been of vital importance to the development of Nordic architectural traditions over the last decade. He has moreover given young architects an opportunity for exposure on the national and international stage.
Through his work as CEO of Danish Architecture Centre, Kent Martinussen has positioned Danish architects internationally, brought focus on architecture as an obvious growth potential for the economy in general and contributed solutions and answers to the multiple challenges of globalization, says Peter Engberg Jensen, Group Chief Executive.
The Danish Minister for Culture, Uffe Elbæk, will present the prizes at a ceremony to be held at Nykredit's headquarters on May 29, at 5 pm.
Previous recipients of Nykredit's Architecture Prize are Cubo Arkitekter (2011), Arkitektkontoret SLA (2010), Tegnestuen Entasis (2009), Arkitektfirmaet CEBRA (2008), and Dorte Mandrup Arkitekter (2007).
8 Nov 2011
Porsgrunn Maritime Museum and Science Center, Norway
COBE and TRANSFORM



image from COBE, architects
Porsgrunn Maritime Museum
The Danish architecture offices COBE and TRANSFORM start construction of Porsgrunn's new Maritime Museum and Science Center.
Today the construction of the new Maritime Museum and Science Center starts in Porsgrunn in Norway. The building is designed by the Danish architecture offices COBE and TRANSFORM and conveys Norway's transformation from a seafaring nation to a modern society based on knowledge industry. The new Maritime Museum and Science Center is expected to be completed already in autumn 2012.
COBE Architects – Key Projects
Culture House, Copenhagen, Denmark
–
Design: COBE + Transform



image from architects
Culture House
The new Culture House + Library is composed of several elements: Rethinking and modernisation of an existing culture house, a merger of two newer libraries, and the addition of a new culture hall, together forming an enormous potential as a new Culture House for the whole area. This can make up the significant and attractive cultural institution which the neighbourhood lacks today, creating a strong sense of community. The new Culture House + Library can be the missing link for the Northwest area, and will be placed centrally in the neighbourhood's and the people's awareness.
Taastrup Theatre, Copenhagen, Denmark
2010
Design: COBE



photo : Stamers Kontor
Taastrup Theatre
Nørreport Station, Copenhagen, Denmark
2009-



image : COBE + Public Architects
Nørreport Station
Northern Harbour, Copenhagen, Denmark
2010-
Design: various architects



picture : COBE, SLETH MODERNISM, Polyform, Rambøll
Northern Harbour Copenhagen
More architecture projects by COBE arkitekter online soon
Location: Njalsgade 17-27, DK – 2300, Copenhagen, Denmark
Arkitekter Practice Information
COBE Arkitekter – design studio based in Copenhagen
COBE is a "progressive and contemporary community of architects that focuses on architecture and design – from buildings to public space, to large scale urban planning.
In 2005 Dan Stubbergaard and Vanessa Miriam Carlow founded COBE. The name COBE is derived from the two cities the founders are coming from – COpenhagen and BErlin. Since its establishment, COBE has gained international recognition through the realization of beautiful and innovative projects."
Today, COBE is two separate companies – one in Copenhagen, Denmark (COBE ApS headed by Dan Stubbergaard), and one in Berlin, Germany (COBE Berlin GmbH headed by Prof. Dr. Vanessa Miriam Carlow).
Danish Architecture
Nykredit Architecture Prize News : 2009
Buildings / photos for the COBE Architects, Denmark page welcome