Capita Symonds Architects, UK Design Studio, London Architectural Office, Building Images
Capita Symonds, England, UK : Architecture
Architecture Practice – British Design Offices News
post updated 15 Apr 2021
Capita – current page
Latest Capita Symonds Buildings
Architectural News arranged chronologically:
Shorey Bank Housing, Darwen, Lancashire, north west England, UK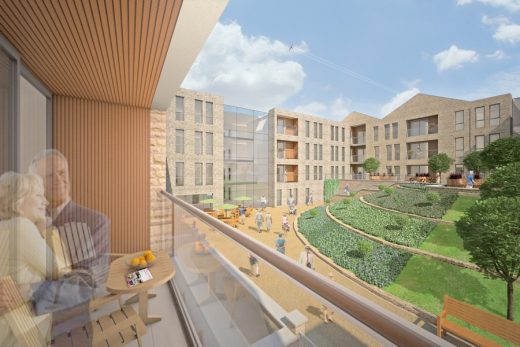 image : Capita Symonds
Shorey Bank Housing – 17 Apr 2013
A partnership between Keepmoat, Capita Symonds, Together Housing Group, and Housing 21 has been appointed by Blackburn with Darwen Council as preferred bidder to develop a new 50+ living scheme at Shorey Bank in Darwen, Lancashire.
Montagu Hospital Rehabilitation Centre, Mexborough, Doncaster, South Yorkshire, England



image from architect
Montagu Hospital Rehabilitation Centre – 20 Mar 2013
Capita Symonds is designing and project managing the construction of the new hospital unit which will transform the way that people recovering from serious injury or illness are cared for.
26-48 Oxford Street Building, London, UK
Design: ESA – Capita Symonds



image from architects
26-48 Oxford Street London
Westminster Council has approved plans for the second phase in the redevelopment of 26-48 Oxford Street in London subject to the signing of S106. ESA – part of Capita Symonds – is leading the design of this key West End regeneration project on behalf of developer Oriana GP Ltd, a joint venture between Land Securities and Frogmore. The scheme will create a mixed-use, retail led development providing high quality, retail accommodation, maximising the Oxford Street frontage, which will extend to 76,500sqft over the basement, ground and first floors. There will be 18 high quality private apartments ranging from one to three bed units.
Cancer Research Centre, Manchester, England



image from architect
Cancer Research Centre Manchester – 5 Dec 2012
Work on the new £28.5m Manchester Cancer Research Centre building has started on site. The architects are providing multidisciplinary services for the state-of-the-art research facility which will be crucial in helping to develop and improve cancer treatment.
Birley Fields Academic Building, Manchester, England
Design: Capita Symonds



image from architect
Birley Fields Academic Building Manchester – 5 Dec 2012
The architects have been appointed to provide multidisciplinary design services on Manchester Metropolitan University's new £60m Birley Fields academic building in Hulme.
New Blackburn Bus Station, Lancashire, England



picture from architects
Blackburn Bus Station Building – 11 Aug 2012
Designed by Capita Symonds – on behalf of Blackburn with Darwen Borough Council – the new station will be situated in the heart of the town centre on the site of the former market, adjacent to the town's shopping centre and a new market development. The relocation of the bus station to the new site will increase footfall outside the shopping centre and the new market, while maintaining a direct link with the rail station and the nearby cathedral quarter development.
Pontypridd Lido Restoration, Wales, UK
Architects: Capita Symonds



image from architect
Pontypridd Lido
Park Plaza Hotel London, England
ESA – part of Capita Symonds



image from architects
Park Plaza Hotel – 25 Jun 2012
Planning permission has been granted for a new £15m Park Plaza Hotel on Western Avenue in London. ESA – part of Capita Symonds – is designing the 160 room hotel, which will occupy a prominent gateway site opposite Park Royal tube station, on behalf of the PPHE Hotel Group. The 6,750 sq m hotel will offer four star accommodation over six storeys including a ground floor comprising a bar, restaurant, gym and conference facilities.
Capita Symonds Unveils Designs for New Infirmary 'Welcome Centre'
18 Jun 2012 – Acting on behalf of University Hospitals Bristol NHS Trust, Capita Symonds has unveiled designs for a new £4.95m 'Welcome Centre' at the Bristol Royal Infirmary.
The centre – one of the most innovative of its kind in the UK – comprises the redevelopment of the Infirmary's reception and waiting area to provide approximately 530 sq m of modern space for retailers including a coffee shop, newsagents, food outlet, clothing / gift shop and pharmacy.
Due to be completed by the end of the year, it will also provide an improved, glass-fronted entry point to the hospital for patients and visitors with improved way-finding and information resources.
The second level's internal layout will be adapted for the large open plan spaces that the building requires including core hospital facilities, retail and ancillary functions and services. The extension of the second level floor plate will provide an open spatial continuum interconnected to the main circulation route to provide further accommodation for retail outlets.
St Silas Primary School, Blackburn, Lancashire, north west England
Capita Symonds



photo : Capita Symonds / Nick Guttridge
St Silas Primary School – 3 Jun 2012
Capita Symonds has released images of the new £7.5million St Silas Primary School in Blackburn, Lancashire. Working on behalf of Blackburn with Darwen Borough Council, in partnership with the local LEP, Capita Symonds provided a full range of multidisciplinary services – including architecture, structural engineering, mechanical and electrical engineering, landscape architecture, cost consultancy, acoustics, project management, fire engineering, planning and transport planning – for the two form entry, 420 pupil school.
University Technical College Burnley, Lancashire, England



image : Capita Symonds
University Technical College Burnley – 14 May 2012
Planning has been submitted for a new University Technical College (UTC) at Burnley in Lancashire which is being supported by major employers from across the aerospace, nuclear, technology, and green energy industries.
The design firm is providing design and project management services on the £9.3m project – the Visions Learning Trust UTC – which will provide education for 800 young people aged 14-19, combining traditional education with employer-led technical training. Specialising in engineering and construction from basic skills to degree level, the UTC will provide students with a seamless transition into the world of work or further education.
14 May 2012
Oxford Street Site, London, UK
Planning permission has been granted by Westminster City Council for a new retail-led mixed-use scheme on a key Oxford Street site.
ESA – part of Capita Symonds – has been appointed by the Co-Operative Insurance Society to design and deliver the scheme which comprises buildings at 149 and 151 Oxford Street and 59 Berwick Street.
The buildings were previously occupied by Boot's the chemist and an independent retailer.
The site has been subject to piecemeal development over many years; resulting in a disjointed configuration that provides poor quality retail and office accommodation. The substandard buildings and their façades are also deemed to have a significantly negative impact on the local Soho Conservation Area.
Heritage Place, Lagos, Nigeria, west Africa



image : Capita Symonds
Heritage Place Lagos – 30 Apr 2012
Plans unveiled for a major new office development in Lagos. The building will be a landmark within Lagos combining striking façade design and top-end office space.
16 Apr 2012
Heworth Grange Comprehensive School, Newcastle, England



image : Capita Symonds
The newly refurbished Heworth Grange Comprehensive School in Gateshead has opened.
The architectural firm designed the £18.4m project, which is part of the South Tyneside and Gateshead BSF programme.
The new school facilities, which will open to 1200 pupils today, includes a new entrance and dining facility; a new science and technology building; an extensively refurbished performing arts, music, media, and Post 16 area; and redecorating to the general teaching areas.
The school is designed to a 'Very Good' BREEAM rating with a range of environmental features including a new bio-mass boiler for the entire school and enhanced insulation ratings to reduce the energy costs.
Capita Symonds provided architecture; civil, structural and M&E engineering; landscape; and DDA services on the project.
Recent Designs + News for Capita Symonds
4 Apr 2012
Rehabilitation Facility in Plymouth, England



image : Capita Symonds
Construction work on a new £20.5m rehabilitation facility in Plymouth for injured service personnel has started on site. Capita Symonds is designing the new purpose-built Personnel Recovery Centre (PRC) at HMS Drake in Devonport Naval Base.
The project comprises the creation of a four-storey, 72-bed, ensuite accommodation block as well as classrooms, interview rooms, communal facilities, and six family suites for visiting family members. Planning permission has also been received for the second phase of the project which will include a swimming pool, hydrotherapy pool, gymnasium, a veterans hub and physiotherapy consultation rooms.
Southampton Arts Complex, England
Design: various architects



image © CZWG Architects
Southampton Arts Complex – 19 Mar 2012
Plans to turn the former Tyrrell & Green department store site in Southampton into a new arts complex with commercial and residential units have received a major boost.
Ashby House, Staines, England



images from architects
Ashby House Staines – 12 Mar 2012
ESA – part of Capita Symonds – has unveiled plans for the redevelopment of the former Courage Brewery headquarters on the River Thames in Staines, Middlesex.
The refurbishment of the 60,000 sqft office and underground car park – know as Ashby House (after Thomas Ashby, the local brewer) – seeks to strip the entire building back to its robust concrete frame and waffle slabs while reconfiguring parts of the plan to gain an additional 20,000 sqft of floor space.
6 Mar 2012
Capita Symonds to Programme Manage Mulberry Store Roll Out
Capita Symonds has been appointed by leading British accessory and fashion retailer Mulberry to programme manage the next wave of new stores in its international store roll-out programme.
The next three years will see Mulberry open approximately 30 new stores per year across the USA, Europe, (including several in Germany, Switzerland and Austria) and Asia. The concept design for the new stores is being developed by design consultants UDS.


image from Capita Symonds
Capita Symonds will also be providing project management and cost management services for each individual store on the US and European phases of the project. For these phases, the company will be working with Gensler, executive architects, and UDS, concept designers, to ensure consistency of brand identity and quality across the different markets.
Initially, the roll-out will focus on stores in San Francisco, Shorthills near New York, Zurich in Switzerland, and Roermond in Holland which are all due to open within the next six months.
Mark Blake, Director, Capita Symonds said: "We are delighted to be playing a leading role in helping to facilitate Mulberry's global expansion programme. Working at sites in parallel across many regions and achieving consistency, the highest quality standards as well as certainty of achieving store opening dates and budgets is a challenge, but it's what we do."
Jon Tollit, Principal, Gensler, said: "Having worked previously with Mulberry on their London office headquarters, we are thrilled to be able to extend our existing relationship, this time utilising our retail practice expertise. Mulberry's growth is testament to the British brands incredible strength and success and we look forward to partnering with them again to help them achieve their ambitious goals."
Nicholas Roberts, Retail Director, Mulberry, said: "I am delighted to be able to draw on the experience of UDS, Capita Symonds and Gensler in our global store roll out programme, our aim is to a deliver a consistent high quality store experience for our customers worldwide."
23 Jan 2012
Al Ahsa shopping centre, Saudi Arabia




image from Capita Symonds
Capita Symonds designing major Saudi scheme
Capita Symonds has unveiled plans for a major new shopping centre in Al Ahsa, Saudi Arabia.
The 1.3 million sq ft proposed development will provide an innovative fusion of different brands, experiences and formats that will grace a three level mall with key anchor stores at either end and an 'uplifting' 24 hour lifestyle street with connections back to the existing urban fabric.
The project is due for completion in 2014.
Kampala Tower, Uganda, east Africa



image from Capita Symonds
Kampala Tower – 16 Jan 2012
Plans for a new development in the Ugandan capital Kampala. The company has designed the proposed 'Kampala Tower', a 222m high commercial building with public square which will be a new landmark for the city.
Riviera Development Nicosia, Cyprus
ESA / Capita Symonds



image from Capita Symonds
Riviera Nicosia – 9 Dec 2011
Work on the infrastructure for the £50m (approx) 'Riviera' scheme in the suburbs of Nicosia, Cyprus, has begun on site.
ESA – now part of Capita Symonds – was commissioned by Plaza Exclusive Projects in 2008 to develop the architectural masterplan for the 17 hectare mixed use scheme which comprises around 200 new modern homes in phase one as well as offices, shops, retail, community & leisure facilities and an extensive landscaped park.
Saudi Arabian Mixed-Use Development, eastern KSA



image from Capita Symonds
Saudi Arabian Development – 5 Dec 2011
Plans for a new £20m, 50,000 sqft, mixed-use development on the east coast of Saudi Arabia have been unveiled. Designed by Capita Symonds on behalf of a private client, the development comprises six floors of circa 8,000 sqft open plan office space, retail units on the ground floor, and a new gymnasium and spa facility.
Stryker Unveils Flagship Office, Berkshire, England



image from Capita Symonds
Stryker Office Newbury – 28 Nov 2011
ESA, now part of Capita Symonds, has unveiled pictures of Stryker UK's new flagship office in Newbury. Stryker is a global leader in medical technology providing specialist orthopaedic and surgical equipment to healthcare professionals across the world including the NHS.
25 Jul 2011
Capita Symonds Launches New Microclimate Capability
Capita Symonds has launched a new Microclimate capability aimed at supporting the company's design, structural engineering and environmental impact assessment (EIA) services through specialist consultation on wind effects and sunlight and daylight access in the built environment.
Blackwall Reach Overshadowing:



image from Capita Symonds
Wind issues include accelerated winds around the bases of buildings affecting pedestrian comfort and safety; the integrity of structures and cladding against wind loads; natural ventilation of partially enclosed space; and wind-induced snow drifts. Sunlight and daylight focuses on overshadowing and natural daylighting of interior spaces.
Dr Graeme Flynn has joined the company as Director of Microclimate to head up the new service. He has over 18 years experience in aerodynamics and wind engineering, spanning both the aerospace and construction industries.
Graeme has worked on a wide range of projects covering the UK, Europe, the Middle East, the US and Asia, from initial design development through the planning process to final detailed design, complying with national codes of practice as well as best international practice. Projects include:
• Major stadia such as Arsenal FC's Emirate Stadium, Aviva Stadium in Dublin and FC Shakhtar Donetsk's Donbass Arena;
• Tall buildings such as The Pinnacle and 20 Fenchurch Street in London;
• Masterplans such as King's Cross Central, Stratford City and MIST Phase 1A in Abu Dhabi;
• Iconic buildings such as Kazakhstan's National Library and JTI's Geneva Headquarters;
• Special structures such as European Southern Observatory's' Extremely Large Telescope in Chile
Prior to joining Capita Symonds, Graeme spent the last ten years with a leading international wind consultancy, heading the company's wind microclimate and stadia group and latterly taking over responsibility for services relating to sunlight and daylight.
The Capita Symonds Microclimate team will offer a range of core services including:
• Specialist design consultation;
• Sunlight, daylight and overshadowing;
• Wind climate;
• Pedestrian wind environment;
• Wind loading;
• Natural ventilation performance;
• Snow loading and snow drift
Fighter Jet Building, BAE Systems, Samlesbury, Lancashire, England
Capita Symonds



photo : BAE
Fighter Jet Building
Bristol City FC Stadium Building, Ashton Vale, England
2010-



image from Capita Symonds
Capita Symonds building design : Bristol City Stadium
More projects by Capita Symonds online soon
Location: 52 Grosvenor Gardens, Belgravia, London, UK
Architecture Practice Information
Architect offices based in England, Scotland, UAE and Trinidad
Capita Symonds is one of the UK's largest and most diverse multidisciplinary consultancies operating in the building design, real estate, civil engineering, environment, management and transport sectors. With over 4,500 staff in over 60 UK and international offices we offer an unrivalled scope of services and a unique blend of professional and technical skills to schemes of all types and complexities.
British Architecture
Buildings / photos for the Capita Symonds Architects page welcome
Website: https://www.capitaproperty.co.uk/