BNKR Arquitectura, Arquitectos Mexico City, Building News, Mexican Architects, Design Studio
BNKR Arquitectura : Architecture Studio
BNKR : Contemporary Mexican Architects Practice – Esteban Suarez + Sebastian Suarez
13 May 2014
BNKR Arquitectura News
ECUMENICAL CHAPEL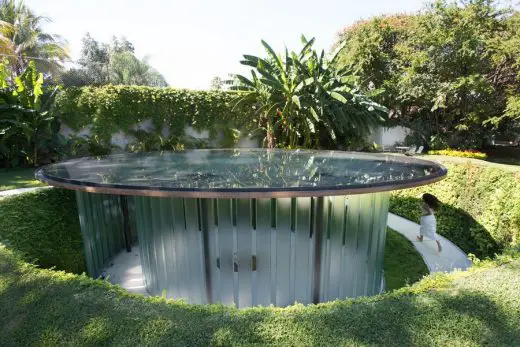 photograph : Jaime Navarro
Although BNKR Arquitectura completed their Ecumenical Chapel in Cuernavaca, Morelos, Mexico, some time ago, they hadn´t published it because they were waiting for the garden´s vegetation to grow in order to photograph it. The building is a non-religious chapel, a chapel to meditate, in a weekend house.
GLOCAL PAVILION
BNKR Arquitectura are collaborating with Glocal Design Magazine and Masisa for a new project in Habitat Expo on 29, 30 & 31 May 2014 in the WTC Exhibition Center in Mexico City.
DOGCHITECTURE @ VERACRUZ
BNKR Arquitectura traveled to Veracruz to inaugurate their exhibition "Dogchitecture" in Casa Principal, one of the city's best museums. Dogchitecture is an exhibition where ten young Mexican architects reinvent the house for a dog.
LABORATORY OF IDEAS WORKSHOP @ UNIVERSITY OF LEÓN
BNKR Arquitectura participated in the Laboratory of Ideas Workshop in the University of Leon in San Francisco del Rincón. The workshop explored the theme of emergency shelter living units.
ESTEBAN SUAREZ INTERVIEW @ DESIGN COLECTIVO
Esteban Suarez of BNKR Arquitectura interviewed for the architecture and design blog Design colectivo.
NEW BUNKERTOON: THE PURGATORY ACCORDING TO TEODORO GONZALEZ DE LEON
BNKR Arquitectura create a new bunkertoon of how they imagine Teodoro Gonzalez de Leon´s purgatory.
BNKR Arquitectura – Latest Designs
10 Dec 2013
Social Topography – Topografía Social
In 2012 we built our Upcycling Pavilion that operated as the cafeteria of Expo CIHAC, the largest architecture and construction exhibition in Latin America that takes place every year in Mexico City. It was a self-promoted project, built with 5,000 soda crates that aimed to serve as an example of how to accomplish a sustainable pavilion that won't end in the trash once the exhibition was over, like the rest of the pavilions. When the expo culminated, the crates were returned to the soda company to continue its original use and function: to carry sodas.

photograph : Emelio Barjau
Our Upcycling Pavilion caught the attention of the government personnel of the Mexican State of Chihuahua who visited the exhibition in 2012. They were so impressed by it that they invited us to do a similar intervention in the Annual Book Fair in the City of Juarez. Our only requirements were 5,000 soda crates and a group of 30 architecture students to help build the pavilion. The space that was assigned to us was the center of the Book Fair. We wanted to accomplish more than just an aesthetic/sculptural object that only called for attention, so we imagined a topography formed with the soda crates in which the visitors of the exhibition could utilize it in infinite ways. The topography functioned as benches to sit on, as a threshold that connects the fair isles, as an observer to value other stands from another perspective, as stairs, as a playground for kids, as an amphitheater for an acoustical concert and as a place to accommodate visitors to experience a small lecture or conference.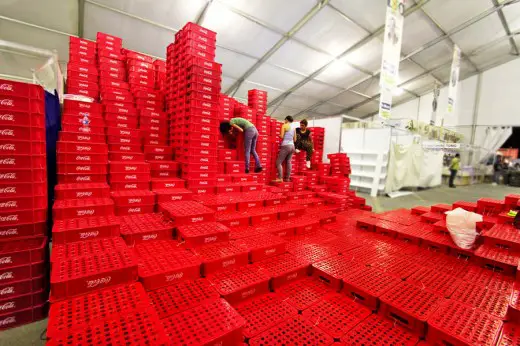 photograph : Emelio Barjau
More than just an architectural intervention, the pavilion became a social topography that invited the exhibition visitors to explore it, and it responded to the different uses they gave it. Once the fair was over, we disassembled the pavilion, and the crates were returned to the soda company without generating pollution or residues, minimizing its carbon footprint. The Social Topography served as an example of how we can upcycle and reuse common every day objects, and in a creative way transform them and give them a new use.
photographs : Emelio Barjau
CREDITS
Design: Esteban Suarez / BNKR Arquitectura
In collaboration with: Fermin Espinosa / Factor Eficiencia
Client: State Government of Chihuahua
Design Team: Emelio Barjau, Sebastian Suarez, Cesar Ruiz, Cesar Saldivar, Fidel Arteaga, Jorge Alcántara, Enrique Ramírez, Martha Alanís, José Luis Guerrero, Omar Vega and Leonora Zepeda
Special thanks to: Gerardo Díaz, Nancy Y. Dorantes, Iván Delgado, Rafael Ortiz, Manuel de León, Oscar Nájera, Juan Carlos Rodríguez and Madai A. Herrera
Environmental Advisor: Juan Casillas Pintor
Cost: $0.00 USD
Photography: Emelio Barjau
Area: 150 sqm
Status: Built
Location: Cd. Juárez, Chihuahua, México
20 Nov 2012
Upcycling Pavilion, Mexico City, Mexico
Expo CIHAC is the biggest annual architecture and construction exhibition in Latin America. Like many other exhibitions, it creates large-scale contamination due to the excess waste it generates. Almost all the pavilions of the different brands and products related to the architecture and construction industry, end up in the trash. Deeply concerned by this, we approached the exhibition principals with the proposal of creating a low cost – zero waste sustainable pavilion that could set an example for future exhibitions.

pictures : Sebastian Suarez
Inspired by the upcycling movement, that focuses on converting waste materials or useless products into new materials or products of better quality or for better environmental value, we conceived a pavilion made up exclusively of soda crates piled on top of each other. First, we presented the project to a major soda company, in this case Coca Cola, to get them to sponsor us and lend us the soda crates. Since they found the project very interesting and in tune with their sustainability company programs, they even offered to sponsor the transportation of the crates.
Second, we convinced the exhibition principals to let us build the exhibition´s cafeteria, which was never given any thought design wise, with 5,000 soda crates as an Upcycling Pavilion. Besides the aesthetic qualities and the environmental and sustainability virtues they saw in it, our biggest selling point was that it would not cost them a cent.
Design: Esteban Suarez / BNKR Arquitectura
In collaboration with: Fermin Espinosa / Factor Eficiencia
Photography: Sebastian Suarez
Area: 300 m2
Status: Built
Location: Expo CIHAC, Mexico City, Mexico
BNKR Arquitectura – Recent News
Sunset Chapel, Acapulco, Mexico
Bunker Arquitectura



picture : Esteban Suárez
Sunset Chapel
11 Jun 2012 – The AZ AWARDS is an international competition honouring architecture firms and design studios that have produced outstanding works in the past year. It's an opportunity to present completed work that stands out for innovative design, environmental or social benefits or for being simply delightful.
This year, we are very pleased to announce that the Sunset Chapel won the first prize in the Commercial & Institutional building under 1000 sqm category in this Azure's second international competition that celebrates excellence in design and architecture, held June 7, 2012, at the Thompson Hotel in Toronto.
The Sunset Chapel is a small chapel in Acapulco for a garden of crypts. It is located at the summit of a mountain that overlooks the Bay of Acapulco and its famous sunsets. The axis of the altar cross is oriented with the equinox so that twice a year the sun sets exactly behind it. Despite its small size it has garnered the attention of the international press due to its daring form and its sensitivity towards its natural surroundings. It has been included in numerous publications in México and abroad, and has been nominated for several awards including PremiosObrasCemex, the LEAF Awards in London and the World Architecture Festival Awards in Barcelona.
Key Projects
La Estancia Chapel, Cuernavaca, Morelos, Mexico
Bunker Arquitectura



photo : Megs Inniss
Mexican chapel
Filadelfia Corporate Suites, Napoles, Mexico City, Mexico
Bunker Arquitectura



photo : Fabiola Menchelli
Filadelfia Corporate Suites
More BNKR Arquitectura buildings online soon
Location: Mexico City, Mexico, North America
Mexico City Practice Information
English text (scroll down for Spanish):
BNKR Arquitectura
Esteban Suarez + Sebastian Suarez:



photo from Bunker Arquitectura
Bunker Arquitectura is a Mexico City-based architecture, urbanism and research office founded by Esteban Suarez in 2005 and partnered by his brother Sebastian Suarez. In their short career they have been able to experience and experiment architecture in the broadest scale possible: from small iconic chapels for private clients to a master plan for an entire city. Bunker´s unconventional approach to architecture has continuously attracted attention and generated public debate with projects such as a three-kilometer habitable bridge that unites the bay of Acapulco and an inverted skyscraper 300 meters deep in the main square of the historic center of Mexico City.
BNKR Arquitectura Mexico : Mexican Architects
Spanish text:
BNKR Arquitectura
Bunker Arquitectura es un despacho de arquitectura, urbanismo e investigación con base en la Ciudad de México fundado por Esteban Suárez en el 2005 e integrado por su hermano y socio Sebastian Suarez. En su corta carrera han podido experimentar con la arquitectura en la escala más amplia posible: desde pequeñas capillas icónicas para clientes privados hasta un plan maestro para toda una ciudad. El poco convencional acercamiento a la arquitectura de Bunker, ha continuamente atraído la atención del público y generado controversia con proyectos como un puente habitable de tres kilómetros de largo que une la bahía de Acapulco y un rascacielos invertido de 300 metros de profundidad en el Zócalo del centro histórico de la Ciudad de México.
Mexico City Architect Practice Information
Mexican Architect – Architect Listings
Buildings / photos for the BNKR Arquitectura – Mexico City Design Studio page welcome
Website: www.bunkerarquitectura.com