Europe's Tallest Skyscrapers Under Construction, Images, Architects, Info, Designs
The Tallest Skyscrapers Currently Under Construction
Tall Structure Developments across Europe : Images + Links
9 May 2014
Current Skyscraper Developments
Europe on the Up, Up, Up
Nowhere in Europe are taller buildings going up than in Russia. St. Petersburg is currently witnessing the construction of the continent's future tallest skyscraper, Lakhta Center. At a height of 463 meters, the tapering, pointed supertall will surpass the current record-holder, Moscow's Mercury City, by no fewer than 124 meters.
Emporis (www.emporis.com), the international provider of building data, has compiled a list of the ten tallest skyscrapers currently under construction in Europe. In addition to Lakhta Center, the list contains a further six projects from Russia, all of whose construction sites are located in Moscow.
1. Lakhta Centre, St. Petersburg, Russia
images: www.proektvlahte.ru
Some way behind the Lakhta Center, with a future height of 361 meters, lies Vostok, the secondplaced skyscraper in the ranking, closely followed by the OKO Apartment Tower, which will reach 352 meters into the skies. Both of these major projects are being built in Moscow, as are a further four entries in the list. Two of them are not far off completion – Eurasia Tower, which is set to come in at just over 300 meters and will offer exclusive apartments on its highest floors, and Evolution Tower, 255 meters tall and particularly conspicuous for its shape, which twists upward in a spiral.
2. Vostok, Moscow, Russia
images: left – Aleksey Naroditsky, right – MinPai+
Due to these numerous major projects, Moscow is set to continue as Europe's skyscraper capital into the future. Already today, five of the continent's ten tallest completed skyscrapers are located in the city, including the current European front-runner Mercury City with its record height of 339 meters. In as little as two years, following the projected completion of Vostok, Moscow will dominate the top ten of the tallest skyscrapers in Europe, with no fewer than seven buildings.
3. OKO Apartment Tower, Moscow, Russia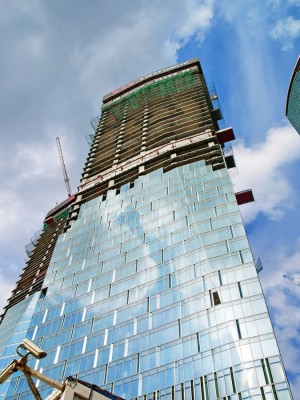 image : Igor Butyrskii
Alongside Moscow, the Turkish metropolis of Istanbul is increasingly establishing itself as a center of skyscraper construction. The only city in the top ten not in Russia, Istanbul has no fewer than three buildings in the list. In addition to the two 284-meter-tall Skyland Towers, the city also has The Metropol Tower, at 250 meters the tenth-placed building, in the starting blocks. The three towers are due to grace the skyline of the city on the Bosphorus from 2016 onward.
4. Eurasia Tower, Moscow, Russia
images : left – Igor Butyrskii, right – Swanke Hayden Connell
However, even if the Lakhta Center is set to approach the 500-meter mark, European skyscraper construction still has some distance to go to catch up with its Asian paradigms in terms of height. By way of comparison, the world's tallest building, the 828-meter Burj Khalifa in Dubai, is as tall as Lakhta Center and Vostok combined – and the tallest building currently under construction anywhere in the world, Kingdom Tower in Jeddah, will, with its projected height of a kilometer, be more than twice as tall as the future European record-holder.
5. ST Tower 1 & 2, Moscow, Russia
images : SPEECH architectural office
7. Skyland Office Tower & Skyland Residence Tower, Istanbul, Turkey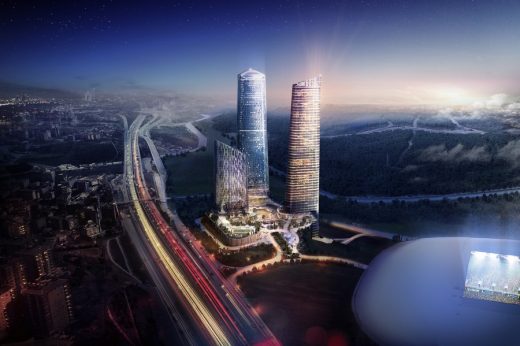 image: Eroglu
9. Evolution Tower, Moscow, Russia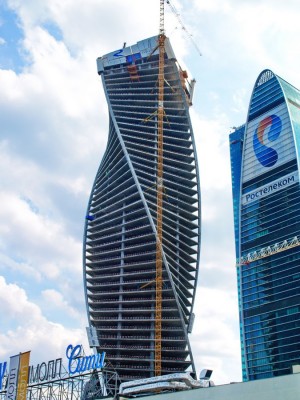 image : Igor Butyrskii
10. The Metropol Tower, Istanbul, Turkey
Facts and Figures of Europe's Tallest Skyscrapers Under Construction
Future Skyline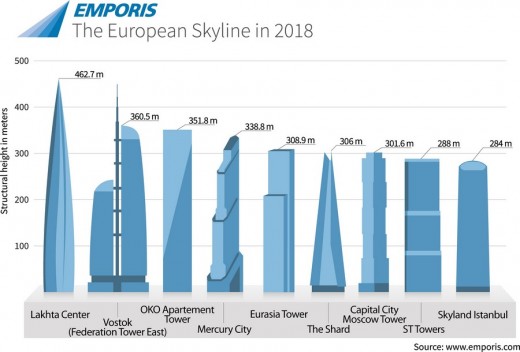 Skyscraper Heights Table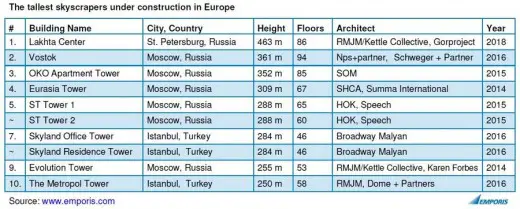 About Emporis
Emporis is a leading database of information about building and construction projects, based in Germany. For over a decade Emporis has helped companies, organizations and individuals stay informed about the building industry. The Emporis Skyscraper Award is the world's most renowned prize for high-rise architecture.
The Tallest Skyscrapers Currently Under Construction information / images received from Emporis GmbH
Emporis : External Website
World Skyscrapers
Tallest Buildings
World's tallest hotel building : Burj al Arab tower
World's Tallest skyscraper under construction : Shanghai World Financial Center
World's Fastest Elevators – Skyscraper Buildings News
Skyscraper images from across the world welcome : info(at)e-architect.com
Comments / photos for the The Tallest Skyscrapers Currently Under Construction page welcome