Northern Arc Hyperloop One Global Challenge, Futuristic architecture vision, Future transport design news
Hyperloop One Global Challenge: Northern Arc design
Pioneering Northern Arc Route Revealed – transportation design by Ryder / Arup
7 Jun 2017
Northern Arc – Hyperloop One Global Challenge
Design: Ryder / Arup
Ryder Architecture and Arup unveil the Northern Arc proposal in Hyperloop One Global Design Challenge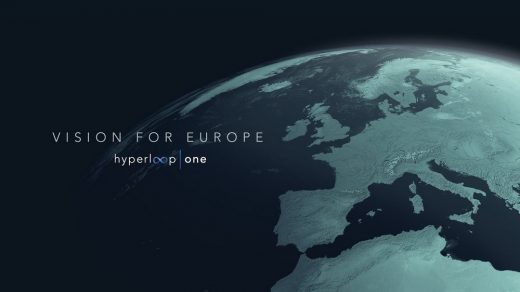 Hyperloop One Global Challenge
The Northern Arc proposal was revealed as one of nine shortlisted routes spanning the continent as part of Hyperloop One's global challenge, at it's Vision for Europe summit held at in Amsterdam.
Hyperloop One and the winning engineering and design partners will offer Europe's transport grid an option that is more efficient, greener, on demand and faster. From over 2,600 international entries, nine European entries have been shortlisted – Germany, Estonia-Finland, Spain-Morocco, Corsica-Sardinia, The Netherlands, Poland, UK Scotland-Wales, UK Northern Arc and UK North-South Connector.
Hyperloop One's vision for Europe creates economic unification to provide better options for people living outside of economic centers and large cities, increases capacity of strategic corridors sustainably to develop city to city connections within commuting range, enabling a thriving, greener mega region and offers next generation logistics to facilitate fast, reliable and clean movement of goods.
Ryder Architecture and Arup with support from KPMG, launched Northern Arc – a pioneering business led collaboration with local government to bring transformational transport to the North of the UK – in response to Hyperloop One's global challenge.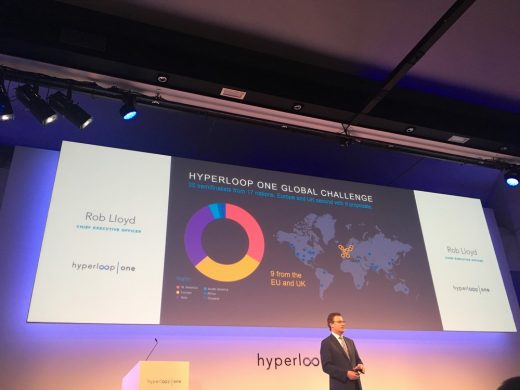 The Northern Arc route covers Liverpool, Manchester, Leeds, Newcastle, Edinburgh and Glasgow, aims to create a coordinated, government backed, deliverable proposal which will connect Scotland with the Northern Powerhouse partners to create a super region and showcase the north of England as a global leader of transport innovation.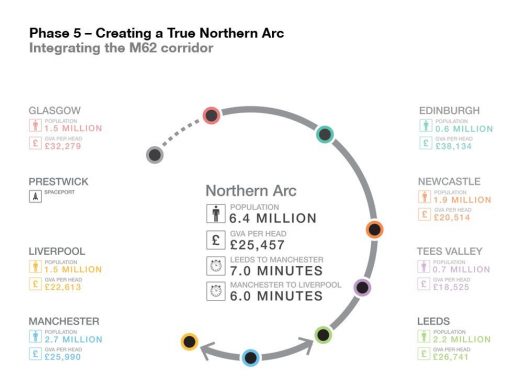 With Hyperloop One, passengers and cargo are loaded into a pod and accelerated gradually via electric propulsion through a low pressure tube. The pod quickly lifts above the track using magnetic levitation and glides at airline speeds for long distances due to ultra-low aerodynamic drag. It is designed for higher energy efficiency per passenger mile than traditional modes of transport, curbing emissions and fuel consumption. Using Hyperloop One technology, the Northern Arc route has the potential to connect 10.4m people across the six great cities of the north with the total journey time of 47 minutes.
The Northern Arc team have received strong levels of support on the submission from NELEP, and have engaged with the Department for Transport, BEIS and a range of other local authorities and regeneration agencies.
Northern Arc is about creating a bigger and better northern network, building on the initial concept of the Northern Powerhouse and transcending the border into Scotland. It will connect the major economic corridors of the M62 and the Scottish central belt to create a super region with the capability to compete on the world economic stage.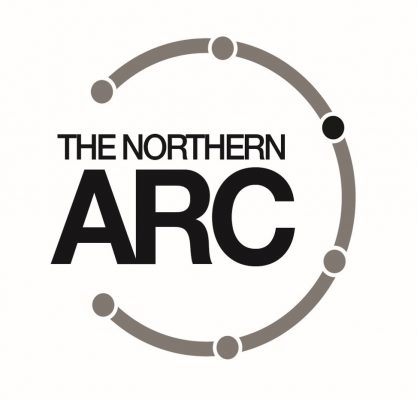 Paul Bell, partner at Ryder said, "Northern Arc is more than a Hyperloop route – it is the economic region that the northern powerhouse should be and we're excited to be involved in this pioneering opportunity."
The route would link Manchester, Newcastle, Edinburgh into an integrated northern arc airport with secure city check ins in Glasgow, Leeds and Liverpool and with proposed extensions to Aberdeen, Belfast and Hull, Northern Arc will connect all the major ports in the north of the United Kingdom, providing the opportunity to transform domestic distribution and significantly reducing congestion and C02.
Nick Merridew, director at Arup said, "We are delighted to bring our design and engineering expertise and knowledge of Hyperloop systems to make the concept a reality not only for the north but for the UK."
By the end of 2017, Hyperloop One will have a team of 500 employees dedicated to bringing the technology and the winning Global Challenges routes to life.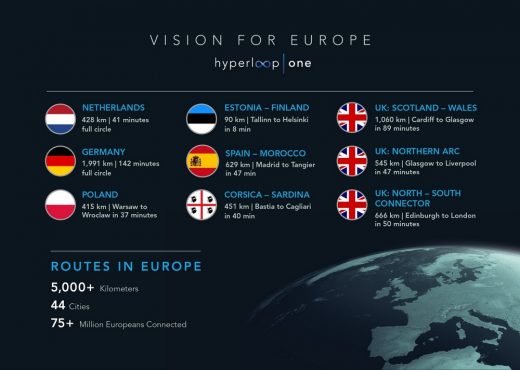 About Ryder Architecture
Everything architecture – Our goal is simple – to improve the quality of the world around us and,
in doing so, improve people's lives. An approach embedded in the origins of Ryder which remains a
touchstone today.
Ryder was established in Newcastle in 1953 and now also has teams in London, Glasgow,
Liverpool, Hong Kong and, through Ryder Alliance, in Australia, Budapest and Spain.
Projects range in value from £50,000 to £300m in the civic, education, healthcare, infrastructure, leisure, manufacturing, office, residential, retail and science sectors.
www.ryderarchitecture.com
About Arup
Arup is the creative force at the heart of many of the world's most prominent projects in the built environment and across industry. From 92 offices in 40 countries our 13,000 planners, designers, engineers and consultants deliver innovative projects across the world with creativity and passion.
www.arup.com
Hyperloop One Global Challenge Northern Arc information / images from Ryder / Arup
Hyperloop Designs
Hyperloop Pods and Portals
Design: BIG-Bjarke Ingels Group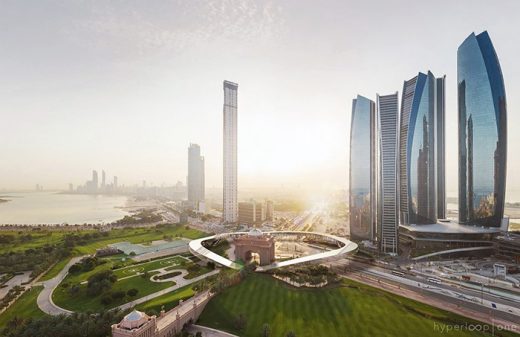 image from architects
Hyperloop Pods and Portals in Dubai
Design unveiled by BIG Architects for autonomous transportation system and the world's first Hyperloop pods and portals in Dubai, UAE just as Hyperloop One inks major deal with Dubai Roads and Transport Authority.
Hardt Hyperloop by UNStudio: Amsterdam to Frankfurt
Hardt Hyperloop
Hyperloop Suburb by Louise Braverman, Venice
Hyperloop Suburb Venice
Website: Hyperloop One Global Challenge European Routes
Location: Newcastle, north east England, UK
Transportation Building Designs
Article: Can Hyperloop Save Public Transportation?
Buildings / photos for the Hyperloop One Global Challenge: Northern Arc design by Ryder / Arup page welcome
Website: Hyperloop One Global Challenge