Alejandro Aravena Architects Chile, Building, 2016 Pritzker Prize Winner, Design Studio Projects, Office
Alejandro Aravena Architecture
Contemporary Architects Practice in Santiago, South America: Pritzker Prize Winner in 2016
post updated 29 March 2022
Alejandro Aravena Arquitectos News
Alejandro Aravena Architect News
29 Mar 2022
Three New Qatar Museum Building Designs
Speaking today at the 2022 Doha Forum in Qatar, Her Excellency Sheikha Al Mayassa bint Hamad bin Khalifa Al Thani, Chairperson of Qatar Museums, announced the development of three major new museums:
Art Mill: architect Alejandro Aravena / ELEMENTAL
Lusail Museum: architect Jacques Herzog / Herzog & de Meuron
Qatar Auto Museum: architect Rem Koolhaas / OMA
Three New Qatar Museum Buildings
Oct 29, 2020
Alejandro Aravena Jury News
The Pritzker Architecture Prize announced the appointments of Alejandro Aravena as Chair of the Pritzker Architecture Prize Jury and Manuela Lucá-Dazio as an advisor to the Prize and the next Executive Director, beginning in March 2021. The Pritzker Prize is known internationally as architecture's highest honor, and this coming year will mark the 43rd year of the accolade:
Pritzker Architecture Prize 2021 Jury Members
Oct 25, 2019
CPP/ARC 2019 Richard Neutra Award Winner News – Alejandro Aravera, ELEMENTAL: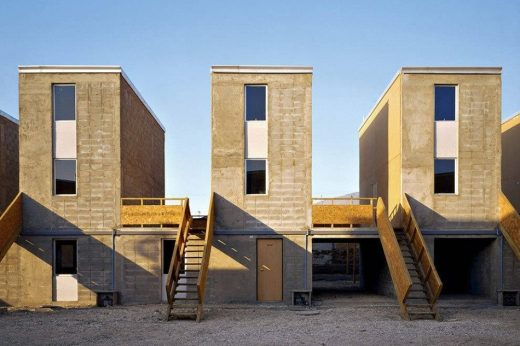 photography : Tadeuz Jalocha
Alejandro Aravena wins CPP/ARC 2019 Richard Neutra Award
15 Sep 2018
Alejandro Aravena to receive 2018 RIBA Charles Jencks Award
The Royal Institute of British Architects (RIBA) has (on 13 September 2018) named Alejandro Aravena, the celebrated Chilean architect, as the recipient of the 2018 RIBA Charles Jencks Award.
Alejandro Aravena – 2018 RIBA Charles Jencks Award winner
15 May 2017
ELEMENTAL Wins Art Mill International Design Competition in Doha, Qatar
ELEMENTAL Art Mill Concept Design: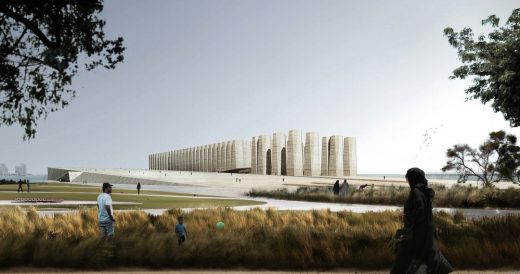 image © Malcolm Reading Consultants and Elemental
This Chile-based architecture practice, ELEMENTAL, has won the Art Mill International Design Competition, a global search to find an outstanding team to design one of the world's leading cultural centres.
Alejandro Aravena Winning Design in Doha, Qatar
ELEMENTAL was selected by an international jury, from 26-strong longlist, based on their strategies for the site and its links to the city. ELEMENTAL's concept design for the historic waterfront site in the centre of Doha took as its inspiration the rhythmic monumental grain silos that are the industrial legacy of the original Flour Mills on the site.
13 Jan 2016
Alejandro Aravena of Chile receives the 2016 Pritzker Architecture Prize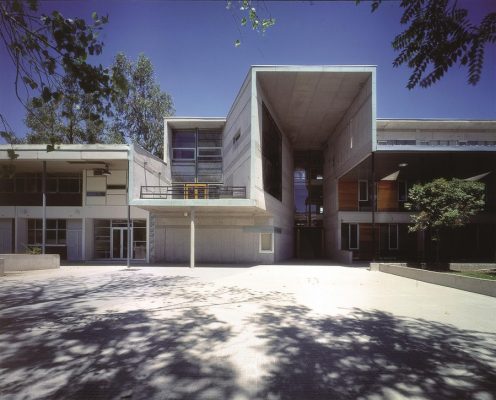 The 48-year-old Aravena is an architect based in Santiago, Chile. He becomes the 41st laureate of the Pritzker Prize, the first Pritzker Laureate from Chile, and the fourth from Latin America, after Luis Barragán (1980), Oscar Niemeyer (1988), and Paulo Mendes da Rocha (2006).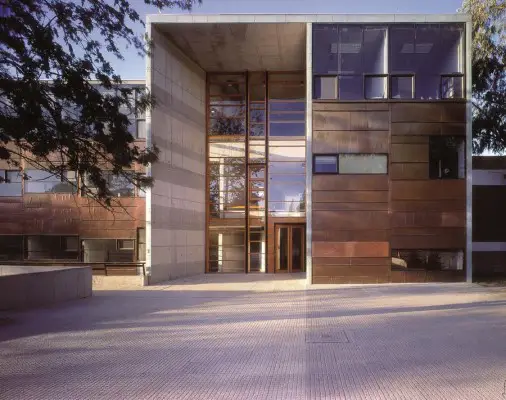 Mr. Pritzker said, "The jury has selected an architect who deepens our understanding of what is truly great design. The architect has pioneered a collaborative practice that produces powerful works of architecture and also addresses key challenges of the 21st century.
Architecture School at the Universidad Católica de Chile, Santiago:


His built work gives economic opportunity to the less privileged, mitigates the effects of natural disasters, reduces energy consumption, and provides welcoming public space. Innovative and inspiring, he shows how architecture at its best can improve people's lives."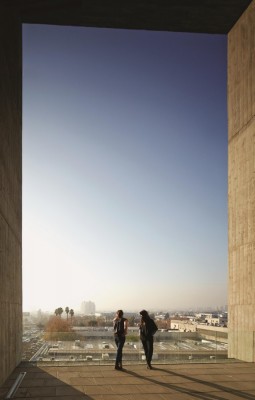 Alejandro Aravena en Quintos Encontros de Arquitectura:

Alejandro Aravena en Quintos Encontros de Arquitectura from elementalchile on Vimeo.
Key Alejandro Aravena Building Designs
Aravena and ELEMENTAL have designed the Metropolitan Promenade (1997 – ongoing) and Bicentennial Children's Park (2012), both in Santiago.
After the 2010 earthquake and tsunami that hit Chile, ELEMENTAL was called to work on the reconstruction of the city of Constitución; their work there includes emergency relief work, a master plan, Villa Verde (incremental housing, 2013), and the Constitución Cultural Center (2014).
Centro de Innovación UC Anacleto Angelini, Santiago, Chile: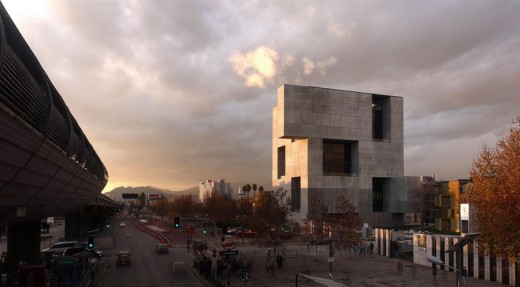 Other works include:
Montessori School (2001) in Santiago, Chile;
"Chairless" furniture (2010) for Vitra in Weil am Rhein, Germany;
Monterrey Housing (incremental housing, 2010) in Monterrey, Mexico;
Las Cruces Pilgrim Lookout Point (2010) in Jalisco, Mexico;
Las Cruces Pilgrim Lookout Point in Jalisco : Ruta del Peregrino
Calama PLUS master plan (2012 – ongoing) in Calama, Chile;
Writer's Cabin for the Jan Michalski Foundation (2015) in Montricher, Switzerland;
and Ayelén School (2015) in Rancagua, Chile.
Images: copyright and courtesy of ELEMENTAL
Alejandro Aravena Pritzker Prize 2016 Winner
Torres Siamesas, Campus San Joaquín, Santiago, Chile – Siamese Tower: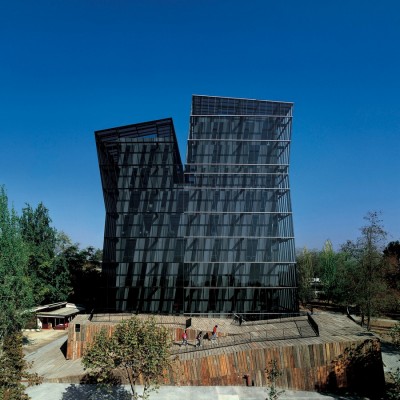 Torres Siamesas, Chile
Quinta Monroy Housing, Iquique, Chile
Dates built: 2003–05: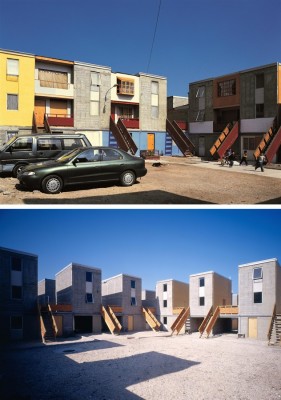 Escuela de Medicina UC, Campus Casa Central, Universidad Católica de Chile, Santiago, Chile
Dates built: 2001-04: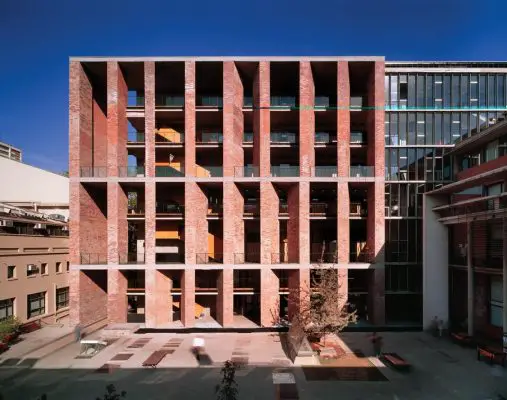 Alejandro Aravena Arquitectos – Key Projects
Featured Buildings by this Chile architecture office, alphabetical:
Monterrey housing, Mexico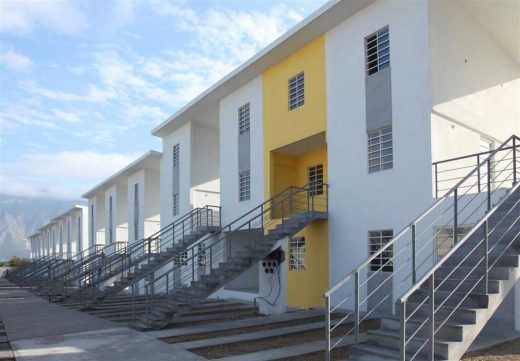 picture from BIDA
Brit Insurance Architecture Award 2010 : Monterrey Housing by elemental s.a., Chile – 5 Mar 2010
Catholic University Santiago, Chile
Date built: 2008
Casa de la Escultora – Sculptor House, La Florida, Santiago
Date built: 1997
More projects by ELEMENTAL architects online soon
Gonzalo Aravena Reel 2015:

Gonzalo Aravena Reel 2015 from Gonzalo Aravena on Vimeo.
Location: Chile, South America
ELEMENTAL Practice Information
Architect office based in Chile
Architects studio established in 1994.
Drawing by the architect: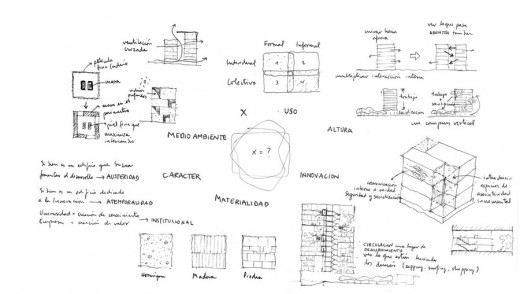 Key Positions + Honours
– Visiting Professor at Harvard GSD 2000-05
– Elementary-Copec Currently Professor at UC.
– Pritzker Prize Jury member
– Royal Institute of British Architects Fellow
A contemporary building design in Chile on e-architect:
Consorcio Building, Santiago
Design: Enrique Browne / Borja Huidobro
Consorcio Santiago Offices
Comments / photos for the Alejandro Aravena architects – Architecture Practice Santiago page welcome
Website: alejandroaravena.com