Beus Center for Law and Society at ASU, Arizona University Architecture News, ASU
Beus Center for Law and Society at ASU, Arizona, USA
Phoenix Building for ASU, Sandra Day O'Connor College of Law, AZ, USA – by Ennead Architects + Jones Studio
Aug 18, 2016
Beus Center for Law and Society
Architect: Tomas Rossant of Ennead Architects, with Jones Studio
Location: Phoenix, Arizona, USA
Beus Center for Law and Society Opens at ASU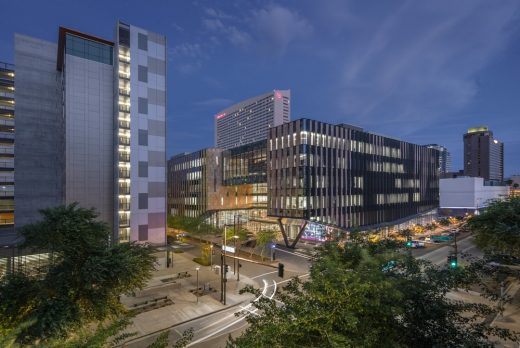 The Beus Center for Law and Society, the new home of the Sandra Day O'Connor College of Law at Arizona State University, opened on Monday at a ceremony featuring retired U.S. Supreme Court Justice Sandra Day O'Connor, Senator John McCain, Phoenix Mayor Greg Stanton and other dignitaries, all heralding BCLS as poised to transform the law school experience—both in program and design. A new six-story, 280,000-square-foot, state-of-the-art facility in the heart of downtown Phoenix designed by Tomas Rossant of Ennead Architects, in collaboration with Jones Studio, BCLS was conceived and developed as a uniquely open urban environment where society and the study and practice of law converge.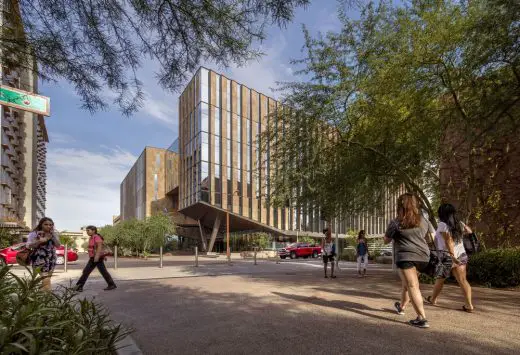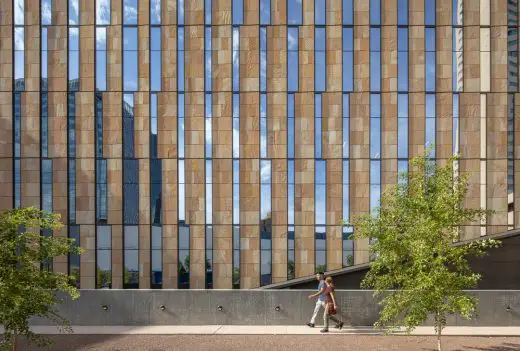 Institutional Change Agent
"We are dedicated to making buildings that act as institutional change agents," says Rossant, design partner who led the Ennead team with management partner Timothy Hartung. "The new Beus Center for Law and Society repositions the law school as a conduit for connecting the school's progressive legal scholarship with the public—where the law hits the street."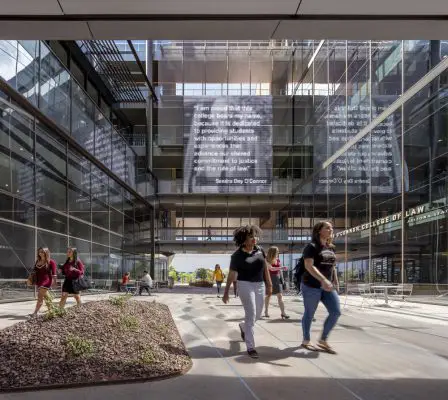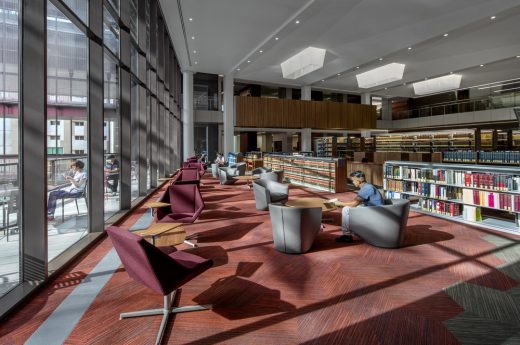 "ASU is aiming to reinvent, not just recreate the model for legal education in our country, at the same time informing and educating the public on the positive role of law in our lives," explains Dean Doug Sylvester, Sandra Day O'Connor College of Law. "While others are slashing services, we are hiring faculty, increasing our engagement with society, and have built a new facility that reflects the values of optimism, hoping to change not just a three block radius in downtown Phoenix, but ideally our nation."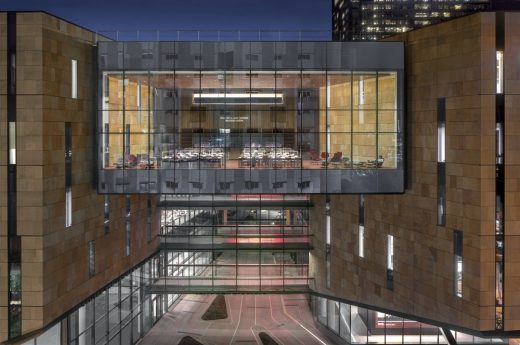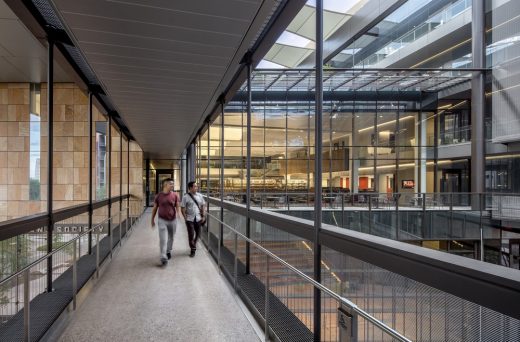 The relocation of the law school to ASU's downtown campus establishes beneficial adjacencies to the Phoenix legal and criminal justice community. BCLS advances ASU Law's pedagogical mission by providing unique opportunities for collaboration among its occupants, including The McCain Institute for International Leadership, the Sandra Day O'Connor Institute, the Lincoln Center for Applied Ethics, and the Arizona Justice Project. BCLS also includes a public interest law clinic and the ASU Alumni Law Group—the country's first, non-profit teaching law firm associated directly with a law school, looking to how medical schools have long been connected with hospitals to provide invaluable experience and facilitate students' transition into the professional field.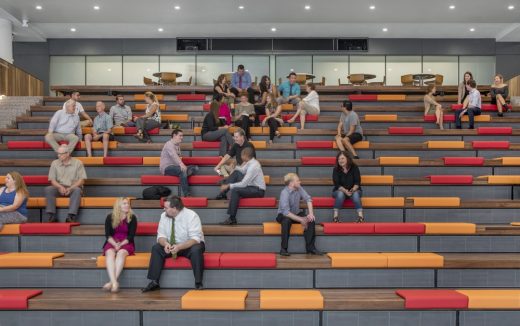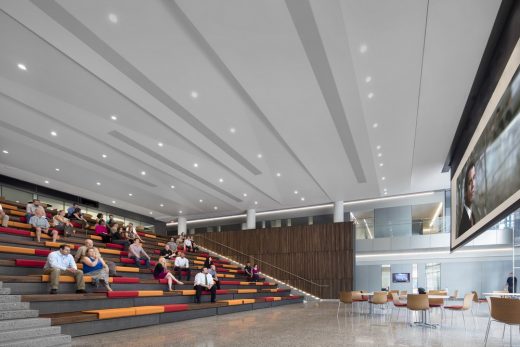 Design
A north-south "slice" through the building's social center invites the City of Phoenix into the heart of the institution, exposing the public to its three grand double-height spaces: The W. P. Carey Foundation Armstrong Great Hall, The Ross Blakley Law Library and the Nell and Wilmer Plaza Courtyard. "The law library is deliberately and unconventionally configured to be without borders or thresholds," says Ennead's Brian Masuda, project designer. "Stacks and study spaces extend to the upper levels along all circulation paths, promoting informal intellectual and social interchange between students, faculty and visitors." Open-air walkways bridge east and west portions of the building, stitching together the "slice" and providing access to a suspended double-height reading room at the north and two stories of legal "think tank" spaces at the south.
The transparency of the expansive bi-folding glass door at the front of the Great Hall unifies the indoor and outdoor space and allows the hall to act as the public's "legal living room." An innovative retractable tiered seating system allows the Great Hall to be converted from a socially dynamic arrangement to a more formal auditorium configuration, providing flexibility while offering a unique civic space to the downtown Phoenix community. Its welcoming gesture of openness clearly communicates and embodies the overarching message of ASU Law's new home—that our laws and the quality of our society are inextricably linked.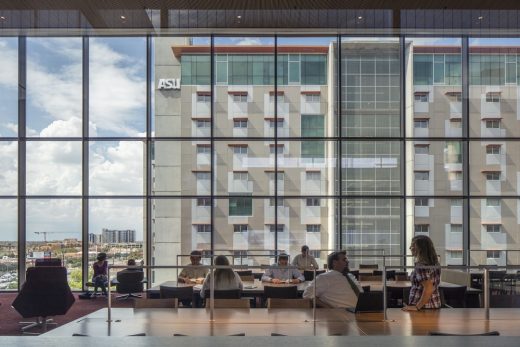 New Media Technology
Ennead teamed with Unified Field, a pioneer in the field of interactive media, to create the new BCLS app, a groundbreakingeducational and community-building tooldeveloped specifically for the new Beus Center for Law and Society. Created to take the building's "pulse"—the activity within—and encourage greater connectivity between students, faculty, alumni and their mobile devices, the app is part of a digital communication, dynamic wayfinding and messaging platform that creates adigital campus within the physical campus. Cutting-edge technology enables faculty, staff, students, alumni, prospective students, as well as members of the local legal and general public to interact with each other and with the building itself, and curate their own BCLS experience in real time. Establishing a new type of community, people can now connect and communicate in a way previously unknown in a university setting.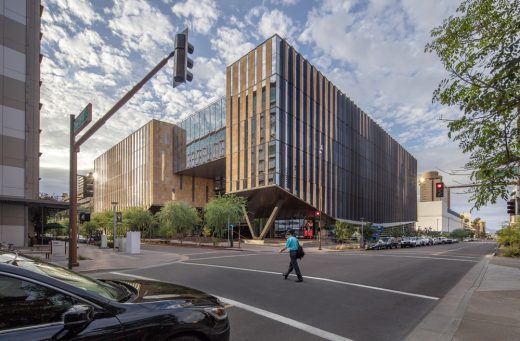 "This building has been an opportunity to use technology in a way that is exciting and gets people more engaged," says Tom Williams, Assistant Dean for Academic Affairs and the Institution, Sandra Day O'Connor College of Law. "We are always engaged in looking for what's next in legal education. That doesn't mean just forward thinking about the law, it means integrating with technology in ways that help us define our vision."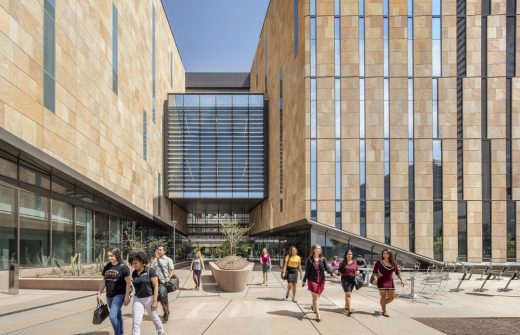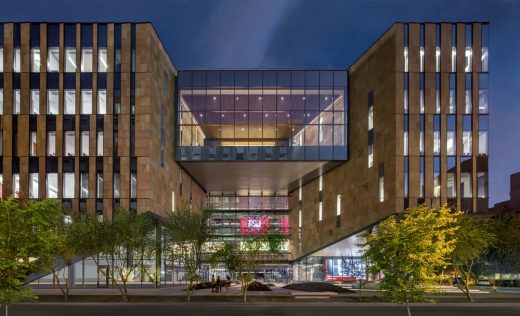 Sustainability
Sustainability was a key driver throughout the design process. As Rossant states, "BCLS is a high performance building that didn't have to forfeit anything to be high-performance and still bring the institution's mission to life and make an open, permeable community."Beyond the naturally self-shading massing of the overall building, the saw-toothed configuration of the outer building façade, comprised of Arizona sandstone with aluminum and glass windows, has been designed to achieve a higher than standard level of thermal performance, responding to solar orientation, window size and programmatic requirements. Mechanically, the building incorporates energy-efficient technologies, including chilled beams and under-floor displacement cooling. BCLS is expected to reduce energy consumption by 37% compared to a baseline building and is calculated to have the 4th lowest EUI (Energy Use Intensity) of any of the 57 buildings analyzed at ASU.
Making a Difference
"We are here to educate students to be the best lawyers they can be," says Williams. "For a top 25 law school that is still relatively young, we are looking to define what that means in a way that doesn't depend on the past, but that looks towards the future. This building is an embodiment of our mission and students are reacting very positively to that message with an application rate that is up 33%, compared to the national average of 1.4%."
Dean Sylvester understood early on that a bold new approach to educating young lawyers had to be supported by an equally innovative building design: "The answer isn't to lock students in a room and make it all about book learning," he states. "You make an impact by getting students out in the community. You instill in them a sense that they can make a difference. This building makes a difference.
About Ennead Architects
Ennead Architects is an internationally-acclaimed, New York-based studio with an office in Shanghai. Renowned for its educational, cultural, scientific and governmental building designs that authentically express the progressive missions of their institutions and enhance the vitality of the public realm, Ennead has been a leader in the design world for decades. Recipient of the prestigious AIA NY Medal of Honor, the Smithsonian Institution-Cooper Hewitt National Design Award and the National AIA Firm Award, as well as numerous design awards for individual buildings, the studio has a portfolio that is diverse in typology, scale and location and includes new construction, renovation and expansion, historic preservation, interior design and master planning. Ennead's collaborative process is rooted in extensive research involving the analysis of context, program, public image, emerging technologies and a commitment to sustainable solutions. Eleven partners lead the firm: Timothy Hartung, Duncan Hazard, Guy Maxwell, Kevin McClurkan, Molly McGowan, Richard Olcott, Susan Rodriguez, Tomas Rossant, Todd Schliemann, Don Weinreich and Thomas Wong.
Beus Center for Law and Society at ASU, Arizona images / information received 180816
Address: Sandra Day O'Connor College of Law, 1100 S McAllister Ave, Tempe, AZ 85281, United States
Phone: +1 480-965-6181
Ennead Architects on e-architect
Location: 1100 S McAllister Ave, Tempe, AZ 85281, United States of America
Arizona Architecture
Contemporary Arizona Architecture
American Architecture Design – chronological list
A recent Arizona building on e-architect:
Desert Wing, Scottsdale
Design: Kendle Design Collaboratives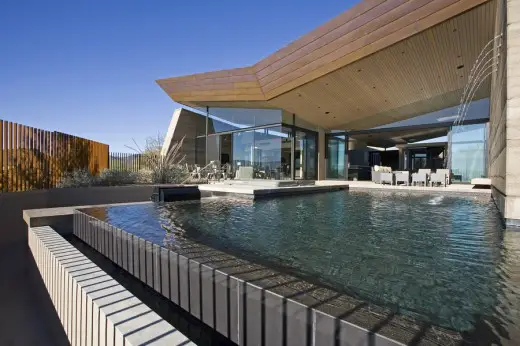 photo from architects
Desert Wing Arizona
Levin Residence
Design: Ibarra Rosano Design Architects



photo : Bill Timmerman
Levin Residence
Tucson Mountain Retreat
Design: DUST Architects
Arizona Mountain Retreat
Tucson Mountains Residence
Design: Ibarra Rosano Design Architects
Tucson Mountains Residence
Bradley Residence, Scottsdale
Design: Michael P. Johnson Design Studios
Bradley Residence
Courtyard Residence, Phoenix
blank studio, architects
Arizona Residence
Ellsworth Residence – desert residence
Michael P. Johnson Design Studios
Arizona house
Website: Arizona State University
Website: Phoenix
Buildings / photos for the Arizona Center for Law and Society Building page welcome
Website: Arizona Center for Law and Society