Cesar Chavez Library Phoenix, Arizona Architecture, Line and Space Architects Design
Cesar Chavez Library, Phoenix
Contemporary Arizona Building design by Line and Space with Richard+Bauer, USA
May 26, 2011
Location: Phoenix, Arizona, USA
Date built: 2007
Design: Line and Space with Richard+Bauer (Interiors)
Cesar Chavez Library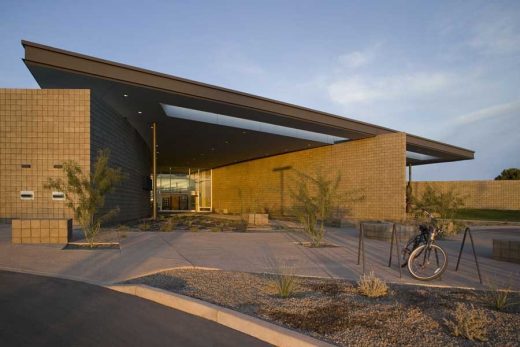 Photos by Bill Timmerman
Cesar Chavez Library Building
Phoenix, the sixth largest American city, prides itself on providing exceptionally designed libraries to foster communities with information resources and works of the imagination. The Cesar Chavez Library is one of four new regional libraries to be constructed for the City.
Located in an existing park adjacent to a man-made lake (a remnant from mid-20th century water attitudes), the 25,000 sf, library is designed to serve 40,000 visitors per month within one of the fastest growing areas of Phoenix, the Village of Laveen. Due to the density of nearby housing, the park is the backyard for the community, and in the same sense, the library was designed to be its living room – an interior place for interaction of families and friends, as well as space for individual family members to "do their own thing."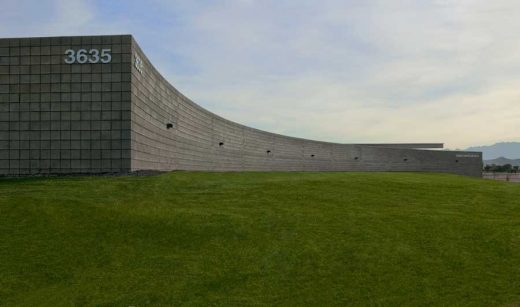 There are comfortable special places for children, teens and adults to enjoy reading and other quiet explorations. Library amenities include:
• 140,000 volumes (books, CD's, DVD's, periodicals)
• Estimated 750,000 circulating items/year
• Public computers with internet access
• Wireless internet access
• Computer training lab
• Automated self-checkout service
• Children's Area with intimate story room, interactive displays, dedicated computer stations, and homework help area
• Teen Center, named "R3" for "Read Relax Rejuvenate" by students at the adjacent local high school. It includes high-tech amenities such as MP3 listening stations, a flat-screen TV for DVD viewing in a semi-enclosed lounge, and dedicated computer stations.
• 75-seat community meeting room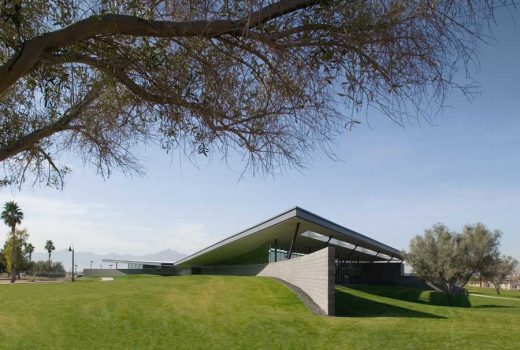 The Library was seen as an opportunity to turn a contradiction (the lake) into an asset. In order to realign the purpose of the site with what was previously created, the design had to address certain constraints; the Library was to be integrated into a park made of mounded earth, while being adjacent to the lake. Unlike other climates that will have rain every week, the desert is a unique circumstance that requires special consideration of water as well as energy conservation. These values coupled with the limitations imposed by the site, helped to shape the design of the project:
• Site Integration
Reflecting the geometry of the adjacent lake, the arced form of the library is pushed into an existing earth mound, quietly integrating it into the public parkscape. The earth provides thermal mass against the building (minimizing heating and cooling energy use) in addition to privacy and a barrier from noise emanating from major arterial traffic.
• Orientation
Through appropriate orientation, glazing at the north and south of the building allows natural daylight to fill interior space. The west elevation is designed with no windows to mitigate direct solar heat gain, reducing demand on the mechanical system. Deep overhangs over all windows protect from the harsh desert summer sun.
• Shade/Transition
Overhangs extend the usability of outdoor spaces by providing shade over seating and gathering areas as well as a zone of thermal and visual transition from the hot, bright exterior to cooler interior space.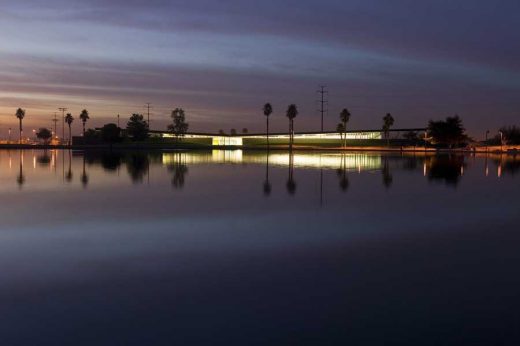 • Natural Daylighting
Daylighting in public and staff areas minimizes the use of conventional lighting and provides occupants with a connection to the surrounding outdoors.
• Tempered Microclimate
A large overhang coupled with reuse of building exhaust air (normally vented through the roof) provides a tempered microclimate in the outdoor reading patio. Adjustable spot diffusers allow users to fine-tune their individual environment increasing the patio's comfort and usability in Phoenix's desert climate.
• Materials/Building Life Cycle
Concrete masonry, steel and aluminum were selected for their clean appearance, durability, low maintenance, ability to be recycled and local availability. These materials coupled with the open plan design allows for long-term flexibility and adaptability over time, increasing the service life of the project. Minimal use of interior partitions in public areas allows for easy modifications to shelving and furnishing layouts as the Library grows and changes to accommodate future needs.
• Water Harvesting
All rainwater from the 37,000 sf roof is collected and stored in the adjacent lake for use in park and landscape irrigation. This quantity balances the total water used for toilet flushing during the year.
The Cesar Chavez Library has been selected as one of the American Institute of Architects Committee on the Environment's (COTE) Top Ten Green Projects for 2008, a national award given annually to projects that exemplify sustainable design and construction. It recently received LEED Silver certification from the USGBC.


image : Les Wallach
Cesar Chavez Library – Building Information
Year Completed: 2007
Client: City of Phoenix – Toni Garvey (City Librarian) Jon Kolstad, AIA, LEED (Project Manager)
Architect
Line and Space, LLC
Les Wallach, FAIA (Lead Designer)
Henry Tom, AIA (Project Manager)
Johnny Birkinbine, AIA (Project Architect)
Jennifer DaRos, Mike Anglin, Ray Jin, Manny Kropf (architectural support team)
Consultants
Line and Space with Richard+Bauer (Interiors)
McGann & Associates (Landscape Architecture)
KPFF Consulting Engineers (Civil)
Caruso Turley Scott (Structural)
Energy Systems Design (Mechanical, Electrical)
Echeverri-Josephs Engineering Group Inc. (Fire Protection)
Rumsey Engineering (LEED)
General Contractor
Linthicum
Credits
Site Concept Diagram by Les Wallach, FAIA
Photo 08 "Children's Area" by Henry Tom, AIA
All other photographs by Bill Timmerman


image : Henry Tom
Cesar Chavez Library Phoenix images / information from Line and Space
Cesar Chavez Library design : Line and Space
Location: Phoenix, Arizona, USA
Arizona Buildings
Arabian Library, Scottsdale
richärd+bauer



image : Bill Timmerman
Arabian Library
Bradley Residence, Scottsdale
Michael P. Johnson Design Studios



image : Bill Timmerman
Bradley Residence
Courtyard Residence, Phoenix
blank studio, architects



image : blank studio, Inc.
Arizona Residence
Suncover Residence – house, Phoenix
blank studio, architects



image : blank studio, Inc.
Phoenix Residence
Phoenix Building : Maricopa Court Complex
Buildings / photos for the Cesar Chavez Library Arizona – Phoenix Architecture design by Line and Space with Richard+Bauer, United States of America, page welcome.