Kenya School Building, PITCH Africa Central Highlands, African Design Project, Architect, Picture
WATERBANK School, Kenya : Education Building in Africa
Innovative African Building – design by PITCHAfrica
19 + 16 Nov 2012
Location: near Depatas, Central Highlands, Kenya
School Design to End Water Wars in Africa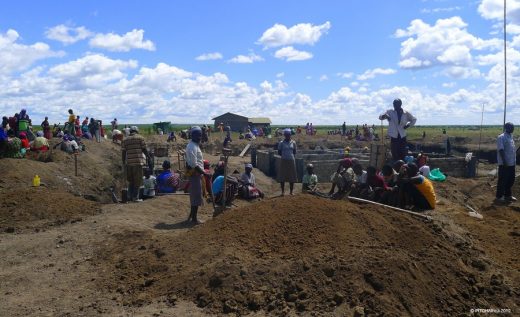 photos : Njenga Kahiro, Zeitz Foundation 66
WATERBANK School in Kenya
The first WATERBANK School opens this month near Depatas in Kenya's Central Highlands
An innovative school designed to ease water shortages in a semi-arid region of East Africa is to open later this month. The WATERBANK™ School, conceived and designed by US based non-profit PITCHAfrica, demonstrates the dramatic potential of rainwater harvesting in semi-arid regions and aims to put an end to Water Wars.
Enabling schools to harvest, store and filter water in large quantities as part of a community-integrated, peace cultivating approach to rainwater harvesting is a powerful concept, particularly in regions where ground and surface water resources are already under stress, says PITCHAfrica's Founder and Director, Jane Harrison.




photos : Njenga Kahiro, Zeitz Foundation 66
This first School is being built by PITCHAfrica in partnership with The Zeitz Foundation, a locally based NGO with funding from Guernsey Overseas Aid. In a region with an annual rainfall of 600mm, the WATERBANK School's 600m2 roof catchment area can harvest more than 350,000 liters annually and will mean that the 200 or more students studying in the new school building will have 5 liters a day year round. This access to clean water will mean a reduction in illness and malnutrition, fewer school absences, improved study results, encourage development and thus lead to a reduction in youth unemployment in the future.
But most importantly the school will achieve greater gender equality as the girls in the community who typically spend hours collecting water will be able to attend school and do homework instead. Every child will be able to learn about economically and environmentally sustainable rainwater harvesting, water filtration, sanitation and agricultural practices while at school. The WATERBANK School embodies the very knowledge the children need in order for them to survive, improve their circumstances and build peaceful community relations around water.
The area of accommodation, provided by the WATERBANK School, is more than double that provided by a standard linear 4-classroom rural school building. "The exciting fact and major breakthrough of the design" says David Turnbull, PITCHAfrica's Design Director, "is that we are building this for the same cost as a conventional school, using local materials and a local workforce". In addition to 4 full-sized indoor/outdoor classrooms, each large enough for 50-60 children, the WATERBANK School includes protected vegetable gardens for the children, 4 teacher's rooms, community spaces and workshop, a courtyard and community theater and a 150,000 liter water reservoir with integrated water filtration.
The workshop spaces can be used for health projects and other local initiatives that strengthen the school and engage the local community. This is a breakthrough in school and institutional design that could have major ramifications for construction in semi-arid environments. A large proportion of the 300 million people on the African continent who do not have access to safe water, live in regions where the rainfall is in excess of 600mm. WATERBANKS can work effectively in regions with 300mm or more.
The WATERBANK School, located near Ngare Nyiro (colloquially known as Depatas) is one of a wide range of WATERBANK designs produced by PITCHAfrica and includes variants for a WATERBANK Dormitory and Sanitation Center. Both are planned for construction next year in the same area. Also on the cards, in partnership with the Zeitz Foundation and with funding from star footballer Samuel Eto'o, is PITCHAfrica's Rainwater Harvesting School and Football Venue.
This project, PITCHKenya, is planned as a secondary school, incorporating a 1500 seat 5-aside Football and Volleyball Stadium, with a 2 million liter water reservoir, classrooms, a dormitory, dining facilities, latrines, a regional Environmental Center for Sustainable Technologies and the Samuel Eto'o Soccer Academy. As part of their ongoing WATERBANK initiative, PITCHAfrica will be assisting other organizations in building WATERBANKS in their communities. Interested organizations can address enquiries to [email protected].
Additional Images may be viewed at http://www.flickr.com/photos/waterbank_school/.
Images from the opening ceremony will be posted to the site on Nov 26th.
PITCHAfrica is on facebook at http://www.facebook.com/
PITCHAfrica are based in Princeton, New Jersey, USA
Kenya School Building images / information from ATOPIA Research
Waterbank Campus
Design: PITCHAfrica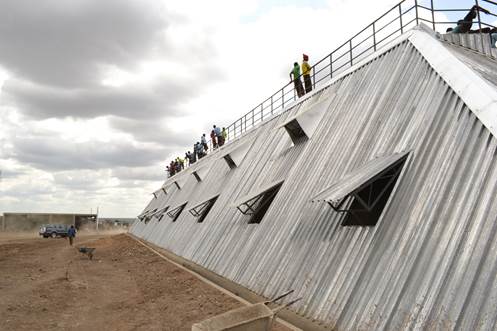 image courtesy of architects
WATERBANK Secondary School Campus in Kenya
Location: Ngare Nyiro, Central Highlands, Kenya, East Africa
Another Pitch Africa project in Africa on e-architect:
Pitch Africa
Rainwater Harvesting in Africa



image : ATOPIA Research
PITCHAfrica Project
In Africa, two things are perennial: the passion for football and the thirst for water. Children and youth across the continent scramble over scraps of open ground, making soccer balls from anything on hand.
Kenya Buildings
Contemporary Architecture in Kenya
SABIS International School, Runda, Nairobi
Concept design architects: Archika ; Executive architects: Boogertman + Partners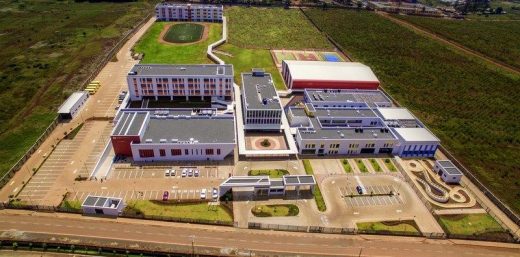 image courtesy of architects
SABIS International School Kenya Building
Nairobi Central Railway Station, Nairobi, Kenya
Architects: Atkins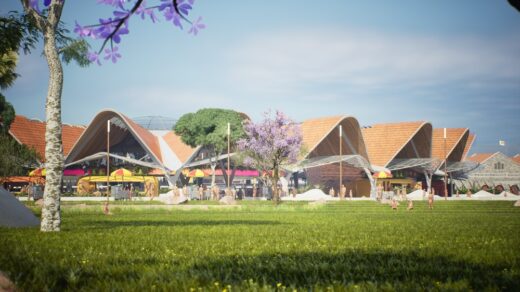 image courtesy of architects practice
Nairobi Central Railway Station, Kenya
African Buildings
Contemporary Architecture in Africa
Cape Town Stadium, South Africa
gmp von Gerkan, Marg und Partner
Football for Hope Centre Africa
Soccer City Stadium, South Africa
BUE & Partners with Populous
Soccer City Stadium Africa Building
Portside Cape Town, South Africa
Louis Karol
Portside Cape Town Building
British Council Building Africa
Comments / photos for the Kenya School Building in Ngare Nyiro, Central Highlands – PITCH Africa Building page welcome