Kenya School Building, PITCH Africa, African Education Design, Project, Architect, Picture
WATERBANK Secondary School Campus
Innovative Kenya Building design by PITCHAfrica
11 Aug 2014
Design: PITCHAfrica
Africa's First Waterbank Campus Designed to Build Peace and End Water Wars
Samuel Eto'o sponsored 'model' rain harvesting school campus, that aims to transform education through a unique combination of water collection and agriculture using football as a catalyst, opens this month in Kenya's Central Highlands.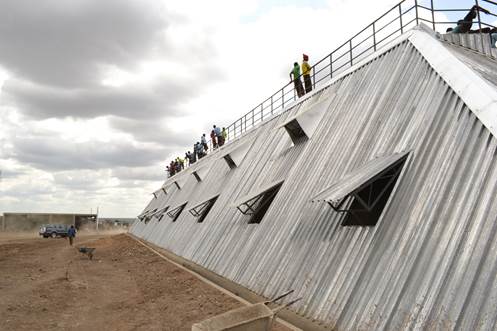 WATERBANK Secondary School Campus in Kenya
A unique secondary school campus, conceived and designed by the non-profit design and innovation group PITCHAfrica, the designers of the award-winning 'Waterbank School' in Kenya, named 'Greenest School on Earth' in 2013, opens this month at the Endana Secondary School in Laikipia.
The 'Waterbank Campus' comprises 4 unique, low-cost, rain harvesting building types invented by PITCHAfrica, and termed 'Waterbanks' because of the building's capacity to harvest and store high volumes of water at low cost, providing a year round supply. The annual harvesting capability of the Campus is in excess of 2 million liters of water in a semi-arid region.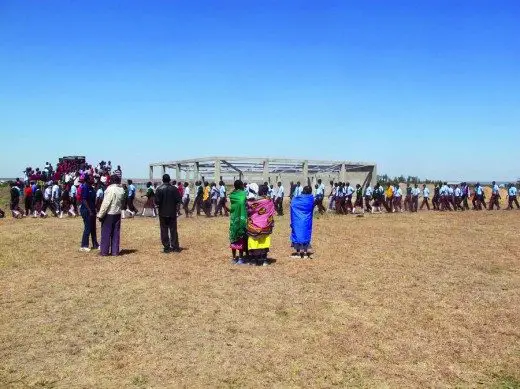 The Waterbank buildings provide clean drinking water to the students and irrigation to the conservation agriculture plots that form a patchwork across the campus. The centerpiece is PITCHAfrica's rain harvesting 5-a-side football and volleyball stadium with seating for 1500, PITCHKenya, home to the Samuel Eto'o Football Academy. The structure, that houses classrooms and an environmental education center, has an annual rain harvesting and storage capacity of more than 1.5 million liters. Other buildings include a 'Waterbank Dormitory' for Girls, a 'Waterbank Canteen' and 'Waterbank Latrines', building prototypes developed by PITCHAfrica to meet essential water needs while addressing fundamental issues including sanitation, nutrition, gender equality and health. Additional structures include rain harvesting boys dormitories and staff housing.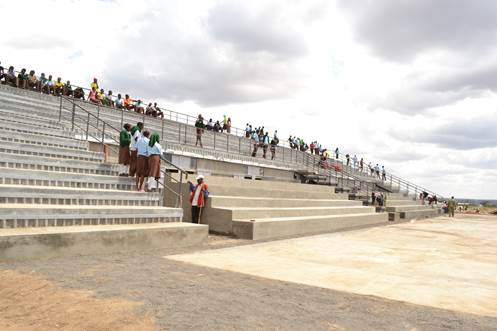 320 million people on the African continent and 1 billion worldwide, still do not have access to clean drinking water, yet the majority of these people live in regions where it rains more than 600mm (2ft) a year. Lack of access to water causes ill health and conflict worldwide. PITCHAfrica founder, Jane Harrison says, "Integrating harvesting, storing and filtering of rain into school community buildings supports communities in becoming increasingly self reliant for their water needs. This is possibly one of the greatest catalysts for change that a community can have. Bringing football into the mix brings passion, an attentive audience, bridging differences. This can make the desire to model peaceful collaboration and share knowledge about sustainable environmental practices a reality, while providing students with an environmentally engaged education, healthy food and clean water."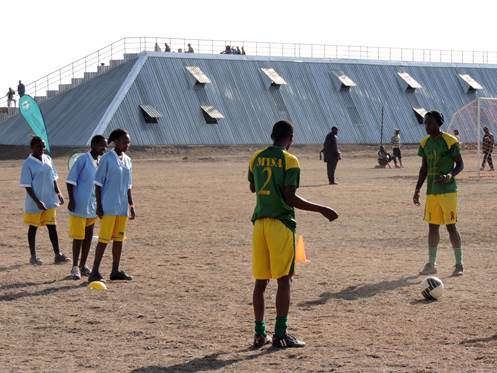 The project has been implemented through a partnership between PITCHAfrica and the locally based Zeitz Foundation and school community with sponsorship provided by international star footballer Samuel Eto'o's private foundation, the Cameron O'Reilly family, Guernsey Overseas Aid, and Ol Pejeta Conservancy. The Laikipia Unity Program (LUP), a football league with a strong environmental focus, initiated by the Zeitz Foundation, will allow the 'Waterbank Campus' to have an impact across the region, reaching more than 50,000 people.
Jochen Zeitz, of the Zeitz Foundation says, "PITCH offers an innovative approach to addressing one of Africa's most pressing problems, provision of clean drinking water; whilst providing urgently needed sport facilities. This makes it a win-win proposition, good for health and good for the environment. I'm happy to be able to support the first PITCH in Africa."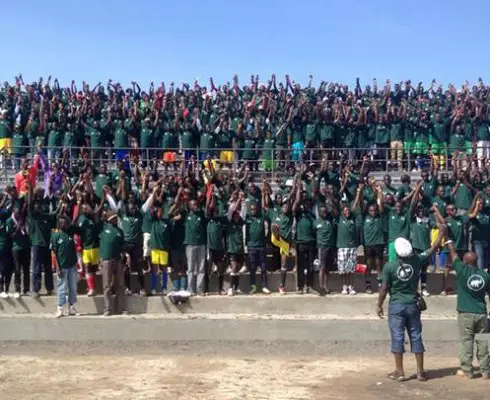 PITCHKenya will be known locally as the "Samuel Eto'o Laikipia Unity Football Academy, School and Environmental Education Centre". PITCHAfrica's Waterbank Schools Initiative has received support from the Annenberg Foundation, Autodesk, The Buckminster Fuller Institute, The Clinton Global Initiative, INTERFACE Inc., and The Zeitz Foundation.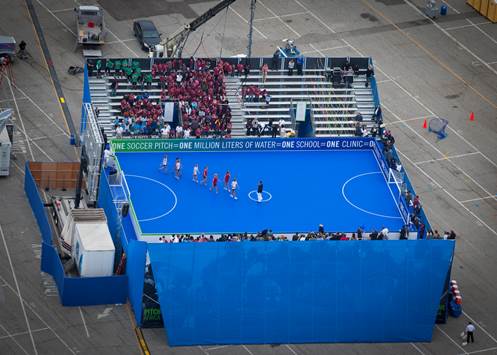 PITCHAfrica is on facebook at http://www.facebook.com/
PITCHAfrica are based in Princeton, New Jersey, USA
Photography: Aggrey Maganga
WATERBANK Secondary School Campus in Kenya images / information received 110814
PITCHAfrica
Location: Central Highlands, Kenya, east Africa
Another Pitch Africa project in Africa on e-architect:
Pitch Africa
Rainwater Harvesting in Africa



image : ATOPIA Research
PITCHAfrica Project
In Africa, two things are perennial: the passion for football and the thirst for water. Children and youth across the continent scramble over scraps of open ground, making soccer balls from anything on hand. For young men particularly, the game is the core of the community, a foundation for development and an escape from the more dangerous pastimes that young men are prone to. Water is at the heart of community in Africa as well. The rain in Africa thunders down, but too often it floods away, leaving drought and thirst in its wake. Clean water that is safe to drink is always in short supply. Harvesting the rain is the future. Boreholes and reservoirs play a part, but without more creative strategies for harvesting rain so there is water for people and livestock to drink and to rehydrate the land, boreholes and reservoirs will never suffice. Bringing together water and football, PITCH impels us to think more creatively about water harvesting. In this, PITCH is perfect. — Adam Ashforth, Professor of Afro-American and African Studies, University of Michigan.
African Architectural Designs
African Architecture Designs – chronological list
Contemporary Africa Architectural Designs – recent selection from e-architect:
National Teachers Colleges, near the towns of Kaliro and Mubende, Uganda
Design: Oubuntu-DASUDA & BKVV Architects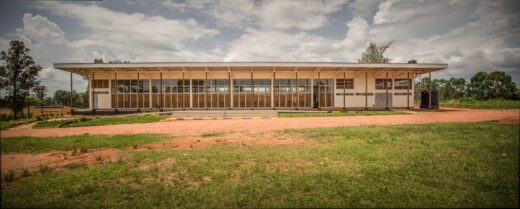 Eppo Karsijn
National Teachers Colleges, Mubende Uganda
CEM Kamanar Secondary School, Thionck Essyl, Senegal, West Africa
Design: Dawoffice / David Garcia, Aina Tugores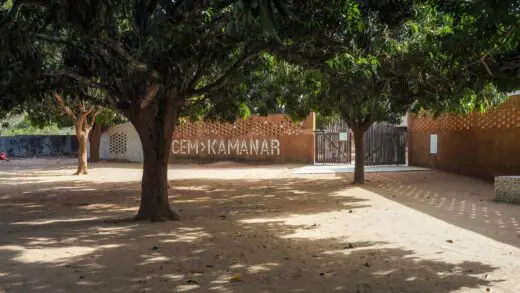 photo : Amir Anoushfar
CEM Kamanar Secondary School Senegal
Cape Town Stadium, South Africa
Design: gmp von Gerkan, Marg und Partner
Football for Hope Centre Africa
Soccer City Stadium, South Africa
Soccer City Stadium Africa Building
Portside Cape Town, South Africa
Design: Louis Karol
Portside Cape Town Building
Comments / photos for the WATERBANK Secondary School Campus in Kenya – PITCH Africa Building design by PITCHAfrica page welcome.