Football for Hope Centres Africa, Sports Design Project, Architect, Picture
Football for Hope Centres
African Sports Buildings : Architecture for Humanity Project
11 Jun 2010
Football for Hope Centres in Africa
Designers from around Africa work with local communities to build Football for Hope Centres
Construction starts on next three Football for Hope Centres
As the FIFA World Cup kicks off, Architecture for Humanity in partnership with streetfootballworld, honors the architects, designers and building professionals across Africa who have helped design sustainable Football for Hope Centres as part of the Football for Hope movement.
Football for Hope Centre, Africa: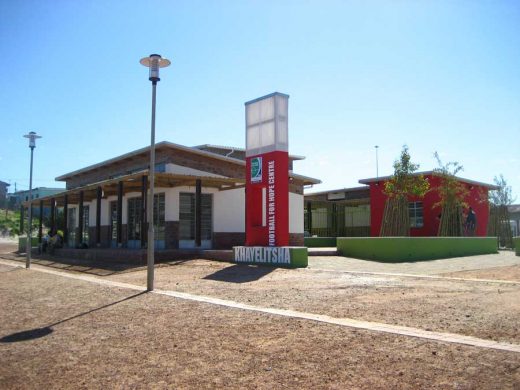 image from Architecture for Humanity
The first centre, located outside of Cape Town, South Africa, was completed in December 2009. Centres in Nairobi, Namibia and Mali are currently under construction and aim to be completed around the time of the 2010 FIFA World Cup South Africa.
The Football for Hope Centres are part of a movement created by FIFA and streetfootballworld to strengthen local community-based organizations in promoting social development within their community. The buildings house facilities to promote public health, education and football initiatives.
"At streetfootballworld, we are very excited about the opportunities that the Football for Hope Centres will offer to communities across Africa. It is great that the centres are designed and built with the support of many committed local experts and that the host organisations themselves are actively involved in the whole process. This will ensure the long-term sustainability of the programme," says Jürgen Griesbeck, Managing Director of streetfootballworld.
Thanks to the dedication and support of local design teams, Architecture for Humanity works with the local community partner to create spaces that meet programmatic needs of the Football for Hope Centres, while responding to local conditions. Each center is an example of best practices in sustainable design and construction.
"It's amazing to see all the work that goes into these projects, and I would like to thank all the designers for their contributions," says Cameron Sinclair, Co-Founder of Architecture for Humanity.
FIFA World Cup 2010 Stadium, in Durban:



picture © Marcus Bredt, Berlin
Adapting to the local context is essential for the success of these projects, as well as their integration and sustainability in the communities.
In Cape Town, South Africa, designers Alastair Rendall and Verena Grips of arG Design considered security and safety in their design. In addition to local community partner GrassrootSoccer, the team worked with local organization Violence Prevention through Urban Upgrading (VPUU) and the City of Cape Town.
Designers April Bottman-Haase and Jason Haase of Studio 610, along with local architect Andrew Gremley of Pharos Architects, worked with community partner Mathare Youth Sports Association (MYSA) to design a building within the urban context of the Nairobi slums in Kenya.
In Windhoek, Namibia, designers Nina Maritz, of Nina Maritz Architects, and Paul Munting, of Wasserfall Munting Architects, worked with community partner Special Olympics Namibia to create a design that addressed views and site access for disabled players on a sloping site.
Working with local Mali architect, Youssouf Berthe of Quarc Architecture & Design, Architecture for Humanity designed a cluster of buildings using the local vernacular for local community partner, Association Malienne pour la Promotion de la Jeune Fille et de la Femme (AMPJF).
The integration of renewable energy, passive solar and local materials ensure each design is a case study in sustainable building. To learn more about the design of each center, visit: www.openarchitecturenetwork.org/footballforhope.
Future centres are being planned in Rwanda, Ghana and Lesotho, with an additional three centres to be identified before 2011.
Football for Hope Centre Buildings Africa information from Architecture for Humanity
Location: Cape Town, South Africa
Cape Town Stadium, South Africa
gmp von Gerkan, Marg und Partner



image © Marcus Bredt, Berlin
About Football for Hope
Football for Hope is a movement that uses the power of the game for social development. It is led by FIFA and streetfootballworld. www.fifa.com/footballforhope
About streetfootballworld
streetfootballworld is a social profit organisation that links relevant actors in the field of Development through Football. Established in 2002, the organisation encourages global partnerships for development in order to contribute to positive social change. www.streetfootballworld.org
About Architecture for Humanity
Architecture for Humanity, a nonprofit design services firm founded in 1999. Through a global network of building professionals, Architecture for Humanity brings design, construction and development services to communities in need. For more information, please visit: www.architectureforhumanity.org
African Buildings
Soccer City Stadium, South Africa
BUE & Partners with Populous



image : Boogertman Urban Edge & Ptrs / Populous
Soccer City Stadium Building
Portside Cape Town, South Africa
Louis Karol



image : Louis Karol
Portside Cape Town
British Council Building Africa
Comments / photos for the Football for Hope Centre Buildings – African Sports Architecture page welcome