Children's Village Northern Tanzania Buildings, Article 25 Africa Project News, Kao La Amani Kilimanjaro Design
Kao La Amani Children's Village, Northern Tanzania
8 December 2021
How Article 25 is carving out the future of humanitarian architecture with a Children's Village for northern Tanzania
Location: Boma Ng'ombe, Hai district, Kilimanjaro, northern Tanzania, eastern Africa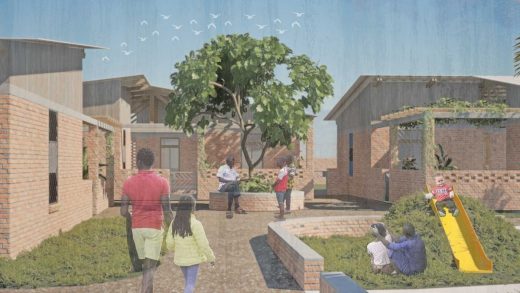 Kao La Amani Children's Village Northern Tanzania by Article 25
In the town of Boma Ng'ombe in the Hai district of Kilimanjaro in northern Tanzania, a single-storey orphanage is home to 60 children between the ages of 3 to 18. In an overcrowded rented building where 3-4 children can share a bed, rooms are dark and the grounds offer little space for outside play.
The building's inadequacy is only exceeded by the growing need, as a staggering number of children are orphaned in Northern Tanzania, some as young as infants, others full grown teenagers. Parents suffer from drug abuse, HIV, and other illnesses. Grandparents may assume the parental role, but struggle with long-term care. Among the abandoned children, malaria, tuberculosis and HIV are rampant and food insecurity often means children arrive malnourished and in need of medical care. The psychological impact  and need for healing and stability can be overwhelming. It is for these reasons that the orphanage needs to be as resilient as the children it shelters.
Tir na nÓg, an Irish charity, and their sister organisation, Kao La Amani, have been on a mission to provide for as many of these children as they can. With their guidance, the Article 25 design team developed a master plan and building designs for the Kao La Amani Children's Village and on the 5th of October 2021, school and local officials broke ground phase I of construction began.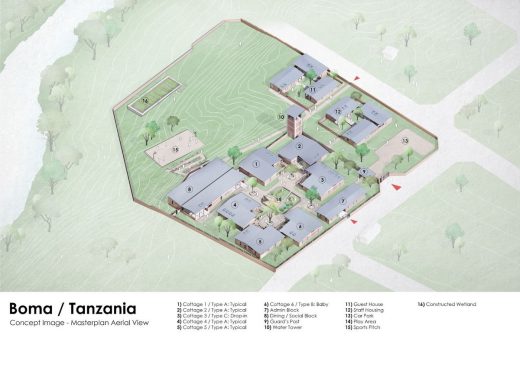 Creating a secure and healthy environment 
The first phase of the Children's Village includes three individual cottages, a kitchen dining hall, and a library nestled around a courtyard. The discrete cottages have been designed to address the children's age differences, allowing them to grow and develop within the same property. Each cottage will have a live-in Mama, who sleeps and wakes in the same space, offering consistency and stability. A barrier wall surrounds the grounds. The combination of design aspects provides protective layers and a comforting sense of security.
The dining area is a covered terrace where fresh air and natural light will fill the space, Mount Kilimanjaro a sturdy constant in the distance. A common outside area for play and socialising stimulates relationships and freedom of movement, while a cosy library offers a space to read and study, and a door to the world beyond Boma Ng'ombe. An abundance of outside space fosters physical activity and sport.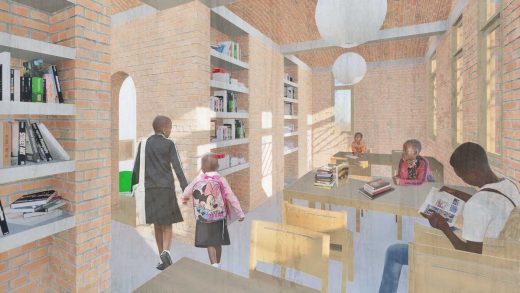 Our Climate Positive Initiative
The Kao La Amani Children's Village will be energy independent and able to operate 'off grid'. Solar power will light the facility and power the electrical, including water heaters for the cottages, dining room, bathrooms, laundry and kitchen. A pump will collect water from a borehole for the water tower. Rainwater harvesting in the tank next to the dining and social areas will be used for laundry and irrigating the accompanying farm on the adjoining plot of land. Underground drainage will pass through a septic tank and constructed wetland for treatment, which can be used for irrigation or discharged into the nearby Sanya River.
The neighbouring farm will allow carbon sequestration to help with balancing CO2 emissions embodied in construction materials and mitigating global warming.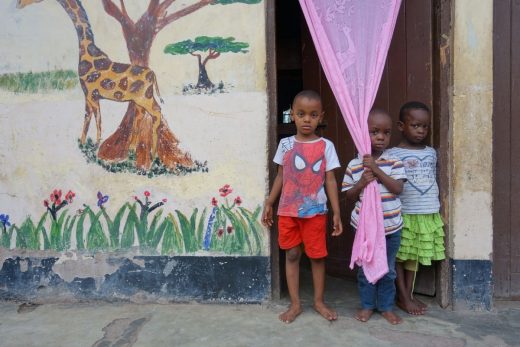 As Bea Sennewald, Director of Projects at Article 25, notes:
"Humanitarian architecture has a big role to play in driving environmental stewardship through the built environment. This new project in Tanzania is a first for us at Article 25 when it comes to calculating detailed, accurate embodied CO2 emissions and working out how to offset them on the same site. Through the Children's Village, we're looking to develop our understanding of offsetting in order to roll-out this method across all of our projects across the globe, and hope that carbon offsetting will become the norm for humanitarian architecture in the near future.
video storybook: Visualising a Dream in Tanzania:

Article 25
Named after the United Nations' Declaration of Human Rights and its statement for equality of access to shelter, Article 25 designs and builds schools, hospitals and homes in vulnerable communities worldwide. Since its foundation in 2006, the charity has worked on over ninety projects in thirty-six countries, helping people to recover and rebuild in the wake of natural disasters, conflict, and poverty.
By working with local communities, connecting a local workforce of skilled and unskilled workers, Article 25 helps people to gain better employment opportunities longer term, and encourages a strong sense of ownership and cohesion throughout the design and build process. The charity not only leaves behind excellent buildings, but also a society that has the ability to build for itself and create a positive future for generations to come.
Location: Boma Ng'ombe, Hai district, Kilimanjaro, northern Tanzania, east Africa
Kao La Amani Children's Village in East Africa images / information from Article 25
Article 25 African Projects
African Reports by Article 25
Congo School Buildings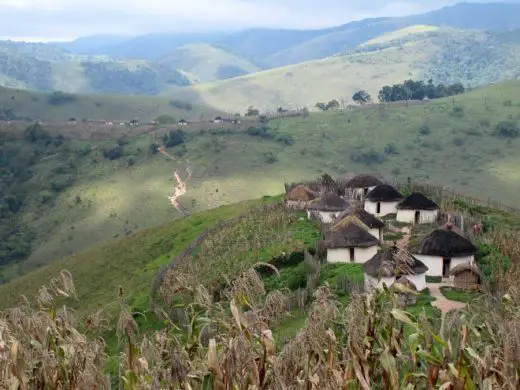 image courtesy of architects practice
Article 25 Congo School Buildings
African Buildings
Contemporary Architecture in Africa
Ngaren: The Museum of Humankind, Kenya, East Africa
Design: Studio Libeskind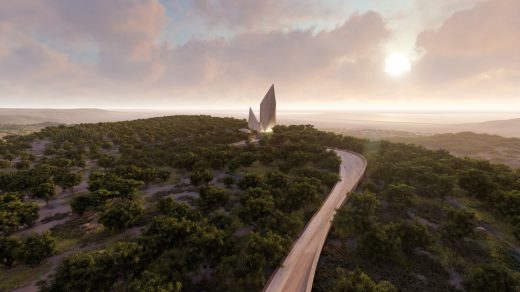 image from architects
Ngaren: The Museum of Humankind in The Great Rift Valley
New Social Housing in Cameroon
Design: TAMassociati with Arup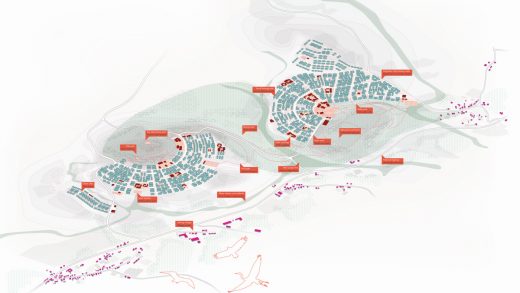 image courtesy of architectural practice
New Social Housing in Cameroon
National Public Health Emergency Operations Center & Laboratory, Republic of the Gambia, West Africa
Design: IDOM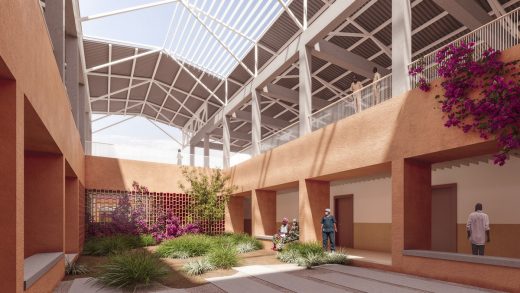 image courtesy of architects practice
Emergency Treatment Centre Farato, Gambia
Kingsway Tower, Ikoyi, Lagos, western Africa
Architects: SAOTA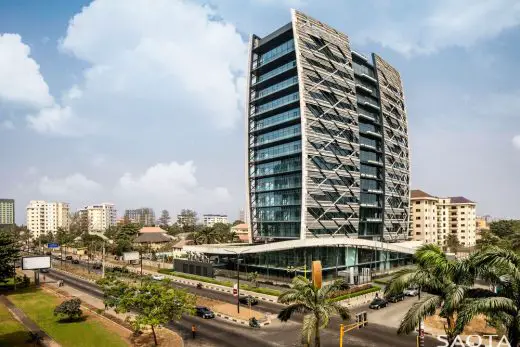 image courtesy of architects
Kingsway Tower, Ikoyi, Lagos
Reports by Article 25
Democratic Republic of Congo Schools
Comments / photos for the Kao La Amani Children's Village Northern Tanzania, African Architecture page welcome