The Museum of Humankind, The Great Rift Valley Building Project, Kenya Architecture Design
The Museum of Humankind in The Great Rift Valley
25 Sep 2020
Ngaren: The Museum Designed to Revolutionize Travel to Kenya, Post Covid-19
Dr. Richard Leakey's plans for a new museum dedicated to the story of humankindaims to revolutionize travel to Kenya in the post pandemic world.
View of Mt. Longonot – Rift Valley: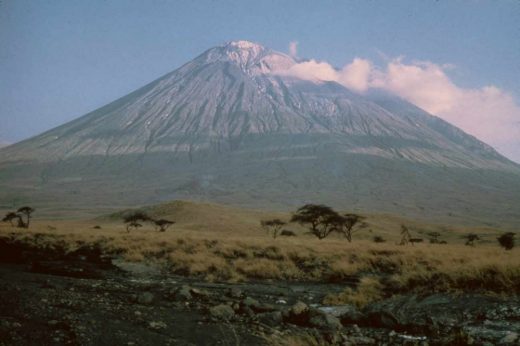 The Museum of Humankind design by Studio Libeskind
Ngaren: The Museum of Humankind, being built in Kenya's Rift Valley,a region synonymous with human origins, is the culmination of Dr. Leakey's life's work –whose fossil discoveries have helped reveal how humans evolved. The museum will be the first of its kindoffering a life-changing experience, an educational day out, social interaction, and stimulation of all senses.
Ngaren will allow visitors to explore human origin and evolution from a scientific perspective, in the context of the natural processes and serendipitous events that led to the survival of Homo sapiens as the only human species alive today. The project aims to contribute to the development of Kenya by creating, teaching and promoting education, science, sustainability, and equality,and attract visitors from near and far bolstering economic development to the region.
The Great Rift Valley is one of Kenya's top tourism destinations – a "must see" for its breathtaking natural scenery and iconic wildlife, including rhinos, African elephants, and the world's greatest concentration of flamingos in Lake Nakuru. The valley is also the location of some of the most important paleo-anthropological discoveries ever made and the Leakey family, known for their unprecedented discoveries of hominin remains, has spent decades uncovering evidence of the mysteries of human evolution in East Africa and the Rift Valley. The Rift Valley is therefore the perfect environment to represent the evolution of humankind in a brand-new museum built to celebrate the African origins of all humanity.
Dr. Richard Leakey museum in Kenya
Already, Dr. Leakey's life's work has contributed greatly to the improvement of the environment and sparked a worldwide movement to end the ivory trade. Today, Richard who followed in his parents Mary and Louis Leakey's footsteps studying human evolution, remains as passionate about humanity, as he is about evolution, all life on earth and biodiversity.
With the development of Ngaren, at the age of 75, the Kenyan conservationist and paleoanthropologist is still full of dreams and hope for humanity's future. But he is also worried: "We somehow think that we as humans are a special creation, that the rulesthat conservationists are worried about don't apply to us. But they apply tous just as much, if not more, than to anything else that is living today. We aredestroying the bees, their ability to pollinate plants, we are destroying theplants themselves by raising temperatures so they cannot produce nutritiousfood, we are pouring carbon-dioxides into the oceans, making the oceansacidic until their whole food chain is collapsing," says Dr. Leakey.
In honor and celebration of his family's discoveries of fossils and early hominins, and as a call to action to all of us who share this planet we call home, Richard has commissioned the establishment of the iconic museum that will be built on a piece of land he and his wife Maeve donated.
Dr. Richard Leakey on Ngaren Site: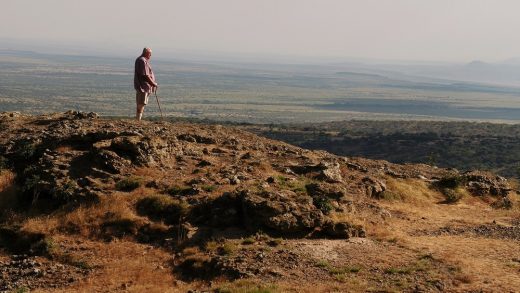 Ngaren museum in Kenya, East Africa
Ngaren, Leakey explained, "represents a celebration of the beginning of all humanity; of life and its amazing biodiversity. It is dedicated to educating humankind on our shared past, and tells the story of our common ancestry, our epic journey of evolution".
The state-of-the-art museum's masterplan is being developed in collaboration with Naturalis Biodiversity Center | Museum and Research. Ngaren will have the only all-digital Planetarium in Africa andwillbe the only African museum to display real-size African dinosaurs. Using innovative technologies and museology, interactive exhibits and educational experiences are being designed for visitors of all ages, to teach and promote science, critical thinking, andimagination. Ngaren will bring visitors face-to-face with real life issues, our human impacts on the climate and planet, as well as help us to understand our obligations in sustaining it.
Ngaren museum program and Covid-19
The project comes at a time when the world is grappling with the Covid-19 pandemic.
As everywhere else in the world, the social and economic impacts of the Covid-19 pandemic in Kenya have been devastating.  The travel and tourism industry have suffered a huge blow as countries locked down, airlines grounded, hotels closed, and stringent travel restrictions enacted. At the end of 2019, international visitor arrivals toKenya remained above twomillion, with a 1.167% increase from 2018. However, available data showsan averagereduction of above 50% in 2020, translatinginto a loss of over 65million international arrivalsas the pandemic continues to sting.
Despite the challenges, the Ministry of Tourism in Kenya is focused on a post-Covid strategy, that will ensure a shorter recovery period for the industry. Besides strengthening domestic and regional tourism to re-rebuild tourists'confidence, the ministry has further proposed "strong mutually beneficial partnerships that will drive sustainable value, growth and impact for destination Kenya".
Ngaren, whose groundbreaking is expected to be in 2022 and opening in 2026, is expected to help stabilize Kenya's tourism by attracting visitors to the Ngaren campus which will house the Ngaren museum, partner institutions, a restaurant, conference rooms, and a small amphitheater to host venues of different sorts – social, business, and family gatherings.
The Great Rift Valley Building by Daniel Libeskind
With plans to welcome a million visitors, both international and domestic, every year, the ripple effect will be highly impactful to related industries including travel, hospitality and MICE (Meetings, Incentives, Conferences and Events).
The Ngaren Museum will be a top historic educational site for institutions both in Kenya and abroad. The project is expected to create thousands of jobs and place Kenya in the global map as a preferred museum and paleo-tourism destination, a sector that remains largely untapped in the region.
Ngaren planteraium concept: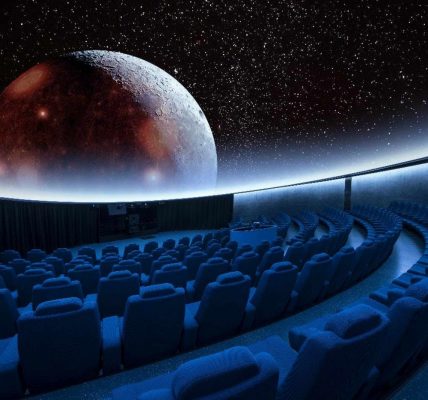 In addition, the East African Museum of Art (Nairobi) – EAMAN – has announced that it will join the Ngaren Museum on the Ngaren campus in the Rift Valley. When built, EAMAN will be the first museum telling the story of Eastern African art from the dawn of human civilization to our times in a rich, contextualized, and innovative way.
The Great Rift Valley Institution
It will be a world class cultural institution dedicated to the collection, preservation, study, and sharing of the most outstanding manifestations of Eastern African art. Through first rate curatorial and scholarly work, EAMAN will strive to be the global leader in nurturing and promoting the understanding of and appreciation for Eastern African art. Collections and exhibitions of EAMAN will be made widely accessible to people of Africa as well as to visitors, students, and scholars from every part of the world – both physically and digitally.
The Ngaren Museum has been described as "lieu de memoire", meaning a site of memory. Through a series of interactive, cutting-edge exhibition spaces, Ngarenwill unravel the mysteries of our beginnings.  "It is not just another museum, but a call to action" says Dr. Richard Leakey, founder. "As we peer back through the fossil record, through layer upon layer of long extinct species, many of which thrived far longer thanthe human species is ever likely to do, we are reminded of our mortality as a species". The museum is scheduled to open in 2026.
Previously on e-architect:
26 June 2020 ; 14 May 2019
Ngaren in The Great Rift Valley
Design: Studio Libeskind
Location: The Great Rift Valley, Kenya, East Africa
Ngaren: The Museum of Humankind Launches Fundraising Campaign on May 13, 2019, at the Princeton Club, New York City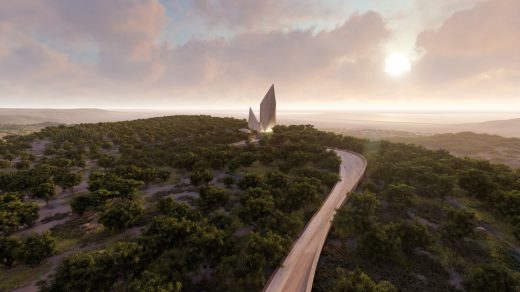 Dr. Richard Leakey announces the campaign for a new museum dedicated to the story of humans, Ngaren: The Museum of Humankind. The unprecedented project located in Kenya's >Rift Valley is designed by architect >Daniel Libeskind, Studio Libeskind, the master plan architect of the World Trade Center site.
Ngaren is the culmination of Dr. Leakey's life's work –whose fossil discoveries have helped reveal how humans evolved. The Museum will be the first center of its kind to present research, discovery, and exploration of more than two million years of human history and the origins of our universe from evolution, biodiversity, overpopulation, to war, disease, and climate change.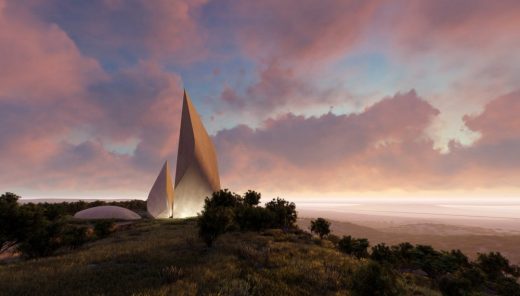 Ngaren Museum Proposal
"Ngaren is not just another museum, but a call to action," says Dr. Richard Leakey, Founder. "As we peer back through the fossil record, through layer upon layer of long extinct species, many of which thrived far longer that the human species is ever likely to do, we are reminded of our mortality as a species," added Leakey.
Dr. Leakey commissioned Studio Libeskind to create an iconic design that reflects the mission and values of the Museum. Sited on the edge of a cliff overlooking the Rift Valley—the cradle of humankind and where Leakey first discovered the most complete skeleton of early man, Turkana Boy.
The design is inspired by the forms of ancient hand axes that were the first tools of early man marking the beginnings of human ingenuity. The monolithic volumes rise like vertical stalactite set against the dramatic landscape of greater Nairobi in Loodariak. Through a series of interactive, cutting-edge exhibition spaces, Ngaren will unravel the mysteries of our beginnings.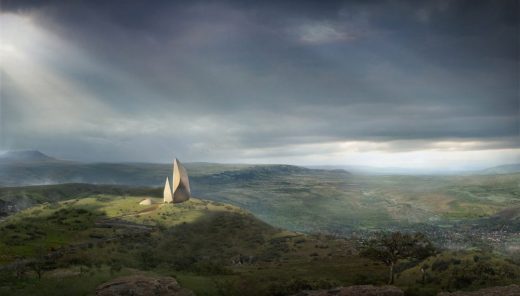 "The museum will be a place for discovery, wonder, and contemplation. Through the architecture and exhibitions, Ngaren will anchor all walks of life to Africa: the epicenter of human existence," said architect Daniel Libeskind. "I created a series of dramatic spaces within the museum that are architecturally dynamic and provocative, creating a unique context for the museum's exhibitions that does not pacify artifacts, but enhances and enlivens them," added Libeskind.
The museum is scheduled to open in 2024 in Loodariak, Kenya. Studio Libeskind, working with local Kenyan architects, is the lead architect for the design and construction of the museum.
For more information the public may visit www.ngaren.org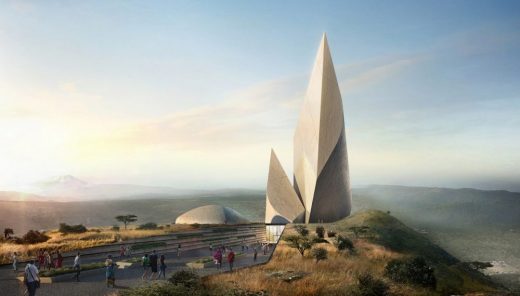 Ngaren Museum in Kenya
About Ngaren
The Museum of Humankind Founded by Dr. Richard Leakey, Ngaren is a historic collaboration to create a center that explores the science behind climate change and celebrates the evolutionary processes that shape us. The mission is to create a worldclass Museum that will stand as a monument to science, education, social and climate action and connect the African legacy to all humans worldwide. Headquartered in the Rift Valley, Kenya and New York, Ngaren has gathered the best and brightest minds to realize this vision.
About Founder, Dr. Richard Leakey
Dr. Richard E. Leakey is an award-winning Kenyan paleoanthropologist, conservationist, and politician. The son of renowned scientists Louis and Mary Leakey, he has held a number of official positions in Kenya. Leakey has been Director of the National Museum of Kenya and head of the Kenyan Wildlife Service, and founded the NGO Wildlife Direct. He also founded the Turkana Basin Institute –a research institution supporting scientific projects in human prehistory, sustainability, climate change, and modern human culture and diversity in Northern Kenya.
Board of Directors
Richard E. Leakey, Founder
Sarah Ferguson, The Duchess of York
Henry Louis Gates, Jr.
John Heminway
Rachel Mbai
Scott Miller
Marta Mirazon Lahr
Ellen C. O'Connell, Chief Executive Officer
Tony Saxton
Annette Williamson
Daniel Libeskind
About Studio Libeskind
Studio Libeskind is an international architecture practice headquartered in New York City. The studio is involved in designing and realizing a diverse array of urban, cultural and commercial projects internationally. The Studio has completed buildings that range from museums and concert halls to convention centers, university buildings, hotels, shopping centers and residential towers.
Daniel and his partner Nina Libeskind established Studio Daniel Libeskind in Berlin, Germany, in 1989 after winning the competition to build the Jewish Museum Berlin. In February 2003, Studio Daniel Libeskind moved its headquarters from Berlin to New York City when Studio Libeskind was selected as the master planner for the World Trade Center redevelopment.
Ngaren: The Museum of Humankind in The Great Rift Valley image / information received 140519
Daniel Libeskind Architect
Location: The Great Rift Valley, Kenya, Africa
African Buildings
Africa Architectural Projects
African Architecture Designs – chronological list
Dakar Railway Station, Senegal, western Africa
Design: Iglo Architects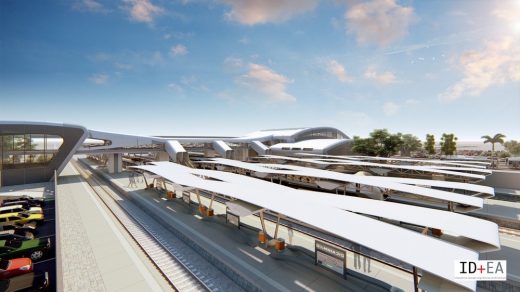 image from architects
Joali Resort, Muravandhoo Island, North Maldives
Interior design: Autoban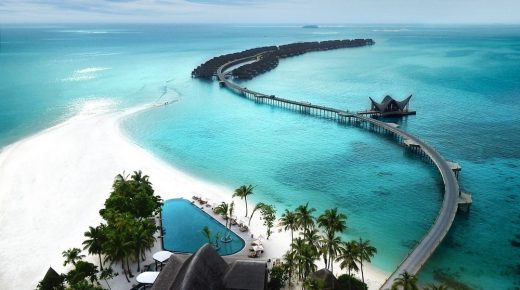 photo from Guralla
Joali Resort on The Maldives
New Architecture in Africa
Pediatric Cancer Centre, Kigali, Rwanda
Architects: David Adjaye – Adjaye Associates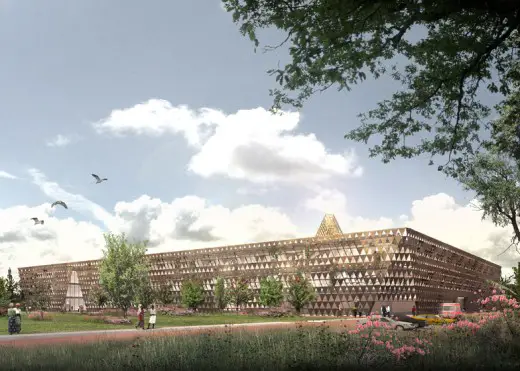 image Courtesy architecture office
Pediatric Cancer Centre in Kigali
Oceans Paradise, Hulhumale, the Maldives
Design: CAA (Core of Architecture & Art) Architects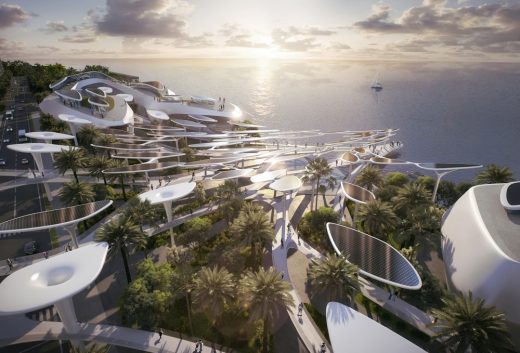 image Courtesy architecture office
Maldives Airport Economic Zone Mixed-use Development
Comments / photos for the Ngaren: The Museum of Humankind in The Great Rift Valley – African Architecture by Studio Libeskind page welcome