Taichung City Cultural Center Competition, Taiwan Design Contest, Taiwanese Architecture
Taichung City Cultural Center Contest Winners
Taiwanese Architecture Contest – winning designs
10 Oct 2013
Taichung City Cultural Center Contest Winners News
Location: Taichung, Taiwan
Taichung City Cultural Center Competition Winners News
Taichung City Cultural Center Planning, Design and Construction Supervision Service Project
Announcement of Final Winners
The Final Winners:




images from architect
Tenderer: Kazuyo Sejima + Ryue Nishizawa / SANAA Nationality: Japan
Joint Tenderer: Ricky Liu & Associates Architects+Planners / Ricky Liu Nationality: Taiwan (R.O.C.)
Second Prize







images from architect
Tenderer: Jean-loup Baldacci Nationality: France
Joint Tenderer: Felice Fanuele Architect / Felice Fanuele Nationality: France Tai Architect & Associates / Yu-Tse Tai Nationality: Taiwan (R.O.C.)
Third Prize







images from architect
Tenderer: Eisenman Architects, PC / Peter Eisenman Nationality: U.S.A.
Joint Tenderer: Fei & Cheng Associates / Philip T.C. Fei Nationality:T aiwan (R.O.C.)
Honorable Mention







images from architect
Tenderer: MASS STUDIES / Minsuk Cho Nationality: Korea
Joint Tenderer: Q-LAB/Sense Tseng Nationality: Taiwan (R.O.C.)
Wang Architects & Associates / Jason Wang Nationality: Taiwan (R.O.C.)
Honorable Mention







images from architect
Tenderer: Stucheli Architekten AG/ Mathis Tinner Nationality: Switzerland
Joint Tenderer: Bio Architecture Formosana / Ying Chao Kuo Nationality: Taiwan (R.O.C.)
Taichung City Cultural Center Competition Winner
First Prize:
Tenderer: Kazuyo Sejima + Ryue Nishizawa / SANAA Nationality: Japan
Joint Tenderer: Ricky Liu & Associates Architects+Planners / Ricky Liu Nationality: Taiwan (R.O.C.)
Design Concepts
Taichung City Cultural Center is a project within the Gateway District in Taichung, Taiwan. The site is on the Northern side of the Gateway Park that stretches from the South to the North of the master plan with many different climatic zones created by hills, a variety of trees, and mechanical devices. The Cultural Center will hold a Municipal Fine Arts Museum and a new Municipal Library, which share public facilities, as well as public plazas that extend its activities to the surrounding park and the city.
We imagine the Taichung City Cultural Center as an extension of the park and the city. While the programmatic and cultural needs extend into the building from the city, the landscape continues into the building as air, light, garden, and terraces. While some visitors are reading next to a garden courtyard, other visitors may be enjoying an exhibit with the park in the background. Also at the same time, there are opportunities for workshops to extend on to the terrace so the activities are always close to nature.
The building is divided into 10 volumes of various sizes which each hold a distinct program. Some volumes are on the ground and some are lifted to provide various shaded public spaces. By raising the volumes, the different sides of the building connect while the breeze pass through the comfortable public space below the building. According to the programmatic needs, the volumes are at times placed close by or are intersected with one another while creating relationships with the surroundings. For example, the Project Room, where many special installations take place, connects the lobby and the exhibition space. This space faces out towards the park welcoming visitors to the Cultural Center.
The overall building is porous with a varying degree of transparency. By shifting the volumes of program, many courtyard-like in-between spaces are created allowing for visitors to experience new encounters. Visitors see across the building through many layers of activities. Various visual relationships are made – across, above, and below – that are complex and dynamic. When approaching the building, some activities will show through the façade. This way, each time a visitor passes by the Cultural Center, the building will give off a different impression.
We hope that the architecture will become a part of the landscape that changes with the growing population of Taichung. We would like for the people of Taichung to become a part of the identity of the Cultural Center and let the activities happening within to show through to the park and further to the city.
International Consultants: SAPS / Sasaki and Partners (Structure), Takenaka Corporation (Sustainability, MEP, Facade), KILT Planning Office, Inc (Lighting), Nagata Acoustics (Acoustics), Yuko Hasegawa (Museum) Local Consultants: Kuang-Mei Lin (Library), Ko-Chiu Wu (Library), Hsin-Yeh Engineering (Structure), SINO Geotechnology Inc (Geotechnical), C.C. Lee & Associates (HVAC), We Can Electrical (Mechanical, Electrical), Easygogo Inc (Traffic), Taiwan Fire Safety (Prevention, Evacuation)
Team Profile
SANAA
Company Description:
SANAA is an architecture and design firm based in Tokyo, Japan founded by Kazuyo Sejima and Ryue Nishizawa in 1995. Comprised of international architects and staff working on projects ranging in scale from residential and interior design to large complex buildings and urban planning schemes, as well as product and furniture design, SANAA approaches each project with a fresh perspective, believing that each design arises from conditions particular to the site and program. Each project is special and is closely followed by the two founding principles, as well as partners Yoshitaka Tanase, Yumiko Yamada, and Rikiya Yamamoto.
SANAA works internationally and recent major works include 21st Century Museum of Contemporary Art in Kanazawa in Japan, De Kunstline Theater and Cultural Center in The Netherlands, The Toledo Museum of Art Glass Pavilion and the New Museum of Contemporary Art in the USA, Rolex Learning Center in Switzerland, and the Louvre-Lens in France.
SANAA's current projects include the La Samaritaine department store in Paris, France and the Bezalel Academy of Arts and Design in Jerusalem, Israel.
Biography:
Kazuyo Sejima, Principle, born in 1956, Ibaraki Prefecture, Japan. She studied architecture at the Japan Women's University and launched her own practice, Kazuyo Sejima + Associates, in 1987 and was named Young Architect of the year in Japan in 1992. In 1995, Sejima and Ryue Nishizawa founded the Tokyo-based firm SANAA (Sejima + Nishizawa and Associates). She was awarded the Pritzker Prize in 2010.
Ryue Nishizawa, Principle, born in 1966, Kanagawa Prefecture, Japan. He studied architecture at the Yokohama National University. In 1995 Sejima and Nishizawa founded the Tokyo-based firm SANAA. He has also maintained an independent architectural practice, Office of Ryue Nishizawa, since 1997. In 2010, he was awarded the Pritzker Prize.
Ricky Liu & Associates Architects+Planners
Our Unique Characteristics
Ricky Liu Associates was established in 1991 by a team of professional architects. We are enthusiastic and possess a unique vision that combines professionalism with innovation in spatial and environmental design. We consider it is the greatest honor to be able to improve the quality of our living environment by completing outstanding architectural work through the cooperative efforts of our diversified expertise.
Growth Motivation
Our firm's long-term practice is to cooperate closely with renowned international architectural firms and professional consultants. This allows us to capture the most advanced design information and trends. Our designs are consistently successful as we stay up-to-date and apply the entire gamut of technical experiences to our work. To promote momentum in the growth of our firm, we endeavor to continuously upgrade our design, construction management, technical research and development, material management, and various other processes. Furthermore, we are sensitive to the impact of changes in time and environment on spatial and architectural needs. This sensitivity allows our works to reflect the culture and spirit of the time. Through our depth of design, we provide innovative value and achieve performance excellence.
Our Services
Scope of Work
The scope of our works include feasibility studies, site investigations and analysis, functional and space requirement studies, preliminary designs, regulation and code check, coordination and consultation, design development, computer simulation, model making, construction document, construction method, project budgeting, building permit application, bid package preparation, on site construct ion supervision, and other high quality, and professional services.
Project Portfolio
Through past efforts, we have completed many diversified projects. These projects include: campus buildings, office buildings, apartments, shopping malls, museums, sports stadium, hospitals, hotels, high-tech factories, and other various projects for both the public and private sectors.
Taichung City Cultural Center Competition Winners images / information from Competition coordinator
Peter Eisenman, USA
MASS STUDIES / Minsuk Cho, Korea
Location: Taichung, Taiwan
New Taiwan Architecture
Contemporary Taiwan Architectural Projects, chronological:
Taiwan Architecture Designs – chronological list
Taiwan Buildings – Selection
Taichung City Cultural Center Designs
Garden in the Park
Design: Cristina Parreno Architecture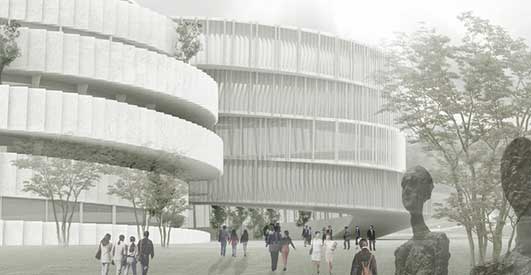 image from architect
Taichung City Cultural Center Competition Design
Design: Dinkoff Architects & Engineers



images from architect
Wooden Wave Cultural Center
Design: TheeAe Ltd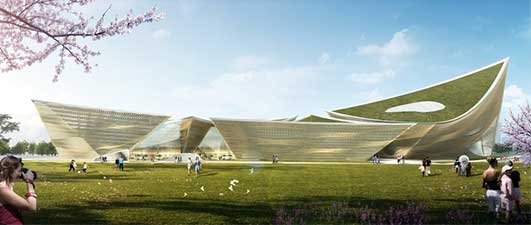 image from architect
Taichung Cultural Center Competition Entry
Design: Pruthiphon Buakaew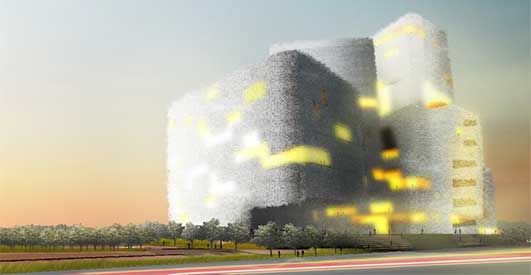 image from architect
Taichung City Cultural Center
Design: Kubota & Bachmann Architects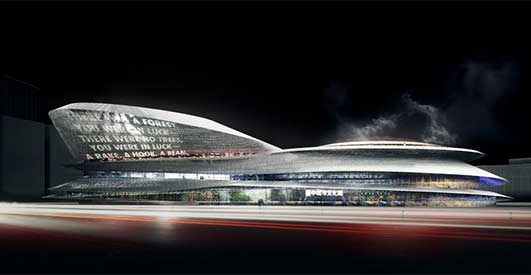 image from architect
Taiwan Building Designs
Taiwan Library Architecture Competition
Comments / photos for the Taichung City Cultural Center Competition Winners page welcome