Grand Gateway 66 Retail Complex, Xuhui District Shopping Mall, Chinese Commercial Architecture, Images
Grand Gateway 66 in Shanghai
22 Jun 2020
Grand Gateway 66 Retail Complex
Design: Elena Galli Giallini Ltd.
Location: 1 Hongqiao Road, Xuhui District, Shanghai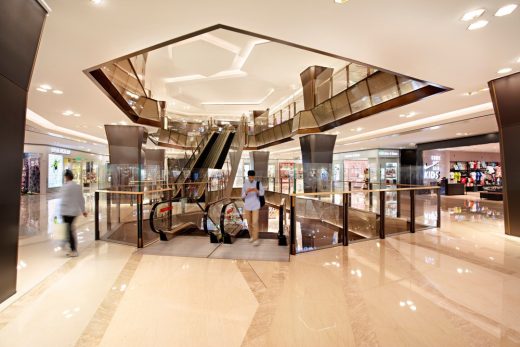 Elena Galli Giallini Ltd. (EGGL), a Hong Kong-based firm specializing in architectural design, renovations, and interior and industrial design, is proud to unveil the rejuvenated North building of the Grand Gateway 66 retail complex (GG66), located in Shanghai's bustling commercial, cultural, and historic zone of Xijiahui. Comprised of two distinct buildings of contrasting configurations, EGGL was commissioned to provide the prominent complex with a brand-new image, both architecturally and functionally.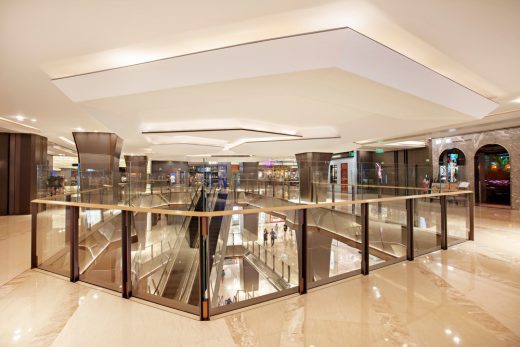 An embodiment of 'Haipai' culture, where core Chinese and Western values collide to make Shanghai one of the most cosmopolitan cities in the world, Xijiahui is in the midst of a contemporary revitalization that is seeing new developments and renovations. The rejuvenation of the GG66 retail complex, which originally opened in 1999, forms part of that trend.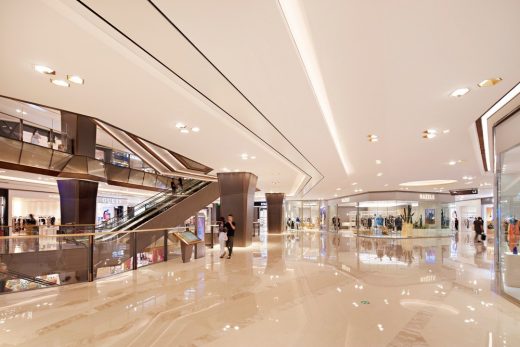 With EGGL as design architect and interior designer, the renovation project encompasses the entire retail complex, including the transformation of the 20-year old North Building, completed in 2019, and an overhaul of the South building, expected to be finalized later this year.
"We derived much of our inspiration from the cultural traditions of Xijiahui and Shanghai," explains Elena Galli Giallini, architect and director with EGGL. "We are endeavoring to create what sociologist Ray Oldenburg refers to as the "third place", meaning engaging environments away from home and the workplace that offer possibilities for socializing, discovering, learning, and sharing."
Designing a modern piazza
In approaching the North building, EGGL faced a dark and aesthetically unimpressive, undefined structure that housed a dense compound with an intricate array of small retail outlets. With poor connectivity and sparse public spaces, the existing building interior lacked definition and attractiveness. The building was badly in need of a rejuvenated image to portray meaningful relationships within a refined and contemporary environment. In response to the struggles of conventional malls in the face of an e-commerce surge, lifestyle changes, and evolving consumer demands, EGGL's goal was to transform GG66 from what sociologist George Ritzer coined as a "cathedral of consumption", to a social hub for modern, urban lifestyles, with the allure of a luxurious destination.
To achieve that goal, EGGL began by stripping down much of the North building, providing a blank canvas from which to embark on a completely new architectural and interior design, focused on the qualitative aspects of space identity and aesthetical appeal. EGGL complemented the architectural scheme with an infusion of primary design elements to define the character of the atrium, including spandrels with backlit glass panels, balustrades highlighted by metal and glass, and unconventionally-shaped columns. An abundance of open public spaces transformed lobbies on each level of the building into internal social plazas, each with its own visually distinctive atmosphere, and each centered on a core void incorporating the vertical circulation of backlit escalators.
Let there be light
While abundant natural light is infused into GG66's South building through skylights and a glass dome forming part of its main roof, the North building was devoid of such features, making lighting design a critical part of the process. EGGL overcame the challenge of a complete lack of natural light by leveraging the ceiling design as an opportunity to infuse vibrancy into the scheme through the integration of key features and organic shapes that provide dynamic illumination. Ceiling folds and looping coves distribute suffuse light to enliven the building's architectural features. Meanwhile, downlights serve as accent points, and the escalators further brighten the ambiance with their backlit wire mesh panels. On the sixth floor, ceiling breaks transform the escalator void into an eye-catching focus of folding planes and triangulated shapes. Hexagonal geometries interconnect to create sculptural features, with suffused light filtering along the edges.
EGGL's selection of materials and choice of a soft color palette of beige and off-white hues for the ceilings and floors further compensates for the lack of natural light, while the bolder, darker hues of the metal claddings of columns and walls provide dynamic contrasts. Bronze and copper tones accentuate details and add warmth to the overall scheme. In the washrooms, bespoke elements define a neat, clear-cut environment featuring white cubicles with bronze contrasts, unconventional lighting, and cantilevered hexagon-shaped washbasins that enhance the ambiance. Everything weaves its way into the grand design, with the colors and details of every object carefully selected in their placement.
A thorough, rigorous design philosophy
EGGL favors the use of natural materials, such as stone, metal, and wood, which respond well to the proven techniques of detailing and craftsmanship. Manipulation of materials, with combinations of varied textures, finishes, and patterns, was a critical part of the GG66 design, with everything from elevator cabs, to wall claddings, doors, handles, lighting fixtures and more being customized exclusively for the mall.
"We develop each project from a holistic approach, from space planning to the most minute details," explains Galli Giallini. "Our designs build relationships between each and every part of a project, resulting in a cohesive ambiance."
The firm approaches every project as a solution to a series of variables in play, including the project brief and requirements. Their focus then incorporates the context of the place, its geographic settings, environment, culture, and the social demands of the times. Together, those factors form the basis of a setting's 'Genius Loci', or spirit of place. EGGL also embraces 'limitations' as intriguing and inspiring new challenges to be overcome in strategic ways, rather than as negative aspects or impediments to the creative process.
Harmony through design
While the North and South buildings of GG66 presented EGGL with vast contrasts in spatial and visual characteristics, harmonization of the two buildings was never about forced artificial homogeneity, but rather about designing two distinct parts, with differing characteristics, that work in synergy as a singular new complex. Harmony and coherency are further emphasized through the consistency of EGGL's color palette and selection of materials, while the use of unconventional finishes and textures, with calibrated contrasts, energize the scheme and generate access points. This dynamic integration of opposite values reinforces what Elena Galli Giallini refers to as a "Yin–Yang composition of harmony". Specially-designed motifs and the creative use of recurring geometric shapes create visual focal points that serve as common denominators within the overall scheme.
Extraordinary times
While the current COVID-19 climate only further accentuates the problems afflicting commercial complexes around the world, Galli Giallini foresees surviving malls scaling up amenities, revamping branding, and focusing on new paradigms of experiential-based offerings, while also providing harmonious spatial relationships and enduring elegance. EGGL's strategy in approaching the Grand Gateway 66 project aligns with that vision by enhancing the retail complex's image, and by transforming it into an experiential destination.
"We focused on creating a 'sensory experience', with a new look and feel that would set it apart from other retail destinations," she says. "Our emphasis was on creating a fluid and dynamic spatial configurations that define an engaging and memorable environment, and we believe that this mall is well-positioned to stand the test of time and thrive during these critical times."
Grand Gateway 66, Shanghai – Building Information
Interior Architecture, Retail Planning, Interior Design: ELENA GALLI GIALLINI LTD (Design Architect & Interior Designer)
Design Principal: Elena Galli Giallini
Project Name: Grand Gateway 66 – North Building
Location: 1 Hongqiao Road, Xuhui District, Shanghai
Status: Built
Client: Hang Lung Properties
Program: Shopping Mall (6 levels above, 3 levels below)
Site Area: 50,788 sqm
Grand Gateway 66 Mixed Use – Total GFA: 315,118 sqm
Retail Complex GFA: 185,720 sqm
Grand Gateway 66 – North Building GFA: 40, 451 sqm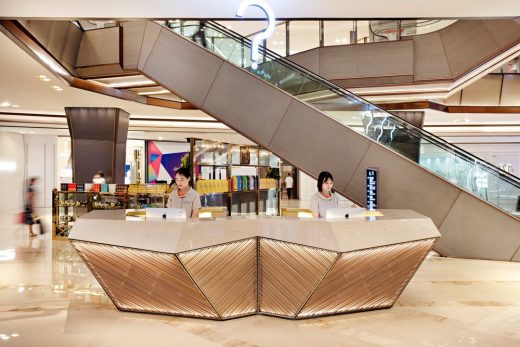 Photography: Denice Hough
Grand Gateway 66 Retail Complex in Shanghai, China images / information received 220620 from v2com newswire
Location: 1 Hongqiao Road, Xuhui District, Shanghai, China
Chinese Building Designs
Chinese Architecture Designs
Nanjing International Youth Cultural Centre, Jiangsu
Design: Zaha Hadid Architects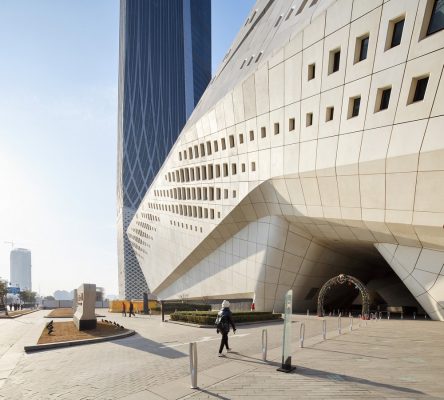 photo © Hufton+Crow
2nd Nanjing Youth Olympic Games International Convention Center
Futureland Puye Experience Centre and Show Office
Design: HASSELL, Architects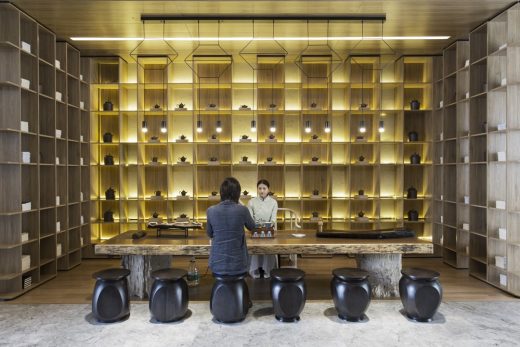 image courtesy of architects
Futureland Puye Experience Centre and Show Office
Purified Residence
Design: Wei Yi International Design Associates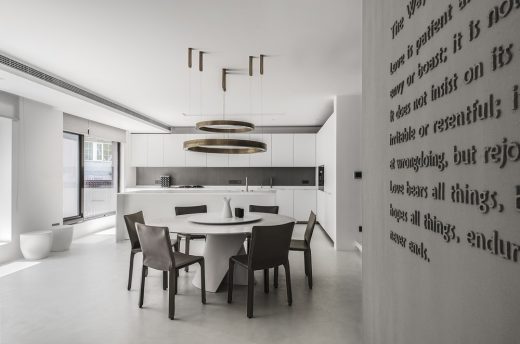 photograph : JMS
Purified Residence
Comments / photos for the Grand Gateway 66 Retail Complex in Shanghai page welcome