Pyramid Viewpoint Inveruglas, Loch Lomond Scottish Scenic Routes Project, Building, Architect, Image
Pyramid Viewpoint, Inveruglas
Rural Architecture in Loch Lomond, Scotland: National Toursim Design Contest by BTE Architecture
19 Mar 2016
Pyramid Viewpoint, Loch Lomond
Scottish Scenic Routes – design competitions for young architects
Design: BTE Architecture
The site is located on a peninsula overlooking the U.K.'s largest stretch of inland water, Loch Lomond. An existing cafe marks the entrance situation for visitors arriving either by car from the A82 or by boat. From the car park with adjoining jetty, a system of pathways lead onto the peninsula and continue along its exposed edges formed by big rocks, or through the site sheltered by trees and bushes.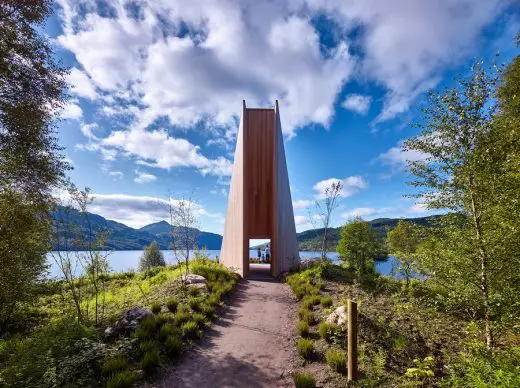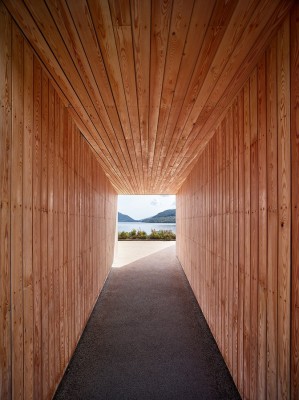 photos @ Andrew Lee
The rocks locate the site high above the water's edge and a series of steps and easily accessible ramps lead the visitor through the sloped inside of the site. The pathways interlink, creating a parcour with rendezvous points adding emphasis to these junctions. The topography of the site allows the surrounding landscape to be experienced as a panorama, with the site itself visible from afar, as a rock amongst water.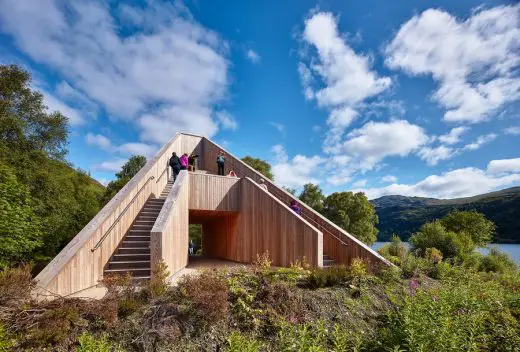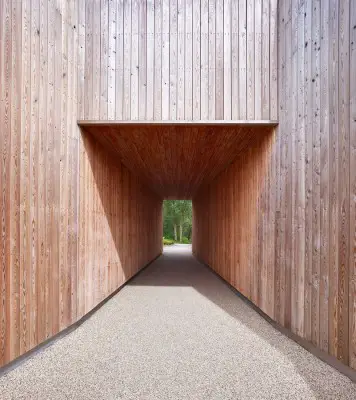 photos @ Andrew Lee
The viewpoint takes the shape of a triangular platform and is positioned at the end of a long curved path stretching form the car park to the highest point of the peninsula. It is first seen as a narrow vertical stack amongst the tree trunks surrounding the path. Only a glimpse towards the loch is visible through a long tunnel, that marks the entrance situation of the viewpoint. The single storey tunnel that is as narrow as the path, leads from one vertex of the triangle to its base with views over the loch disguising the scale of the project. Only after having passed through this entrance and then looking back into the triangle, the viewpoint manifests itself as a steep rising platform that is accessed by steps going up and around the perimeter of the form. Benches, interspersed between the steps, create the central core. As the structure rises the more exposed the benches become mimicking the seating arrangements of an arena.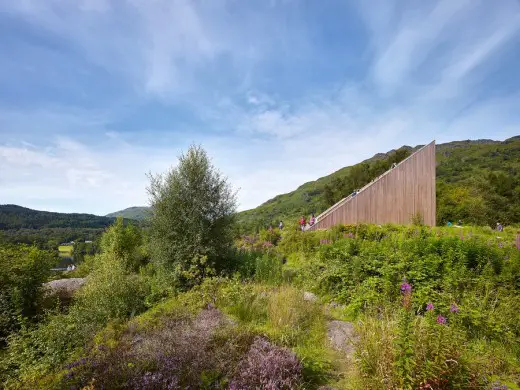 photo @ Andrew Lee
Externally the viewpoint creates a distinctive point of attraction. With a strong visual impact it embraces the vast drama of the landscape which wants to be experienced in such an exposed location. The inviting gesture of the beacon attracts visitors from a distance, to explore an alternative view, a pause in their journey on this scenic seat. The sculptural character of the project is strengthened through the use of one singular material. Both walls and the horizontal steps and benches are finished with a vertical timber rain screen. It's bold appearance contrasts and compliments the various greens of its natural surroundings and the usable inside of the structure invites the visitor to have a seat on a warm material, that wants to be touched.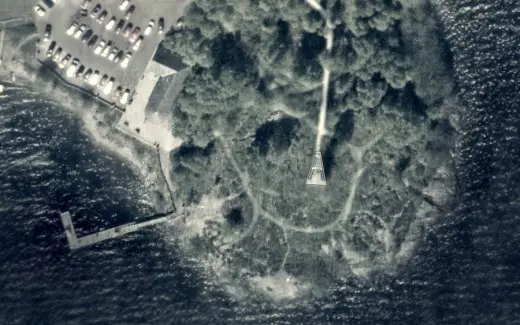 picture @ BTE Architecture
The pyramid viewpoint was realised as part of the Scottish Scenic Routes competition, an initiative by the Scottish government with the aim of showcasing young design practices based in Scotland. The original proposal was developed and detailed by BTE according to the specific requirements as defined by the Loch Lomond and The National Park authority, who were responsible for the management and execution of the project on site.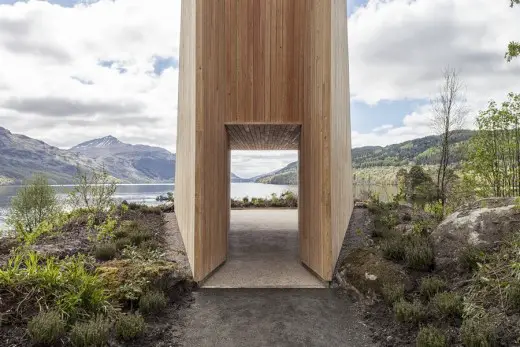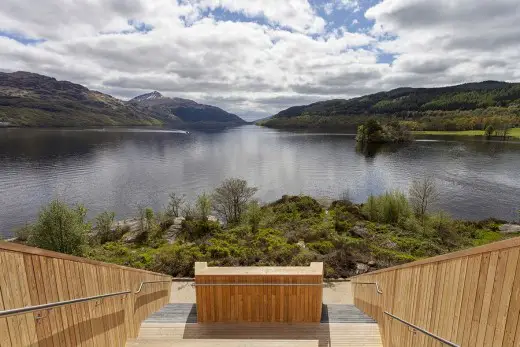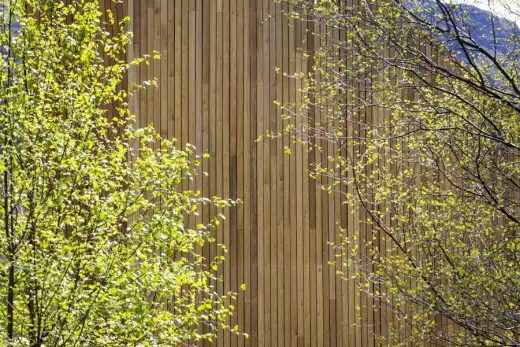 photos @ Ross Campbell
Pyramid Viewpoint Inveruglas – Building Information
BTE ARCHITECTURE, GLASGOW / OSLO
THE PYRAMID VIEWPOINT, INVERUGLAS, SCOTLAND
PROJECT ARCHITECTS: Daniel Bär, Stéphane Toussaint, Sean Edwards
STRUCTURAL ENGINEER: David Narro Associates, Glasgow
CONTRACTOR: Land Engineering
CLIENT: Scottish Government
SUPERVISION: Loch Lomond and The National Park
SITE ADDRESS: Arrochar, Dunbartonshire, G83 7DP, Scotland
CONTRACT VALUE: 193K
TREATED FLOOR AREA: 60m2
COMPLETION DATE: May 2015


photo @ Mick McGurk
RIAS Awards / RIBA Awards for Scotland 2016 shortlisted
BTE Architecture
BTE ARCHITECTURE – OFFICE BACKGROUND
BTE was founded in 2013 by Daniel Bär, Stéphane Toussaint, and Sean Edwards and is based in Glasgow, Scotland and Oslo, Norway.
BTE Architecture is an European practice with experience in working in the UK but also Belgium, Germany, Norway, Singapore, and Australia.
Although we are mostly working in Scotland at the moment we don't see us as a Scottish practice. Working abroad and within a different culture certainly brings a more detached, some might say a less romanticised, perspective. It also allows us to be critical, because we are able to compare. Being critical is one of the core values we took away from our education.
In comparison to other young practices (in Scotland) we were able to accumulate a vast amount of experience quickly. Experience ranging from the very beginning of a new project to supervising the building when it's under construction on both rural and urban sites.
Working for bigger offices besides gives us the advantage to be able to carefully select the projects for BTE because there is no imminent pressure of having to make a living but only to concentrate on the architectural quality first and foremost. It also enables BTE to be embedded within a wider network of professionals working across all sectors of the building industry, a network that can be utilised in form of collaborations in order to get into a position to win bigger jobs.
Practising in Scotland can be challenging as the culture of regulation is strict and often an economic solution needs to be identified in order to realise proposals at all. That constitutes in a certain awareness and focus if one does not want to compromise on the architectural quality of a proposal. The attitude of BTE can therefore be described as pragmatic and result oriented. We also understand that ideas, proportions, and good detailing doesn't cost any money and have successfully proven on numerous occasions that it is possible to create architecture that is relevant without having a massive budget.
We are interested in a building culture that is progressive. In that respect it is of importance that a younger architects generation are giving a chance to participate by actually being able to build architecture. Architecture that is relevant and reflective of its time.
Daniel Bär graduated from the University of the Arts Berlin in 2009 and registered as an architect in 2014.
He previously worked for KuehnMalvezzi in Berlin, and since 2010 for Dualchas Architects in Glasgow.
His experience ranges from public, private residential, to renovations of existing houses in both rural and urban areas located in Germany, Ireland, and all over the UK. Daniel has won both RIBA and RIAS awards and was nominated for the Manser medal. He has given numerous guest lectures in universities.
Stéphane Toussaint graduated from La Cambre School of Architecture in 2010
He previously worked for Delices Architectes in Brussels, and since 2012 for Dualchas Architects in Glasgow.
His experience ranges from public, private residential, to renovations of existing houses in both rural and urban areas located in Belgium and all over the UK.
Sean Edwards studied at Strathclyde University, Glasgow and Roma Tre University, Rome. Sean graduated from Strathclyde University in 2013.
He previously worked for WOHA Architects in Singapore and Dualchas Architects in Glasgow. He is currently working in Oslo for Pilot Arkitekter.
His experience ranges from large scale commercial, public, and private residential builds located in Singapore, Australia, Norway and the UK.
Pyramid Viewpoint, Inveruglas images / information from BTE Architecture
The Scottish Scenic Routes Project
Scottish Scenic Routes – new competitions for young architects
The Scottish Scenic Routes project is a new £500k initiative backed by the Scottish Government, Transport Scotland, Visit Scotland, Forestry Commission Scotland, Scottish Natural Heritage, Loch Lomond & the Trossachs National Park Authority, Cairngorms National Park Authority, Scottish Canals and Edinburgh Napier University.
Taking its lead from the National Tourist Routes programme in Norway, the project seeks to involve young architects in the development of a series of interventions along Scotland's most scenic roads.
Trollstigen, National Tourist Route in Norway:



image from architects
Gudbrandsjuvet Viewingplatform, National Tourist Route in Norway:



photo from organisers
The Scottish Scenic Routes Project information received 220813
Location: Inveruglas, Loch Lomond, Scotland
Architecture in Scotland
Scottish Landscape Architecture
Wall House, Tower House and Pool, The Trossachs, central Scotland
Architect: Alan Dunlop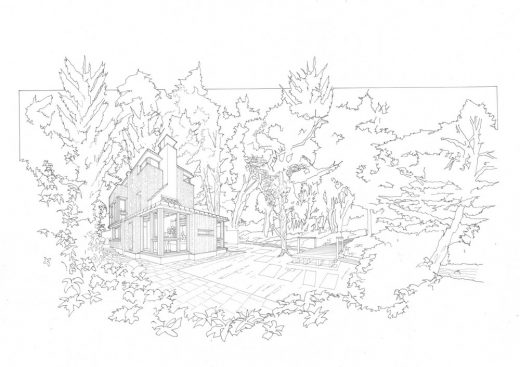 drawing : Alan Dunlop
New houses in The Trossachs
Loch Ard Boathouse by Sutherland Hussey Architects
Scottish Buildings
Abbotsford House Visitor Centre, Melrose, southern Scotland
Design: LDN Architects
Scottish Architect Studios
Comments / photos for the The Scottish Scenic Routes Project page welcome