Scottish Architecture Policy, Statement, News, Direction, Development
Scottish Executive Architecture Policy News
Buildings in Scotland – Government Aspirations, UK
19 Feb 2007
Scottish Architecture Policy
New Scottish Executive Architecture Policy Launch
Information from Scottish Executive on 19th February 2007
NEW ARCHITECTURE POLICY STATEMENT : TO BUILD ON SUCCESS
Culture Minister Patricia Ferguson will tomorrow outline the Scottish Executive's aspirations for the future of the country's architecture.
Ms Ferguson will make her statement as she launches the Executive's revised architecture policy, at The Lighthouse, Scotland's Centre for Architecture and Design.
Building Our Legacy is the Executive's new statement on architecture policy, which builds on the commitments made in its original policy in 2001.
The Minister will be joined by stakeholders and given a tour of current exhibitions at The Lighthouse including the Executive-funded National Programme exhibition "Northern City: Between Light and Dark".
Launch: 20 Feb, The Lighthouse
New Scottish Executive Architecture Policy Comment
By e-architect founder, architect Adrian Welch
An update makes sense but will the contents? Iain Gilzean as new Chief Architect for Scotland and former head of the Architecture Policy Unit is a safe pair of hands so I am confident the Policy update will be logical and well-structured. But will it tackle issues that damage our built environment?
Can we up the quality of PFI projects across the board or do we need to limit its dominance? Can architects affect the PFI debate or is it simply the case that it makes short-term financial sense? Shouldn't we tackle identikit buildings – mostly houses and shops – across the country?
Sustainability is high on the agenda – rightly so in my view, but this is a complex and multi-headed beast. Take for example the use of materials. Scottish slate for example has not been quarried for decades and thus local slate is becoming more and more difficult to specify. Added to this is a dearth of craftsmen and more worryingly too little training of craftsmen.
A sea change is taking place across most sectors, such as the retail industry's massive transfer of logistics from road to rail and huge increase in stocking local produce. Developers and architects should be working harder to use indigenous materials.
There have been a series of articles recently that mock 'green' attitudes and architects' interest in 'sustainability' from commentators such as Austin Williams, Penny Lewis and Tim Abrahams. I can understand their frustration at some of the double standards, soundbites, 'jumping on the bandwagon' mentality but this is an extremely important subject.
Architect's creativity shouldn't in any possible way be negatively impacted by 'trying to save the planet', surely this is simply another design constraint. Maybe it's cool to mock but those engaged in trying to positively build a future have a major responsibility and that simply means making buildings that use less energy and create less pollution. There's plenty of cool new architecture out there in the world, don't worry!
Scottish Architecture Policy – Issues
On the macro scale how do we ensure the new Forth Crossing is superbly designed? It should be exquisite, beating the Danes and the Swedes, but is there anyone in Scotland who believes we have any chance of making this a success?! How can we persuade the Executive not to run 200ft high pylons through the middle of the Highlands? Hang the cost, we all know this is irresponsible and plain daft.
And how do we tackle mass housing that looks the same as it does in Leicester or Reading? These anonymous houses do nothing for our country, they are an embarrassment that my friends and family from abroad laugh at – we have to demand better quality houses that are indigenous, that sit 'within' the landscape.
On the micro scale there's a whole range of issues that together impact negatively on the quality of the built environment. How can we stop service providers demanding exposed GRP substations? Architects are provided with standardised substation designs with daft pointy roofs, but there should be a nationwide rebellion against this offence.
It's an old chestnut but still Scotland's communities drown under street clutter (despite having Architecture Tsars in Scotland's two major cities) after numerous books and campaigns against this chaos. Who can control this better? And finally, identikit shop fascias erode character, making town centres forgettable and uninspiring. Apart from amenity and conservation societies what bodies with any clout have helped to stem this?
When companies run into problems with architecture – often at the planning stage – we often hear about threats to leave the area or concerns that jobs might be lost. But surely this does not affect the Service sector. MFI or ASDA are not going to leave the edge of your town or city if only the planners demanded decent buildings. What stops Councils demanding more: surely they are not frightened of big business, but if so, why?
Some lateral thinking and encouragement of innovation in the built environment would not go amiss. And it doesn't just have to be strictly architectural. Ugly newspaper kiosks should be reinvented by creative designers; in Frankfurt architects managed to do this but Edinburgh continues to suffer washed out boxes that belong to another era.
The dysfunctionalism of the new landscapes along the Clyde has been strongly condemned by visiting experts from outside the UK; in most European cities adjacent developments work under a masterplan to ensure integral designas and compatible materials. The Granton gasometer is destined to fall, where three once stood. In Vienna architects managed to imaginatively re-use this typeform but in Edinburgh it's easier to just knock them down.
The original Scottish Architecture Policy brought welcome inspiration to Scotland and no doubt subtly affected many aspects of the built environment. But if we are to update it I believe we must more firmly grasp some awkward nettles and more vigourously engage in dialogue with those who really affect the built environment: central government, big business plus the apathy and inertia that are all too prevalent. We should look outside Scotland to see how sophisticated other country's solutions have become.
Adrian Welch, architect.
Comments on the Scottish Architecture Policy and its Update welcome
Possible Topics:
Equalisation of VAT for New-build and Refurbishment – a matter only for the UK government?
Architecture Competitions – a lack of successful Scottish Architecture Competitions is the consensus, but how could this be remedied?
Location: Scotland
Architecture in Scotland
Scottish Architecture Designs – chronological list
Scottish Architect Studios
HALO Masterplan in Kilmarnock, Kilmarnock, East Ayrshire, Southwest Scotland
Architects: Keppie Design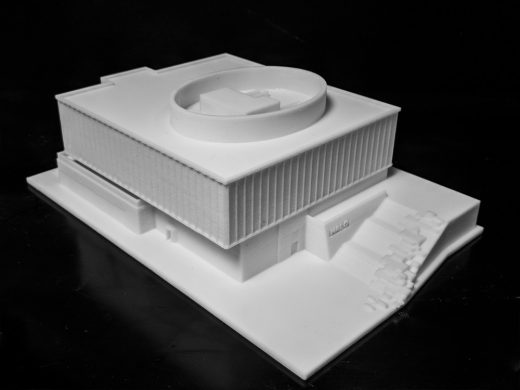 image courtesy of architects
HALO Masterplan Kilmarnock
Hawkhead Centre, Paisley, Southwest Scotland
Design: Page \ Park Architects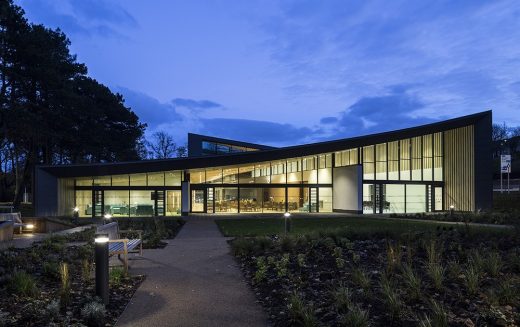 photo : Keith Hunter
Hawkhead Centre in Paisley
Comments / photos for the Scottish Executive Architecture Policy page welcome