Burgh Hall Dunoon, Scottish Building, Project, News, Design, Property, Image
Burgh Hall, Scotland : Dunoon Architecture
Redevelopment in western Scotland – design by John McAslan + Partners
22 Apr 2009
Burgh Hall Dunoon Building
SCOTTISH ARCHITECTURE GEM SAVED – OPEN DAY 2 MAY 2009
Design: John McAslan + Partners
Burgh Hall in Dunoon
The John McAslan Family Trust is currently heading the transformation of the derelict, Grade B-listed Burgh Hall in Dunoon, a gem of Victorian civic architecture by Glaswegian architect Robert Bryden. Still regarded as Dunoon's most significant civic building, the Burgh Hall was in a severe state of disrepair and without a future when acquired by the John McAslan Family Trust in November 2008.
Before first phase on restoration: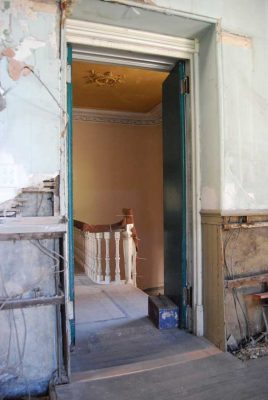 Burgh Hall Dunoon – Images : John McAslan + Partners
The Trust is currently transforming the building into a community arts centre in collaboration with the Friends of the Burgh Hall and the local community. The Burgh Hall demonstrates that with local support, limited funds and a phased delivery plan, communities can regenerate their civic derelict buildings for future use.
The Burgh Hall will re-open on 2 May 2009 with a day of festivities, including live music, highland dancing, a display of paintings and drawings from the Glasgow Boys, loaned from the Ewan Mundy Fine Art Gallery in Glasgow, and an exhibition of photographs of the A8 Road Corridor by acclaimed Magnum photographer Martin Parr.
After first phase of restoration:



Burgh Hall Dunoon – Images : John McAslan + Partners
The Open Day aims to be like a US-styled Country Fair where the building is open to everybody in the community to exhibit and contribute.
Originally opened in 1874, the Burgh Hall was for a time the only theatre in Argyll and remained a focus of public life up until the 1960s. Designed in Scots Baronial style by Robert Bryden, the Burgh Hall had an initial capacity of 500, marking Dunoon's rising popularity as one of the most important resorts on the western coast of Scotland.
John McAslan, Principal of international architecture practice John McAslan + Partners, adds, "I was brought up in Dunoon and remember visiting the Burgh Hall during my childhood. It is a fantastic piece of civic architecture, with its local green schist stone façades and elaborate internal plasterwork still intact.
It was crying out to be saved and brought back to life as a community arts centre, and that is exactly what we aim to achieve. We plan to return this wonderful building into active use for the local community by early 2011. To date, In terms of funding, the JMFT has committed close to £100,000 to the project and we are now appealing for significant additional funding to complete the project, the total cost of which could be close to £1.5 million."
To date, works carried out include: removal of asbestos, roof repairs, dry and wet rot remedial works, window repairs, basic plumbing, electrics and redecoration, with sufficient repairs to bring the building back into use.
Phase 2 of the project will bring the building back into active use, including external repairs to the stonework, guttering and stained glass window, painting and decorating, providing a stair lift, more toilets, a Friends Room, an exhibition/meeting space, as well as lighting and equipment for the main hall. Phases 3 and 4 will create a booking office, bookshop, a café, a caretaker's flat, installation of a lift and the restoration of the balcony in the main hall.
After third phase of restoration – exterior + interior:




Burgh Hall Dunoon – Images : John McAslan + Partners
Currently Dunoon's cultural highlight is the world's biggest Highland Games, the Cowal Games, which are held every August and attended by 3,500 competitors from around the globe. The John McAslan Family Trust's aim is that the Burgh Hall project will provide continuous support for the town's creative industry base, to supplement the Cowal Games and the town's holiday resort status.
John McAslan adds, "There is a huge amount of work still to be done to fully repair and fit out the building with arts spaces, community facilities and a fully operational performance space. The Open Day on 2nd May is intended to celebrate the building's rescue and also to highlight the considerable conservation and renewal work that lies ahead."
Comedian Billy Connolly famously mourned Dunoon's declining tourist trade during the 1960s with a comic tirade entitled, "Why don't they come back to Dunoon?" The town can also claim a number of thespian supporters, including Emma Thompson, who has a house in the town and Kate Winslet, who spent her honeymoon there. Julianne Moore's mother was born in Dunoon and the actress still has family in the town.
The area also has a rich political history: Holy Loch became internationally famous during the Cold War when in 1961 the US navy submarine USS Proteus brought Polaris ballistic missiles, nuclear submarines and CND protestors to the Firth of Clyde at nearby Sandbank, and Dunoon provided shore facilities. It proved to be the most active and sustained campaigns of protest in modern British history and threatened to drive a wedge between Britain and America.
Today, the area has close links with the US, further emphasised by Scotland's Year of Homecoming, an events programme celebrating Scotland's great contributions to the world, including its rich culture and heritage.
John McAslan + Partners
John McAslan + Partners is a leading architectural and design practice, based in London, Manchester and Edinburgh, with a large portfolio of award-winning work in Britain and overseas. The practice has an outstanding track-record in transformational schemes involving culturally and historically significant buildings.
The practice develops projects through its individual, specialist Units, which deliver interventional or new build schemes that are underwritten by a comprehensively skilled, multi-disciplinary approach. These Units apply targeted expertise to Historic Buildings, Education, Urban Planning, Mixed-Use and Commercial, and Interior Design.
The practice has also been centrally involved in generating funds and project development plans for transformational schemes involving culturally important buildings.
In many of its projects, the practice – using up to 10% of its pretax profits – has set up linked pro bono schemes to involve local young people. A separate trust fund has funded a variety of additional schemes in Britain and abroad, including the McAslan/ICE Bursary scheme, administered by the RIBA, to involve young architects and engineers in small-scale design projects.
John McAslan + Partners' work has been published extensively throughout the world, and has won more than 50 international awards. This year alone, and for a single project, the practice has been awarded four prestigious prizes for its architectural reinvention of the Roundhouse in London: a Europa Nostra Medal; an RIBA Award; a BCI Award and an English Heritage Award.
The practice was selected as Architect of the Year and Masterplanning Architect of the Year in 2006, and has previously been named Architectural Practice of the Year in 1998, 1999, and 2002. www.mcaslan.co.uk and www.mcaslan-family-trust.com
Robert Bryden
Robert Bryden left a considerable legacy of late-Victorian civic buildings including Dunoon's Town Hall (1873, now demolished), St Cuthbert's Church (1874) and the town's Infants' School (1880), as well as several prominent buildings in Glasgow including a Home for Destitute Children (1875) and Hillhead Western Baths Glasgow (1876).
Dunoon
Dunoon is the seaboard gateway to the Scottish Highlands, including the Loch Lomond and Trossachs National Park. Dunoon became a prime holiday destination in the 1800s in the heyday of the paddle steamer. Situated on the banks of the river Clyde Dunoon is still a resort destination with a population of approximately 10 thousand which increases during the holiday period.
The Cowal Highland Gathering (www.cowalgathering.com), held in Dunoon during August, is the largest and most spectacular Highland gathering in the world, with 3,500 competitors from around the globe.
Political history
During talks at Camp David in March 1959, US President Eisenhower suggested to the British Prime Minister, Harold Macmillan, that a submarine base in Scottish waters would be needed by the US Navy. Macmillan was cautious and noted in his diary, "A picture could well be drawn of some frightful accident which might devastate the whole of Scotland."
However despite the remark, as the Cold War intensified Holy Loch became internationally famous when in 1961 the US navy submarine USS Proteus brought Polaris ballistic missiles, nuclear submarines and CND protestors to the Firth of Clyde at nearby Sandbank, and Dunoon provided shore facilities. It proved to be the most active and sustained campaigns of protest in modern British history.
For a time, the issue of the Clyde base threatened to create divisions within the British defence establishment, and to drive a wedge between the British and their American allies. 1n 1992, the base was deemed unnecessary following the demise of the Soviet Union and subsequently withdrawn.
Famous Dunoon residents – past and present
· Sir Harry Lauder (1870-1950), whose mansion, Laudervale, stood just south of Dunoon on Bullwood Road. After a fire, which destroyed more than half the house, the building remained in a ruined state until c. 1980 when it was finally demolished. Much of the grounds were subsequently sold for housing development, which preserves the Laudervale name.
· Eric Campbell, the silent film comedian famous as Charlie Chaplin's hulking nemesis in several short films, was born in the town, and a plaque to his memory can be seen in the gardens at Castle Hill.
· Virginia Bottomley (Baroness Bottomley of Nettlestone) was born in Dunoon, as were former Manchester United player and QPR manager Stewart Houston, Sylvester McCoy, and Tom Wisniewski of the Christian punk band MxPx.
· American actress Julianne Moore's mother is originally from the town and Moore still has family in the area.
· Neil MacFarlane, a professional footballer who reached the 2008 Scottish Cup Final with Queen of the South, was born in the town.
· Grant Morrison, writer of Superman and Batman comic books, has moved from hometown Glasgow to a renovated mansion just outside of Dunoon, and spends part of the year in the town, and part in Los Angeles.
· Oscar winning actress Emma Thompson married husband Greg Wise in Dunoon in 2003. They have a second home in the town.
Burgh Hall Dunoon images / information from John McAslan + Partners
Location: Dunoon, Scotland
Architecture in Scotland
Scottish Architecture Designs – chronological list
Scottish Building Designs by John McAslan + Partners
Key Building Links
Comments / photos for the Burgh Hall Dunoon Scotland Architecture page welcome