Taiwan Centers for Disease Control Complex, Building, Project, Design, Image
Taiwan Centers for Disease Control Complex
Biolab Squadron, Taiwan – design by Studio Nicoletti Associati, Italy
21 Apr 2009
Taiwan Centers for Disease Control Building
shortlisted + honor mention
Design: Studio Nicoletti Associati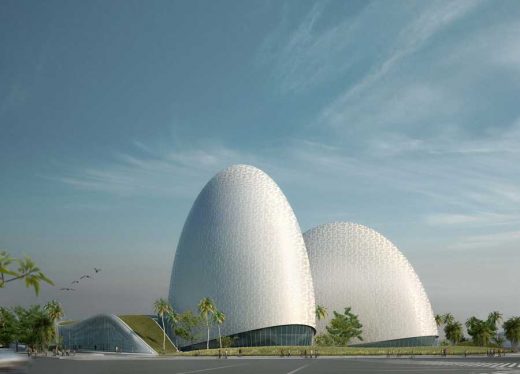 The Biolab Squadron consists of two units of laboratories protected and sealed within two similar elements evoking the "Nautilus" shell of different sizes.
In nature, the interior of this shell is an authentic marvel formed by a sequence of interconnected chambers, lined with beautiful mother-of-pearl, whose geometry is a perfect logarithmic spiral. Such a masterpiece of nature hides one of the most horrible looking cephalopod molluscs.
The two shells, forming the Biolab Squadron, are a metaphoric example of the highest formal and technological sophistication of the most advanced laboratories conceived and the extremely harmful pathogenic viruses of our planet which are studied within themselves.
The Biolab Squadron outer skin pattern is made of interlacing geometric incisions reproducing the four conventional symbols attributed to the DNA sequence of the bacteria being studied. The result is a surface perfectly homogenous and uniform in its overall material, but mysteriously engraved by symbols illegible by most people.
A sense of arcane volumetric unity bearing an enigmatic and indecipherable message emanates from this surface treatment.
This effect reproduces what the common people feel towards the terrible pathogenic agents. They are invisible to the naked eye and can be really observed only under powerful electronic microscopes or when they cause devastating effects on populations.
By engraving the genetic code of the most destructive viruses of our era on it's Centres for Disease Control Complex building's skin, Taiwan is giving a clear Message to the world: EPIDEMIC PREVENTION IS A WAR THAT WE INTEND TO WIN.
The three-story "C" shaped Administration Centre is conceived like an "artificial hill" covered and protected by a green cloak with different kinds of grass and bushes which provide a perfect insulation and blending with the landscape.
The internal layout of the three-story Administration Centre recalls the geometry of a micro-organisms cultivation visible under a microscope. The various functional elements, located on each floor, seem to float like real cells in a homogeneous fluid representing, in the building, the connective and social tissue between different functions.
Within this metaphoric frame, the Administration Centre forms a kind of "tail" or "scourge" with respect to the two large buildings of the laboratories housed within the two Biolab shells.
Thus the Biolab Squadron shells emerge in their full iconicity.
The whole project has been designed to be the first building of it's kind to achieve a Gold Rating under the LEED and under EEWH (Ecology, Energy saving, Waste reduction and Health) certification systems.
Biolab Squadron Taiwan – Building Information
Team Leader: Studio Nicoletti Associati, Rome – Manfredi Nicoletti & Luca Nicoletti
Project Manager: Luca Maugeri
Local Partners: ARCO Architects and Designers Ltd., Taipei – Tony Y.T. Chen
Consultants:
Medical consultants: Istituto Nazionale per le Malattie Infettive Lazzaro Spallanzani, Rome, Dr. Giuseppe Ippolito
Structures + Facades: RFR Stuttgart -Paris, Mathias Kutterer and Henry Bardsley
Facades: Permasteelisa, Vittorio Veneto, Riccardo Casini
Lighting: Laura Borsani, Rome
Sustainability: HOARE LEA, London, Thomas Lefevre
Local Consultants:
Plants: Parsons Brinckerhoff International, Inc. Taiwan, Charles Tan
Medical and labs: LD Asia – Llewelyn Davies Hong Kong, Yin Lee Chong – Dti Arch. & Designers, Robert Chao
Structures: Federal Engineering Consultant Inc. Taiwan, Eric Chyng.Maw Su
Landscape: SOHO Lansdcape architecture, Taiwan, John YC Chen
Traffic: Everest Engineering Consultants, Inc., Taiwan, Jeff Lee
Taiwan Centers for Disease Control Complex images / information from Studio Nicoletti Associati 210409
Location: Taiwan, East Asia
New Taiwan Architecture
Contemporary Taiwan Architectural Projects, chronological:
Taiwan Architecture Designs – chronological list
Taiwan Architecture – Selection
Taipei Performing Arts Centre – Winner
Design: OMA
Taipei Performing Arts Centre
Design: Ching Fu HQ
Rogers Stirk Harbour & Partners
Ching Fu HQ : Headquarters for Ching Fu shipbuilding company
Taiwan Architecture Competition : Pop Music Center
Selected Buildings designed by Studio Nicoletti Associati
Comments / photos for the Taiwan Centers for Disease Control Complex Architecture page welcome