RIAS Festival of Architecture 2016, Scottish Buildings, Scotland Architects, Image
RIAS Festival of Architecture 2016
Scottish Built Environment Events – Exhibitions, Talks, Expo, Shows
2 Dec 2015
RIAS Festival of Architecture 2016 Launch
Year of Innovation, Architecture and Design
e-architect editor Adrian Welch, architect, attended this rather chilly event in Edinburgh:
Neil Baxter Hon FRIAS Secretary and Treasurer of the RIAS (below, right) introduced the event – in the circular Observatory space on Calton Hill due to be redeveloped by Collective (architects) for the Collective Gallery – and explained a little about the Festival of Architecture 2016 ambitions.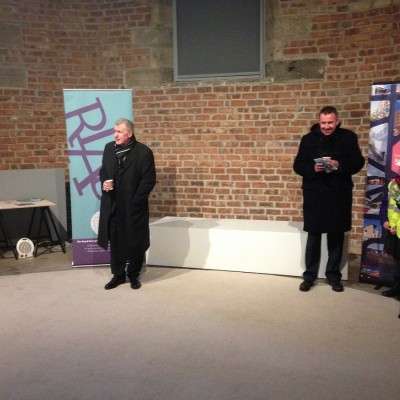 David Dunbar PPRIAS, chair of the Festival of Architecture, (above, left) then spoke briefly about the intention of the event, that it isn't for and about architects 'stroking their chins in a darkened room'.
NVA Creative Director Angus Farquhar (below) spoke next about the Cardross Seminary project and the event that will take place there in March 2016.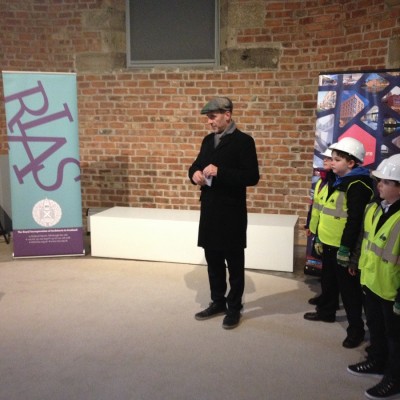 Finally photos were taken out by the National Monument of local schoolchildren gathered at The Hut, a touring project by Adrian Wisniewski (Scottish artist and member of the "New Glasgow Boys" and brother of Edinburgh architect Dorian Wisniewski).
The programme looks promising, a good balance between looking inwards – engaging with non-architects – and looking outwards – to fellow cities. So often the relationship between architects and non-architects is strained, typically through the planning process from objections to vitriolic campaigns.
Occasionally it is established via television, Kevin McCleod's polished gestures and sotto voce asides on Grand Designs, or Charlie Luxton's gentle praise and pleasant sketches in Homes by the Sea.
Architectural developments from Caltongate and Haymarket to George Square and Marischal Square have almost always become polarised and poisonous, not a good vehicle for constructive debate.
I would suggest the RIAS Festival of Architecture 2016 is a rare opportunity to turn this around, to create a more positive armature for built environment debate. For this to happen events need to reach the general public rather than just be circulated in architectural circles.
Also architects need to relate more to non-architects, some are good at this already, others not so much! Finally the public could give architects a chance and try to engage more.
The media has a part to play. Growing up in Scotland I was frequently pilloried before and after becoming an architect for 'mistakes by architects in the sixties' and 'ugly Modern architecture'. Thankfully we seem to be moving on, yet debates many decades after Prince Charles' infamous carbuncle jibe still struggle to escape polarity between contemporary and traditional architecture, between innovation and conservation. My interest and taste is catholic, I appreciate both the best work of architect Robert Adam (the present day one) and the better designs of Zaha Hadid, I don't see them as mutually exclusive.
My message to the organisers is a congratulations on what seems to be an ambitious and balanced programme and a request to please ensure the public is fully engaged with and listened to. With only a small percentage of buildings in Scotland designed by architects FOA 2016 has the potential to let the public know more about what architects actually do, and what we don't do. Only connect.
Editorial by architect Adrian Welch, ARB, RIAS, RIBA
RIAS Festival of Architecture 2016 Launch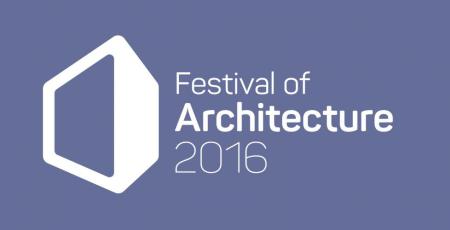 Scotland's architecture will take centre stage during 2016, as Scots and visitors to Scotland join the most ambitious ever nationwide celebration of the built environment of a single country.
Curated by the Royal Incorporation of Architects in Scotland (RIAS), the Festival of Architecture 2016 will deliver a packed programme of events and activities, which will highlight and celebrate Scotland's world-class architecture.
As one of the cornerstones of the Year of Innovation, Architecture and Design, the Festival of Architecture will showcase Scotland's fantastic buildings, old and new, with over 400 events and exhibitions taking place throughout the length and breadth of Scotland.  With world renowned and celebrated architects such as Robert Adam and Charles Rennie Mackintoshhailing from Scotland and iconic buildings such as the National Gallery, Glasgow School of Art and the Scottish Parliament, there is much to celebrate in this very special year.
Adrian Wiszniewski Hon FRIAS has redesigned a garden shed for the Ideal Hut Show, which was unveiled this morning at the programme launch. Adrian is one of the renowned 'New Glasgow Boys' and one of Scotland's most internationally recognised contemporary artists.
The RIAS is working with over 90 partners and funders across the public and private sectors to deliver this ambitious project.
Culture secretary Fiona Hyslop said: "The Festival of Architecture will be one of the main attractions in 2016's Year of Innovation, Architecture and Design which will shine a light on Scotland's achievements from the creative industries and fashion to engineering and renewables. The programme that RIAS have curated looks set to offer a host of exciting opportunities for people in every corner of Scotland to access, enjoy and celebrate architecture encouraging us to think about the important role that our built environment plays in every aspect of our lives."
David Dunbar PPRIAS, chair of the Festival of Architecture, said: "This national celebration of great architecture will transform Scotland's relationship with its built environment. It will improve our appreciation and understanding. It will also be great fun."
RIAS said it is grateful to its many supporters and funders and particularly pleased to welcomeScotRail as the official transport partner.
Angus Farquhar, NVA Creative Director, at the launch of FOA 2016: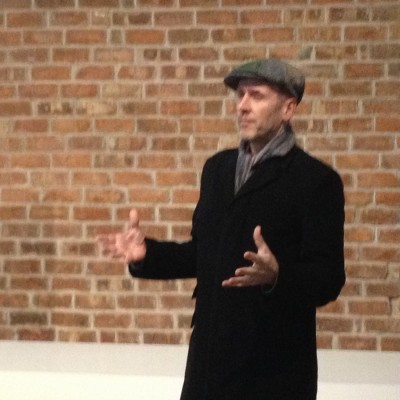 RIAS Festival of Architecture 2016 Events
Headline Events
'Hinterland', St Peter's Seminary, Cardross, 17 – 28 of March
Leading public arts organisation NVA will mark the official launch of the Festival of Architecture in March 2016 by inviting audiences to experience Scotland's most iconic modernist building, St Peter's Seminary in Cardross, with a night-time public art event exactly 50 years since the iconic building was first opened.  Audiences will walk through the atmospheric, semi-ancient, woodland to discover the ruined seminary buildings, subtly re-animated with monochromatic light installations and a specially commissioned choral work by composer Rory Boyle and performed by St. Salvator's Chapel Choir from the University of St Andrews.
Hinterland at St Peter's Seminary
Ideal Hut Show, touring across Scotland, May to September
We'll take 20 standard model garden sheds and have them transformed and customised by leading architects, artists, designers and celebrities from Scotland and abroad. The sheds will be on display in venues including Royal Botanic Garden Edinburgh and Glasgow Botanic Gardens.
Out of Their Heads: Building Portraits of Scottish Architects, Scottish National Portrait Gallery, Edinburgh, 11 June – 25 September
'Out of Their Heads: Building Portraits of Scottish Architects' will make connections between some of Scotland's greatest ever architects and their buildings. Portraits, photographic portraits and portrait busts will be displayed alongside representations of the buildings they masterminded.  This prestigious exhibition will run in the Contemporary Gallery on the ground floor of the Scottish National Portrait Gallery, one of Scotland's most popular and accessible venues. Hosted by the National Portrait Gallery, this exhibition is generously supported by the Scottish Futures Trust.
Pop-up World Cities Expo, Mound Square, Edinburgh, 16 June – 16 July
An inspiring group of international cities, alongside a selection of Scotland's cities have been invited to design pavilions to be located in Mound Square.  The exhibition builds on the universal success of temporary pavilions and the popularity of present-day pop-ups. Architects have risen to the challenge of creating innovative and engaging pop-up designs that will capture the public's imagination.
Adventures in Space, The Lighthouse, Glasgow, July – September
Journey into the heart of spectacular science fiction cities created for films such as Flash Gordon, Blade Runner and The Matrix. This innovative exhibition, being held in The Lighthouse, Scotland's Centre for Architecture, Design and the City, will be curated by leading architect and educationalist, David Reat.
Scotstyle, across Scotland, throughout 2016
Celebrating 100 years of the best of Scottish Architecture, Scotstyle features ten buildings from each decade of the 100 years from 1916-2015.  The exhibition of photographs of the top 100 buildings will tour Scotland throughout 2016. The selection of the 100 buildings will be from public nomination, informed by an expert panel. The list will be announced on the 7 December 2015.
The Festival will also feature a wide variety of events and exhibitions across Scotland that will engage everyone, from families to students, design and architecture lovers, schools, and arts and heritage enthusiasts.
BUILD IT – Adventures with LEGO® bricks
National Museums Scotland
Edinburgh; 29 January – 17 April 2016
A programme of activities to accompany a display of Lego® models in the Grand Gallery, including opportunities to design your own buildings and see the creation of a model of the National Museum.
Royal Scottish National Orchestra
Across Scotland; 1 December 2015 – 1 October 2016
Notes from Scotland is a national young composers competition from the Royal Scottish National Orchestra, who are inviting 12 – 18 year olds to submit a short piece of music inspired by an example of the country's greatest contemporary architecture.
Dundee Contemporary Arts
Dundee; 27 February – 1 May 2016
An exhibition addressing art and architecture inspired by modernity and nature. Works by Scotland-based architects will be presented alongside artists including Guido Guidi, Martin Boyce and Neville Rae.
HOME: 190th RSA Annual Exhibition
The Royal Scottish Academy of Art and Architecture
Edinburgh; 16 April – 25 May 2016
Twenty four interpretations of the notion of 'HOME' from distinguished Scottish and international architects. Includes innovative completed houses and working ideas for yet-to-be-realised projects.
Glasgow Institute of Architects
Glasgow; 10 – 31 March 2016
A documentary that examines and responds to the claims and predictions made in the 1971 film 'Glasgow 1980' by Oscar Marzaroli.
RIAS Highlands and Islands Chapter
Fort William to Inverness; 1 – 31 August 2016
A customised architectural craft taken along the Caledonian Canal and playing host to changing art work along the way.
From the Thistles to the Castle
Artlink Central + ice cream architecture
Stirling; 1 – 30 September 2016
Stirling Castle and the city centre shopping area will be the start and end of a trail of architectural activity that will occupy spaces along the route from the city centre to the Castle creating inventions and opportunities to participate.
For more information on the Festival of Architecture go to www.foa2016.com
RIAS Festival of Architecture 2016 Comment from Scottish architect Alan Dunlop
Location: Scotland
RIAS Andrew Doolan Best Building in Scotland Award Winners
West Burn Lane, St Andrews
Design: Sutherland Hussey Harris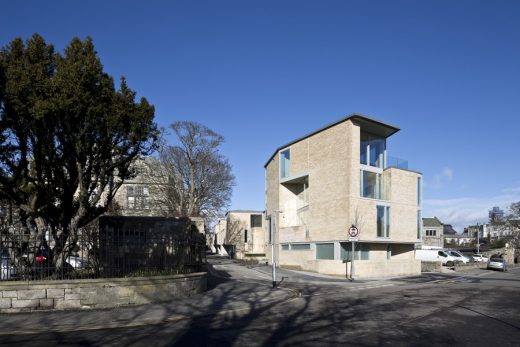 photo © Keith Hunter
West Burn Lane
Maggie's Gartnavel, Glasgow
Design: OMA
Maggie's Gartnavel
National Museum of Scotland Renewal, Edinburgh
Design: Gareth Hoskins Architects
National Museum of Scotland
Small Animal Hospital, Glasgow
Design: Archial Architects
Small Animal Hospital Glasgow
Pier Arts Centre, Orkney
Design: Reiach & Hall Architects
Pier Arts Centre
An Turas
An Turas, Tiree
Design: Sutherland Hussey Architects with Jake Harvey, Glen Onwin, Donald Urquhart and Sandra Kennedy
Scottish Architecture
Best Building in Scotland Award
RIAS Awards / RIBA Awards for Scotland 2016
RIAS Lifetime Achievement Award
Comments / photos for the RIAS Festival of Architecture 2016 Launch + Events page welcome