Alan Dunlop Architect Office, Scottish Architecture Studio News, gm+ad Building Projects
Alan Dunlop Architect
Architecture Office in Aberfoyle / Glasgow, Scotland, UK – Scottish Design Studio
post updated 15 September 2021
Alan Dunlop News
Alan Dunlop Architecture, chronological:
Celtic Crossing / Irish Sea Link
Torr Head Panorama Celtic Crossing:


BBC 1 ( all of UK ) Thursday 16th September 9pm. Patrick Kielty: 100 Years of the Union.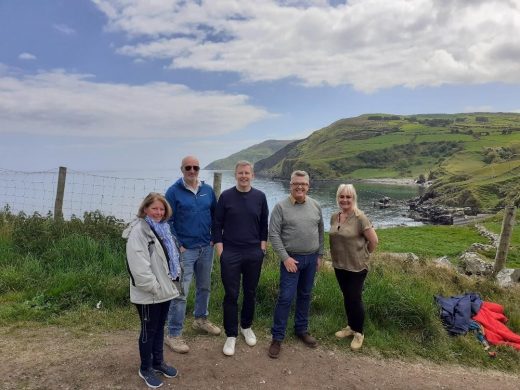 On the 100th anniversary of its creation, Patrick Kielty will explore what the future holds for Northern Ireland, in an authored documentary for BBC One. This will include an interview with Scottish architect Alan Dunlop on his proposals for the Celtic Crossing / Irish Sea Link.
Box Girder Bridge Torr Head, Fair Head in background: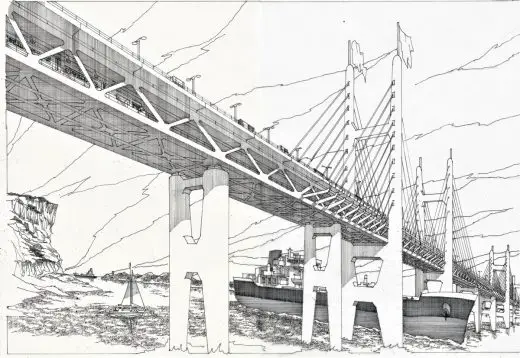 I asked Professor Alan Dunlop what the inspiration was for the bridge design, positing the Firth of Forth Rail Bridge and the Golden Gate Bridge.
He replied that he had two inspirations, The Øresund Bridge connecting Malmö and Copenhagen and the E39 The Norwegian Coastal Highway.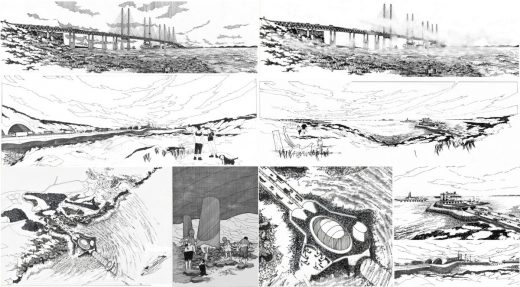 Also it seems he is now appearing in this celebrated Nordic noir crime television series, The Bridge, exciting times 😉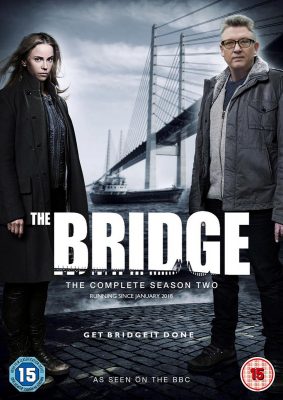 7 August 2021
GSA Student Crowdfunding
"Thirty years in teaching, fellow travellers has taught me that art like architecture cannot be taught remotely or on zoom. You need studio access, direct tutor contact and the support of your peers.
So, I'll be donating two original drawings from my sketchbooks, the two to be chosen by the students, in support of their crowdfunding appeal and their action."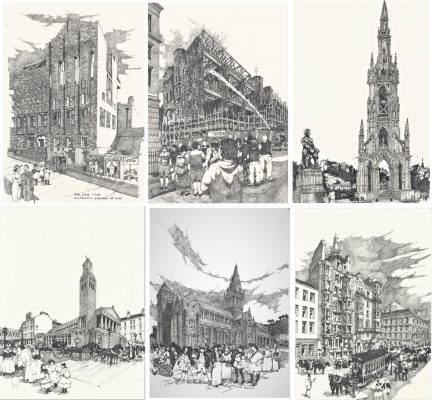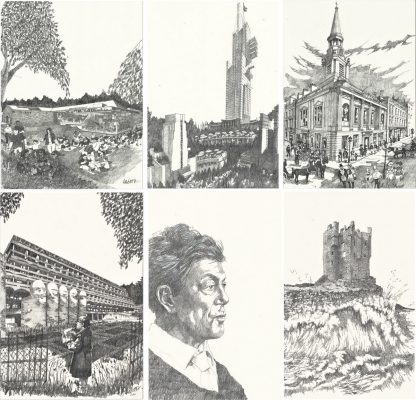 https://www.thetimes.co.uk/article/glasgow-school-of-art-cheated-us-with-lack-of-studio-access-students-claim-g3lbnxwx6
17 Mar 2021
Radisson Hotel Roof top extension and changes to front of hotel, Glasgow, Scotland
Info from architect Alan Dunlop:
I discovered that almost all of the original concept and context analysis (Design and Access Statement) supporting the planning application for a roof extension to the Radisson Blu is taken directly from my own writing, without my acknowledgement or approval. Their document includes street views, block plans and multiple 3D views but concludes with the most elementary, least imaginative and crudest, commercially driven proposal.
the roof top extension is certainly overpowering: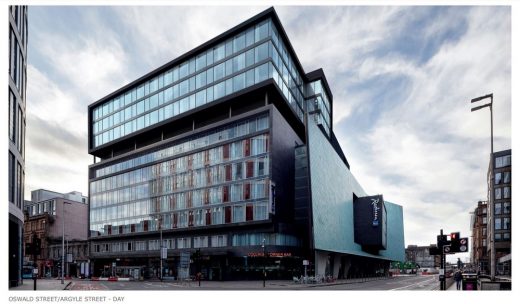 Therefore, as the architect of the Radisson, I spent a few hours planning how you might extend the hotel in a way which is conducive to the ideas and context fundamental to its original design. Then made a few rough sketches.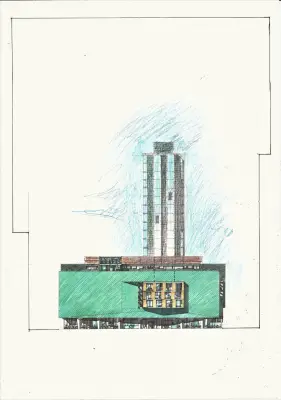 images courtesy of Alan Dunlop architect
Updated 26 Oct 2020 + 23 Aug 2020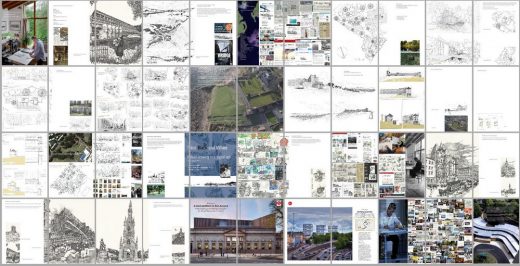 The Watch House project is the renovation of a 250 year old listed structure in Crail, on the East Neuk of Fife and a landmark on the Fife Coastal Path. It's a spectacular site and the building looks onto the North Sea and over to the Isle of May National Nature Reserve. On a clear day, and there are many, you can see down to North Berwick.
The project received planning permission and listed building consent at the turn of this year the drawings are the original planning drawings. I was in the process of forming a design team for the next stages, preparing a building warrant and construction detail and tender drawings when the lockdown started. As a double whammy, my client is a New York based financier, in April New York became the epicentre for COVID in the US and she has been grounded there since. We hope to start again, fingers crossed, in 2021 and complete in 2022
Architecture in Ruin drawings: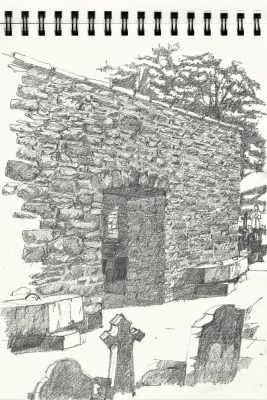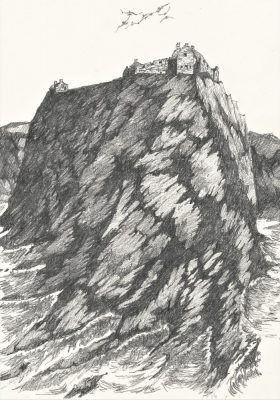 Left: Aberfoyle Auld Kirk – Right: Architecture in Ruin Dunnottar Castle
Left: Castle Tioram – Right: St Peter's Seminary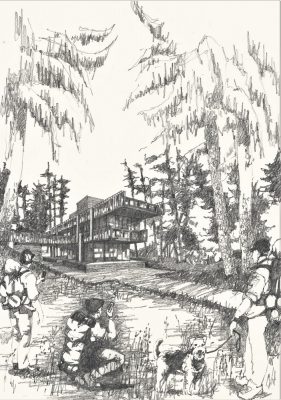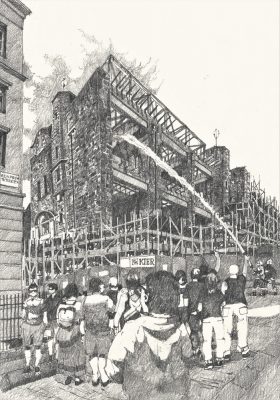 Left: Bernat Klein Studio – Right: Glasgow School of Art East Gable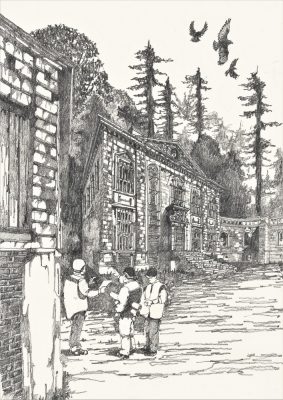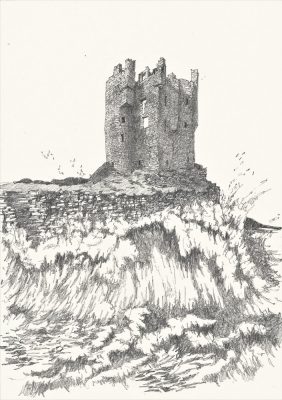 Left: Mavisbank House – Right: Old Keiss Castle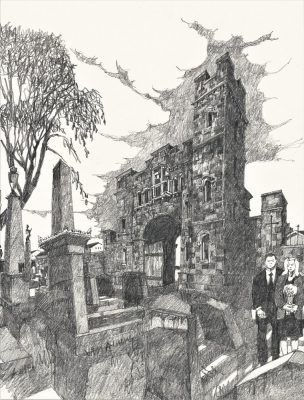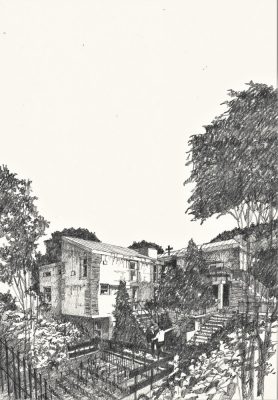 Left: Southern Necropolis Lodge House – Right: St Martins RC
New drawings of the Irish Sea tunnel concept, finished 20 Mar 2020:
Approach to the tunnel at the shore level:



all drawings courtesy of Alan Dunlop Architect
Kids fishing for crabs and starfish in the undercroft: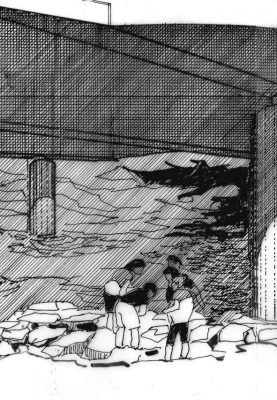 18 Mar 2020
Celtic Crossing as Sea Tunnel, Scotland / Northern Ireland, UK
From Alan Dunlop:
"An underground tunnel connects to the A77 and A75, and breaks the coastal edge at Lairds Bay and Port Mora. The structure that supports the tunnel entrance to the sea looks like it might have risen from the rocks, fragments and mass of loose stones at the base of the sea cliffs that run all along the Galloway coastline.

I believe it would be possible for a structure, tunnel or bridge to be designed to harness wave energy from the Irish Sea on a massive scale. So, in the drawing, pontoons support the tunnel below and are connected to the sea bed by cable stays. Each is set out to allow ships to pass through. Similar pontoon and tunnel structures are currently being developed and constructed as part of the Norwegian Coastal Highway, crossing fjords 500 metres deep but here the pontoons are designed also to generate tidal energy.
It is a sea tunnel not a bridge, stretching across the Irish Sea. The tunnel sits 12 metres below the wave line and is supported by and connected to the pontoons, not burrowed below the sea bed."
25 Aug 2019
Elite University Expert Appraisal and Lecture : Professor Alan Dunlop External Academic Specialist
Wuhan University School of Architecture and Urban design, University of Dundee.
Visit 2nd September 2019
Wuhan University Faculty of Architecture and Urban Design was granted by the Ministry of Education to develop a five-year Sino-foreign cooperative education project from 2013 and cooperates with University of Dundee, UK to offer undergraduate architecture programs. Such project was extended for another five years in May 2017.


image by architect
The School now has more than 940 undergraduate students and nearly 300 postgraduates. In addition, the School offers continuing education of various levels, such as adult diploma education, seminars and short-term training classes.
Focusing on the objective of cultivating high-level talents with profound knowledge bases, of broad calibers and with strong abilities, the School continues deepening the education and teaching reform and cultivates international digitalized innovative talents who have profound knowledge in human culture by virtue of the complete discipline system and deep cultural background, achieving great success.
Students of the School have participated in many domestic and international contests and won prizes. The prizes include "UNESCO Award" of International Union of Architects (IUA) which is the highest award of IUA, Red Dot Award, German IF Design Award and Excellent Work Prize of LITE-ON Award.
Professor Alan Dunlop
www.alandunloparchitects.com
16 Apr 2019
Wall House, Tower House and Pool, The Trossachs, central Scotland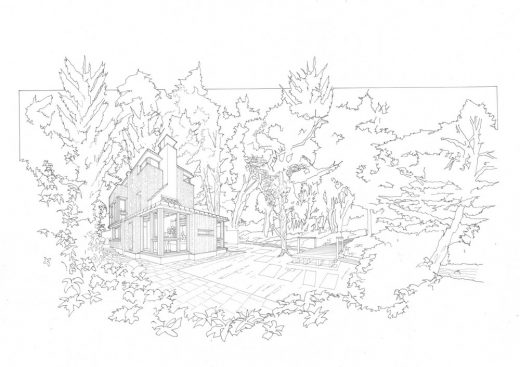 drawing : Alan Dunlop
Wall House, Tower House and Pool in the Trossachs
Alan Dunlop has begun discussions with Loch Lomond and Trossachs National Park Planning Authority to build two, four bedroom family homes and an outdoor pool on his 5 acre studio site.
20 Jun 2012
Chinese Visit Alan Dunlop
Alan will be making his first visit to Xi'an Jiaotong, a new school of architecture in Suzhou, China on the 27th June. Professor Dunlop has been appointed as one of the first external examiners at Xi'an Jiaotong- Liverpool University. XJTLU- Liverpool University is the only University in China to offer both UK and Chinese accredited undergraduate degrees. This first visit will be the beginning of a four year contract intended to help steer the new school of architecture toward full RIBA accreditation.
During his ten day stay he will also be meeting up with practices from the UK, Europe and the USA who have set up in Shanghai to discuss opportunities for Scottish architects, including Schmidt Hammer Lassen and RTKL.
He has accepted an invitation to return to Shanghai in October 2012 and present at the Masterplanning the Future international architecture and urban design conference where he will present a paper and lecture on architecture and urban regeneration in Glasgow.
His MArch Unit at Scott Sutherland School of Architecture also intend to base their next two year project in Shanghai, beginning in September 2012.
Alan Dunlop Exhibition
Alan Dunlop Exhibition
21 Feb – 19 Mar 2012
Alan Dunlop exhibition in the House for an Art Lover, Glasgow, Scotland
Alan is the first architect invited to show their work at House for an Art Lover. The exhibition will feature new work, original hand drawings not exhibited before and limited edition, signed silk screen prints.
Alan Dunlop Masterclass
Working Drawing – The Hand Generated Image Masterclass, Glasgow, Scotland
17 Mar 2012
"One can learn everything there is to know about an architect by studying their hand drawings, the degree of rigour and research that they bring to their projects, their attitudes and their sensitivities. It is no overstatement to suggest that hand drawing represents the stain of the true architect's soul on paper." Alan Dunlop
This full day masterclass is linked to Alan's Working Drawing exhibition.
26 Sep 2011
Hazelwood School Photo Update
Hazelwood School, Glasgow, Scotland


photograph : Andrew Lee
Hazelwood School by this architect
2 Sep 2011
Latest Design:
South Rotunda, Glasgow, Scotland
Alan Dunlop proposal South Rotunda design
16 Jun 2011
Lecture News:
AIA International Convention 2011
Alan has accepted an invitation from the American Institute of Architects and BCSE to give a presentation of his work at their international convention in London.
The convention titled; Building Better Schools – Investing in Education will take place between November 9-11, 2011. The keynote presentations will be given in Hammersmith Academy and the aim of the convention will be to explore the possibilities for innovative 21st Century learning environments.
3 Jun 2011
Project News:
Edinburgh Bio Quarter, Edinburgh, Scotland, UK




images : erz ; Alan Dunlop
Shortlisted design (one of two shortlisted) by this Scottish architects practice
Practice News:
Kansas State University Lecture
This Scottish architect returned to the USA to lecture and presented new work on 5 May and has been invited to judge the Heintzelman Prize at Kansas State University.


image by architect
The college of architecture, planning and design at K-State is listed among the top ten schools of architecture in the United States and the Heintzelman Prize is awarded to their top student. The invitation follows Dunlop's successful time as the Distinguished Victor L. Regnier Visiting Chair in Architecture and visiting professor at the school.


drawing by architect
This spring 2011 visit continues lectures given by Dunlop in Kansas City, Manhattan, Seattle and Boston in 2010 and at Canterbury and the Bauhaus School in Dessau.
Nearer home Alan presented his work at Pollockshields Heritage on 27 Apr 2011.
First Project by Alan Dunlop Architects
First design to be unveiled by this new Scottish architects practice, 12 Aug 2010:
House in Corstorphine, Edinburgh, Scotland, UK
Residential area characterised by stone walls and high hedges, hence the design approach, a wall becomes a house
Bauhaus – Dessau Institute of Architecture workshop for masters students on Urban Design : Oct 2010
Lecture at Build Boston 17 – 19 Nov 2010
News Exclusive
29 May 2010
Recently we were the first to report the gm+ad split. Despite rumours of Alan joining another major practice we can confirm he is to go it alone and has set up a Glasgow architecture practice in St Andrew's Square – address at Glasgow Architects.
Alan Dunlop Architect – Practice Profile
HGI : hand generated image
Alan will present his work at the Canterbury School of Architecture, UCA, Kent, England, UK.



drawing by architect
The lecture titled HGI: hand generated image, is on 13 May 2010.
The architect is the Distinguished Regnier Chair in Architecture, Kansas State University and Visiting Professor at Scott Sutherland School of Architecture Robert Gordon University, Scotland, UK
Mahlum Endowment Lecturer



Alan on left with Gordon Murray – photo : joe, simple photography
Mahlum Endowment Lecture, University of Washington
USA Professorship for Scottish Architect



drawing by architect
The partner of Gordon Murray and Alan Dunlop architects will take up his post as the Victor L Regnier Chair of Architecture and visiting professor at Kansas State University this semester.
Oscar Ekdahl Memorial Lecture, Kansas, USA
2009
Oscar Ekdahl Memorial Lecture
Alan Dunlop Drawings



drawing by architect
More architectural projects by this Scottish architect online soon
Location: Glasgow, Scotland, UK
Alan Dunlop Architects – Practice Information
Architect studio based in Merchant City, Glasgow, Scotland, UK
Scottish Architecture : best scottish buildings of the last three decades
Comments / photos for the Alan Dunlop Architect – Glaswegian Architecture Studio page welcome
Website: www.alandunloparchitects.com