Saltire Society Housing Design Awards 2018, Scottish Building, Winners, Projects, Homes
2018 Saltire Society Housing Design Awards News
Scottish Housing Design Awards Information – Best New Property Scotland
20 Jun 2018
Saltire Society Housing Design Awards 2018 Winners
2018 Saltire Society Housing Design Awards Winners
Social Housing in Leith scoops prestigious Saltire medal and wins top housing design award
Leith Fort is located in Leith, to the north of Edinburgh City Centre and is in close proximity to the Waterfront and Leith development areas. The site is approximately 1.7 hectares and sits within the historic confines of what was once Leith Fort. The site is surrounded by an existing category B-listed stone wall, the remains of the former Leith Fort. The proposed housing consists of 94 new-build residential units and a communal green space.
New housing at Leith Fort, Edinburgh: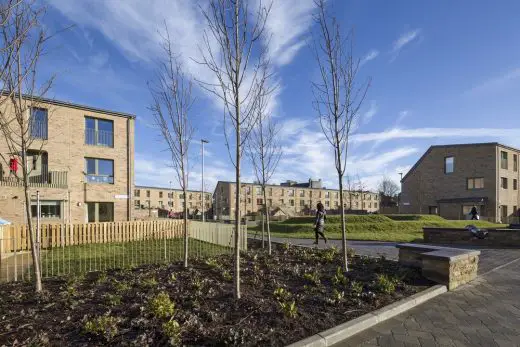 photo : Gillian Hayes
The new housing reinterprets the form of colonies housing, a traditional social housing typology found in many neighbourhoods across Edinburgh. This typology not only provides a dense mix of housing, but provides each flat with its own front door and its own private south facing garden. The shared fore-stair and grouped gardens encourage interaction and familiarity between neighbours in the same terrace, whilst the dual entrance arrangement to the front and rear of each terrace, encourages interaction between neighbours of adjacent terraces.
Guest Chair Allan Little said of the project:
Leith Fort is a superbly executed development the respects the special history and character of Leith while creating homes that match the needs of those who live in them. At a time when there is a crying need for more social housing and affordable private housing in the Scottish capital, Leith Fort is an inspiring example of what is possible on a limited budget: homes that are affordable, generously proportioned, and in a spacious urban setting that is designed to promote neighbourliness, community and a sense of ownership, belonging and local pride among the residents.
The Saltire medal and winners of the 2018 Saltire Society Housing Design Awards were announced at a special ceremony in Edinburgh yesterday (20 June 2018), presented by broadcaster Allan Little and the Minister for Local Government and Housing, Kevin Stewart.
For over 80 years the Saltire Society Housing Design Awards have celebrated excellence and achievement in Scottish house building and place-making.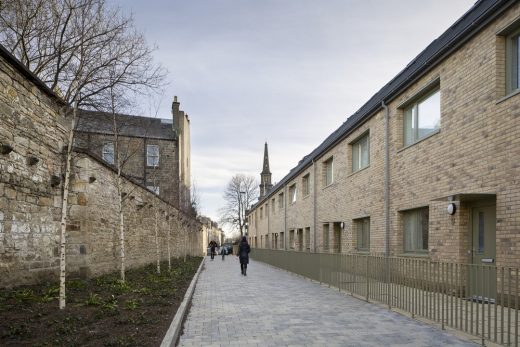 photo : Gillian Hayes
Mr Stewart recognised winners across Scotland, from rural single dwellings to multiple developments suitable for people with different needs and 2011 saw the introduction of the Innovation in Scotland Awards, supported by the Scottish Government, which recognise projects that have been developing and delivering highly innovative solutions to overcome constraints within the Construction industry while working for the housing needs of today.
The 2018 Award are presented to Bath Street Collective Custom Build in Edinburgh, but john Kinsley Architects. In Scotland housing is almost exclusively produced by developers and housing associations. There are very limited opportunities for self-builders, particularly on urban sites.
The Bath Street project has addressed this by bringing together four families to act collaboratively to develop and produce a contemporary tenement on a gap site in the capital city. The Bath Street project is a genuinely innovative form of procurement in Scotland that has produced four very cost-effective flats in an urban context.
The Award winners, each receiving a Saltire plaque, were:
• Due West, Lunga Estate Architect: Cameron Webster Architects An exquisite home against a cliff close to Craobh Haven that immerses the visitor in magnificent views out over the west coast. Built off two rocks, it combines ambitious engineering with a beautiful and precise resolution of the building at every scale. Due West is an exceptional project in combining a real feeling for drama with the sense of being a much-loved home.
• Millbuies House, Edinburgh Architect: Cameron Webster Architects An exceptional transformation of a post war modernist house into a beautifully composed, contemporary home. By virtue of a bold yet straightforward strategy to cover its existing courtyard, the building opens out into a series of spacious, light and well-proportioned rooms. Impeccably finished, it is truly transformational yet remembers to remind us of its original qualities.
• The Coach House, Falkirk Architect: thatstudio Chartered Architects Ltd A home modest in size but with great ambition and an exemplar as how to build appropriately in the grounds of substantial Victorian villas. Two sliding window walls open out to the courtyard and completely convinces in its intention to blur boundaries between inside and outside. It has a sense of spaciousness that belies its compact footprint. Beautifully designed and constructed, this is an exceptional contribution to Falkirk's built environment.
• Inclusive Family Home, Edinburgh Architect: Chambers McMillan Architects A nondescript semi-detached bungalow in Edinburgh, renewed and recast to accommodate the special needs of a family member. A new extension opens out to the garden; it feels generous and dispels any sense of the institutional. The commitment and expertise of the architects along with the enthusiasm of the client create an exceptional project that leverages a modest budget to produce a truly inclusive home.
• Claddens House, Lenzie Architect: John Gilbert Architects A house that is exceptional in delivering integrated sustainable design in Scotland. Conceived as a Passive House to exacting standards of energy conservation, it also addresses with great rigour the ecological choices to be made in building materials and finishes. With elements of self-build, the relationship between client, contractor and architect are mutually collaborative and supportive. It is robust but carefully detailed and shows elegance, strength and depth in its design.
• Powis Place, Aberdeen A student residence in Aberdeen that has a confident and sophisticated presence on a challenging corner site at the edge of the city centre. Its residents enjoy outside space both in a protected courtyard and a penthouse terrace with expansive views. This is an exceptional project demonstrating how commoditised housing built to a budget can be a significant work of architecture.
• Leith Fort, Edinburgh Architect: Collective Architecture An exceptional project that regenerates a historic site in Edinburgh with a mix of mid-market and social rent housing. A legible and straightforward masterplan is sophisticated and elegant in its execution. The individual apartments are distinctive and generous. Leith Fort works sensitively in its historic context and connects well with surrounding streets. It is an outstanding development that encourages in so many ways a sense of community and belonging.
Receiving commendations from the judges were:
• Westside, Pentlands Architect: Gray, Marshall and Associates: A rural home that sustains its household. It revisits the traditional Scots longhouse and adapts it for homeworking and a rental annexe for tourists. Upstairs is open to the roof that gives their rooms a sense of spaciousness. Westside co-exists well in its Borders setting with an unadorned yet elegant utility. It is a compelling example of how well-designed housing contributes to an economically active countryside.
• Parkview, Dundee Architect: Page/Park Architects A housing development in the western suburbs of Dundee with expansive views south across the Tay. An existing reform school is refurbished and extended with care, accompanied by a series of new build apartments. Their gable ends face the street with an entirely appropriate scale and presence. This is an exemplar development that knows its market well and rewards them with a building generous in both space and specification.
• Fortune Place, Edinbugh Architect Smith Scott Mullan Associates Housing in southern Edinburgh for older people that has a strong and confident presence to the street. Individual apartments are well designed that lead to generous communal facilities organised around courtyard gardens. Fortune Place is exemplary for its successful and coherent resolution at a both human and urban scale.
Innovation Awards Commendations
Highly Commended:
• Countesswells Phase 1, Aberdeen Archiect Optimised Environments Ltd (OPEN) In order for Scotland to build more housing, increasingly planners are releasing large scale housing land. However, large sites require large infrastructure commitments that need large scale funds at the start of the project which is often a barrier to effective development.
At Countesswells the commitment to front end investment has been achieved by a dedicated investment company to be responsible for the master planning, infrastructure, landscape and services leaving house builders to concentrate on building houses. This project unlocked funding barriers by having the support of Aberdeen City Council to enable Countesswells to obtain a UK Government HM Treasury loan guarantee that provides lenders with the confidence to fund infrastructure. This Treasury loan guarantee was the first to be made available for housing purposes.
Commended:
Linkwood View, Elgin Architect:Kraft Architecture An increasing ageing population brings challenges for us to have the right type of housing and care support for older people. This extra care housing project has developed a form of independent living that caters for a range of care needs and provides independent living within a social interactive setting.
The project demonstrated how a collaborative partnership can meet people's care needs by employing the skills, experiences and resources of a private developer, Springfield Properties, Hanover Housing Association and Health and Social Care Moray. While this extra care development meets the needs of older people it is open to those across the age spectrum. It is particularly pleasing to see the benefits of an inter-generational approach where younger and older people live successfully in the same place.
Commenting on this year's Saltire Society Housing Design Awards, Guest Chair, Allan Little, said:
I have been struck by how much effort is being made, in the building of new houses in Scotland, to blend contemporary technologies, materials and styles with the existing character of the environment – rural properties that chime with and respect the landscape; urban developments that place contemporary designs harmoniously in a historically created context, while creating houses that meet contemporary needs. These are houses that above all look to the future, but at the same time respect the historical and aesthetic context in which they are built. We have seen a great diversity – innovative, creative, and inspiring.
David Jamieson, Convener of the Awards Panel said:
These awards winners demonstrate two things: firstly that in Scotland we are capable of building some of the best affordable housing in the world, and secondly that we have a culture of building exquisite one-off houses often with limited budgets and which is sustaining a tradition of craftsmanship in building construction. There is a healthy tendency to use low carbon materials, particularly timber in construction combined with innovative thinking on how building can be environmentally responsible.
Sarah Mason, Programme Director of the Saltire Society said:
The Saltire Housing Design Awards are a special moment in the Saltire's calendar, being the first Awards established by the Society in 1937. The Awards not only promote the importance of good design and housing for all, but have evolved to help to honour and encourage creativity, excellence and innovation in modern Scottish place making.
As ever I have been impressed by the design, innovation and attention to detail that is present in the projects celebrated and am particularly pleased at the exceptional examples of social multiple housing developments, which resonate with the reasons these awards were established. The judge's final decisions on the overall winners were particularly hard to make and were only made after much debate and discussion, which is testament to the calibre of architectural talent in Scotland today.
About the Saltire Society
The Saltire Society seeks to encourage everything that might improve the quality of life in Scotland. It works to preserve all that is best in Scottish traditions and to encourage new developments which can strengthen and enrich the country's cultural life. It acts as a catalyst, celebrant and commentator through an annual programme of awards, lectures, debates and projects.
Founded in 1936, it is a non-political independent charity with membership branches throughout Scotland.
Membership of the Saltire Society is open to all individuals and organisations that support the aims of the Society
For further information about the Saltire Society please visit www.saltiresociety.org.uk.
About the Housing Design Awards
This year's Housing Design Awards will take place at Edinburgh Centre for Carbon Innovation on 20 June 2018, commencing at 5pm.
Intended for Owners, Clients, Architects, House-builders and Housing Developers of all shapes and sizes, the length and breadth of Scotland – the awards recognise everything from single dwellings in the remotest reaches of the Highlands, to large-scale commercial developments in the country's major urban centres.
www.saltiresociety.org.uk
Founded in 1936 the Saltire Society is a non political charity which promotes Scottish life and culture. We welcome new members and details can be found on our website.
Saltire Society Housing Design Awards images / information from Saltire Society June 2018
Saltire Society Housing Design Awards
Saltire Society Housing Design Awards – Archive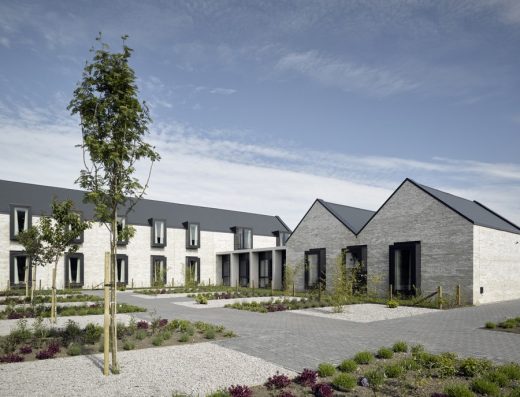 photo from architects
Saltire Society Housing Design Awards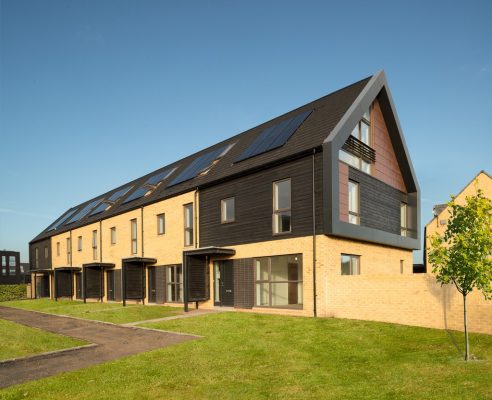 photograph courtesy of City Legacy
Saltire Society Awards
Location: Scotland
Architecture in Scotland
Contemporary Scottish Architecture
Scottish Architecture Designs – chronological list
Saltire Society : Design Awards 2006
Scottish Architecture – Selection
Skye House, Isle of Skye
Camustianavaig House
Maxim Office Park, Motherwell
Maxim Office Park
Comments / photos for the Saltire Society Housing Design Awards 2018 Winners page welcome