James Stirling, Architect, Photographs, British Building Projects, Designs, Studio, Images, Works
James Stirling Architect : Architecture
Big Jim: British Modern Architecture, UK 20th Century Buildings
James Stirling Building News
James Stirling Architecture
5 Sep 2013
The Florey Building, Queen's College Oxford, England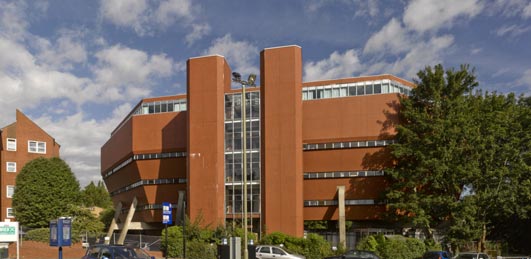 photograph © James Brittain
Florey Design Competition
The Queen's College, Oxford is delighted to announce the launch of the Florey Design Competition. The College seeks a dedicated team to restore and add new facilities to James Stirling's Modernist masterpiece, The Florey building, which is Grade II listed.
26 Oct 2011
Leicester Engineering Department Building Renovation, England
Stirling and Gowan ; renovation by Berman Guedes Stretton



picture from S&R
Leicester Engineering Department
Berman Guedes Stretton has been appointed by the University of Leicester to renovate its engineering department workshops. Designed by Stirling and Gowan in 1959 and considered one of the most significant and influential post war buildings in the UK, it is famous for its sculptural, diamond shaped glazed roof form.
James Stirling Exhibition
James Frazer Stirling : Notes From The Archive
Monographic exhibition at Staatsgalerie Stuttgart
Dates: 1 Oct 2011 – 15 Jan 2012
Location: Staatsgalerie Stuttgart, southwest Germany
Previously was at Tate Britain, London, from 5 Apr – 21 Aug 2011.
New photos of Andrew Melville Halls – designed by this 20th Century British architect – taken on 7 Apr 2011:



photo © Adrian Welch
Laurence Bain, Project Architect on Andrew Melville Hall, told e-architect:
"To celebrate the 50th anniversary of the project it would be wonderful to complete Jim's masterplan perhaps with a different architect designing each of the 5 'wings' ".
James Stirling – Key Projects
Featured James Stirling Buildings
Andrew Melville Halls, St. Andrews, Scotland
Date built: 1967



photo © Adrian Welch
Two wings set at an acute angle with student dormitories stepped down section towards the tips from a pivotal core. Description further down page.
Scottish Building by James Stirling – new photos added 7 Apr 2011
Faculty of History, University of Cambridge – Sidgwick Site, England, UK
Date built: 1968



photo © Adrian Welch
Controversial modern Cambridge building that had problems with overheating, leaks, falling tiles, etc.
Faculty of History Cambridge building
Clore Gallery, Tate Gallery, London, England, UK
Date built:
Design: James Stirling Michael Wilford and Associates Ltd (JSMW&A) then Bain + Bevington Architects


photo © Adrian Welch
Clore Gallery London
Lowry Centre, Salford Quays, Manchester, England, UK
Date built:
Design: JSMW&A completed as Michael Wilford and Partners Ltd then Bain + Bevington Architects Ltd



image © Adrian Welch
Lowry Centre Manchester
Number 1 Poultry, City of London, England, UK
Date built:
Design: JSMW&A completed as Michael Wilford and Partners Ltd



photos © Adrian Welch
Number 1 Poultry building – new photos in Nov 2012
Giardini – Stirling Pavilion, Venice, Italy
Date built:






photographs © AW
James Stirling Architect : more details
Major Buildings by James Stirling in UK
James Stirling Buildings, chronological:
Ham Common Flats, London, England
1955-58 (Stirling and Gowan)
School Assembly Hall, Camberwell, London, England
1958-61 (Stirling and Gowan)
Engineering Building, Leicester University, Leicester, England
1959-63 (Stirling and Gowan)
History Faculty Library, Cambridge University, England
1968
Infill Housing, Preston city centre, Lancashire, England
1957-59
St. Andrews University Halls, Fife, Scotland
1967
Olivetti Training Centre, Haslemere, Surrey, England
1969-72
Old Peoples' Home
1960-64
Children's Home
1960-64
Cambridge University History Building, Cambridgeshire, England
1964-67
Florey Building, Queen's College Oxford, Oxfordshire, England
1966-71
Runcorn New Town Housing, Cheshire, England
1967-76 (James Stirling Michael Wilford and Associates – JSMW&A)
Southgate Housing, Runcorn, Cheshire, England
1972-77 (JSMW&A)
Turner Museum + Tate Gallery Expansion, London, England
1980-87 (JSMW&A)
Tate Gallery, Albert Dock, Liverpool, England
1984-88 (JSMW&A
Lowry Centre, Salford Quays, Manchester, England
1991-2002 (JSMW&A; Michael Wilford and Partners Ltd; Bain + Bevington Architects Ltd)
Key James Stirling Buildings outside UK
Buildings, chronological:
Neue Staatsgalerie + Kammertheater, Stuttgart, Germany
Dates built: 1977-83/4 started as a Jim Stirling & Partner project completed by JSMWA
British Embassy, Berlin, Germany
Date built: – (Michael Wilford and Partners all design & construction work after Jim's death)
Sto building, Germany
Date built: – (Michael Wilford and Partners all design work & construction work carried out after Jim's death)
Rice University Expansion, Texas, USA
Dates built: 1979-81 (JSMWA : Jim Stirling Michael Wilford and Associates)
Social Sciences Centre, Berlin, Germany
Dates built: 1979-87 (JSMWA)
Performing Arts Center, Cornell University, Ithaca, New York, USA
Dates built: 1983-88 (JSMWA with Wank Adam Slavin Associates)
Arthur M. Sackler Museum, Extension to Harvard University Fogg Museum*, USA 1979-84 (JSMWA with Perry Dean Rogers and Partners)
James Stirling & James Gowan Project
Leicester Engineering Building, England
*also known as Sackler Museum or Fogg Extension, Massachusetts
Jim Stirling's Cambridge History Faculty context : Cambridge Architecture
Neue Staatsgalerie & adj. buildings



image © Rebecca Breun
James Stirling Michael Wilford Projects
Number 1 Poultry, London (JSMWAL completed as MWPL)
Lowry Centre, Salford, England (JSMWAL then MWPL then B+BAL legally the same office)
Temasek Polytechnic, Singapore (JSMWAL with DP architects)
Music School, Stuttgart, Germany (JSMWA then MWP)
B Braun Headquarters, Germany (JSMWA in association with Walter Nageli second phase by MWP)
Irvine Science Library, USA (JSMWAL with IBI Group)
Tate Gallery, Liverpool, UK (phase 1 JSMWAL phase 2 MWPL phase 3 B+BAL legally the same office)
Clore Gallery, Tate Gallery, London (JSMWAL then B+BAL)
Staatsgalerie, Stuttgart, Germany (Stirling and Partner then JSMWA)
James Stirling Michael Wilford : chronological list of all key buildings
Jim Stirling had entered two architecture competitions in Cambridge with no joy, at Churchill College (1958) and Selwyn College (1959)
Location: London, England, UK
Architecture Practice Information
Famous architect studio led by James and based in London, England
Comments / photos for the James Stirling Architect page welcome
Website: Building