Mathaf, Arab Museum of Modern Art, Qatar Architecture, Doha Building, Architect Project
Mathaf : Arab Museum of Modern Art
Cultural Development in Qatar, The Gulf, Middle East building design by Jean-François Bodin
30 Sep 2010
Mathaf – Arab Museum Of Modern Art:
Qatar Museums Authority Announces The Opening on 30 December 2010 Of Its New Institution
Architect: Jean-François Bodin
Exterior: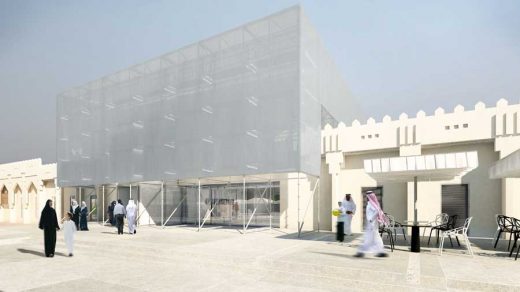 image © L'Autre Image Production 2010
Mathaf : Arab Museum of Modern Art Building
DOHA, QATAR, 29 September 2010 – Conceived as a gathering place where questions are asked, ideas are explored and creativity is fostered, Mathaf: Arab Museum of Modern Art will open to the public on 30 December 2010, in Doha, Qatar.
Mathaf (pronounced Mat-haff, which means "museum" in Arabic) will present exhibitions and programs that explore modern Arab art. Its collection of more than 6,000 works represents major trends and sites of production of modern Arab art, spanning the 1840s to the present.
In addition to its collection and special exhibitions, Mathaf's on-site and online programmes will reinforce its role as a centre for global dialogue, research and scholarship. Through these activities, which are designed to engage artists, writers, students, scholars and the widest possible public audience, Mathaf will contribute to the cultural landscape of the Gulf region, the Middle East and the Arab Diaspora.
Lobby: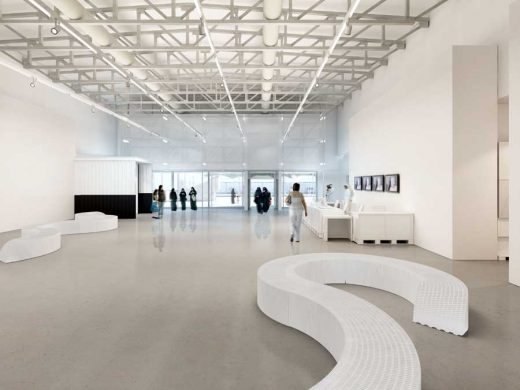 image © L'Autre Image Production 2010
The Museum will temporarily occupy a former school building in Doha's Education City, which was re-designed for Mathaf by the French architect Jean-François Bodin. QMA will determine its plans for the construction of a future, permanent home for the Museum at a later date.
Mathaf is the outgrowth of more than two decades of activity by QMA's Vice-Chairperson, His Excellency Sheikh Hassan bin Mohamed bin Ali Al-Thani. The collection was adopted originally by Qatar Foundation, who safeguarded it for four years before QMA took the Museum on as a Museums Authority project, at which point the current partnership was formed. As the catalyst of this project, Sheikh Hassan has encouraged creativity in Qatar and throughout the region with his longtime commitment to Arab artists.
Library: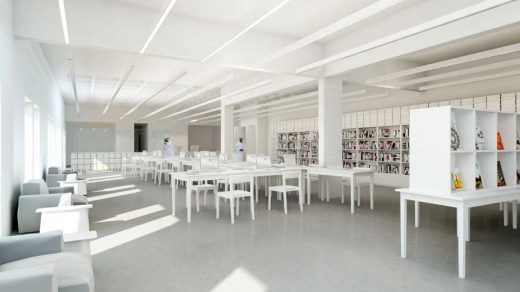 image © L'Autre Image Production 2010
Overseeing the establishment and opening of Mathaf is QMA Chairperson Her Excellency Sheikha Al Mayassa bint Hamad bin Khalifa Al-Thani.
"When QMA opened the Museum of Islamic Art, we made Qatar the place to see and appreciate the greatest treasures of a vast and vital heritage, which spans centuries and cultures," stated H.E. Sheikha Al Mayassa. "Now, with the opening of Mathaf, we make Qatar the place to see, explore and discuss the creations of Arab artists of the modern era and our own time. As we reveal this body of exciting, important but previously little-seen artworks, we demonstrate that the world can continue to look to Qatar for new possibilities and surprising experiences."
According to H.E. Sheikh Hassan, "Arab artists are now receiving unprecedented visibility and support, in the Middle East and elsewhere in the world. We warmly welcome this development—but we know that it can truly flourish only if the artists themselves and their collectors, curators and audiences are able to connect today's activities to yesterday's achievements. By making public a century's worth of distinctive artworks, Mathaf will deepen the conversation about Arab art and help advance the creativity of the Arab world."
"In Qatar, we are creating a new paradigm for museums in the 21st century, redefining their context, philosophies and operations," said QMA Executive Director Roger Mandle. "The Mathaf experience is centered on dialogue and interactivity, and will become a unique arts space for the community."
"Mathaf aims to become a resource for its visitors—both physical and virtual, local and global—to learn about modern Arab art," said Chief Curator and Acting Director Wassan Al-Khudhairi. "We are proud to follow His Excellency Sheikh Hassan's lead as pioneers in this growing field, and to honor the seminal artists who have profoundly impacted the art of our time."
Inaugural Exhibition Reveals New Perspectives on Arab Modernism
Mathaf will open with Sajjil: A Century of Modern Art on view from 30 December 2010: an inaugural exhibition of highlights from the collection, featuring works by more than 100 artists and representing pivotal experiments in aesthetics. Sajjil, an Arabic word meaning the act of recording, initiates a space in which various narratives can be articulated in an effort to allow Arab modern art its historical place within a wider tradition of art history.
The exhibition contributes to a renegotiation of the positions of Arabs to and in modernity. It acknowledges the multiplicity of experiences that form Arab modern art and emphasizes the several common moments that justify a collective identity. It is organised around several themes that overlap and intersect, where ideas cut across chronology, and discontinuity and rupture are part of the story.
Sajjil: A Century of Modern Art is organised and curated by Dr. Nada Shabout, guest curator and consultant, Associate Professor of Art History and Director of the Contemporary Arab and Muslim Cultural Studies Institute at the University of North Texas; Wassan Al-Khudhairi, Mathaf's Chief Curator and Acting Director; and Deena Chalabi, Mathaf's Head of Strategy.
The Building
The inaugural exhibition and programmes will be housed in a 5,500-square-meter (59,000-square-foot) facility that includes galleries on two floors, a café, a museum shop, a research library and an education wing. Visitors will enter Mathaf through a terrace that features a shaded outdoor seating area for the café.
From the terrace, visitors will pass through a screen-wrapped scaffolding-style façade, upon which imagery and video can be projected at night. Inside Mathaf, the flexible space has an informal and contemporary aesthetic. Like the collection that it houses, this temporary home expresses a balance between the old and the new, as well as reflecting Mathaf's commitment to education.
Opening Programs
In addition to the inaugural exhibition featuring works from the collection, Mathaf will present two special opening exhibitions in a new temporary exhibition space located on the grounds of the Museum of Islamic Art. Interventions, on view from December 30, 2010 to May 28, 2011, curated by Dr. Nada Shabout, celebrates the work and artistic development of five major modern Arab artists, who were instrumental in introducing and negotiating modernism in the Arab world, and remain productive and influential today.
Interventions features works from Mathaf's permanent collection alongside a newly commissioned work by each artist. Told/Untold/Retold, on view from December 30, 2010 to May 28, 2011 curated by Sam Bardouil and Till Fellrath, features newly commissioned work by 23 contemporary artists with roots in the Arab world. Through the central theme of storytelling, the exhibition attests to art not as a finished product for contemplation but as a site of navigation to be explored. Told/Untold/Retold will be the first large-scale contemporary art exhibition in Doha.
Further information on Mathaf's opening exhibitions, events and programs will be announced in November 2010.
About Qatar Museums Authority
Under the leadership of His Highness the Emir, Sheikh Hamad Bin Khalifa Al-Thani, and led by its Chairperson, Her Excellency Sheikha Al Mayassa bint Hamad bin Khalifa Al-Thani, the Qatar Museums Authority (QMA) carries out a multi-faceted program that celebrates Qatari identity, builds understanding across borders and welcomes the world to Doha.
In addition to Mathaf, QMA currently oversees the renowned Museum of Islamic Art designed by I.M. Pei (opened in 2008), the construction and development of the new National Museum of Qatar (designed by Jean Nouvel), archeological research projects throughout the nation, and the development of future projects.
About Qatar Foundation and Education City
Qatar Foundation was established in 1995 by His Highness the Emir, Sheikh Hamad Bin Khalifa Al-Thani, with a threefold mission of education, scientific research and community development. Chaired by Her Highness Sheikha Mozah Bint Nasser Al-Missned, wife of the Emir, Qatar Foundation's flagship project is Education City, a 1,000-hectare (2,500-acre) campus on the western edge of Doha.
Institutions operating in Education City include the Qatar Academy, the Qatar Leadership Academy and The Learning Center, all serving students from childhood through secondary school; the Qatar Faculty of Islamic Studies; and branches of Weill Cornell Medical College, Texas A&M University, Virginia Commonwealth University, Carnegie-Mellon University, Georgetown University School of Foreign Service, and Northwestern University.
Mathaf : Arab Museum of Modern Art Qatar images + Information received 290910
Location: Doha, Qatar
New Architecture in Qatar
Contemporary Qatar Architecture
Qatar Architecture Designs – chronological list
Doha or Ad-Dawhah / Ad-Dohah is the capital city of Qatar
Qatar Architecture – Selection
Qatar Auto Museum, Lusail Express Way
Designs: OMA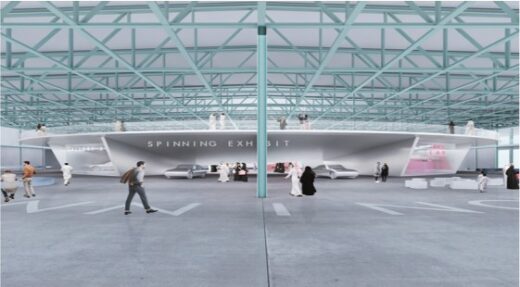 image courtesy of architects practice
Qatar Auto Museum by OMA
Museum of Islamic Art, Doha
I M Pei architect
Museum of Islamic Art Doha
National Museum of Qatar Building
Jean Nouvel, architects
National Museum of Qatar Design
Aspire Tower, Sports City, Doha
Hadi Simaan and AREP, architects
Aspire Tower Doha
Barwa Financial District, Doha
KEO International Consultants
Barwa Financial District Doha
Qatar Science and Technology Park – QSTP Building
Woods Bagot architects
Qatar Science and Technology Park
World Cup Stadiums FIFA 2022 – Buildings
AS&P, ProProjekt and Serviceplan
Museum of Islamic Art Doha architect : I M Pei
Museum of Islamic Art Education Wing library architect : Jean-Michel Wilmotte & Associés
Comments / photos for the Mathaf : Arab Museum of Modern Art Qatar Architecture design by Jean-François Bodin page welcome