Windmill Primary School Learning Garden, Headington Building, Oxfordshire Landscape Design
Windmill Primary School, Headington : Learning Garden
Learning Garden in Oxford, UK – opening by English author Philip Pullman
2 Jun 2011
Their hi-tech materials…DuPont™ Corian® tells a colourful tale in the new 'Learning Garden' at Windmill Primary School
Windmill Primary School
May 2011 – When Windmill Primary in Oxford unveiled its playful new 'Learning Garden,' award-winning author, Philip Pullman, renowned for the popular His Dark Materials trilogy, was on hand to help celebrate a project designed to inspire creativity with language.
Over six months, the school has transformed an unused stretch of land behind the bike sheds into an enchanting garden where children can choose their own story and explore their imaginations outdoors. A key feature of the space, is an array of colourful posts and blocks made from DuPont™ Corian® hi-tech surfaces and engraved with lettering to suggest the spines of books in a library.
Author Philip Pullman opens the Learning Garden at Windmill Primary School, Website: Headington, Oxford: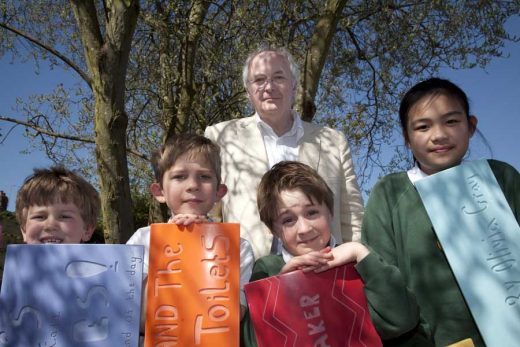 photograph courtesy of Creative Junction. All rights reserved
Conceived by Creative Partnerships, a programme connecting professionals in the arts and sciences with schools, the project brought together the children of Windmill Primary with students at Bucks New University and was supported by the Arts Council and businesses such as DuPont™ Corian® and Blanchford Building Supplies.
The ideas were developed in a creative collaboration that also included artists and filmmakers, resulting in an inspiring environment in which the children can actively participate. Richard Chamberlain of Creative Junction and Andrew Spooner, School Co-ordinator, played key roles in bringing the project together.
The Learning Garden at Windmill Primary School, Headington, Oxford, featuring 'Story' posts made from, DuPont™ Corian® in a variety of colours from the 100-strong palette and engraved with words chosen and drawn by the children:



photograph courtesy of Creative Junction. All rights reserved
The elements of the garden created from Corian® were designed and made by undergraduates from the BA (Hons) Furniture: Design & Craft at Bucks New University, with guidance from Phil Hutfield, of the DuPont™ Corian® technical team. Selecting a series of vibrant hues from the 100-strong colour palette for Corian®, the team fabricated the curved 'book' spines' using CNC technology to create the desired lettering effects, as drawn by the children.
Corian® is well suited to the project in several key ways, from the colour choice, to the design versatility, to its strength, UV and graffiti resistance together with its ability to be repaired should any damage occur.
Andrew Shenton, Senior Lecturer in Furniture at Bucks New University, said: "The garden is a unique environment where children can walk along different paths and use question posts and other outdoor learning materials, such as sentence builders, character blocks and drawing walls, to help develop their ideas. The entrance fence is particularly enchanting as it represents a book shelf of the children's favourite and in some cases, imaginary, book titles."
"The graphics for the book spines were taken directly from the children's drawings and reproduced on CNC machines at the university using DuPont™ Corian®, a colourful, durable material very popular with designers. The garden is aimed at helping children learn how to tell a story by building the narrative and presenting dilemmas and resolutions.
Each phase of the process is represented by question and character posts, sentence builders and drawing walls. It is an exciting project which the students have thoroughly enjoyed taking part in and which will provide enjoyment and wonder for generations to come."
Windmill School Learning Garden images / information received 020611
Location: Windmill Primary, Headington, Oxford, England, UK
DuPont Corian
About DuPont Corian (www.corian.com) – First marketed as a high performance solution for kitchen and bathroom worktops, DuPont™ Corian® is now a leading global brand in superior quality surfacing materials for design, architecture and furnishing, a solution chosen worldwide by thousands of architects, designers and companies and by millions of consumers.
The continuous investment and creativity of DuPont in research and technology, product innovation and new applications have made DuPont™ Corian® a design tool offering exceptional versatility and almost limitless possibilities. From kitchens to lamps, from bathrooms to the skin of buildings, from seating to domotic systems, from radiators to touch control surfaces, from tables to furnishing and fashion accessories…: the "magic" of DuPont™ Corian® can be found in an extremely wide variety of products, systems and objects. And the list keeps on growing…
DuPont™ Corian® (the whole range or specific types) has received important independent certification for its environmental performance (such as GreenGuard®, NAHB North American Builders Association, U.S. Green Building Council's LEED® Green Building Rating System, ISO 14025 Green Choice, Scientific Certification Systems for the series with recycled content). Its hygienic performance has also been certified by prestigious independent institutions (for example, by NSF International, The Royal Institute of Public Health and LGA QualiTest).
About DuPont – DuPont is a science-based products and services company. Founded in 1802, DuPont puts science to work by creating sustainable solutions essential to a better, safer, healthier life for people everywhere. Operating in more than 90 countries, DuPont offers a wide range of innovative products and services for markets including agriculture and food; building and construction; communications; and transportation.
For further commercial or technical information about DuPont™ Corian® in the UK: T: 0800 962 116 E:[email protected] www.corian.co.uk
The DuPont oval logo, DuPont™, Corian®, Enercor®, Energain®, Plantex®, Typar®, Tyvek® AirGuard® and Zodiaq® are registered trademarks or trademarks of E.I. du Pont de Nemours and Company or its affiliates.
Corian Designs
DuPont Corian Examples
Corian Sphere, England
Brørup Sparekasse, Denmark
The Cineroleum, London
Architectural Products
Building Products – chronological list
Architectural Product Designs – a recent selection featured on e-architect:
Libeskind House : Daniel Libeskind
Zaha Hadid Jewellery – Celeste Necklace
Comments / photos for the Windmill Primary School page welcome
Website: Headington Oxford