Tyvek UV Façade, Bristol Building Design, Open Joint Facade, DuPont Membrane Product News
Tyvek UV Façade in Bristol
DuPont Building Products News – Sustainable Timber-clad New Build in England, UK
12 May 2015
DuPont™ Tyvek® UV Façade offers discreet protection for a contemporary and sustainable timber-clad new build in Bristol
Tyvek UV Façade
May 2015 – An elegant open-jointed façade design demands not only high-performance protection but also a discreet subtlety that will not compromise the aesthetic vision. Thus when Point1 Building Systems were tasked with installing an attractive western red cedar cladding system to a residential extension conceived to blend with its environment, DuPont™ Tyvek® UV façade was the obvious choice of advanced breather membrane.
An open-jointed cedar facade by Point1 Building Systems for a discreet and sustainable new build in Bristol
benefits from a 'wrapping' of reliable and resistant DuPont Tyvek® UV Facade advanced breather membranes: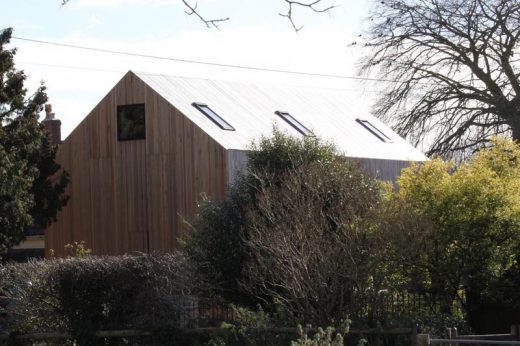 Tyvek UV façade in Bristol photo : DuPont™ Tyvek®, all rights reserved
Created especially for such applications, DuPont™ Tyvek® UV Facade was developed using the same unique technology that has made DuPont™ Tyvek® the market leading breather membrane. This innovative solution allows for greater freedom and confidence when designing ventilated facades and reliably protects against wind, water, interstitial condensation and air-leakage, while being resistant to UV damage and offering an entirely black finish. DuPont™ Tyvek® UV Facade bears the CE mark in accordance with EN 13859-2 and rigorous testing has shown it can withstand UV exposure for a very significant length of time.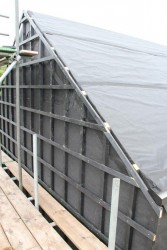 Tyvek UV façade in Bristol photo : DuPont™ Tyvek®, all rights reserved
The new structure is a two storey contemporary addition connecting to a period coach house in Long Ashton, Bristol, and is a self-build project designed to give the owners increased living space for their growing family. DuPont™ Tyvek® UV Façade has been installed directly behind the timber cladding and entirely wraps the structure, including the pitched roof.
DuPont™ Tyvek® Butyl tape was used to seal penetrations and DuPont™ Tyvek® UV Facade tape to seal the laps. Excellent thermal efficiency and airtightness were crucial factors in this environmentally conscious project, which has been built using the fully insulating Kingspan Tek SIPS system and which also features air source heat pumps and triple glazed panels.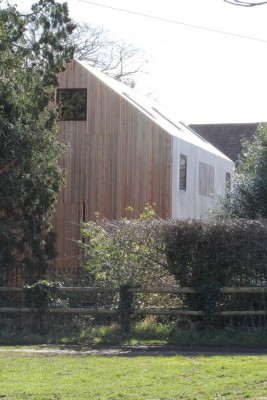 photo : DuPont™ Tyvek®, all rights reserved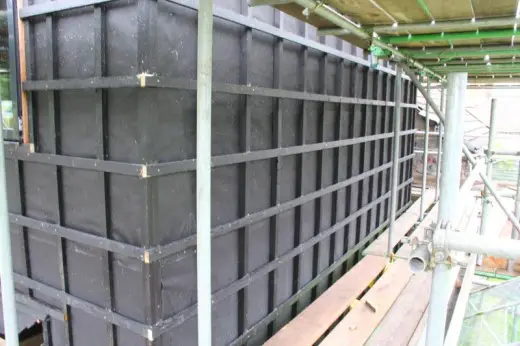 Tyvek UV façade in Bristol photo : DuPont™ Tyvek®, all rights reserved
Garry Dyke, Director of Point1 Building Systems explains, "The cladding was not continuous and therefore we needed a completely black, waterproof and UV-resistant breather membrane that would not be seen. DuPont provided excellent technical support and really helped us to develop the specification for installing the membrane. We positioned counter battens vertically up and horizontally across the roof slope to accept the 44 x 18mm Western Red Cedar Cladding. We then laid battens over counter battens, also all stained black in order to match the subtlety of the membrane."
Garry continues, "Our installation team found this to be a very robust membrane that was easy to work with, what's more DuPont offers a good range of supporting seals and trims to assist in minimising puncturing etc. Altogether this is a superbly insulated project, in addition to DuPont™ Tyvek® UV Façade and the Kingspan TEK142 wall and roof panel system, we also installed a 25mm layer of TP10 (Thermapitch) to further reduce thermal bridging and improve heating response times. Overall we have achieved impressive through wall U-Values of 0.15W/m².k."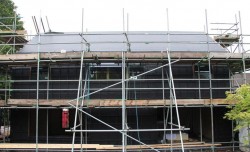 photo : DuPont™ Tyvek®, all rights reserved
Point1 Building Systems: T: 01283 88 650 www.point1buildingsystems.com
For more information about DuPont™ Tyvek® in the UK please visit: www. tyvek.co.uk
or call 01275 337 660 (087 922 2740 in ROI)
About DuPont™ Tyvek® (www.tyvek.co.uk) – Invented by DuPont research and development laboratories in the late '60s as a premium material for personal protection and packaging, DuPont™ Tyvek® is manufactured using a unique, proprietary technology, and has, over time been discovered and developed as ideally suited to a variety of further applications and markets. Around 1990, it was first adopted as a breather and water proof membrane for roofs and walls for building construction in certain countries in Europe.
Between 1990 and 1995, it was introduced to the Nordic Countries (Scandinavia), Switzerland, Germany and then to the United Kingdom. Today, DuPont™ Tyvek® is marketed in 35 countries in the Europe Middle East and Africa region, in addition to the USA, Canada and many other countries in the other regions. In 2005, the entire range of DuPont™ Tyvek® membranes achieved CE certification, the first to do so in the building membrane market.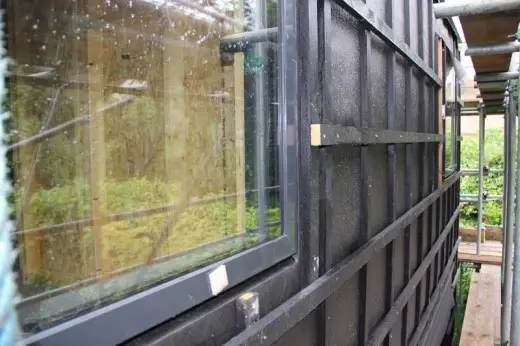 photo : DuPont™ Tyvek®, all rights reserved
About DuPont – DuPont (NYSE: DD; www.dupont.com) has been bringing world-class science and engineering to the global marketplace in the form of innovative products, materials, and services since 1802. The company believes that by collaborating with customers, governments, non-governmental organizations, and thought leaders we can help find solutions to such global challenges as providing enough healthy food for people everywhere, decreasing dependence on fossil fuels, and protecting life and the environment.
Location: Bristol, south west England, UK
DuPont Links
Tyvek FireCurb Membrane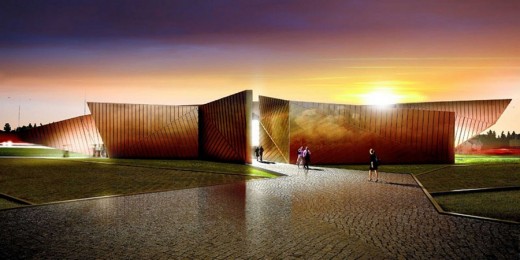 The Museum of Fire in Zory, Poland. Project: OVO Grabczewscy Architekci. Rendering: OVO Grąbczewscy Architekci. All rights reserved
Tyvek FireCurb Membrane
DuPont Tyvek Roofing Underlays Testing
Architecture in Bristol
Architecture in Bristol – architectural news for the area
Bristol Arena – Entertainment & Sports Venue
Design: Populous, architects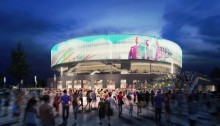 image courtesy of architects
Bristol Life Sciences Building, England
Design: Sheppard Robson Architects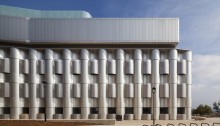 image courtesy of architects
Architecture Centre Bristol, South West England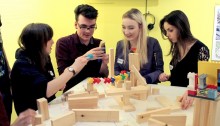 image from architects
Architectural Products
Libeskind House : Daniel Libeskind
Zaha Hadid Jewellery – Celeste Necklace
Comments / photos for the Tyvek UV Façade in Bristol page welcome