Modular Office Block Development, Extraspace Solutions Ireland, Hi-tech modules, Building Material Innovations Images
DuPont Tyvek Modular Office Block Development
DuPont Tyvek Extraspace Solutions Project in Letterkenny, County Donegal, north west Ireland
6 Jul 2016
Location: Letterkenny, County Donegal, Republic of Ireland
DuPont™ Tyvek® and DuPont™ AirGuard® tick all the right boxes for a new modular office block development by Extraspace Solutions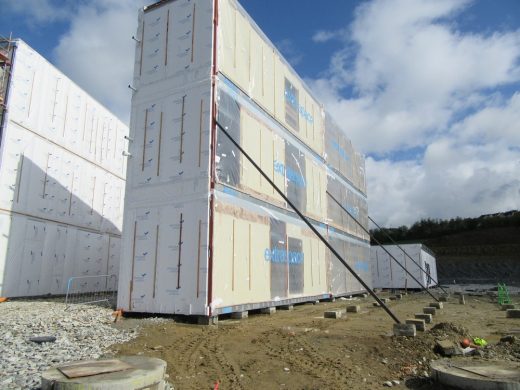 DuPont building membranes have been chosen to enhance efficiency, both in construction and performance, for a new modular office block project for Pramerica by Extraspace Solutions in Donegal
DuPont Tyvek Modular Office Block Development Design
Extraspace Solutions specialises in meeting the challenging demands of modern construction, especially when space is at a premium, by offering versatile, cost-effective and highly practical modular systems. One innovative new project is a 20 million Euro office development for Pramerica Systems Ireland Ltd in Letterkenny, County Donegal, Ireland that consists of 300 hi-tech modules – with the potential to increase this number incrementally to 420 as the business continues to grow.
Pramerica Systems Ireland is a technology and shared services subsidiary of U.S.-based Prudential Financial, Inc. Pramerica employs over 1300 people in Letterkenny, providing a range of essential computer-technology and client-contact services to Prudential's global operations.
There are three separate three-storey blocks, each with a footprint of 51m x 24m and each steel-frame module measures 12.2m long x 2.9m wide. Designed to achieve specifications above and beyond building regulations, each unit aims for maximum efficiency and benefits from the proven performance of DuPont building membranes.
The advanced breather membrane Tyvek® Soft is used as the external weather proofing shield (and has been specially branded with the Extraspace Solutions logo, which remains visible during the build process) while the high-performance air and vapour control layer DuPont™ AirGuard® Reflective enhances the airtightness of the structure.
Capitalising on the advantages of off-site construction methods, the modules are delivered to site already wrapped in these robust yet lightweight membranes and the envelope is then fully sealed using DuPont tapes and accessories, especially where any apertures and penetrations may have been made. This solution creates a reliable water shedding external layer in the form of the unique and enduring properties of DuPont™ Tyvek®, which also allow water vapour to escape naturally to the atmosphere.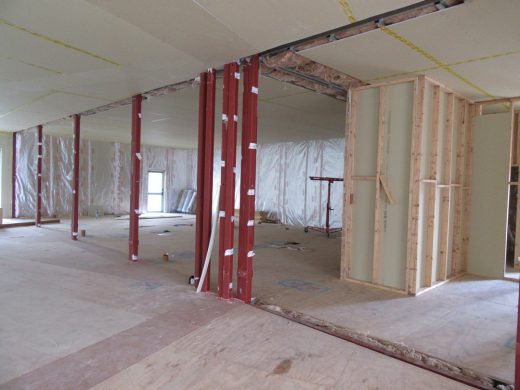 The interior walls of the modular office units by Extraspace Solutions feature DuPont™ AirGuard® Reflective metallised AVCL to create airtightness and enhance thermal performance and interior comfort
Once on site the modules are then externally clad with a rendered system and core insulation is added to the interior, safe in the knowledge that it will be protected for the long term and its performance enhanced by the market-leading membrane. The interior facing walls of the pods are then sealed with DuPont™ AirGuard® Reflective, an innovative metallised AVCL which offers 100% airtightness and low emissivity, to enhance both thermal efficiency and interior comfort.
Extraspace Solutions are aiming to achieve an airtightness value of for the project and DuPont™ AirGuard® was chosen, according to Stevin Tedstone of Extraspace "For its overall performance as well as being the only reflective AVCL with both a warranty and a BBA certificate.
The combined membrane solution is both easy to install and ideal for achieving maximum efficiency for offsite construction and lasting performance. We have long experience of working with the DuPont™ Tyvek® products and that reliable technical backup, together with excellent relationships, gives us all peace of mind."
Stevin adds, "What's more, when architects and professionals know we are using DuPont membranes, it ticks all the boxes for them as it guarantees all the specs and paperwork data will be in place. We will continue to work with Tyvek® and AirGuard®, especially for some of the exciting public and private sector projects we have coming up in the London area."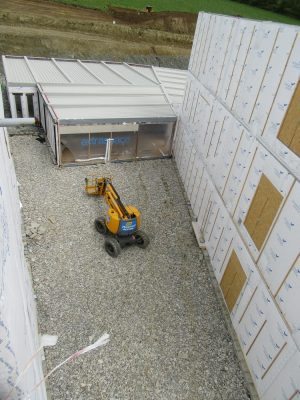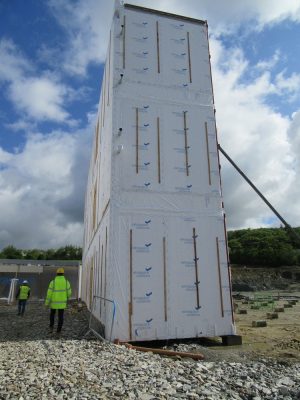 Offsite construction of modular units means maximum onsite efficiency. DuPont™ Tyvek® membranes (with the customer's logo) wrap a new office block project for Pramerica by Extraspace Solutions in Donegal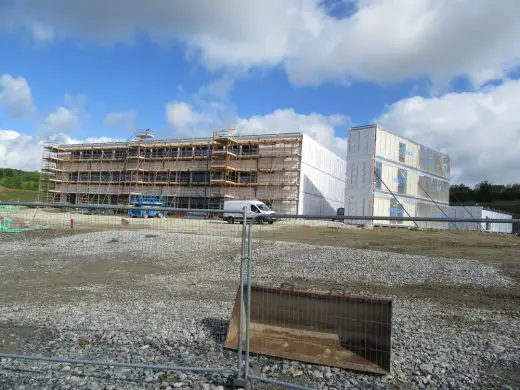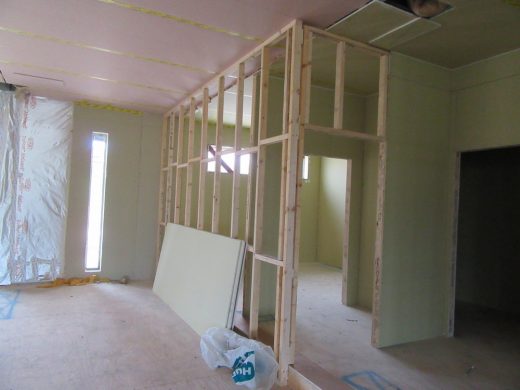 A new office block development in Donegal for Pramerica System Ireland Ltd by Extraspace Solutions benefits from advanced and high performance DuPont building membranes
DuPont™ Tyvek® is distinctive in many vital ways from its hi-tech naturally breathable composition, to its renowned long term functionality. Both DuPont™ AirGuard® and DuPont™ Tyvek® also come with expert technical guidance and with the added peace of mind of a comprehensive range of certification and building regulation compliance.
About Extraspace Solutions: Established in Dublin in 1993, Extraspace Solutions is a Leading Provider of Fast Track Offsite Solutions throughout the UK and Ireland, providing a total design & build package, incorporating all of the latest technological innovations. Be it fast track, modular or off site Extraspace Solutions work to develop the most efficient and Environmentally Sustainable Buildings in the Market. the company's Agrément Certified Steel Structure enables bespoke turnkey solutions. The design team, working in Revit, offers full BIM Technology and can deliver a full design service including Planning applications, Building Control, BREEAM, SBEM and Structural Certification. www.extraspacesolutions.com
About DuPont™ Tyvek® Invented in the DuPont research and development laboratories, the DuPont™ Tyvek® family of advanced building membranes are distinctive in several key ways that make them ideal for today's construction projects. All the crucial requirements for a high-performance breather membrane are embodied in DuPont™ Tyvek® which is unique in the market because of its high-quality single layer construction.
DuPont™ Tyvek® is naturally vapour open but also wind and water-tight due to its composition of millions of micro fibres bonded together to make a "maze" that's impermeable to air and moisture but allows water vapour to pass through its natural pores. Lightweight yet robust, DuPont™ Tyvek® is easy to install to exterior walls and roofs and offers long term proven reliability and durability. Designed to protect the building envelope against the effects of weather and moisture, the membranes also offer optimal air-tightness and can help to improve the thermal performance, energy-efficiency and interior climatic stability and comfort of a building.
For more information about DuPont™ Tyvek® in the UK please visit: www.construction.tyvek.co.uk or call 01275 337660 (087 922 2740 in ROI)
DuPont Tyvek Modular Office Block Development images / information received 060716
Location: Letterkenny, County Donegal, northwestern Ireland
DuPont Corian
DuPont Product Links – Selection
Corian High-Tech Surface
Corian® High-Tech Surface
Corian Sphere, England
DuPont Tyvek Roofing Underlays Testing
Selection of Architectural Products featured on e-architect
Libeskind House : Daniel Libeskind
Zaha Hadid Jewellery – Celeste Necklace
Comments / photos for the DuPont Tyvek Modular Office Block Development page welcome
Website: Tyvek