CDUK Corian Cover Competition Results, Show-Stopping Building Materials Images
CDUK Corian Cover Competition Results 2019
Photographic Contest Winners, London – Building Materials
30 Mar 2019
Location: UK
How do you become a cover star?
By making the most of everything that makes Corian® so special.
CDUK Corian Cover Competition
Earlier this year exclusive Corian® distributor CD (UK) Ltd. launched a photographic competition to find the most show-stopping projects to feature on the company's 2019 price list. The company asked fabricators to submit images of their most impressive work for consideration – with opportunities to star on either the front or the back cover.
"We were delighted with the number and quality of entries," says Head of Marketing, Leisa Marr, "it was fantastic to see so many of our customers get behind this initiative and take such pride in the work they do with Corian®. As excited as we were by the response, this also made the judging process really tough, but we put our heads together, did a lot of debating and at last came up with the two winning projects."
The winning projects are an elegant kitchen/living design by Arthouse Creative Interiors Ltd., with Corian® fabricated by Bluestone Worktops Ltd., and a stunning 'floating' staircase installation designed by Adams + Collingwood Architects Ltd., with Corian® fabricated by Timberfusion Ltd., and installed by Fivestars Ltd.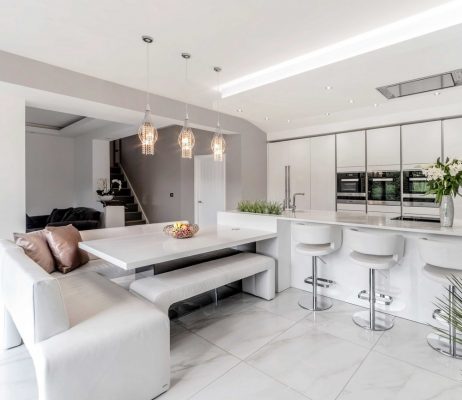 Front cover winner: Fabricator: Bluestone Worktops Ltd. Designed by: Arthouse Creative Interiors Ltd.
"What these two projects demonstrate," adds MD Gary Baker, "is not only the beauty and elegance of Corian® but also its extraordinary versatility. They show that Corian® is both easy to work with in terms of achieving a bold creative vision, and also a pleasure to live with. These installations are not only strikingly modern, they have a timeless quality and will keep performing for the long-term."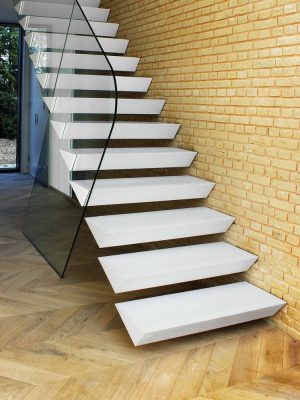 Back cover winner: Fabricator: Timberfusion Ltd. Installer: Fivestars Ltd., Architect: Adams + Collingwood Architects Ltd.
The kitchen design will take its place on the front cover of the price list, expressing a dynamic use of the material and its seamless joining capabilities. Meanwhile its smooth, tactile, easy-care finish, and streamlined aesthetics emphasise how much added value Corian® can bring to a renovation project – and to the lifestyle of its end users.
On the back cover, the dramatic cantilevered staircase project with its extruded 'pyramids' of Corian® embodies the material's key strengths in a variety of ways, as it succeeds here both decoratively and structurally. (With no worries about wear and tear from footfall, as Corian® is robust, resistant, easy to maintain – and even to repair if necessary.)
"Corian® has been optimised and explored by the fabricator, design and architectural community for many years now," Gary continues, "Yet we are always encouraged by all the many ways in which it continues to reveal its considerable merit."
Jo Taylor of Arthouse, who designed the winning kitchen adds, "We were delighted to win the cover star competition, it's a really great idea to run something like this as it got us excited about our project again, and the client too. Corian® is a fantastic, high-quality product to work with and in this project, it blends so beautifully with the Siematic furniture and it was the ideal material for the fold-down cantilevered table feature, with the sleek seamless finish that it offers."
Tom Grandison of Bluestone Worktops Ltd adds, "We encourage design and creativity when delivering bespoke worktop solutions and we love working with Corian® because of its infinite possibilities and outstanding aethestics. We're proud to be a member of the Corian® Quality Network and to work alongside CDUK in installing impressive Corian® projects across the UK. Our whole team is delighted to have won the Cover Competition and would like to applaud all at Arthouse for their fantastic work in raising the bar for interior design."
Ross Allen of Timberfusion, who created the dramatic staircase says, "We are really pleased to have won, it's great to see our work make the cover and great to know that so many people have been impressed by it! We chose to work with Corian® because this is a completely new build contemporary home with finishes such as wood and stone, but we were particularly impressed by the seamlessness of Corian®, and how easy it is to make compact shapes that look like stone, but in a modern material that also offered the weight saving values. This was particularly useful in this application, as was the fact that, unlike stone, if somehow there was to be any damage, it could be simply repaired on-site."
The 2019 price list goes live from April 1st and is one of the first initiatives in a very significant year for CDUK, which celebrates 40 years since it introduced Corian® to this country. 2019 promises to live up to its 'big year' billing for the company in many ways, with the new colour launch in April, plus further enhanced services from next day delivery to increased training options, and the introduction of several new solutions and accessories. Watch this space…
About CDUK: CDUK is the exclusive distributor of Corian® Solid Surface in the UK and Ireland and for over 40 years has been working closely with manufacturer DuPont to establish Corian® as the leader in its field, with an unrivalled reputation and a nationwide network of highly skilled fabricators. CDUK offers a complete service that includes superior training programmes and CPD Seminars, 24-hour delivery service to mainland UK from extensive stock holding, expert technical support and the supply of top-of-the-range and exclusive products, from tools and machinery to fittings and accessories. Based in Leeds and operating across the country, CDUK enables fabricator and design partners to transform both their projects and businesses by choosing to work with Corian® Solid Surface. (www.corian.uk)
CDUK: T: 0113 201 2240; [email protected]; www.cdukltd.co.uk; @cdukltd
CDUK Corian Cover Competition – Results! images / information received 300319
Location: United Kingdom
DuPont Corian
DuPont Product Links – Selection
Deep Titanium Corian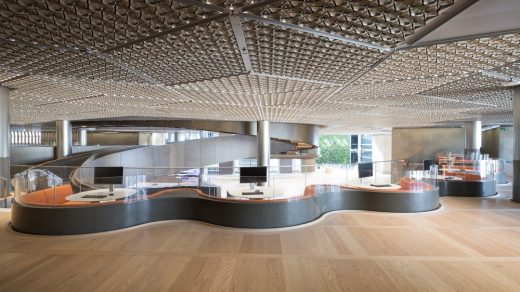 photo courtesy of Bloomberg, all rights reserved
Corian in the prize-winning Bloomberg HQ
Corian Primo Basins & Troughs for Bathrooms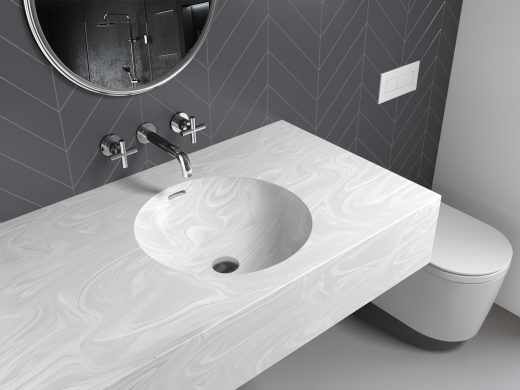 Primo Bespoke Basin, integrated to a bespoke vanity unit, both in Corian® Grey Onyx
Corian Primo Basins
Corian High-Tech Surface – New Colour Palette
Corian® High-Tech Surface
Corian Colour Evolution Milan Design Week
Corian Colour Evolution Milan Design Week
Corian Sphere, England
Selection of Architectural Products featured on e-architect
Formtexx – Manufacturing double-curvature surfaces
Formtexx
2D to 3D Visualisation Software for Architects & Building Professionals
Architectural Design Software
Comments / photos for the CDUK Corian Cover Competition – Results! page welcome
Website: Corian