ARCON 3D Architect Pro, Architectural design software, Architects CAD Tool for buildings
ARCON 3D Architect Pro
Eleco 2D/3D building design software: Architecture CAD Tool
10 Jan 2012
2D to 3D Visualisation Software for Architects & Building Professionals
CAD application

ARCON 3D Architect Professional Software
A powerful and extensive CAD package for all aspects of building design, our Arcon Visual Architect Edition is the most flexible design package we provide. The Architect Edition has been created following extensive research with our experienced users and architects to ensure that it easily fulfils the most demanding set of requirements.
Complex customisation options, huge scope for complex multi-level buildings and large scale developments means that this is the only CAD solution you will require.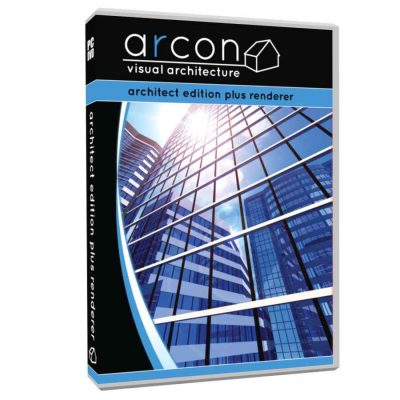 Fully scoped to allow for large scale projects as well as simple domestic designs, our Architect Edition building design software is ideal for quickly creating designs to meet your clients brief. Additionally, the inclusion of automatically generated elevations and 3D models enables you to quickly meet the requirements of the most demanding of clients.
The speed and simplicity of making changes to plans means that as requirements evolve, you can evolve plans to meet them, resulting in satisfaction for your customers.
• Powerful and quick to learn building design tools to suit your requirements
• Compliments any existing CAD software or use standalone
• Ideal introduction to CAD for first time users
• AutoCAD® compatibility
• Produce professional plans, elevations and cross sections. Amend plans quickly and easily
• Generate 3D models in a single click
• Examine exteriors and interiors using the 3D walk through feature
• Produce exceptional quality 3D visualisations with ambient shadows, real-time shadows/reflections and Photoshop® Plug-ins
• 3D Rendering service available
Contact Eleco Software Ltd
Web: www.3darchitect.co.uk Tel: +44 (0)1252 339132 Sales contact: [email protected]
ARCON Architectural visualisations / information from Eleco
Architectural Products
Selection of Architectural Products featured on e-architect
Base Classics – Modern Architectural Furniture
Modern Architect Furniture
Base Furnishings Limited T/A Base Classics is an online retailer and wholesaler of both reproduction Design classics and contemporary furniture which enables us to sell at competitive prices. The products we sell are sourced by our experienced in-house team, to ensure our products are of a very high standard and are made only of the finest quality materials.
Memco's Elite elevator safety systems
Elite elevator safety system
Global elevator safety and communications specialist Memco's Elite elevator safety systems are to be installed in 74 elevators at Indira Gandhi International Airport's new Terminal 3 in New Delhi, India. The systems will be fitted to elevator doors supplied by ThyssenKrupp Elevator.
FlexiDry Global Limited – Accelerated Screed System
FlexiDry
Using FlexiDry also allows the screed to be laid at a reduced thickness compared to standard cementitious screeds meaning fewer materials are needed per project reducing costs and carbon footprint. Being a high concentrated, low volume, non hazardous liquid, it is just added to the screed mixture on site, on demand, giving minimal wastage.
Formtexx – Manufacturing double-curvature surfaces
Formtexx
Artemide lamp – Genesy : Zaha Hadid Architects
Kanera sink design : GRAFT
Comments / photos for the ARCON 3D Architect Pro Architectural design software page welcome