AirGuard for Passive Treehouse in UK, Building Material Images, Grand Designs Passive house standard home
AirGuard for Passive Treehouse in UK
Steel and Timber Framed House using DuPont Tyvek and DuPont AirGuard – Building Envelope News
31 Jan 2017
Aiming High with a Grand Design: DuPont™ Tyvek® and DuPont™ AirGuard® ensure great results for the UK's first Passive Treehouse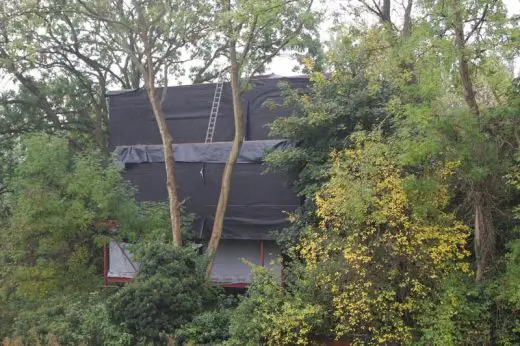 As seen on Channel 4's Grand Designs, DuPont building membranes wrap an ambitious residential project that aims to be the UK's first passive tree house, thus protecting the build while also enhancing performance.
AirGuard for Passive Treehouse
One of the star turns on Grand Designs recently was the spectacular Treehouse project, built to meet passive house standards and set 40 feet into the forest canopy. Designed as a much-loved home and also to operate as a B&B, this blue-sky concept was naturally built to the highest standards of sustainability and efficiency.
Steel and timber framed, with open-jointed timber cladding to blend into its environment, the design demanded the very best from its building envelope. Therefore, a range of DuPont™ Tyvek® advanced building membranes and accessories were specified to both protect the structure during the build and to maximise airtightness and thermal performance once occupied.
Considering the location and style of the project, a key choice of membrane was the highly specialised Tyvek® UV Façade option, a totally black breather membrane designed to withstand exposure to sunlight. Fully certified and rigorously tested, this option is ideal for ventilated facades, allowing for the optimal combination of design freedom and peace of mind.
Fitted at first floor level directly behind the elegant timber cladding of the treehouse, Tyvek® UV Façade™ will maintain its high performance for many years to come. Fitting a Tyvek® membrane in this way also protects the insulation from the effects of windwashing – a process that is known to reduce its performance and which can increase a structure's U value by up to 80%.
At ground floor level, Tyvek® Housewrap™ has also been applied externally to sit behind the steel cladding and act as a secondary water shedding layer while also diffusing moisture to the exterior. Watertight but naturally vapour-permeable, Tyvek® membranes offer proven long-term performance in both these crucial functions.
In each application of the different membranes used here, all laps and penetrations have been carefully sealed (correct installation and maintenance being a key aspect of 'performance as designed') using UV Façade tape on the exposed areas and Tyvek® tape to the areas protected by the Tyvek® Housewrap™.
Internally, in order to create an airtight seal and act as a moisture barrier, a systemised partnership has been installed consisting of DuPont™ AirGuard® Smart AVCL and Tyvek® Flexwrap to adapt to the more challenging sections (together with the appropriate specialised tapes and sealants.) As expected the initial airtightness results have been outstanding, achieving an impressive figure of 0.32 ACH. DuPont™ AirGuard® Smart AVCL is both fully airtight and water resistant and adapts its vapour resistance as humidity levels change, giving buildings maximum protection against structural damage caused by humidity.
Project owner Jon Martin said "I was aware that there can be a big difference between the finished product and the design on paper and I was determined that the fabric of the building was correct. I knew that DuPont had a full range of both internal and external membranes but this is complimented with a wide range of accessories and tapes. These have been essential for the building to achieve our goal of it being the first passive tree house in the UK."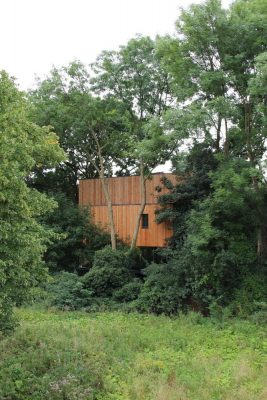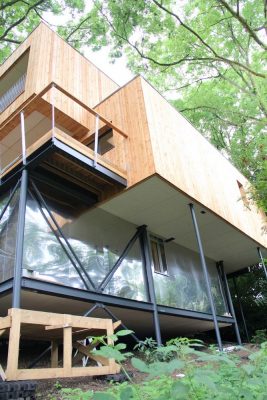 The Caravan Treehouse in Dursely, Gloucestershire features an envelope wrapped in a range of hi-tech DuPont building membranes to achieve high standards of sustainbility, airtightness and thermal efficiency
http://dursleytreehouse.co.uk/ http://www.channel4.com/programmes/grand-designs/episode-guide/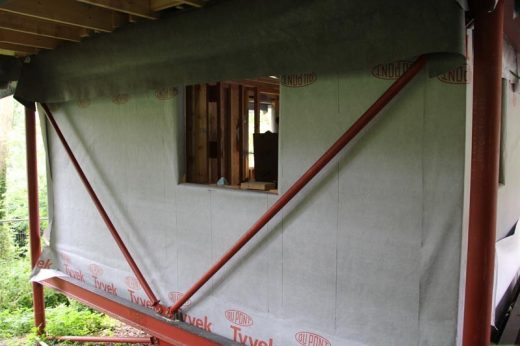 DuPont building membranes have been chosen to enhance efficiency, both during construction and in performance, for the UK's first passive treehouse, which played a starring role in 2016's Grand Designs
DuPont™ Tyvek® is distinctive in many key ways, from its hi-tech naturally breathable composition, to its renowned long-term functionality. Both DuPont™ AirGuard® and DuPont™ Tyvek® also come with expert technical guidance and with the added peace of mind of a comprehensive range of certification and full building regulation compliance.
For more information about DuPont™ Tyvek® in the UK please visit: https://www.dupont.co.uk/building.html or call 01275 337 660 (087 922 2740 in ROI)
Lightweight yet robust, the building product is easy to install to exterior walls and roofs and offers long-term proven reliability and durability. The membranes:
– offer optimal air-tightness
– improve the thermal performance
– improve the energy-efficiency
– improve the interior climatic stability
– improve the comfort of a building
Location: UK
DuPont Corian
DuPont Product Links – Selection
Corian High-Tech Surface
Corian® High-Tech Surface
Corian Sphere, England
Selection of Architectural Products featured on e-architect
Libeskind House : Daniel Libeskind
Zaha Hadid Jewellery – Celeste Necklace
English Houses Designs
New English Architectural Designs : current, chronological list
English Residential Architecture
Kite House, near Salisbury, Wiltshire, Southern England
Design: AR Design Studio, Architects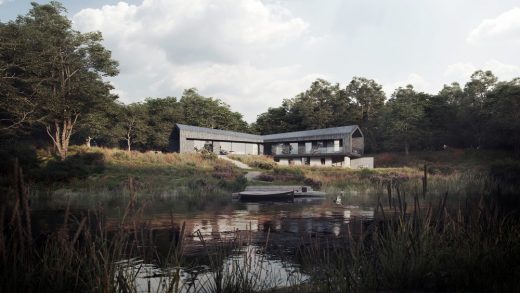 picture courtesy of architects office
House on River Avon
Backwater House, Norfolk, Southeast England
Design: Platform 5 Architects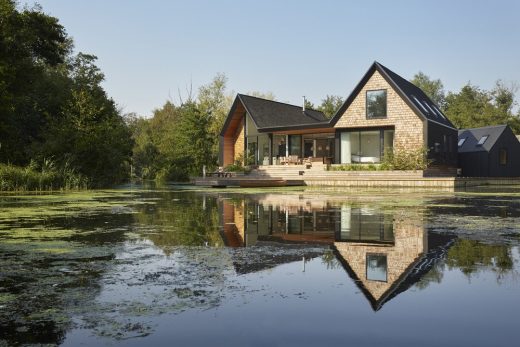 photograph © Alan Williams
Backwater House on the Norfolk Broads
Comments / photos for the AirGuard for Passive Treehouse in UK page welcome
Website: Tyvek