Congress Centre Estoril, Architect, Portuguese Pavilion Images, Arquitetos, Architecture
Estoril Congress Centre, Portugal
Portuguese Convention Center Building design by Regino Cruz Architects
25 Jan 2011
Design: Regino Cruz Architects
Photos: Rui Morais de Sousa
English text (scroll down for Portuguese):
Congress Centre Estoril
Estoril Congress Centre
The Estoril Exhibition and Congress Centre is the 1998 international competition-winning project for DTCE, promoted in order to create an additional focus of economic growth and tourist development in the Estoril region. A key element for this new increase, the Congress Centre is modern, functional, of high quality, innovative, lasting and in harmony with its surroundings.
The facility was designed to hold the great majority of events. Its flexibility of use and state-of-the-art equipment allows it to adapt to specific requirements. It offers whole new technical infrastructures to satisfy the highest demands. It is thus possible to ensure that the Estoril Congress Centre is one of the most advanced in terms of technology, operations and multifunction ability in the market.
Urban Blending
The Estoril Congress Centre enjoys a privileged location in a sophisticated tourist resort, thoroughly blending in with the landscape. The building cannot be seen from a distance, but the palm tree-lined avenue leading up to it, enhances the approach and, once close up, the visitor's interest is then aroused by the building's interiors. The transparent envelope also enables visitors inside to look out onto the surrounding greenery and makes interior spaces seem larger, particularly the entrance atrium, the exhibition hall and the area around the auditorium.
Concept
Given the end-use of the building, it was necessary to convey an institutional, expressive image. A sweeping canopy roof connects its two main volumes. A series of long sculptural glulam 60 meters beams lend the exhibition area a parallelepiped, quasi-transparent body. The auditorium is in the shape of a cut-off cylinder surrounded by a peripheral passageway. By contrast, the congress meeting-rooms facilities and the administrative and office areas, are in a contiguous tall, thin, opaque volume sitting above the retail area that opens onto an exterior square looking to the Casino fountains and gardens. Due to its characteristics, dimension, capacity, and the best use of the interior space available, the Estoril Congress Centre enables visitors to participate in important exhibitions, conferences, trade fairs and festivals.
Estoril Congress Centre – Building Information
site area: 6.300 m2 built area (above ground) 12.174 m2 built area (below ground) 8.962 m2 gross construction area 21.136 m2 exhibition hall area 6.500 m2
capacity multipurpose hall 1.000 to 1.200 seats auditorium 600 seats congress meeting rooms(20) 40 to 400 seats
Technical Data client DTCE – Desenvolvimento Turístico da Costa do Estoril, E.M. architecture REGINO CRUZ – Arquitectos e Consultores, S.A. structural and building services engineering TECHNIP Portugal, S.A. acoustics Pedro Martins da Silva e Associados Engenharia de Acústica e Ambiente, Lda. site supervision SOJEFER – Projectos e Construção, Lda. contractor FERROVIAL AGROMAN, S.A.
Centro de Congressos do Estoril
1.º Prémio em Concurso Internacional e galardoado, entre várias outras distinções, com o Prémio "Excelente em Inovação e Qualidade Arquitectónica", no Concurso "Óscares" do Imobiliário Português, em 2002. Situa-se numa zona turística por excelência, na costa de Lisboa e ao lado do famoso Casino do Estoril, desfrutando dos seus magníficos jardins. Com 21.000 m2 de área construída, apresenta um design arrojado e único, de grande transparência para o exterior e com plena flexibilidade de ocupação. A estrutura, em madeira "lamelada colada", ostenta vigas com 60m de comprimento.
Estoril Congress Centre
1st Prize in International Competition, winner of the "Excellency in Innovation and Architecture Quality Prize" at the Portuguese Real-Estate "Oscar" Competition in 2002, among other awards, the Estoril Congress Centre is located on a very prominent tourist site in the Lisbon coast, next to the famous Casino, granted with the surrounding gardens and sea views. The main purposes for the design of this 21.000 m2 building were transparency and high flexibility of use. Its bearing structure boasts 60-meter glulam beams.
Portuguese text:
Centro de Congressos do Estoril
Introdução
O Centro de Congressos do Estoril foi o projecto vencedor do Concurso Público Internacional, promovido em 1998 pela DTCE – Desenvolvimento da Costa do Estoril, E.M.. O desenvolvimento da arquitectura do Centro de Congressos do Estoril inseriu-se nos mais actuais modelos de funcionalidade, visando um complexo regido por elevados padrões de qualidade. Dotado de um desenho arquitectónico inovador e marcante, o edifício reflectiu a vanguarda das tecnologias de construção, tendo em conta a necessária integração na envolvente. Desenvolveu-se uma solução de grande flexibilidade e com a máxima rentabilização do espaço interior. Constata-se também que o projecto foi concebido num cenário de gestão racional das necessidades energéticas.
Enquadramento Urbanístico
A implantação do Centro de Congressos do Estoril visou valorizar a Entrada Principal pelo seu enquadramento na forma arquitectónica do edifício, aproveitando também a praça pedonal existente, como zona de desafogo para as entrada e saída dos eventos, evidenciando-se, deste modo, o espaço público exterior. Paralelamente, a orientação da Entrada Principal favorece o acesso ao futuro Parque de Exposições e grande Auditório do Estoril. Para os utentes que se encontram no interior, a transparência nas fachadas possibilita a percepção da flora existente no entorno; criou-se um alargamento subjectivo do espaço interior; com esta transparência, o átrio principal, o salão de exposições e a área circundante do auditório, parecem ter maiores dimensões.
Concepção Geral
Este edifício integra-se na envolvente do local. A sua concepção geral foi regida por princípios de simplicidade de funcionamento e exequibilidade. Procurou-se uma geometrização das formas construtivas em geral, evidenciando as relações volumétricas e estruturais. Tratando-se de um projecto que visou dar corpo a um equipamento de relevo, a arquitectura desempenha o papel necessário e conveniente para esta finalidade.
Assim, uma sucessão de pórticos em madeira "lamelada colada" estrutura uma volumetria paralelepipédica bastante transparente, que envolve o hall de exposições. O Auditório assume-se como um cilindro que intercepta a curvatura branda da cobertura. Em contraste volumétrico com o edifício principal mas, em estreita comunicação, existe um corpo esguio, mais opaco, que inclui as salas de reuniões de apoio a congressos e a administração do Centro, em cujo embasamento se desenvolve a área comercial. As lojas, dispostas em galeria, estão abertas para uma praça exterior, direccionada para os espelho de água e jardins do Casino do Estoril.
Ficha do Empreendimento
área do lote: 6.300 m2 área bruta construída (acima do solo): 12.174 m2 área bruta construída (abaixo do solo): 8.962 m2 total área bruta construída: 21.136 m2
salão de exposições área total: 6.500 m2
lotação das salas sala polivalente: 1.000 a 1.200 lugares auditório: 600 lugares salas de reuniões (20 salas): 40 a 400 lugares
Ficha Técnica
cliente DTCE – Desenvolvimento Turístico da Costa do Estoril, E.M. arquitectura REGINO CRUZ – Arquitectos e Consultores, S.A. estrutura e instalações técnicas TECHNIP Portugal, S.A. acústica Pedro Martins da Silva e Associados Engenharia de Acústica e Ambiente, Lda. fiscalização SOJEFER – Projectos e Construção, Lda. construção FERROVIAL AGROMAN, S.A.
Estoril Congress Center images / information from Regino Cruz Architects
Location: Estoril, Portugal
New Portuguese Architecture
Contemporary Portuguese Architecture
Portuguese Architecture Designs – chronological list
Arade Congress Centre, Parchal, Algarve
Miguel Arruda Arquitectos
Arade Congress Centre
Lisbon Architecture Tours by e-architect
Portuguese Architecture – Selection
Paradinha Cabins, Porto, northern Portugal
Architects: SUMMARY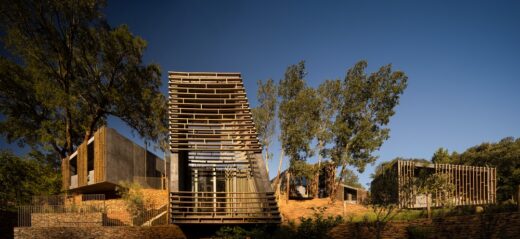 photo © Fernando Guerra_FG+SG
Paradinha Cabins, Arouca
MG Coudelaria, Minho Region, Northern Portugal
Architecture: Visioarq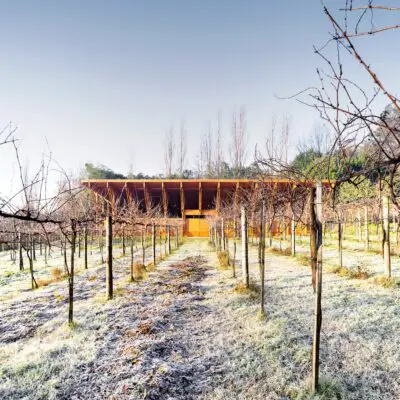 photo : Maria João Gala
MG Coudelaria, Minho, North Portugal
Think Health Naturopatia, Ponta Delgada, Azores
Design: BOX arquitectos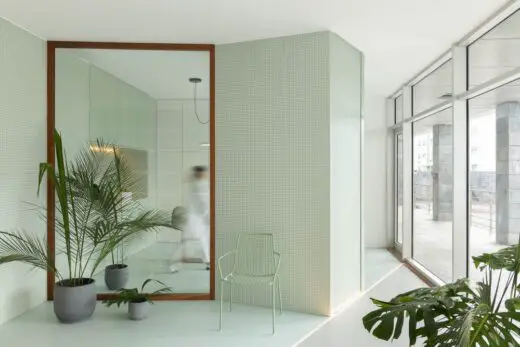 photo : Ivo Tavares Studio
Think Health Naturopatia
Rossio Station, Lisbon
Design: Broadway Malyan
Rossio Station
Comments / photos for Estoril Congress Centre building design by Regino Cruz Architects in Portugal page welcome