Zaha Hadid Building, Fife Healthcare, Architect, Photos, Article, Architecture Design Project
Maggie's Centre Kirkcaldy : Zaha Hadid Design
Maggies Centre Fife, Scotland design by ZHA, London, UK
Maggie's Centre Fife
Photographs of Maggie's Kirkcaldy Exterior by architect Adrian Welch: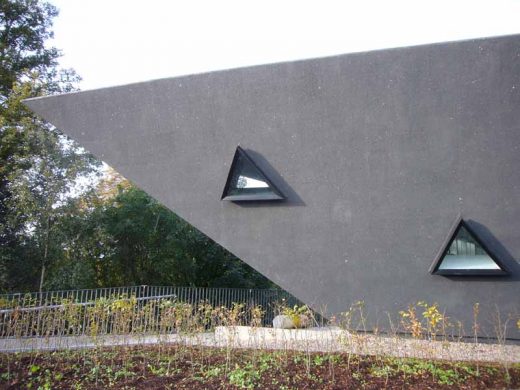 Photos of Maggie's Kirkcaldy Interior by Isabelle Lomholt:
More building interior images follow the article below
Maggie's Kirkcaldy : Scottish Design Awards 2007 – Best Public Building


Image © Maggie's Centres
Victoria Hospital Extension
£152m PPP expansion of Kirkcaldy's major hospital (host to Zaha Hadid's Maggies centre) 180107
Maggie's Fife : Zaha Hadid
Review by Adrian Welch
Maggie's Centre Kirkcaldy: Zaha Hadid – Review
Given that this is a small building in a small town in a small country many will wonder what's so special about it. But Zaha Hadid is a big architect, feted across the globe, and this is her first permanent building in the UK. Her Glasgow Transport Museum is yet to arrive so the unlikely setting of Kirkcaldy has this glamorous honour.
Maggies Centres tend to attract column inches as they are designed by well-known architects and frequently throw up thoughtful – and unusual – pieces of architecture. Most people know the story by now of the late Maggie Keswick-Jencks' plea to improve care for people with cancer in this country, a brave but ultimately successful challenge to the healthcare establishment. Maggie was unimpressed with the level of support to those suffering from cancer and had the vision and drive to formulate an alternative. Her husband vigorously carries this vision forward with an informed Board.
Charles Jencks is of course the real Client and has been 'collecting' starchitects for years. As a world-famous figure in the fields of architecture and philosophy the results of his patronage naturally arouse global interest, not least because he's not afraid to push unorthodox agendas and thus attracts challenging theories: more on that later.
The first ever Maggies Centre was a humble extension in the grounds of Edinburgh's Western General Hospital by 'local' architect Richard Murphy. Since then Jencks' programme has (as most of you will know) accelerated and widened to cover England and architects such as Richard Rogers. Like Mitterrand's Grand Projets these small buildings can be viewed as a testament to not only the architects and Maggie, but to the man driving it – Charlie Jencks.
Jencks has been accused of collecting architects, of creating an exquisite architectural chocolate box of iconic buildings: starting off with a humble 'Murphy Caramel' the confection that really catches the eye is surely the 'Gehry Whirl', a swirling confection that shouts 'look at me'. I took an immediate distaste to this showy product but was told visiting it would change my mind. But having visited twice I found it as indigestible as I'd imagined, a curious mishmash of Bothy, Broch and a bit of Bilbao thrown together. A certain shawl apparently influenced Gehry but to me it's more of a frozen kilt. Some architects struggle to make the creative leap from small to large but here it seems the opposite has occurred.
So from the images and what I can see on site so far will Zaha similarly struggle to downsize? I don't think so, and never did. Hadid has created a powerful building that will easily embed itself in the minds of anyone who sees it. However an aggressive carapace holding spaces for pacific behaviour immediately sets up a strong contradiction. But the sheer steroid-driven sculptural qualities wouldn't appear to hinder imminent functioning of the Centre.
I'm a firm believer in going back to buildings more than once after they've opened so of course am open to being proven wrong but I feel Zaha has created a wee gem, a distant relative to the Vitra Fire Station. Unlike Frank she hasn't seen fit to trying to merge her baggage with some Scottish fare: imagine the schlock horror of conveyor belts strung from turret to turret or folded tartan planes!
One concern is the aggressiveness alluded to above, and the strong negativity of the location. My gut feeling is that the warm wooden womb-like interiors of Richard Murphy, Frank Gehry and Page/Park might be more conducive to the users than this very assertive building. But the immediate context is more of an issue: the building sits on the edge of a dull tarmac car park with the crumbling hospital slab block towering over it.
The building has a curious relationship with the steep valley immediately to the south: it hovers over the edge but is partly tucked into the slope. It therefore neither floats nor is embedded. There is nothing wrong with this, it's just that with the trees and steepness of the slope it is hard to read and thus the building in a way has a Janus-like nature in that it reads as a different beast when viewed from north or south. Views up to the building from the valley are strong and redolent of the similar situation at Dundee where Gehry's 'Broch' looks seductive from the south but becomes a cowering timorous beastie from the north.
The concept model suggests fair-faced concrete a la Vitra but in fact the building iscloaked in black. This also features at her recent Ordrupsgaard Museum in Denmark but here is more extensive and poignant. The darkness felt quite sombre even in the late afternoon sun, almost the antithesis of warm wooden interiors.
It's hard to evaluate the latest Jencksian icon without reference to the most recent Maggies Centre – a 'copper spiral' by Page Park Architects in Inverness. Like the Gehry building it provoked discussion as it seemed to further embed the Maggies Centre lineage in iconic architecture as opposed to rational building. Like the Frank Gehry building it is overtly organic in parti. Using quintessential Jencksian vortex landscaping this building also used a warm wooden interior, cosy and cosseting.
However, Zaha Hadid is not known for organic plans and warm wooden interiors, thus Kirkcaldy will present another twist on the journey for the Maggies Centre lineage. The designs show an acutely angular building complete with powerful sculptural cantilevers: conceptually the building could be read as an upside down triangle but really it is simply a series of acute folds enclosing space.
Having missed out on the Stirling Prize in 2005, and again in 2006, there will be some who feel Zaha has still to really prove herself, despite generally well-received buildings such as Cincinnati Arts Centre. This building probably won't be the one to make a difference, but for us in the UK it is a valuable point in the nation's architectural trajectory. The challenges to our thinking that Gehry and Hadid bring us are welcome, but we shouldn't shirk from challenging them.
To contribute to Maggies Centres please call 01382 496384
Comments on this Zaha Hadid building welcome
Photos of Maggies Fife Interior by Isabelle Lomholt:
The building has quite a harsh, clinical feel to it inside – especially with the pervasive triangle theme continuing.
Zaha Hadid Scotland – first UK building
Zaha Hadid Architect
Location: Kirkcaldy, Fife, Scotland
Zaha Hadid Buildings
Zaha Hadid Architecture Designs – architectural selection below:
Montpellier design by Zaha Hadid Architects : Pierres Vives building
Architecture in Scotland
Scottish Architecture Designs – chronological list
Inverness Campus Masterplan
Design: 7N Architects
Comments / photos for the Zaha Hadid Kirkcaldy page welcome