Ashmolean Museum Building, Oxford, Architecture, Photo, Design, Galleries, Development
Ashmolean Museum Extension : New Oxford Building
English Museum Building – design by Rick Mather Architects
13 Nov 2009
Ashmolean Museum
Oxford
The Ashmolean Museum, established in 1683, is the oldest public museum in Britain. In 1999 Rick Mather Architects were appointed to develop a long term masterplan and expansion scheme to provide more space and 21st century facilities for its world renowned collections.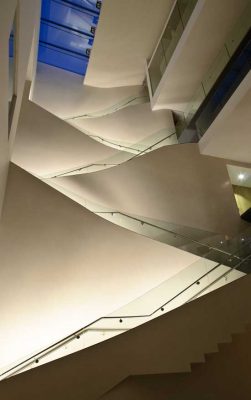 photograph © Andy Matthews / Rick Mather Architects
The new scheme involved the removal of the poor existing Victorian buildings behind the Cockerell building, originally built to house a rapidly growing collection, and later piecemeal accretions which combined to give a very confusing route for the museum visitor.
The new building is attached to the rear of the Greek revival building by Charles Robert Cockerell, built in 1845 as The University Galleries. The Ashmolean Museum relocated its collection to the extended University Galleries in 1894 and in 1908 combined to become The Ashmolean Museum of Art and Archaeology, under the keepership of the renowned archaeologist Sir Arthur Evans.
Rick Mather Architects new building has six storeys, with a floor area of 10,000m² (107,640ft2), 4000m² (43,056ft2) of which provides 100 per cent more display space. In addition to the new display space, a new entrance from St Giles, an education centre, conservation studios and loading bay have also been created. The building is organised by two major axes established by Cockerell, creating a clear route throughout the building and unifying the entire museum and collection in a coherent manner.
Two staircase lightwells are naturally lit, one by a large rooflight, the other with a 5.5 metre high window. Natural light is filtered vertically through the building to the lower ground level via inter-connecting, double-height galleries. A new grassed rooftop café terrace gives views over the 'dreaming spires' of Oxford.
The new building has a low-energy philosophy throughout. At outline design stage the team agreed a maximum energy use per square metre that the design was assessed against at milestones throughout the project. This ensured that any loss of efficiency in one area was mitigated by improving the efficiency of equipment elsewhere. The museum employs a low energy displacement ventilation system, with high-efficiency Menerga air handling units and heat-recovery. In order to optimise the ventilation system a 1:1 physical model of the gallery was built and tested in Finland. The lighting for secondary galleries operates on PIR motion sensors, shutting off when not required. A load-shedding system monitors and controls electricity consumption. Three iterative rounds of computer daylight modelling were conducted to optimise window openings to achieve the best lighting and thermal performance.
More than 20,000 walked through the doors of the Ashmolean Museum on its first weekend of reopening to the public.
Ashmolean Museum Oxford – Building Information
Client: Ashmolean Museum of Art & Archaeology
Location: Oxford, UK
Total Gross Area: 10,000m² / 107,640ft2
Value: £61 million
Ashmolean Museum Design Team
Architect: Rick Mather Architects
Cost Consultant: Gardiner & Theobald
Structural Engineer: Dewhurst Macfarlane & Partners
Services Engineer: Atelier Ten
CDM Coordinator: Gardiner & Theobald Project Safety
Building Contractor: BAM Construct UK Ltd
Project management: MACE Ltd
Exhibition: Metaphor
Acoustics: Sandy Brown Associates
Lighting: Kevan Shaw Lighting Design
Funding £15 million Heritage Lottery Fund
£35M Private funding
The Linbury Trust
Wolfson Foundation
Clore Duffield Foundation
Leventis Foundation
Arrow Charitable Trust
Clockworkers Foundation
Garfield Weston Foundation
Ashmolean Museum Timetable
Initial appointment 1999
Masterplan proposal 2002
HLF funding Stage 1 Pass 21 Jul 2004
Planning Permission & Listed Aug 2004
Building Consent granted / Detailed Design approved Spring 2005
HLF funding Stage 2 Pass 3 Oct 2005
Start on Site Mar 2007
Topping out Mar 2008
Museum closes Dec 2008
Completion Nov 2009
Opens to the public 7 Nov 2009
Ashmolean Museum Oxford images / info from Rick Mather Architects 121109
28 Oct 2009
Ashmolean Museum Oxford – Opening Information





photos © Richard Bryant/ Arcaid
Ashmolean Museum Extension Oxford designer : Rick Mather Architects
Location: Ashmolean Museum, Oxford
Oxford Architecture Designs – chronological list
Ashmolean Museum Dynastic Egypt and Nubia Gallery, Oxford
Rick Mather Architects
Ashmolean Museum Dynastic Egypt and Nubia Gallery Oxford
Oxford Architectural Walking Tours
Dr. Suzanne MacLeod – Museum Architecture: a New Biography, Ashmolean Museum, Oxford, England
Director's Lecture Series – 14 Dec 2013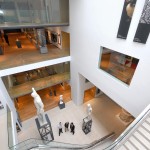 photo © Greg Smolonski – Photovibe
Corpus Christi College Oxford also by Rick Mather Architects
Queen's College Oxford Library also by Rick Mather Architects
Ashmolean Museum architect : Cockerell
Comments / photos for the Ashmolean Museum Extension Building page welcome