Performing Arts Center of the World Trade Center New York, WTC Manhattan Building
Performing Arts Center of the World Trade Center Competition
WTC Manhattan Architecture Contest, USA  – design by Henning Larsen Architects
20 Nov 2015
Performing Arts Center of the World Trade Center New York
Performing Arts Center of the WTC New York
Design: Henning Larsen Architects
DANISH FIRM HENNING LARSEN ARCHITECTS SELECTED AS FINALIST FOR THE PERFORMING ARTS CENTER AT THE WORLD TRADE CENTER
Henning Larsen Architects was one of three finalists in an international competition that featured the world's greatest architecture firms.
Danish design – recognized for its sophistication, integrity, and quality – is currently having a wide influence on cities and cultures throughout the world.
World Trade Center New York: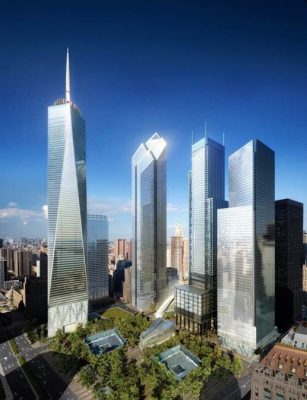 image : dbox, Courtesy of: Silverstein Properties
NEW YORK, NY, November 20, 2015 – Henning Larsen Architects announced that it was one of three finalists for the planned multi-space Performing Arts Center of the World Trade Center. The building will be located at the northeast corner of the World Trade Center site in New York City. The invited international design competition shortlisted Henning Larsen Architects, REX Architecture, and UN Studio.
The arts center signifies a commitment to making the memorial site into a cultural destination for residents and visitors. The World Trade Center site has been developed by world-class architects; as a finalist, Henning Larsen Architects solidifies its position as one of today's premier architecture firms. "Henning Larsen Architects is deeply honored to have been invited to this competition in the heart of New York City, at the heart of Ground Zero," said Louis Becker, Design Director and Principal Partner of Henning Larsen Architects. "We want to congratulate Joshua Prince-Ramus and REX on winning the project."
Henning Larsen Architects was founded in 1959 by Henning Larsen, who is often referred to as the "master of light". The firm is renowned for the cultural institutions that it has designed around the world, including:
• Harpa, the Reykjavik Concert Hall and Conference Center that won the prestigious 2013 Mies van der Rohe Award in conjunction with Icelandic artist Olafur Eliasson
• Moesgaard Museum, winner of multiple international awards
• Copenhagen Opera House, a spectacular performance venue that anchors the inner city harbor
Henning Larsen Architects was drawn to the Performing Arts Center project because the firm believes that cultural projects add environmental, economic, and social dimension and depth to communities. Becker said, "Cultural buildings give sense and identity to a city. In addition to functional space, it is important to introduce public spaces distributed throughout the building. In our project we wanted visitors without tickets to feel invited to drop in for a journey through the building to the rooftop park."
In the design process, Henning Larsen Architects applied an approach with a Scandinavian point of origin. Becker said, "Our project harvests daylight for the new performing arts center. In dense urban areas like Manhattan, daylight is a scarce resource. Daylight gives architecture a form, a pause, a rhythm, like music. But it is more than poetry. Daylight has a big influence on our comfort and wellbeing."
Henning Larsen Architects' work extends beyond cultural institutions. The firm has deep expertise in master planning, educational, commercial, and healthcare facilities. In December this year, Microsoft's new headquarters in Denmark will be inaugurated. Other projects currently under construction include: Siemens Global headquarters in Germany, Frankfurt School of Finance and Management in Germany, Hangzhou East Lake Opera in China, and the Institute for Diplomatic Studies in Saudi Arabia.
Henning Larsen Architects
Henning Larsen Architects, founded in 1959, is an international architecture and urban design firm with offices in Copenhagen, the Faroe Islands, Hong Kong, Istanbul, Munich, Oslo, and Riyadh. It is particularly well known for designing dynamic mixed-use communities, iconic cultural landmarks, and innovative educational facilities. Its broad portfolio includes state of-the-art research institutes, sustainable city districts, and flagship commercial headquarters.
Henning Larsen Architects is the acknowledged expert in sustainable design practices in Scandinavia. The firm is committed to creating environmentally responsible, energy-efficient projects that provide social, as well as architectural, solutions.
Henning Larsen Architects
Website: World Trade Center Performing Arts Center New York City
10 Jun 2015
World Trade Center Tower 2
World Trade Center Tower 2 News
–
Design: Bjarke Ingels, BIG architects
BIG UNVEILS 2 WORLD TRADE CENTER
200 Greenwich Street / 2 WTC is the capstone in the redevelopment of the World Trade Center and the final component of the revitalization of Lower Manhattan.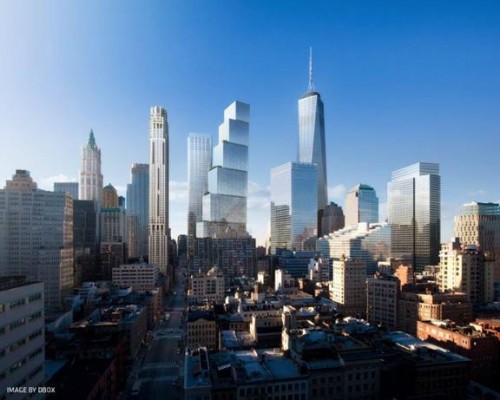 Located at 200 Greenwich Street and bounded by Church Street to the east, Vesey Street to the north and Fulton Street to the south, the tower will rise to 1,340 feet, respectfully framing the 9/11 Memorial Park alongside One WTC, 3 WTC and 4 WTC.
The 80+ story building is developed by Silverstein Properties and will serve as the new headquarters for 21st Century Fox and News Corp, who will occupy the lower half of the tower, housing their subsidiary companies and more than 5,000 people under one roof.
Location:World Trade Center Tower 2, New York '
Architecture in New York City
New York Architecture Walking Tours
6 Apr 2008
200 Greenwich Street
World Trade Center Tower 2
–
Design: Foster + Partners
All images below by the building's designers : Foster + Partners
Context images showing the skyscraper in the skyline and city zone:



World Trade Centre Tower Two original architects – Foster + Partners
Performing Arts Center of the World Trade Center design – Henning Larsen Architects shortlisted
New York State Architecture Designs
New York City Skyscrapers
56 Leonard Street
Design: Herzog & de Meuron



image © Herzog & de Meuron, Basel, 2008
56 Leonard Street
One Bryant Park – Bank of America Tower
Design: Cook + Fox Architects



image © Jock Pottle, Esto for Cook+Fox Architects
One Bryant Park
WTC Tower initial design : Daniel Libeskind Architects
World Trade Center New York – Article on Ground Zero / World Trade Center
99 Church Street Tower, Lower Manhattan
Design: Robert A. M. Stern Architects



image : dbox Courtesy of: Silverstein Properties
99 Church Street Tower
Buildings / photos for the Performing Arts Center of the World Trade Center page welcome
Performing Arts Center of the World Trade Center New York, NY, USA
Website: Tower 2 at World Trade Center