Barclays Center, Atlantic Yards, Architect, Brooklyn Building, Project, News, Design
Barclays Center LEED Certification
Atlantic Yards Development, New York, USA
Jul 23, 2013
Barclays Center Brooklyn LEED® Certification
BARCLAYS CENTER ACHIEVES LEED® SILVER CERTIFICATION
U.S. Green Building Council Recognizes Arena for Sustainable Development
– First Professional Sports and Entertainment Venue in the New York Metro Area to Receive LEED® Certification –
BROOKLYN (July 23, 2013) – The U. S. Green Building Congress has awarded LEED® Silver Certification for New Construction to Barclays Center, the first professional sports and entertainment venue in the New York metro area to achieve this status for its sustainable design and construction methods.
Barclays Center was recognized in five environmental categories, including: sustainable sites, water efficiency, energy and atmosphere, materials and resources, and indoor environmental quality, along with innovation and design.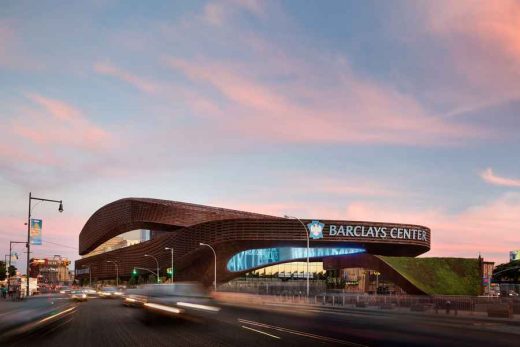 photo : Bruce Damonte
"From site selection to materials used, we were focused on building one of the most sustainable arenas in the country," said Bruce Ratner, Executive Chairman of Forest City Ratner Companies, the developer of Barclays Center and Atlantic Yards. "With mass transit as our foundation, we've built an arena that speaks to innovation and design as the corner stone of sustainability. I applaud our staff and our green partners for this tremendous accomplishment."
"Hunt Construction Group is very proud to be part of this achievement," said Kenneth L. Johnson, EVP & Division Manager of the Hunt Construction Group. "Our culture of sustainable design and building practices meshes well with FCRC's corporate commitment to sustainable buildings and lifestyle. Barclays Center is yet another first for the team, the first LEED® Silver certified sports project in the New York metro area."
"Our goal has always been to design a building that would be the model for future arenas and stadiums," said Chris Sharples, Principal at SHoP Architects. "LEED® certification is a crucial step in making Barclays Center the standard-bearer for sustainable design in New York."
"AECOM is excited and proud to be a contributor in this achievement. Our purpose is to create, enhance and sustain the world's built, natural and social environments. This commitment complements the actions of Forest City Ratner Companies and all of the project team in making Barclays Center the first LEED® Silver sports and entertainment project in the New York metro area," said Steve Duethman, AECOM project manager.
The 675,000 square-foot arena, designed by the award-winning architectural firms SHoP Architects and AECOM, in collaboration with Hunt Construction Group, the Design-Builder, consists of three separate but woven bands made up of 12,000 unique panels that were fabricated from 600 tons of steel sheets. The first band engages the ground where the weathered steel exterior rises and lowers to create a sense of visual transparency, transitioning into a grand civic gesture that cantilevers out into a spectacular canopy at the intersection of Atlantic and Flatbush Avenues.
Barclays Center sustainable design includes:
• Sustainable Site
o Barclays Center is located atop of one of the largest transit hubs in New York. The new $76 million subway entrance built by Forest City Ratner Companies provides direct access to nine subway lines, with two subway lines nearby. Access to the Long Island Rail Road is also available by crossing Atlantic Avenue.
Public transit is the fastest and most convenient way to travel to the venue and visitors are encouraged to use mass transit. Through its comprehensive Transportation Demand Management program, Barclays Center has experienced the highest mass transit modal share of any arena in the county, and has limited the effects of vehicular traffic on the surrounding street network by achieving less than 30% auto share on average.
• Heat Island
o Barclays Center was recognized for minimizing a heat island effect on the roof and surrounding areas. 58.7 percent of the site hardscape has been paved with non-colored concrete. High albedo roofing surfaces also reduce heat emitted from the roof of the arena.
• Water Usage
o Barclays Center has reduced potable water use by 46.4 percent from a calculated baseline design through the installation of low-flow water closets, waterless urinals, low-flow lavatory faucets and low-flow kitchen sinks.
• Energy Efficiency
o Energy efficiency measures include an improved thermal envelope, high efficiency glazing, reduced interior lighting power design, and high efficiency HVAC systems. The building utilized an enhanced commissioning process, whereby the commissioning agent was brought on board early in the design process to give suggestions to improve the overall efficiency of the building mechanical systems. A sophisticated Building Management System (BMS) monitors energy and water usage and provides feedback which allows for an optimized operation.
• Materials and Resources
o 85.4 percent of on-site generated construction waste was diverted from landfill.
o In addition, 56.3 percent of the total building materials content, by value, were manufactured using recycled materials.
o 11.2 percent of total building materials by value were extracted, harvested or recovered, as well as manufactured within 500 miles of the project site, reducing the impact of transporting those materials.
o 91.1 percent of the total wood-based building materials in Barclays Center were certified in accordance with the principles and criteria of the Forest Stewardship Council, including the basketball floor. (A minimum of 50 percent is required.)
• Storm Water Detention System
o The underground storm water detention system is sized to collect and retain 403,000 gallons of storm water and hold it until after a storm event passes, allowing Barclays Center to gradually release water into the municipal sewer system. This reduces the frequency and volume of combined sewage overflow into the Gowanus Canal and East River.
As an AEG-operated facility, Barclays Center is part of the AEG 1EARTH program committed to measuring environmental performance and the sharing of best practices across AEG owned and managed venues. In addition to driving sustainable practices behind the scenes throughout continued operations, Barclays Center has established a 'B' GREEN environmental awareness initiative in conjunction with National Grid, the Official Energy Partner of Barclays Center.
'B' GREEN messaging educates guests on public transportation, alternative transportation, recycling options, energy efficiency tips from National Grid, and local community initiatives. In celebration of LEED® Silver Certification, employees from Barclays Center, the Brooklyn Nets and National Grid will partake in a park clean-up day of service on July 26 at Prospect Park.
Barclays Center New York information received 230713
Barclays Center Brooklyn : main page



picture © SHoP Architects
Barclays Center Brooklyn : background information



image © SHoP Architects
Barclays Center Atlantic Yards



image © SHoP Architects
Barclays Center Brooklyn Development – article for e-architect
Location: Barclays Center, Brooklyn, New York City, USA
Barclays Center Designers
Ellerbe Becket and SHoP Architects
Atlantic Yards Development Masterplan previous architect : Frank Gehry
Atlantic Yards Barclays Center New York : further information
New York City Architecture
Contemporary New York Buildings
NYC Architecture Designs – chronological list
New York City Architectural Tours by e-architect
New York State Architecture Designs
Comments / photos for the Barclays Center LEED Certification – Brooklyn Architecture