Morocco architecture news 2023, North African buildings, Construction design, Property images, Architects
Morocco Architecture News
Key Property Developments in North Africa: New Buildings – Built Environment Updates
post updated 18 September 2023
Morrocan Architecture Designs – chronological list
Morocco Building News
Morocco Architectural News
17 September 2023
Casablanca Modernist Villa, Casablanca, West Morocco
Design: Crina Arghirescu Architecture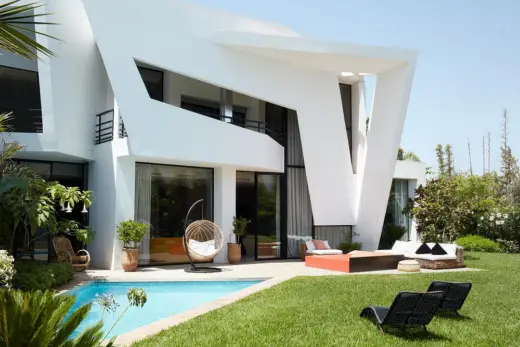 photo : Isabel Parrat
Casablanca Modernist Villa
With a very modernist shell, the villa called for an unconventional space in respect to Moroccan culture, taking some of the formal elements out of the traditional settings.
10 December 2022
The Young Moroccan Architecture Awards Unveil Their Winners!
Casablanca, December 2022 – During a memorable evening, the YOUNG MORROCAN ARCHITECTURE AWARDS (YMAA) lifted the veil on the winners of their very first edition. This Monday, December 5, 2022, a festive atmosphere reigned at the Sofitel Casablanca Tour Blanche where a total of 26 trophies were awarded to celebrate Morocco's young architectural scene.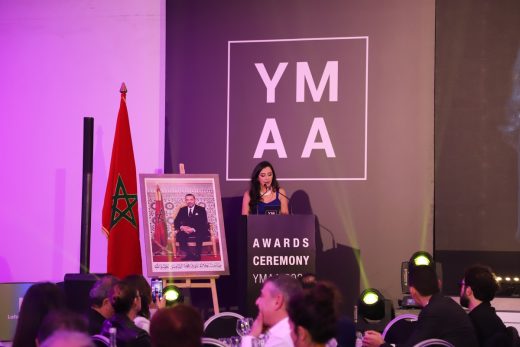 The YOUNG MOROCCAN ARCHITECTURE AWARDS (YMAA) is a competition that sheds light on the young emerging Moroccan architects as well as their outstanding achievements. A first of its kind in Africa and the Arab world, YMAA was initiated and organized by the Archimedia group, the first and leading media for architecture and construction on the African continent.
This evening of revelation of the winners has awarded the best projects as selected by a jury of their peers and which was presided by none other than Mr. Taoufik El Oufir whose reputation precedes him. The jury reviewed and debated 80 outstanding projects nominated in 21 diverse and varied categories and announced the winners by category as follows:
Intervention in medina : Fatimzohra Tahiri Alaoui for the renovation of a Riad in Essaouira
Special prize for Zévaco : Tarik Zoubdi for the "Concrete Phrontistery"
Collective housing : Younes Diouri for the Horizon Hill
Cultural Space : Salma Dioury for American Arts Center
Health & Wellness : Sofiya Iraqi for Ks Dental
Pre-school and primary education : Youssef Lahkim for El Farah School
Secondary and higher education : Tarik Zoubdi for the "Concrete Phrontistery"
Individual residential housing : IBDAA Group for Villa For Loft
Retail and commercial architecture : Dina Bennani for Choco Chino
Leisure and tourism: Abdelhakim Guilmi for H&G Guest House
Interior design and decoration: Dina Bennani for "Villa privée
Gastronomy spaces : AGA Studio for the Fresh & Bio house
Small individual housing : Mounia Radouane for villa VPDN
Large house : Abdelhakim Guilmi for villa KLM
Renovation and rehabilitation: Mounia Radouane for AAA Apartment
Office space : Lamia Hamriti for Payment Center for Africa
Sustainable and environmental building: Fatima Zahra Bendahmane for CIE Tata
Wooden architecture : Younes Diouri for ACSA Club tennis
Ephemeral architecture : Merouane Oussama Zouaoui for Tafedna domes
First work : IBDAA Group – Villa Albertini
Out of category : S+R Architecture Workshop for automotive equipment manufacturers in Tangier.
View the results : https://ymaa.ma/resultats-ymaa-22/
In addition to these awards, three Distinctions were also awarded; "The Building of the Year" with the CIE project of Tata by Fatima-Zahra Bendahmane; "The favorite of the public" based on public voting to  Youssef Benjelloun; and finally the "Archimedia prize" to Ghita Adyel with the Ibn Batouta Museum project in Tangier.
The student architects were not left out as they were also awarded with the best female Graduation Project won by Lina Meskine for "Narration in architecture" and the best male Graduation Project won by Fatmi Achraf Merzouk for "Towards a hospital architecture: Bouregreg hospital center".  Lastly, two special mentions were awarded to two graduation projects: The first mention for innovation was awarded to Zineb Lemseffer for her graduation project entitled "A interpreter"; and a special mention for excellence was awarded to Sofia El Alami for "Kobenhavn Conference Hall".
Celebrating architecture in Morocco, YMAA, through this gala of great magnitude has brought together renowned actors in the field of architecture and construction in Morocco. Testimonies, sharing of experiences, and warm ambiances rocked by jazz music were at the rendezvous this evening where colleagues met to celebrate architecture in Morocco.
North African Architectural Projects, chronological:
17 June 2022
Issy Valley Improvement Landscape Design, Issy Valley, Aït Mansour, West Morocco
Design: Architect Salima Naji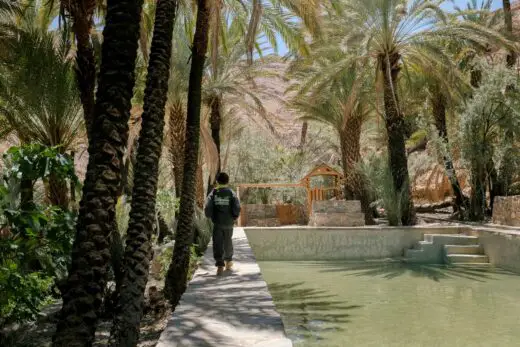 photo : Amine Houari
Issy Valley Improvement, Aït Mansour
One part of a large government-sponsored hydro-agricultural project for the valley, this initial phase of the project focuses on the improvement of trails and facilities for rural tourists whilst improving the palm orchards and water reservoirs/collectors.
24 Mar 2022
Fairmont Taghazout Bay
Design: Scape Design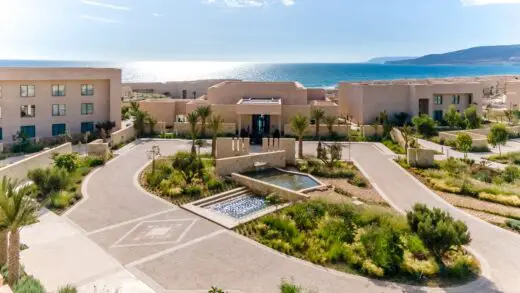 photo : Fairmont Taghazout
Fairmont Taghazout Bay
Fairmont Taghazout Bay, on the Atlantic coast of Morocco near Agadir, has recently opened featuring a naturalistic and biodiversity rich resort landscape by the award-winning London-based practice, Scape Design. The outcome of a project which began for Scape some 10 years ago with a significant masterplanning exercise for the bay itself, the Fairmont resort offers a narrative that emerges from the natural world of its location as well as from the way of life of the indigenous Imazighen Berbers who once inhabited the nearby foothills of the Atlas Mountains.
More Morocco Architecture News on e-architect soon
Morocco Architecture News 2018
25 Nov 2018
International Forum on Cities and Heritage in Arab Countries 2018
Location: Dar Souiri, Essaouira, Morocco
Date: 26-28 November 2018
Under the patronage of HH Sheikh Dr. Sultan Al Qassimi the Ruler of Sharjah, and Princess Lalla Hasna, President of the Moroccan Society for Archeology and Heritage, the International Forum on Cities and Heritage in the Arab Countries will be held during the period from 26-28 November 2018 in Essaouira antique city in Morocco.
22 Nov 2018
Guelmim Airport
Design: Groupe3Architectes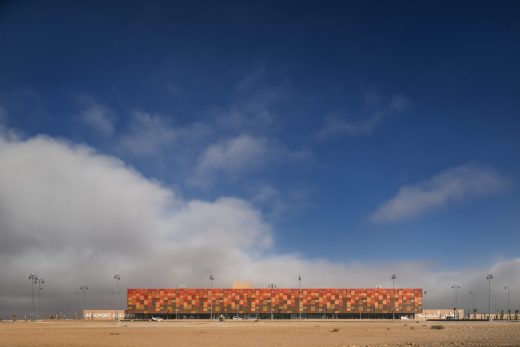 photography : Fernando Guerra / FG+SG and Groupe3Architectes
Guelmim Airport Building
The new Guelmim Airport is situated in an existing military infrastructure located 3km north of the city of Guelmim in the south of Morocco.
More contemporary Morocco Architecture News online here soon
Morocco Architecture News 2016 – 2017
1 Aug 2017
Sidi Harazem Thermal Bath Complex, Sidi Harazem
Renewal Design: Jean-François Zevaco Architect
Fondation Caisse de Dépôt et de Gestion (CDG)
Date built: 1958
One of Twelve Recipients of Getty Foundation's Keeping It Modern Grants:
Sidi Harazem Thermal Bath Complex
Nestled in a Moroccan oasis where ancient mineral springs have drawn visitors for centuries, the Sidi Harazem Thermal Bath Complex represents a marriage of nature, public space, and modern architecture. Built four years after Moroccan independence, the complex is the ambitious statement of a new nation determined to create modern and forward-thinking gathering places for its citizens.
26 Nov 2016
The Sofitel Tamuda Bay – A New Resort, M'diq
Design: Galal Mahmoud, GM Architects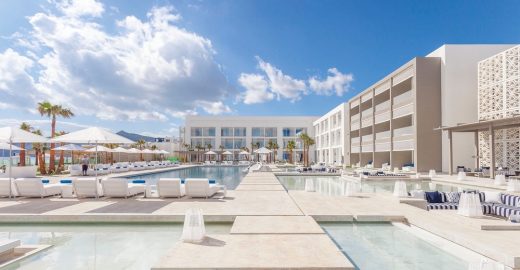 image from architects
The Sofitel Tamuda Bay in Morocco
New awards announced for this most recent major project by Galal Mahmoud. The Sofitel Tamuda Bay is located on the northern coast of Morocco about 20 miles east of Tangier.
26 Aug 2016
Radisson Blu in Marrakech
Design: Atelier Pod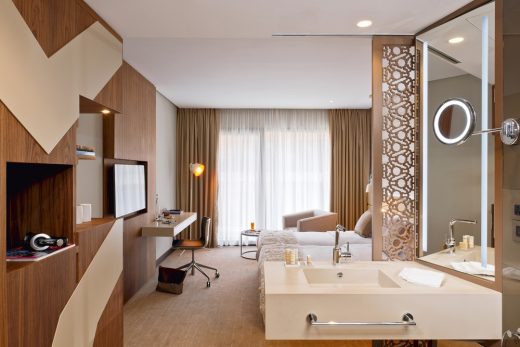 image from architecture firm
Radisson Blu in Marrakech
The Radisson Blu Hotel Marrakech has just officially opened its doors. Xavier Guerrand Hermes and the investment fund Actif Invest invited Atelier Pod to design the accommodation of their new Marrakech property operated by the Carlson Rezidor hotel chain.
12 Apr 2016
Residence Atelier Foundation, Marrakesh
Design: PB+Co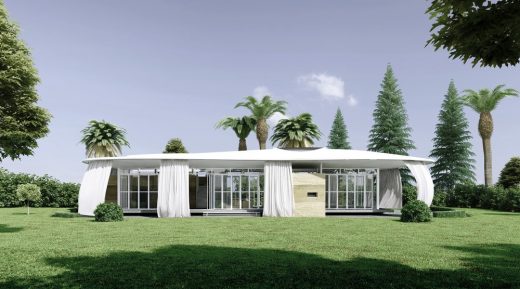 photograph : Abderrahmen Ezzine
Residence Atelier Foundation in Marrakesh
Located in a rural landscape and sheltered by olive trees, the Residence-Atelier-Foundation is facing the majestic white outline of the Atlas Mountains. It comprises a private residence, a pavilion for her 3 children and guest artists, and her atelier to retreat and focus on her work. In addition the complex can also host an art gallery and a foundation dedicated to encourage Moroccan women artist vocation.
26 Jan 2016
Gapi Food and Beverage Villa, Casablanca
Design: Lotfi Sidirahal Architects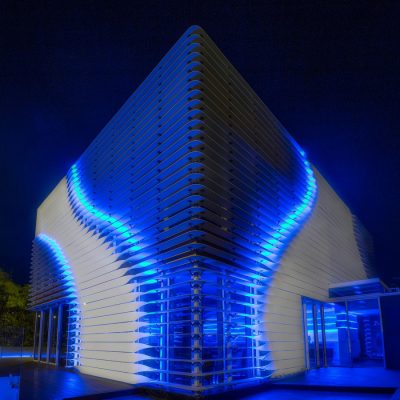 photograph : Valentina Marchant Photographer
Gapi Food and Beverage Villa Casablanca
The Concept is the Pastry box ribbons, that are usually twisted when trying to confine the cake box. The twist's dynamic is used to create a double skin facade that adapts to the different uses and orientations.
More current Morocco Architecture News online soon
Moroccan Architectural Updates 2012 – 2013
1 Oct 2013
Villa Zevaco Restaurant Casablanca
Design: Andy Martin Architects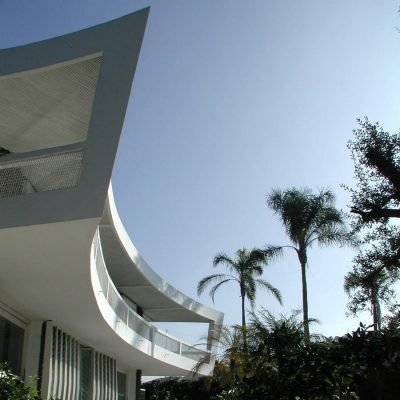 photo from architects
Villa Zevaco Restaurant Casablanca
Andy Martin Architects were selected from a shortlist of acclaimed British restaurant designers to restore and convert a classic 50s villa, situated in the elegant Anfa District, fancy heart of Casablanca, Morocco's most cosmopolitan city.
25 Jun 2013
Preservation of Sacred and Collective Oasis Sites, Guelmim Region, Morocco
Design: Salima Naji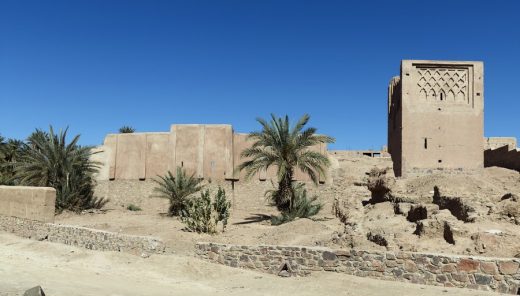 photo : Cemal Emden
Preservation of Oasis Sites
Naji has carried out the work with skilled masons and unskilled workmen, whom she has trained in traditional building techniques and who go on to apply their skills at other sites. Architecture and public spaces have been conserved not only for their historic value, but as locally rooted, sustainable models for contemporary building.
2 May 2013
Hassan II Bridge, Rabat
Design: Marc Mimran Architecture


photo : Marc Mimram
Bridge in Rabat
Linking Rabat and Salé to form an urban hub, the Hassan II Bridge and its associated access works relieve both cities' historic sites and populations of atmospheric and sound pollution.
1 May 2013
Mohammed VI Football Academy Morocco, Salé
Design: Groupe 3 Architectes



photo : Cemal Emden
Mohammed VI Football Academy
Providing intensive football training and a school education to around fifty 13-to-18-year-olds, the Academy is designed to encourage both focus and a sense of community.
26 Nov 2012
Casablanca Architectural Competition Winner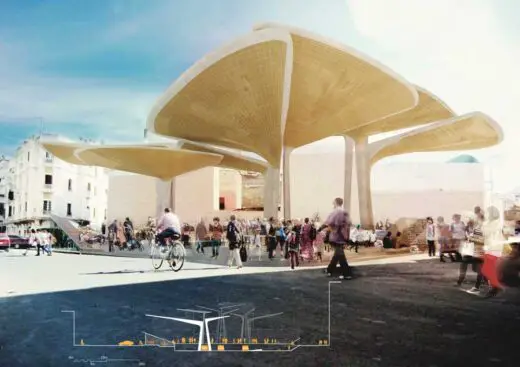 picture from architecture studio
Sustainable Market Square Casablanca Architecture Competition
Tom David Architects win first prize in the international architecture competition [AC-CA] Casablanca. The design firm is based in Rotterdam, The Netherlands.
More Morocco Architecture News online soon
Location: Morocco, Northwest Africa
Moroccan Architecture
Anfa Place, Casablanca, northern Morocco : mixed-use Moroccan development
Design: Foster + Partners
Anfa Place Building
Rabat Grand Theatre, northern Morocco
Design: Zaha Hadid Architects
Rabat Grand Theatre Building
Comments / photos for the Morocco Architecture News page welcome