Seoul Series Table Milan, Patrik Schumacher Design, Picture, Project News, Image
Seoul Series Milan by Zaha Hadid
Collection for NY Projects – Milan Furniture Fair, Italy
24 Apr 2009
Seoul Table for Seoul Series by Zaha Hadid + Patrik Schumacher
NY Projects, with Zaha Hadid + Patrik Schumacher, Offer Glimpse of Seoul Collection at Milan Furniture Fair A progressive new collection of limited-edition designs was introduced at an invitation-only luncheon for global design leaders on 24 April at the Milan Furniture Fair. The exclusive new series – created by acclaimed architects Zaha Hadid and Patrik Schumacher – includes a fireplace, table, desk, and tea service.

MILANO, ITALY, April 24, 2009 – The New York City-based international art and design company NY Projects, Inc., unveiled today the concept designs for a new collection of works by globally renowned architects Zaha Hadid and Patrik Schumacher at an invitation-only lunch at the Bulgari Hotel in Milan. The announcement, which coincided with the Milan Furniture Fair, has been the subject of speculation by collectors and design journalists for weeks ahead of the debut. The development of Seoul Series was outlined to a select group of design leaders from Milan and around the world.
According to Yung Hee Kim, founder of the multifaceted NY Projects, the collaboration with Hadid and partner Schumacher results from a keen working relationship and personal admiration. "I feel honored to be able to produce these inspired new works," said Kim. "Since the rise of Zaha Hadid's major architectural projects around the globe, there has been a growing demand for her avant-garde work."
New limited editions by Pritzker Prize winner
Based in New York's Chelsea neighborhood, the center of the city's arts scene and home to important new architectural projects, NY Projects (www.nyproject.com) creates events, exhibitions and high-end productions like the Seoul Series. Kim founded the company in 2007 when she sensed an interest within the creative community to converge and felt she could help facilitate new synergies and partnerships. Recent initiatives by NY Projects have included talks by Christo and Jeanne-Claude, an exhibition of Georg Baselitz paintings in Seoul, and the Global Dialogues symposium at New York's Center for Architecture.
NY Projects also worked with Hadid and Schumacher to mount Total Fluidity, a critically acclaimed exhibition and monograph, at the Seoul Design Olympiad last October. This successful show inspired Hadid, the 2004 Pritzker Prize laureate, and Schumacher to work on realizing a complete Seoul Series collection.
Total Fluidity: Seoul Series Concept
Seoul Series explores a novel trajectory by using new design tools to push the boundaries of the conceptual process, alongside formal and material development. Fluidity and parametricism are at the forefront of a new global movement in design: Seoul Series embodies that movement. Concurrently, the city of Seoul is quickly establishing itself as a global leader in design. Embracing new technology and possibilities, Seoul has been designated the World Design Capital 2010.
Seoul Series includes new designs for living that are sensitive to formal, functional, and environmental parameters and use the latest form-designing technology, according to Patrik Schumacher. "All designs in the collection follow the same abstract 'body plan' or 'phylum.' Each design-species within the series is conceived as a parametrically malleable 'geno-type.' This means that each delivered item is a unique 'pheno-type,' adapted to the specific requirements of the product's prospective environment," said Schumacher.
The first prototypes in the series, Seoul Desk and Seoul Table, were introduced in the exhibition Total Fluidity. More works from the Seoul Series will officially launch during the Istanbul Biennale 2009, including a limited-edition tea service. Seoul Series will also comprise a fireplace of marble and cast metal that NY Projects is currently producing in Italy, as well as a biomorphic vase grouping. Once fully realized, Seoul Series will include selected works by young international designers who, alongside Hadid and Schumacher, are leading the global design movement by pushing the boundaries of form with parametric technology.
A private lunch at Bulgari Hotel, Milano
The results of this unique approach were unveiled today to a private group during the Milan Furniture Fair, at a lunch in the city's Bulgari Hotel. The viewing of the initial renderings was exclusive to a select group of design leaders from Europe as well as Asia and the United States. Additional viewings and events are planned throughout 2009 and 2010 at major international arts fairs and biennials.
About NY PROJECTS, Inc.
An international art advisory and production company founded in 2007 and based in New York's Chelsea neighborhood, NY PROJECTS pursues work with internationally celebrated artists and designers, as well as leading art institutions and public patrons. One of the world's fastest growing companies of its kind, NY PROJECTS provides a range of professional services and creates new exhibitions, events and productions. Large-scale projects by the company have been seen in Seoul, Istanbul, New York City and Beijing. NY PROJECTS: Realizing Art and Design. www.nyproject.com
About Zaha Hadid & Patrik Schumacher
Zaha Hadid studied architecture at the Architectural Association School of Architecture in London from 1972 and was awarded the Diploma Prize in 1977, and later led her own studio at the AA until 1987. Since then she held the Kenzo Tange Chair at the Graduate School of Design, Harvard University; the Sullivan Chair at the University of Illinois, School of Architecture, Chicago; and three guest professorships at Columbia University, New York.
In addition, she was made Honorary Member of the American Academy of Arts and Letters, Fellow of the American Institute of Architects, and Commander of the British Empire, 2002. She is currently Professor at the University of Applied Arts in Vienna, and was the Eero Saarinen Visiting Professor of Architectural Design at Yale University.
Zaha Hadid was awarded the prestigious Pritzker Prize in 2004. Her major works include the Contemporary Art Center in Cincinnati and the Science Museum in Wolfsburg. Patrik Schumacher is partner at Zaha Hadid Architects, which he joined in 1988. Schumacher studied philosophy and architecture in Bonn, London and Stuttgart, where he received his Diploma in architecture in 1990. In 1999 he completed his Ph.D. at the Institute for Cultural Science, Klagenfurt University.
Schumacher has taught at various architectural schools in Europe and the United States since 1992. In 1996, he co-founded the "Design Research Laboratory" at the Architectural Association, and continues to serve as a co-director. Since 2004, Schumacher has also been Professor at the Institute for Experimental Architecture, Innsbruck University. His contribution to contemporary architectural discourse is evident in his extensive theoretical writings.
Seoul Collection image / information from Zaha Hadid Architects
Location: Milan, Lombardy, northern Italy
Milan Architecture
Contemporary Milanese Architecture
Milan Architecture Designs – chronological list
Milan Architectural Tours by e-architect
Seoul Series designer : Zaha Hadid Architects
Key Italian Projects by Zaha Hadid Architects
Key Projects by Zaha Hadid Architects
Hotel Puerta America interior by Zaha Hadid
Zaha Hadid Exhibitions
New Sassetti Tower Milan Building, S32 Fintech District
Architects: L22 Urban & Building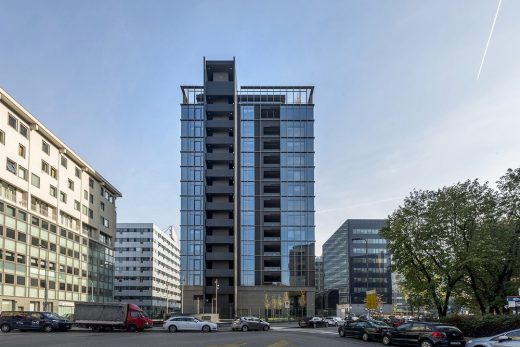 image courtesy of architects
Torre Sassetti Milano Building
Comments / photos for the Seoul Series Milan Architecture page welcome