CENTRO University, Mexico City, Mexico Building, Project, Design, Images
CENTRO University Building
Mexican Educational Facility – design by Enrique Norten Architect
3 Sep 2015
CENTRO University Building in Mexico City
Location: Mexico City
Design: Enrique Norten / TEN Arquitectos
CENTRO University in Mexico City announces new campus designed by celebrated architect Enrique Norten
Mexico's leading design & film school to inaugurate new campus with a series of special events beginning on September 29, 2015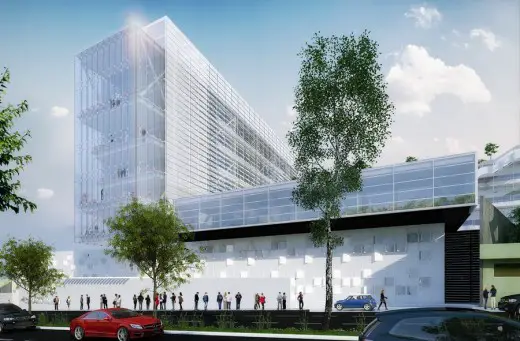 CENTRO, Mexico City's premier university for creative studies, is pleased to announce the opening of its new campus designed by internationally renowned architect Enrique Norten of TEN Arquitectos and built according to the standards of LEED Platinum certification. CENTRO will inaugurate the new campus and celebrate this great achievement with a series of special events and symposiums beginning on September 29, 2015, details forthcoming.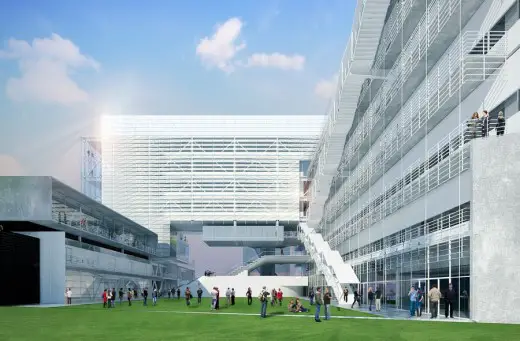 Since its founding in 2004 by Gina Diez Barroso and Abraham Franklin, CENTRO has become Mexico's pioneer institution for higher learning in the field of creativity, providing its 2,500 students with the unique opportunity to transform their passion and talent into successful, cutting edge professional careers. As its names suggests, CENTRO embraces the intersection of different fields such as creativity, business, technology and science.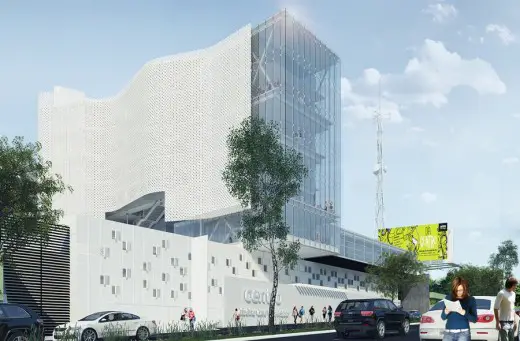 The school fosters a careful balance between thought, practice and action, reflected in its interdisciplinary and dynamic curriculum with an entrepreneurial and sustainable focus.CENTRO's broad range of academic programs include seven undergraduate degrees in Interior Architecture, Film & Television, Visual Communication, Industrial Design, Textile & Fashion, Marketing & Advertising, and Digital Media Design; nine graduate degree programs; and continuing education courses in related topics. In addition to the school's competitive curriculum, CENTRO also offers real-world experience that extends far beyond the confines of the classroom. Through social impact partnerships and collaborations with international organizations such as Wanted Design, 72and Sunny, 3M, MoMA and London Graduate Fashion Week, students begin to build their own network long before they graduate while working on complex projects that prepare them for future leadership roles in their chosen fields.
The school's rapid success over the past decade has made it necessary to develop even larger and more specialized features capable of accommodating its growing student body. Enrique Norten's iconic design for the new campus will physically embody CENTRO's dynamic and inclusive atmosphere, with sustainable LEED structures, maximum accessibility between all facilities, optimal access to public transportation services and a central public park in a key urban development zone. An ideal combination of interior studios and outdoor work areas will offer distinct types of learning environments, allowing for fluid teaching methods and cross pollination between CENTRO's many creative disciplines.
Built on Mexico City's Avenida Constituyentes, the campus is constructed on a 5,600 m2 piece of land, featuring a 25,500 m2 building and 2,150 m2 of green space. At the heart of the campus is a multifunctional auditorium with up to 450 seats that can be adjusted according to the needs of a specific event or performance. Equipped with advanced acoustics and lighting, this flexible venue will provide the perfect forum for collaboration among students as well as a space for national and international personalities in design, culture, business, science and politics to speak at CENTRO. Additional highlights of the new campus include an impressive 905 m2 exterior staircase built by Dutch-born, Mexican-based artist Jan Hendrix, a four-story media library containing a vast specialized collection of books, magazines, films and digital archives; a state-of the-art film studio where Film & Television majors can produce, direct and create stage-sets for their projects; and a series of workshop studios that range from textiles and fashion to industrial design to jewelry and ceramics, each furnished with the latest machines and technologies for students to hone their craft.
Gina Diez Barroso explains, "Abraham and I founded CENTRO with the mission to reimagine creative education by raising the professional standards of disciplines that prepare our students to establish successful careers within the fields that they are most passionate about. It has been a great pleasure to collaborate with Enrique Norten, who so clearly understands and embodies our vision, on a new home for CENTRO. With this new campus, we look forward to expanding both our course offerings and the number of international students we can accommodate, and to continue to provide an atmosphere that challenges, surprises and nourishes our students."
Enrique Norten adds, "I feel honored and thankful for the responsibility and the trust that CENTRO has placed in TEN Arquitectos by offering us the new campus commission. It has been a privilege to spend time with Gina and Abraham and see their vision grow and flourish; a vision that has given the design, art and cultural communities of one of Latin America's most important academic institutions, an unquestionable global reference point."
With this new campus, CENTRO will continue to thrive as an institution for creative minds to develop into the next generation of thoughtful leaders, both in Mexico City and abroad. CENTRO looks forward to announcing further details on the campus' inaugural events in the coming weeks.
About CENTRO
CENTRO is an institution of higher learning that specializes in creative studies. The school offers training alongside leading professionals as well as study programs that strike a careful balance between concept and execution, theory and practice and risk and certainty, with an interdisciplinary and enterprising focus. All elements of CENTRO, from its physical buildings to its teachers to its curriculum, share the same spirit of redefining creativity's reach.
While based in Mexico City, CENTRO is a global university with impressive alumni and recognition from all over the world. The school was celebrated at the Venice Biennale Critics' Week in 2011 and has won several other prestigious design awards, including Mexico: Premios Quorum (2011) and the British Design and Art Direction Student Award (2010). 98% of the school's professors are working professionals who are experts in their field.
Along with a rigorous academic program, CENTRO also provides students with innovative resources including the CENTRO Makers' Lab, a unique space for experimental design and prototyping, the Entrepreneurship Center, which generates entrepreneurial thinking, attitude, and skills, CIEC, the first officially accredited Research Center in Mexico City that focuses exclusively on the Creative Economy; and ZONA C, a year-long educational platform that allows students to take part in workshops taught by creative thinkers from different countries and backgrounds. CENTRO believes that higher education is an essential tool for all young people, regardless of socio-economic status. Through fellowships, scholarships and grants, the university is strongly committed to helping students who have creative talent but may lack the financial resources.
About Enrique Norten / TEN Arquitectos
Born and raised in Mexico City, Enrique Norten began his formal study of architecture at the Universidad Iberoamericana, where he earned his first professional degree in 1978. After obtaining his Master of Architecture degree from Cornell University in 1980, Norten founded TEN Arquitectos [Taller de Enrique Norten Arquitectos] in 1986, where he currently serves as principal. In 2001, he opened another location in New York. TEN Arquitectos' current commissions include two mixed-use developments, a library and a fire station in Washington, DC; the Block 1 mixed-use building in Miami, Florida; and the Paseo Bravo Master Plan in Puebla, Mexico. Projects under construction, in addition to CENTRO's new campus, include the residential building La Cornisa in Mexico City; the expansion for Universidad Panamericana Campus; and the New York Public Library's new 53rd street branch in Midtown Manhattan.
Norten's many awards include the Mies van der Rohe Award for Latin American Architecture (1998) and the "Leonardo da Vinci" World Award of Arts (2005) conferred by the World Cultural Council. Norten is a member of the Mexican Cultural Institute of New York, the American Institute of Architects, and the Deutsche Bank Board of Trustees, among other institutions. He has held teaching positions at various universities, including the Eliot Noyes Visiting Design Critic at Harvard University; a distinguished visiting professorship at Cornell; and, since 1998, the Miller Chair at the University of Pennsylvania.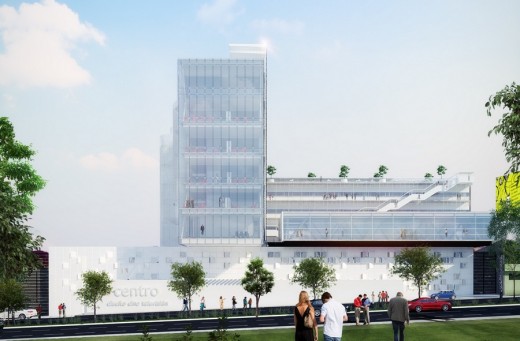 CENTRO University Building in Mexico City images / information received 03092015
Location: México, North America
Mexican Architecture
Contemporary Mexican Buildings
Mexican Architectural Designs – chronological list
Mexico City Architecture Tours – city walks by e-architect
Jaime Garcia Terres Library, Mexico City
Sheraton Hotel Mexico City
Pascal Arquitectos
Mexico City hotel
New Tamayo Museum
BIG + Rojkind Arquitectos
New Tamayo Museum
Nestlé Application Group, Queretaro
Michel Rojkind Arquitectos
Nestlé Building Queretaro
Mourning House building design by Pascal Arquitectos
Buildings in the area
Buildings / photos for the CENTRO University Building in Mexico City page welcome
Website: TEN Arquitectos