Coburg Brewing Co Melbourne Building, Danial Caneva Victoria, Pentridge Prison Site, Architect
Coburg Brewing Co Melbourne
New Building in Victoria, Australia: restaurant, bar, brewery & laneway precinct – design by Technē, architects
3 Feb 2016
Coburg Brewing Co Building in Melbourne
Architects: Technē
Location: former Pentridge Prison, Coburg Quarter, Melbourne
Uses: restaurant, bar, brewery & retail – delicatessen + artisanal baker + barber shop
Coburg Brewing Co
FROM PRISON TO PUB: DANIAL CANEVA'S 'COBURG BREWING CO.' SET TO ANCHOR NEW DINING PRECINCT IN HERITAGE LISTED LAUNDRY
One of Coburg's most historically significant sites, the old heritage-listed laundry and D Division at the former Pentridge Prison, is set to be transformed into a buzzing restaurant, bar, brewery and laneway precinct with the owner of the Post Office Hotel, Danial Caneva at the helm.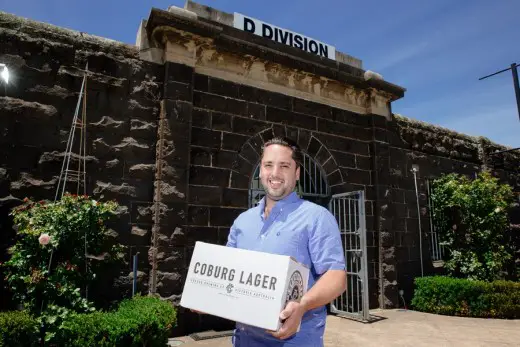 'Coburg Brewing Co.' will be designed by renowned architects, Technē, and is set to encompass both outdoor, indoor and laneway dining options, with some of the site's key heritage features such as laundry machinery and solitary confinement cells, to be restored and showcased as a feature within the venue.
The dining precinct is part of developer, Future Estate's $1billion 'Coburg Quarter' project which aims to deliver inspired dining and commercial precincts within a first-class urban renewal community, transforming the substantial site into a new beacon for Melbourne's north and creating an enviable lifestyle of practical convenience and premium amenity.
"Working with Technē and Future Estate to realise this vision has been an incredible experience. The opportunity to be a part of one of the last remaining prison conversions in Australia is truly a once-in-a-lifetime experience," Caneva said.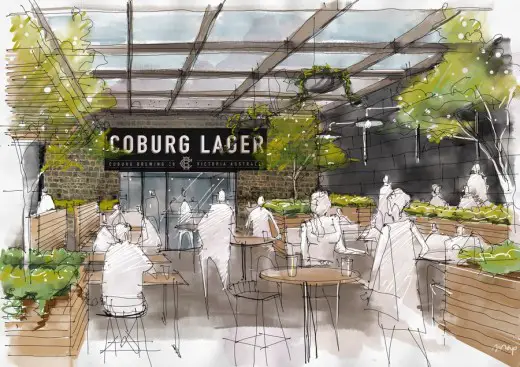 As owner of the nearby Post Office Hotel and proud Coburg local, Caneva has witnessed the suburb evolve over the last decade and is confident the introduction of new hospitality offerings is the key to the area's continued gentrification.
"Our intention is to create a venue that resonates with local patrons by offering an authentic mix of home grown beer, wine and spirits and an honest menu that will see a charcoal grill deliver modern Australian BBQ food designed to share," says Caneva.
The site's conversion will also cater for an on-site microbrewery where Caneva and his wife Jane, will produce their independent beer, 'Coburg Lager'. Now stocked in over 100 venues, the craft beer will feature alongside an all Australian food and beverage offering that celebrates local produce.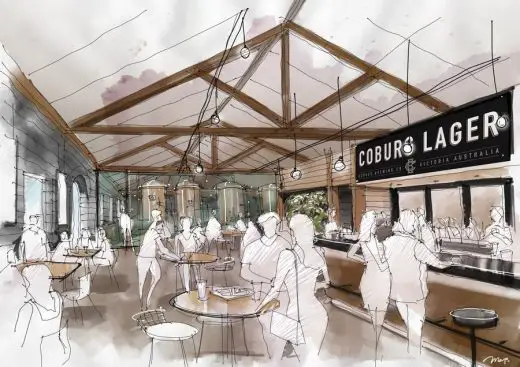 "Melbourne's craft beer scene is exploding right now and Coburg Brewing Co. is fortunate enough to be involved in this movement with a microbrewery that proves there is demand for quality, local products and huge support for its producers," says Caneva, who plans to release new beers upon opening.
Following this theme, Coburg Quarter will introduce an authentic mix of local, independent retailers that Future Estate have hand-picked specifically to appeal to the Northside community and its broad demographics.
"Drawing inspiration from the iconic boroughs of New York City and London, our vision for Coburg Quarter is of a new urban community with soul, creativity and a genuine sense of neighbourly spirit," says Future Estate Founder and Managing director, Ben Anderson.
"With Danial's favour amongst this community and the high esteem in which The Post Office Hotel is held amongst locals, we expect Coburg Brewing Co. to become a Coburg institution in its own right," says Anderson.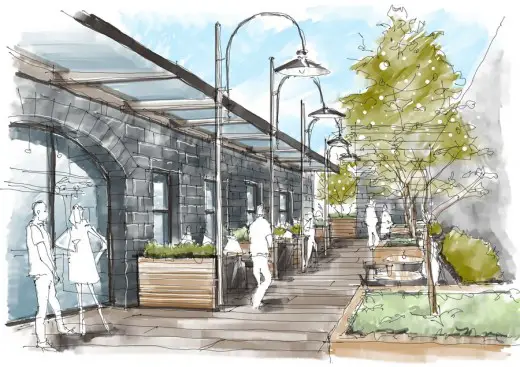 Working closely with Caneva and the team at Future Estate, Melbourne architecture practice, Technē, will create a contemporary environment that respects the immense history of the site and celebrates its heritage.
Prominent in the hospitality design scene, Technē are responsible for delivering some of Melbourne's most recognised venues, such as Prahran Hotel, Bridge Hotel, Terminus Hotel, Tonka Restaurant, Movida and Munich Brauhaus.
The restoration of the heritage D Division will see historical elements retained and integrated into a more modern aesthetic. The existing fabric of bluestone walls, timber trusses and corrugated iron roofing will be rebirthed with fresh steel, tile and timber joinery introduced as part of an overall design that is at once refined and robust.
To the rear is an intimate courtyard space which will be converted into an enclosed beer garden. An abundance of vegetation will soften and break up the area, as various external roof and shade structures enable all weather usage.
Scheduled for completion in July 2016, Anderson is confident that the degraded state of the building won't prohibit its delivery.
"The expert consultants team we have assembled will cover all the technical requirements of the project to ensure everything is dealt with in a logical and sensitive manner.
"We are really excited about the vision for this precinct and pleased to be commencing construction in the first quarter of 2016, with plans to launch the new dining precinct later on in the year," says Anderson.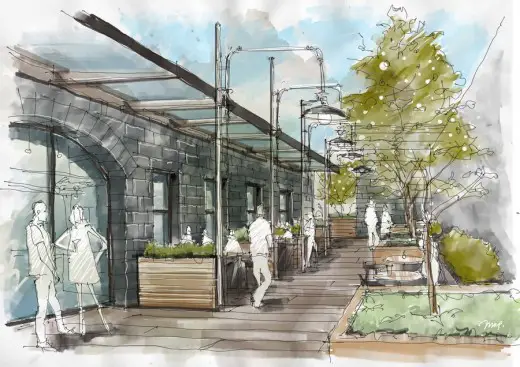 Future Estate
Future Estate is a Melbourne-based developer with a commitment to delivering projects that are not only well designed and integrated with substantial public and private amenity, but ones that make a positive contribution to the environments in which they sit.
Future Estate's philosophy is simple; to buy and develop infill sites in popular inner- suburban areas, that enrich the surrounding urban fabric through the delivery of retail, mixed-use facilities, parks and public open spaces, as well as restaurant and café offerings.
Offering a unique perspective on development and with a key focus on the consumer as the end-user, Future Estate is committed to delivering projects that promote vibrant community living and create integrated lifestyle opportunities.
With over $1billion worth of projects under development and a portfolio spanning the eastern seaboard of Australia, Future Estate is one of the country's most progressive privately-owned developers.
Technē
Technē is a dynamic and experienced commercial practice comprised of 27 staff and lead by two directors, Nicholas Travers and Justin Northrop. The directors are passionate about architecture and operate the successful practice in a collaborative studio based office with their team of architects, draftspeople and interior designers to deliver architectural and project management services for a variety of project types including hospitality and retail, commercial and residential.
The architecture of Technē is broadly characterised by a thoughtful design approach that responds to complex constraints and functions to achieve buildings with space, form and detail that is engaging, surprising, textural, contemporary, efficient and relevant.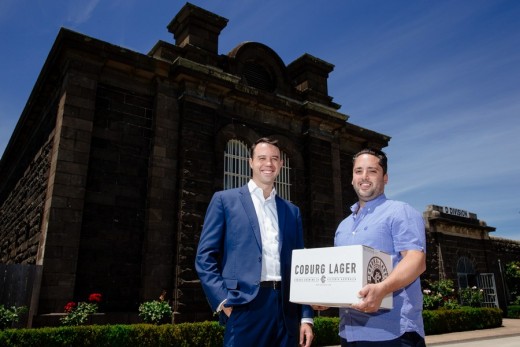 Danial Caneva
Danial Caneva is a 4th generation Publican, who began working in his parent's establishments from age 10. Having grown up in the industry, Danial's approach to hospitality is intuitive and well crafted.
Since launching the Post Office Hotel in Coburg in 2011, Danial went on to create Coburg Brewing Co. with wife Jane in 2013. The pair have collectively built a reputation as quality local producers and see their involvement in Coburg Brewing Co. as a continuation of this.
Coburg Brewing Co Building in Melbourne images / information received Feb 2016
Coburg Quarter development by Future Estate for the former Pentridge Prison site in Melbourne: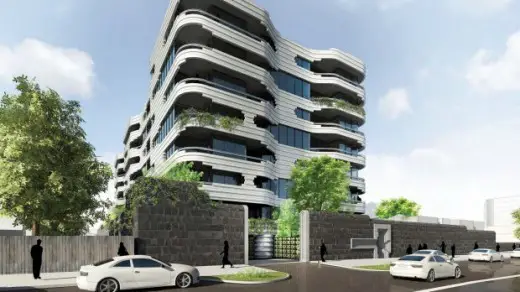 image : Darren Horisk
Urquhart St, Coburg VIC 3058, Australia – pentridgeprison.com.au
Coburg piazza at former Pentridge Prison in Melbourne
Location: Urquhart St, Coburg VIC 3058 Australia
Melbourne, Victoria, Australia
Architecture in Melbourne
Melbourne Architecture Designs – chronological list
Melbourne Architect – design studio listings
Nunawading Station Melbourne
Design: Grimshaw
The Yardmaster's Building, Southern Cross Rail Yard
Design: McBride Charles Ryan Architects
Highpoint Shopping Centre Melbourne
Design: Grimshaw
Website: Coburg Quarter Melbourne
"Coburg is set for a major building boom, with planning reforms paving the way for almost $1 billion worth of community facilities and retail and residential development", says the www.theage.com.au
Comments / photos for the Coburg Brewing Co Melbourne Architecture page welcome
Website: Coburg Quarter