Preston Bus Station Demolition, Architect, Design, Tithebarn News, Modern Lancashire Architecture
Preston Bus Station Building
Tithebarn Development: Modern Lancashire Building Demolition – Transport Project in northwest England, UK
post updated 27 Mar 2021
Preston Bus Station News
Preston Bus Station
Dates built: 1968-69
Architect: Building Design Partnership
25 Sep 2019
Beautiful and Brutal: 50 Years in the life of Preston Bus Station, Harris Museum, Art Gallery & Library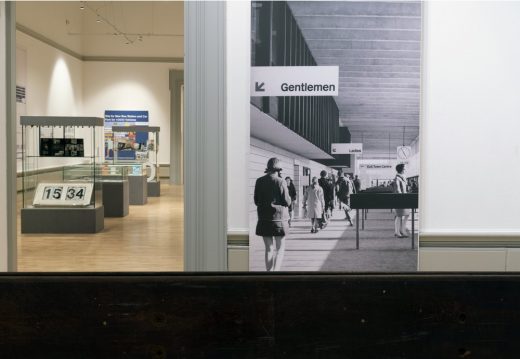 image courtesy of exhibition organisers
Preston Bus Station Birthday Exhibition
21 September – 24 November 2019
23 Sep 2013 – Preston's under-threat bus station has been given Grade II listed status by the UK government, reports the BBC today.
Preston City Council wants to demolish the station, saying it would cost more than £17m to modernise.
Its leader, Peter Rankin, said news of the listing was "not the outcome we were hoping for". But campaigners welcomed the decision taken by Ed Vaizey, the Minister for Culture, saying it was "brilliant news".
Preston Bus Station building – the key features are the curved, ribbed, concrete facade elements: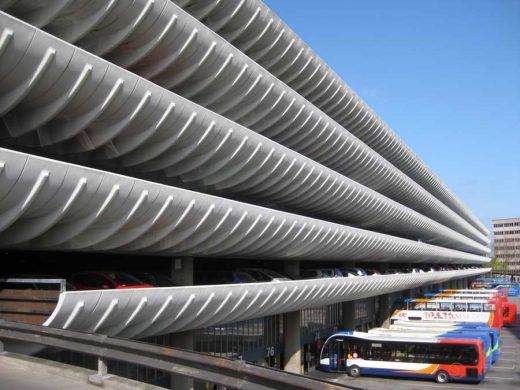 photograph © Adrian Welch
Councillors say it costs £300,000 a year to run the bus station and the estimated cost of getting it up to "modern-day standards" would be between £17m and £23m.
17 Sep 2013 – Campaigners fighting to save Preston Bus Station from demolition are to parade through the city.
The Save Preston Bus Station group intend to display a new banner, made by the acclaimed artist Ed Hall, during a midday procession on Saturday, October 26. Various famous architects have come out in support of this campaign, including Richard Rogers.
Preston Bus Station march – report in the Lancashire Evening Post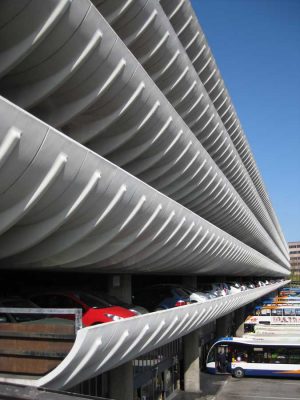 photograph © Adrian Welch
Conservationists fight to save 'iconic' Preston bus station
Campaigners are fighting to save this Modern Lancashire bus station building, hailed as an 'iconic modernist structure', from demolition after council bosses said it was cheaper to knock it down than repair it.
View from e-architect editor, Adrian Welch, 15 Dec 2012:
This is one of those classic fights, essentially between the people and the experts, though one could also say between those who have to manage stretched council budgets and those that don't. It reminds me of the fight to save the 'Get Carter' block in Gateshead. My friends there are all relieved to see it gone, brutalist concrete has never been popular with the public and never will be.
building elevation view from the past: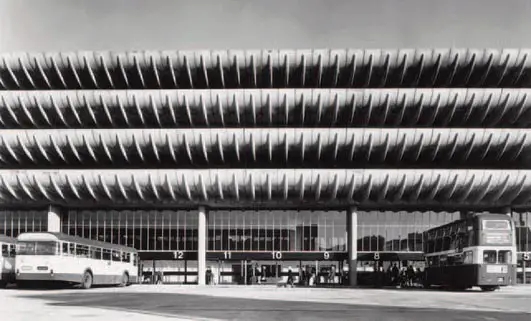 image from architect
The Preston Bus Station controversy is similar, although externally the building has an imposing elegance, it is still a Modernist behemoth, a massive bulk sitting close to the more permeable historic centre. I've known the bus station – actually multi-storey car park and bus station – and surroundings very well since the 1970s (internally it was and is dingy, and the connection to the market is poor, anonymous tiling like the dreaded Arndale Centre) so am not some outsider with a surface knowledge.
Yes it would be a shame to see it go given that one can imagine the replacement structures might not be as good but I firmly believe cities should be dynamic and permeable and this campaign to save the building goes against that. I support the conservationist and aesthetical angles but ultimately a city with the kind of revenue Preston receives needs to make some brutal decisions and it is time closure was made with this ongoing discussion. My plea to the council would be if you do demolish please ensure you employ talented architects to masterplan the area and then work with a selection of good architects to deliver excellent new buildings that bring back permeability and human scale to the area.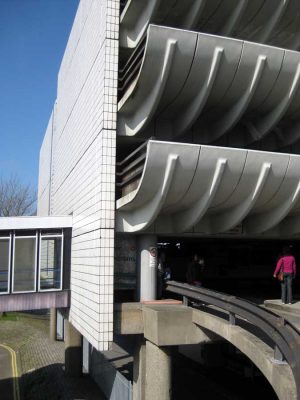 photograph © Adrian Welch
Preston Council want to replace this Modern building with Tithebarn, a mixed-use development, the architect of which will be the same as the bus station: Building Design Partnership, now known as BDP. BDP was founded in 1961…in Preston. The architecture practice was founded by George Grenfell Baines, who personally replied (with a pleasant handwritten letter) to my year-out job request in 1992, which says a lot about the man.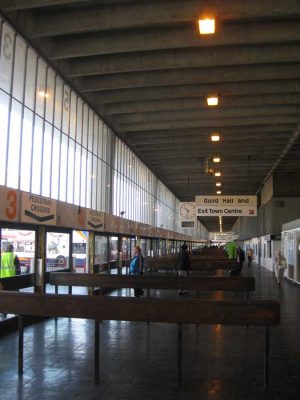 photograph © Adrian Welch
The anti-demolition campaign even has world-famous Dutch architect Rem Koolhaas of OMA commenting in support. If there is some intelligent, creative was the buildig can be remastered then maybe it can be saved – campaigners should provide a cohesive argument for how the building can be retained, redeveloped and maintained. In Cumbernauld, Scotland, there was a series of intiatives – workshops, debates, exhibitions – set around ideas to redevelop a similar bukly 20th century building. Maybe the campaign can learn from that experience?
BDP Architects – formerly titled Building Design Partnership
Save Preston Bus Station Campaign – facebook page
Location: Preston, Lancashire, Northwest England, UK
Preston Architecture
Contemporary Lancashire Buildings
Brockholes Wetland and Woodland Nature Reserve Visitor Facilities, east of Preston
Design: Adam Khan Architects
Lancashire nature reserve
National Football Museum, Deepdale
Design: OMI Architects
National Football Museum Preston – the contents have now moved to Manchester's Urbis building.
Avenham Park Pavilion
Design: McChesney Architects
Avenham Park Pavilion
Preston Office Building Competition
Design: Moxon Architects
Preston Office
Park Houses
Design: Ushida Findlay Architects and Holmes Partnership
Preston Houses
Comments / images for the Preston Bus Station Building by Building Design Partnership (BDP) page welcome