Preston architecture news 2023, Lancashire building photos, North West England architect project designs pictures
Preston Buildings : Architecture
Key Lancashire Property Developments, northwest England, UK
post updated 21 October 2023
Preston Architecture News
Preston Architectural News
11 July 2023
Victorian Society urges Preston Council not to let flats plan for former Park Hotel extension ruin historic views
The Victorian Society has objected to plans to extend the elegant former Park Hotel in Preston with a huge L-shaped, wrap around, extension which is 4-5 stories higher than the original building. The hotel site needs sensitive development as it is highly visible from the railway and surrounding listed parks and conservation areas. There is a precedent for further building on the site of the demolished neighbouring 60s tower block, but the current plans will harm the historic building and the surrounding area.
Guy Newton, Conservation Adviser, Victorian Society said: "Sadly, these plans will harm the historic hotel more than the demolished 60s tower did. Currently, the eye is drawn through carefully landscaped gardens upwards to the former hotel. This proposal would permanently harm the existing 19th-century relationship with the wider landscape, integral to both these early municipal parks. This would harm the setting of surrounding listed and heritage buildings. Preston Council must refuse this application and work with the developers to come back with a scheme which restores the original building and creates and new more sensitively designed accommodation. This is a once in a generation opportunity to get key site right for Preston."
The Society's objection letter to the Council can be viewed here.
The extensions would be overly dominant and out-of-place in the Avenham Conservation Area, which has domestic scale architecture and carefully designed views. Any new structure should enhance the conservation area while being subservient to the former hotel's size and outline to prevent harming the historic building and surrounding listed parks.
The former Park Hotel was built in 1883 as a railway hotel catering to passengers travelling through Preston. Former guests are reported to have included the future King Edward VII, Prime Minister Stanley Baldwin and Gracie Fields.  Its strategic, landmark location offers scenic views of the surrounding parklands and is a key feature of views in the Avenham Conservation Area, which is notable for its mixture of townhouses, attractive views, and listed parks.
Both Miller Park and Avenham Park are Grade II* listed and were designed by landscape designer Edward Milner in 1861 and 1864, respectively. Milner (1819-1884) was originally apprenticed to Sir Joseph Paxton, best known for designing the Crystal Palace. Miller and Avenham parks are considered significant as early examples of municipal park. The location of the hotel is therefore extremely sensitive as it is so prominent and affects numerous other heritage assets around it.
The hotel structure was offices for Lancashire County Council for decadesThe administrators of Lancashire County Council's own pension fund took ownership of the site in 2016. In 2020, the adjoining 1960s office tower was demolished. The planning application is being made by a North West based developer, see the application by visiting https://selfservice.preston.gov.uk and entering this code 06/2023/0510.
www.victoriansociety.org.uk
28 Oct 2021
Preston Mosque Architecture Competition Entry
Design: AIDIA STUDIO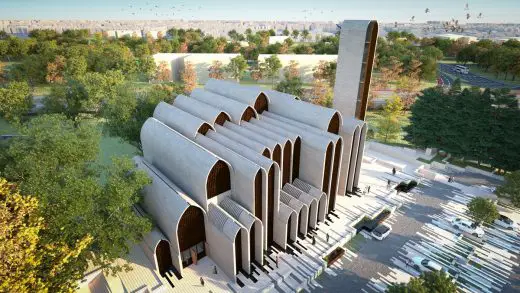 Preston Mosque Design by AIDIA STUDIO
The task of designing a place of worship, regardless of the faith, is a phenomenal challenge for any architect. For this design team, the endeavour triggered a deep and lengthy journey into the history of humanity, the evolution of religion, the rise of Islam, its proliferation around the world along with the vast examples of architectural expressions that have enriched our towns and cities.
17 Sep 2021
Preston Mosque Architecture Competition Winner
Design: Luca Poian Forms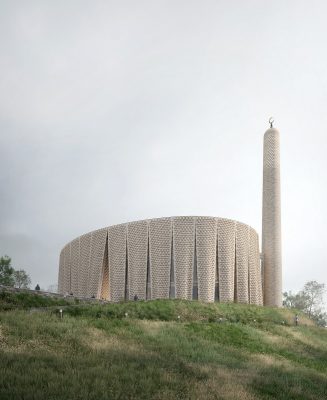 image courtesy of architects practice
Preston Mosque Architecture Competition Winner
The Royal Institute of British Architects announced London-based architectural practice LUCA POIAN FORMS as the winner of the international RIBA Competition for the design of a new mosque in Preston, Lancashire. The client was looking for a truly inspirational design to create a timeless landmark building on a site near to Preston city centre and visible from the surrounding area.
14 Jun 2021
Preston Mosque Architecture Contest Entry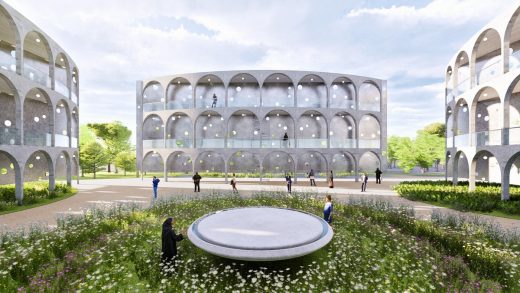 image courtesy of architecture office
Preston Mosque Design
While architecture styles could change, religious dates, rituals and festivals persist. Thus, the fundamental challenge of the design of a new mosque lies in the extraction and interpretation of the essence of a religion that could reflects in its spatial layout which is timeless in serving the above.
26 Feb 2021
Preston Mosque Architecture Competition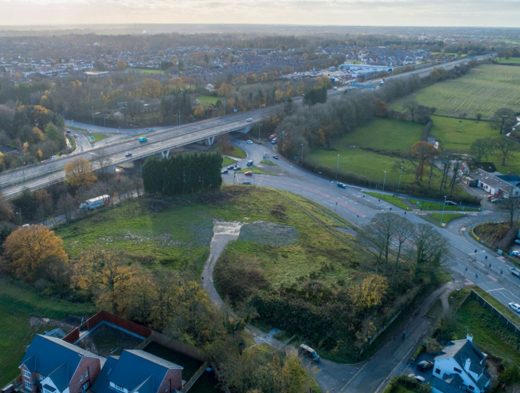 photo courtesy of RIBA
The RIBA launches an international design competition for a new Mosque near Preston:
Preston Mosque Architecture Competition
More Preston Buildings News on e-architect soon
Preston Buildings News 2012 – 2019
25 Sep 2019
Beautiful and Brutal: 50 Years in the life of Preston Bus Station, Harris Museum, Art Gallery & Library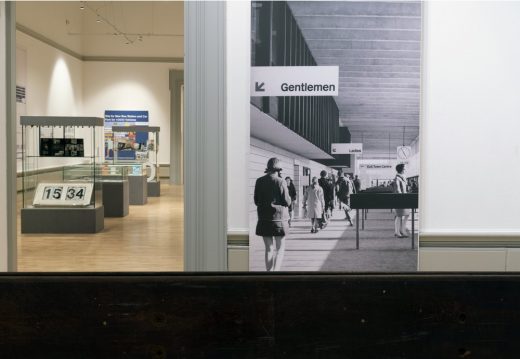 image courtesy of architects office
Preston Bus Station Birthday Exhibition
21 September – 24 November 2019
Exhibition Opening is on Friday 20 September
Time: 6 – 8pm. The welcome at 6pm to the exhibition was interpreted in BSL by CoSign.
20 Apr 2016
RIBA Competition for University of Central Lancashire in Preston
The Royal Institute of British Architects (RIBA) Competitions and the University of Central Lancashire are pleased to announce the launch of an international competition for a new Student Support Centre and creation of a new Square at the heart of their campus in Preston, Lancashire.
RIBA University of Central Lancashire in Preston Design Competition
Preston Buildings News Archive
Harris Flights architectural intervention
2 Sep 2013 – Dramatic temporary staircase to Grade 1 listed Harris Museum & Art Gallery in the centre of the city: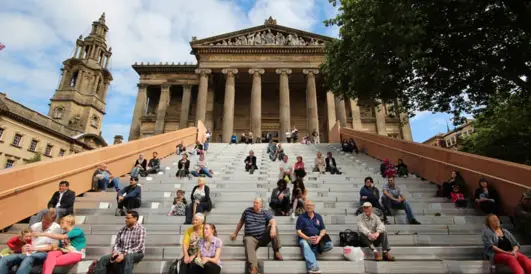 photo from Preston City Council
The Harris Flights is a dramatic temporary staircase which will transport visitors for the first time from the Flag Market to the 1st floor of the Harris Museum & Art Gallery. It will also create a fantastic focal point in the city centre throughout the summer, for people to socialise, meet with friends and enjoy a coffee, or eat and read a book during lunch breaks.
The architectural intervention Harris Flights was commissioned by 'In Certain Places' working in partnership with architectural practice Research Design.
Performances, events and activities will be programmed on and around the flights across the four weeks, for people to come and enjoy.
The steps will be used as a platform enabling people to watch performances from the Flag Market, alternatively the steps can also be used as seating with the Flag Market becoming the auditorium. One of the main features is access to the Harris Museum via the first floor and balcony, which offers views across the city centre.



photos from Preston City Council
Date: Sat 17 Aug to Sun 15 Sep
Location: Flag Market
Time: 10:00am to 9:00pm
Preston Bus Station Building News
Date built: 1969
Design: Building Design Partnership (now BDP)
Conservationists fight to save 'iconic' Preston bus station Campaigners are fighting to save Preston bus station, hailed as an 'iconic modernist structure', from demolition after council bosses said it was cheaper to knock it down than repair it.
Preston Bus Station : opinion on the proposed demolition
View from e-architect editor, Adrian Welch: this is one of those classic fights, essentially between the people and the experts, though one could also say between those who have to manage stretched council budgets and those that don't. It reminds me of the fight to save the 'Get Carter' block in Gateshead. My friends there are all totally relieved to see it gone, brutalist concrete has never been popular with the public and never will be.
More contemporary Preston Buildings News online here at e-architect soon
Preston Buildings News 2006 – 2011
21 Dec 2011
Sika Liquid Plastics Limited
Design: Frank Whittle Partnership



image from architect
Sika Liquid Plastics Preston
A sector-leading UK manufacturing company has appointed Frank Whittle Partnership (FWP) to design a new £2.5 million research and development lab at its Lancashire HQ.
FWP, one of the leading architecture and design practices in the Northwest, is designing the cutting-edge, three-storey facility for Sika Liquid Plastics Limited's (SLPL) operation in Preston and is aiming to submit a planning application early in 2012.
Preston Architecture
Major Preston Architectural Projects, alphabetical:
Avenham Park Pavilion
2008
Design: McChesney Architects



image from architect
Avenham Park Pavilion
Brockholes Wetland and Woodland Nature Reserve Visitor Facilities, nr Preston
2008-
Design: Adam Khan Architects



image from architect
RIBA competition winner
Lancashire nature reserve
Housing, Preston city centre
–
Design: Stirling and Gowan
National Football Museum
Date built: 2001
Design: OMI Architects



image from architect
National Football Museum Preston – the contents have now moved to Manchester's Urbis building, the museum opened there in July 2012.
Park Houses
Date: 2008-
Design: Ushida Findlay Architects and Holmes Partnership



image from architect
Preston Houses
Preston Bus Station
Dates built: 1968-69
Design: Building Design Partnership (since renamed BDP)
This Brutalist building was designed by Keith Ingham and Charles Wilson of Building Design Partnership with E. H. Stazicker with significant input from engineers Ove Arup and Partners. The simple, strong forms are memorable and well respected amongst the architectural community.
It is threatened with demolition and featured on the 2012 World Monument Fund's list of sites at risk.
Preston Guild 2012 Competition
Date: 2009-
Design: RCKarchitects



image from architect
Preston Housing Competition
Preston Market Hall, Lancashire
Date built: 1998
Design: Stephen Hodder Architects
Preston Office Building Competition News
Date: 2007-
Won by Moxon Architects



image from architect
Preston Office
River Douglas Crossing : Design Competition
Date: 2008
Design: Entry by Feix&Merlin Architects



image from architect
Preston Bridge
More Preston Buildings – Lancastrian Architecture projects online soon
Location: Preston, Lancashire, Northwest England, UK
Northwest English Architecture
Contemporary Lancashire Buildings
Blackpool Buildings + Lytham St Annes
Lancashire Architecture Competition
Lancashire Architecture : Kendal / Cumbria
Buildings / images for the Preston Architecture – New Building Designs page welcome
Website: www.preston.gov.uk