Henry Royce Institute for Advanced Materials Hub Manchester, University Science Building, Architect
Henry Royce Institute for Advanced Materials Hub News
University of Manchester Building, North West England design by NBBJ Architects, UK
14 Sep 2020
New Henry Royce Institute for Advanced Materials Hub
Location: University of Manchester, Manchester, England, UK
Design: NBBJ Architects
£105m Henry Royce Institute Hub Building at University of Manchester
The Henry Royce Institute for advanced materials research and innovation celebrated a key milestone earlier this year ahead of the new national hub becoming fully operational in 2021.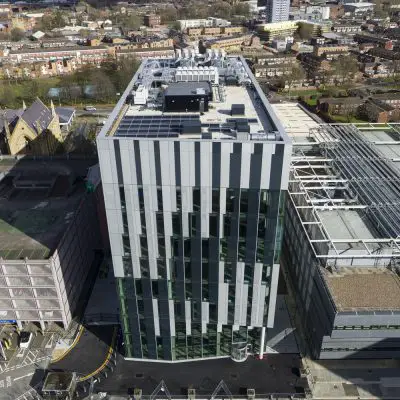 The Royce Hub Building based at The University of Manchester will draw together facilities and expertise from the Institute's partner organisations: the National Nuclear Laboratory, UK Atomic Energy Authority, Imperial College London and the Universities of Cambridge, Leeds, Liverpool, Oxford and Sheffield, as well as engaging widely with UK academics and industry.
Extending across 9 floors and located at the heart of The University of Manchester's campus, it will foster world-class collaborative research in tandem with industry to act as an international convener for materials research excellence.
Following the construction phase, the state-of-the-art Royce Hub Building was handed over by the contractors Laing O'Rourke in March 2020 and the first operational staff were just hours away from moving in before non-essential facilities closure was initiated in line with government guidance.
Progress on the interiors still continues and the Institute can now share a first look inside the £105m building which will act as a national hub for driving advanced materials research, development and commercialisation in the UK.
Contractors continue the fit-out to minimise disruption when equipment and staff move in following the University of Manchester's phased reopening of campus. The first labs are expected to be completed towards the end of 2020.
The building will host £45 million worth of new equipment at Manchester for biomedical materials, metals processing, digital fabrication, and sustainable materials research. Alongside this will be collaborative space for industry engagement, helping to accelerate the development and commercialisation of advanced materials for a sustainable society.
The building and equipment totalling £150 million forms part of the wider £235m investment by the Engineering & Physical Sciences Research Council across Royce's national partnership. An investment of £500,000 has also be made by the The Wolfson Foundation to support the biomedical materials facility within the building.
Regius Professor of Materials and Royce Chief Scientist Philip Withers said:
"The new Royce Hub Building will act as a centre of scientific excellence for advanced
materials and a meeting place for the national community. By bringing together the UK's
academic and industrial materials leaders, Royce will identify new opportunities, workshop
ideas, and develop new strategies and approaches to tomorrow's materials demands."
Professor David Knowles, CEO of the Henry Royce Institute said:
"Royce has come a long way since its inception in 2016 and the handover of the new Royce
Hub Building in Manchester represents the next chapter in our story. Although COVID-19 has
delivered some unprecedented challenges and delays, we are confident that the physical
space will demonstrate that the national institute is truly open for business. We can now
look to address challenge-led research that will have positive impact on UK and global
citizens, underpinning the Royce vision of 'Advanced Materials for a Sustainable Society'."
Manchester is a world-leader in developing new and existing materials and is already known globally as the home of graphene – a game-changing two-dimensional material first isolated at The University of Manchester in 2004.
Dr Diana Hampson, Director of Estates for The University of Manchester said:
"We are delighted to have successfully delivered the construction phase of the Henry Royce
Institute Hub Building which sits alongside the University's growing advanced materials
campus including the National Graphene Institute and the Graphene Engineering Innovation
Centre. The research that will take place in these buildings will consolidate Manchester's
role at the centre of materials characterisation – measuring and exploring materials that will
help us fully understand their properties and potential."
The Royce Hub Building, under the Project and Cost Management of Arcadis was designed by NBBJ,
an international architectural practice, alongside civil and structural engineers Ramboll and building
services engineers Arup. The building was delivered by Laing O'Rourke, the appointed University of
Manchester contractor.
Handover of the new Henry Royce Institute Hub Building
About the design and delivery team
The University of Manchester appointed Arcadis as project manager, cost manager and Full
Design Team (PMFD) to lead the delivery of the £105 million Henry Royce Institute. As a
framework main contractor, Laing O'Rourke led in the delivery of the building and the
project was designed by international architectural practice NBBJ, alongside civil and
structural engineers Ramboll and building services engineers Arup.
The University of Manchester appointed Arcadis as project manager, cost manager and Full
Design Team (PMFD) to lead the delivery of the £105 million building.
Design and Delivery statement
The design of the hub building for the national Henry Royce Institute for advanced materials
is driven by a vision to engage scientists, industry and the public by showcasing the
Institute's work and providing a flexible environment for world-class research. The design
supports the Institute's goal of accelerating the invention of new materials systems that will
meet global challenges, enhance industrial competitiveness, and shape more sustainable
societies. Located on campus at The University of Manchester, the 'science on show'
approach includes laboratories revealing their complex workings to those on the outside,
alongside spaces for visitor engagement and imaginative displays of research material and
products.
The continual evolution of research themes demanded a strategy that provides inherent
flexibility and adaptability in building design and layout, enabling the users to adapt to new
research and technological opportunities during the building's lifetime. Across the seven
floors, there are dedicated specialist spaces as well as fully flexible write up spaces providing
a flex zone which is ready to be turned into further laboratories, reacting to the changing
needs of the materials research community.
Vertical connections and shared spaces create opportunities for researchers and industry
partners to mix across teams, to generate new relationships and encounters with the aim of
cross-fertilising research.
The 10-metre-high ground floor entrance is overlooked by a café at mezzanine level and
offers views into the material testing spaces. Terraced floors provide visitors with glimpses
into workspaces as they climb the staircase through a stepped, three-storey atrium. These
atria house local collaboration hubs with lounge seating and views out across The University
of Manchester's campus and city beyond. There is an efficient plan of offices which
transition via the adaptable 'flex zone' into more private and technical and specialist
laboratory spaces.
The exterior design communicates the internal working of the building and employs NBBJ's
unique skills in design computation: bespoke software that uses algorithms to link geometry
with performance and climate data to address specific design aspects, allowing rapid
prototyping and augmenting an intuitive design process. NBBJ, together with Laing
O'Rourke's supply chain, designed aspects of the project, such as the position and palette of
the feature stair, with the help of its in-house virtual reality start-up, Visual Vocal; a tool
which allows distributed project stakeholders to immerse themselves into unbuilt
environments and provide instantaneous feedback to inform a collaborative design process.
With the facades, solar gain is carefully balanced against the building's spatial functionality.
In response to orientation and internal needs computational 'rules' optimise greater visual
transparency to more 'open' functions such as local collaboration hubs, and lesser
transparency to controlled laboratory environments, creating a dynamic and modulated
building appearance. Researchers and industry partners are linked through a careful
arrangement of vertical connections and shared spaces, which additionally offer views into
public areas and laboratories for visitors and passers-by.
Due to the building being located in a busy city centre principal contractor, Laing O'Rourke,
used modern methods of construction to ensure the delivery team could maintain pace on
the logistically challenging project. The offsite, precast concrete design solution delivers
mass and strength to the building's structure, necessary to accommodate the heavy
scientific equipment and deliver the ultra-low vibration requirements. This method allowed
Laing O'Rourke to perform quality checks before the components reached site and then
could be assembled on site. The approach also sped up construction, increased quality and
minimised waste and site deliveries.
Combining Ramboll's expertise in offsite construction and advanced digital
engineering, alongside close collaboration with Laing O'Rourke, the University, Arcadis,
NBBJ and Arup, the full benefits of offsite construction were realised. Using advanced digital
design tools, the MEP, architectural design and structural arrangement were fully
coordinated to deliver a consistent MEP servicing strategy with allocated spaces for risers
set out in all floor slabs, demonstrating how vital the integration of MEP strategies,
thoughtful consideration of architectural aspirations and planning for future adaptability are
in the early design stages.
The main structural frame consists of hybrid precast and cast-in-situ for the upper floors,
"twin walls" for the structural stability walls and precast columns. The precast elements
were standardised in size wherever possible, reducing manufacturing and installation time
and cost. 'Just in time' site deliveries were accurately scheduled for programme assurance
and improvement of the overall site environment with less personnel required on-site,
waste improving health and safety risks relative to more traditional construction; and a
reduction in site traffic vital for a project located in the heart of Manchester.
Mel Manku, Partner at Arcadis, said:
"Having led this complex and rewarding project from inception, we are very proud to have
reached this major milestone on time and on budget and to be able to deliver a quality
product to The University of Manchester. The successful delivery of this project is in no
small part thanks to the hard work and effort by our people, the project and construction
team and the strategic leadership of the University.
As a flagship project in the Government's Northern Powerhouse agenda and National Hub,
this building helps cement Manchester and the UK as a world leader in advanced materials
research as well as bringing new jobs and skills to the city and boosting the local economy.
This is the latest in a long line of projects Arcadis has successfully delivered with The
University of Manchester, building on a truly collaborative relationship developed over the
past decade. It also recognises our established position in the higher education, science and
research sector as a consultant of choice that understands the requirements for research
facilities and how to overcome inevitable challenges to deliver value, working with our
supply chain partners. We look forward to continuing our work with the University over the
coming years having been appointed to their consultant framework."
Mark Platt, Project Leader at Laing O'Rourke said: "The Henry Royce Institute for Advanced
Materials was a logistically challenging project. Being based in Manchester city centre
meant that we had limited space and strict timings. Working as a unified team, together
with our own in-house supply chain including Crown House Technologies, Select, Expanded
and our Geotechnical piling partners we provided a seamless and cohesive delivery. The
success of this build is a testament to the upfront planning that took place during the 18-
month pre-construction service agreement.
"The basis of the build has been focussed around off-site manufacturing, which has
provided flexibility for the University of Manchester when it comes to how the building is
used. An example of the benefits derived from off-site can be illustrated through the
delivery of the MEP strategy. By first installing the largest Megariser that has been
manufactured at our Crown House Technologies factory in Oldbury, the team was then able
to deliver the building surrounding it. As the Megariser was manufactured off site and in a
controlled environment we were able to reduce the traditional 16-week installation period
to just two weeks.
"Utilising these modern methods of construction meant that we could avoid congestion on
and around the site through 'just in time' deliveries and immediate installation of
components.
"Laing O'Rourke is proud to have been selected as part of the University of Manchester
Framework Construction Scheme and look forward to continuing our work with the
University of Manchester over the coming years."
Ingo Braun, Design Director at NBBJ London, said:
"Working with such a trendsetting institution on this major new project was an inspiring
process and gave us the opportunity to build on NBBJ's expertise in the design of
collaborative, highly adaptable workplaces alongside our deep knowledge of the complex
requirements of laboratories. The building continues to push Manchester forward as a
global leader for advanced materials research; NBBJ was delighted to be involved in this
process and looks forward to seeing how this flexible and engaging building will be part of
the journey towards reducing time from materials discovery to application."
Simona Peet, Project Director at Ramboll, said:
"Even before it is occupied, the Royce Hub Building is a beacon of construction innovation.
From an optimised offsite construction solution that delivers on the building's extremely
low vibration requirements to an embodied carbon assessment of the structure that will
help inform future developments. The entire project team has delivered an exemplar
building that will benefit both science and industry"
About NBBJ
NBBJ creates innovative places and experiences for organisations worldwide and designs
environments, communities, and buildings that enhance people's lives. Founded in 1943
and celebrating 77 years of practice in 2020, NBBJ is an industry leader in designing science,
education, corporate, healthcare, commercial, civic and sports facilities. The firm has won
numerous awards and has been recognised as one of the largest firms in the annual BD WA
survey. NBBJ has more than 750 employees in 11 offices worldwide.
Consistently recognised
by clients for creative and professional design process, NBBJ has partnered with many top
research institutions, corporate and tech companies, including the Wellcome Trust Sanger
Institute, King's College London, Stanford University, the University of Cambridge, Amazon,
City University, the Bill & Melinda Gates Foundation, Boeing, GlaxoSmithKline, Microsoft,
Salk Institute, Samsung, Telenor, The Royal Liverpool University Hospital and Tencent.
www.nbbj.com
@NBBJDesign
About Laing O'Rourke
Through its operations around the world, across building and infrastructure sectors, Laing
O'Rourke's 2025 mission will see the business secure its position as the recognised leader
for innovation and excellence in the construction industry.
With a heritage that draws on 170 years' experience and a diverse group of vertically
integrated businesses, Laing O'Rourke has helped forge cities, communities and economies.
We attract and develop the very best people. Our 13,000 people across the UK, Australia,
the Middle East and South-East Asia deliver engineering innovation, project leadership and
certainty for our clients on the world's most complex and challenging buildings and
infrastructure.
www.laingorourke.com @laing_orourke
Henry Royce Institute for Advanced Materials Hub Building at University of Manchester images / information received 140920
Previously on e-architect:
29 Nov 2018
New Henry Royce Institute Tops Out
Location: University of Manchester, Manchester, England, UK
Design: NBBJ Architects
Henry Royce Institute, University of Manchester
29th of November 2018 – The new national institute for materials science research and innovation set to advance economic growth of the United Kingdom.
The Henry Royce Institute for Advanced Materials Hub, a new £150m national materials science research centre at the heart of The University of Manchester's campus, was ceremoniously topped out yesterday by the University's key stakeholders and project team. The Institute's Hub is the latest building championing materials science research in the United Kingdom. Designed by architects NBBJ with a project team led by Arcadis; the design team includes contractor Laing O'Rourke, structural engineer Ramboll and building services engineer ARUP.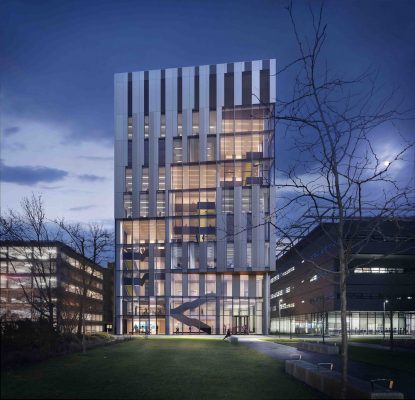 images courtesy of architecture office
The 16,000sqm Institute Hub building received planning permission in March 2017 and will be the base for the UK's leading materials research and commercialisation, housing state-of-the-art equipment and collaborative space for industrial engagement.
Research specialties on-site will include the development of 2D materials used in inks for printable electronics and in super capacitators; and a research group focused on the development and manufacture of biomedical materials used in the field of regenerative medicine and prosthetics. The different types of pioneering scientific research are set to benefit from the collaborative environment facilitated by the building's design, which encourages interactions between researchers in different fields.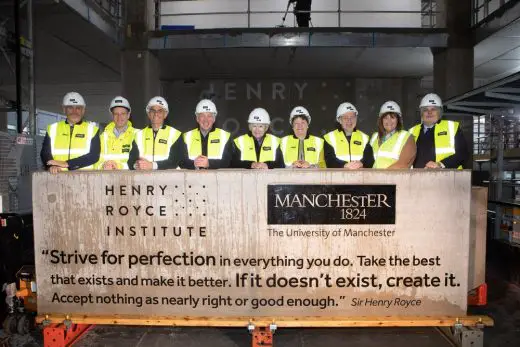 The building is designed to promote 'science on show': Researchers and industry partners are linked through vertical connections and shared spaces, which offer strong visual links for staff and visitors between public areas and the laboratories. A triple height ground floor entrance space is open to the wider campus, and visually permeable layouts allow visitors glimpses of workspaces as they climb the staircase through a stepped, three-storey atrium.
'Collaboration areas' are located within the atria, enabling staff and researchers to informally meet and interact whilst enjoying views across the campus and city beyond. An adaptable 'flex zone' connects offices with more private, technical and specialist laboratory spaces.
The Institute's façade, designed with NBBJ's bespoke software, reflects the internal operation of the building. Computational tools generate greater visual transparency to more 'open' functions such as local collaboration hubs and less transparency to controlled laboratory environments, creating a dynamic and modulated building appearance.
President and Vice-Chancellor of The University of Manchester, Professor Dame Nancy Rothwell, said:
"The University is honoured to be the lead partner of the Royce Institute and home to its national hub. The Royce is a beacon for both research and application in this critical field and, as its Chief Scientist and our Regius Professor of Materials, Phil Withers, likes to say it is a national meeting place for UK advanced materials. That meeting place can be physical, of course, as demonstrated by this wonderful hub building but, as well giving us access to such impressive facilities, it also facilitates the bringing together of committed people to share their innovative thinking about new materials."
Mel Manku, Partner at Arcadis, said:
"Arcadis is delighted to have reached this significant milestone on what has been a complex but exciting development. Our approach has seen our team of experts working closely with the University and the wider community to understand not just today's research requirements, but also what they might need in the future. This has enabled the design and delivery of a facility that is future proofed to accommodate changing trends in research and collaborative working. Together with the recently completed Graphene Engineering Innovation Centre, this will further enhance Manchester and the wider Northern Powerhouse's status as a global hub for advanced material research."
Tom Higgins, Laing O'Rourke's Operations Leader, said:
"It has been fantastic continuing our partnership with The University of Manchester delivering this state of the art facility. Our teams have used considerable engineering expertise and innovation to reach this milestone and I am incredibly proud of their efforts. We look forward to continuing to focus our efforts on meeting the handover date in spring 2020."
Ingo Braun, Design Director at NBBJ, said:
"It is truly inspiring to work with the University and the Henry Royce Institute to facilitate and advance the UK's ground-breaking materials science research, providing a facility for the Institute to engage with the wider community. NBBJ has extensive experience in designing workplaces and laboratory facilities around the world and we have particularly enjoyed utilizing innovative methods, including our own virtual reality tool developed in-house, to inform a collaborative design process with the project stakeholders."
Work on the new Henry Royce Institute is expected to be completed and the building fully operational by spring 2020.
Project and Cost Management is provided by Arcadis; Civil and Structural Engineering by Ramboll; Building Services Engineering by ARUP; Landscape Architecture by Gilllespies and the Main Contractor is Laing O'Rourke.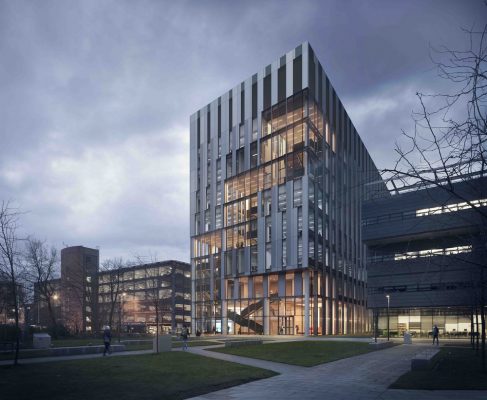 Henry Royce Institute for Advanced Materials Hub, University of Manchester images / information received 291118
Previously on e-architect:
19 Dec 2017
Henry Royce Institute, University of Manchester
Design: NBBJ Architects
Henry Royce Institute Building by NBBJ Architects Office
14 Dec 2016
Henry Royce Institute at The University of Manchester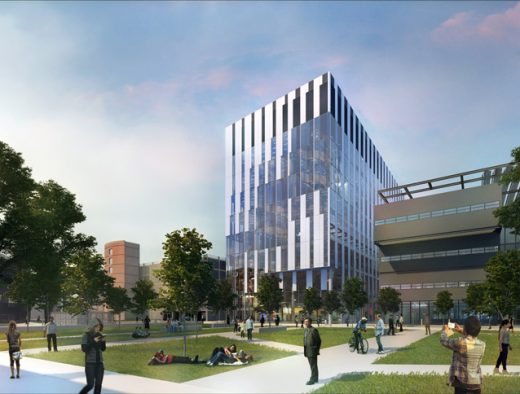 image courtesy of architects office
Location: Angel Meadow park, Manchester, Northwest England, UK
Manchester Buildings
Contemporary Manchester Architecture
Manchester Building Designs – chronological list
Manchester Architecture Walking Tours
Manchester Architecture Offices
Maggie's Oldham Building
Design: dRMM architects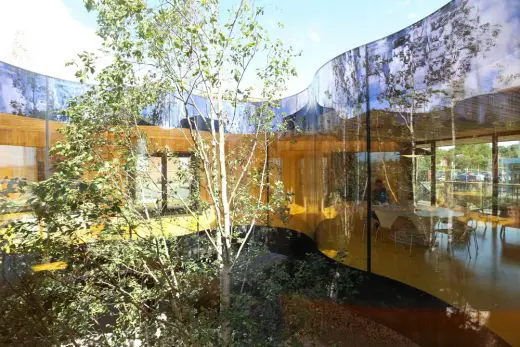 photo © Alex de Rijke
Maggie's Oldham Building
HOME Manchester Arts & Cultural Centre
Design: Mecanoo architecten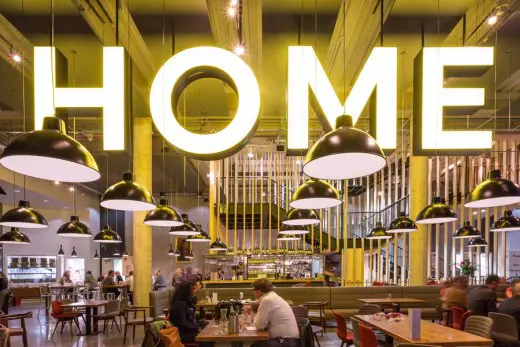 photo courtesy of architects
Manchester Arts & Cultural Centre
Recent Manchester Building Designs
The Factory Manchester Building
Design: OMA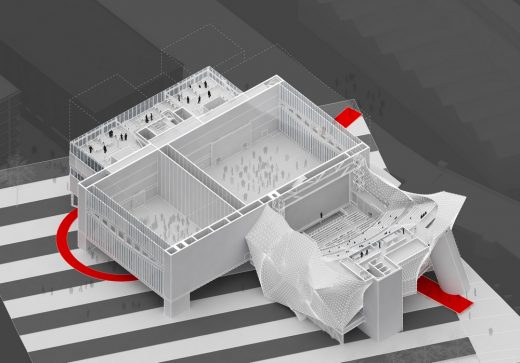 image courtesy of architects
The Factory Manchester Building
Great Northern Warehouse, Square and Deansgate Terraces
Architects: SimpsonHaugh ; Masterplan: aLL Design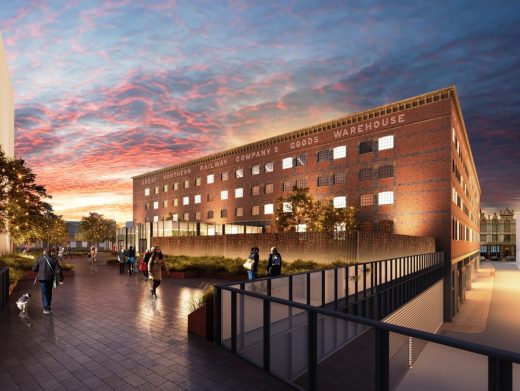 image : SimpsonHaugh
Great Northern Warehouse and Square
Manchester Architecture Photos
Manchester Civil Justice Centre
Comments / photos for the Henry Royce Institute for Advanced Materials Hub University of Manchester Building page welcome
Website: Visit Manchester